10 Tips to Get Ready for Bootcamp – One Whole Month of Creating…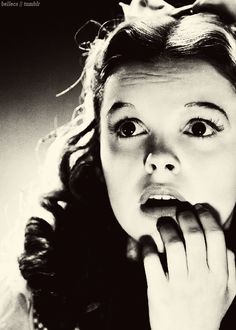 Oh god… it's almost time for Bootcamp!!!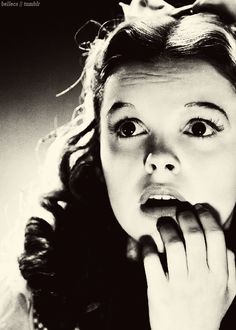 That's right folks, October is fast approaching. If you've signed up for my FREE October Creativity Bootcamp you'll be needing to take some steps to make sure you get the most from the month.
Only first, if you are scared I want to say it's ok, and don't worry, everything's going to be great, more than great.
If you're new to writing/painting/keeping a journal, whatever it is you've decided to do it is going to be scary, at first. But I want you to have the same experiences I had when I started. For me it was blogging first, then writing my novel, then painting.
I want everyone to feel the way I felt because it's so wonderful!!!
If even one person had this experience from bootcamp I'd consider that a massive success.
So think of bootcamp as me holding your hand if you like. I've been in your shoes, I understand what it's like. To want to create and not know where/how to start.
Start here with me.
And as for me I'm aiming for something like this…
'Forget (life,existence,limits), Improve, Discover, Awe, Ecstasy, Flow…'
I've been sharing my tips and experiences all summer but once November hits I'll be gone, back to editing my book. You might never see me again!
This is a chance. To explore your creativity. To do something new the dark side of the year!
Take it, take it now…and ask yourself, how could you use this month to break existing barriers and move forward? Now there's a question.
Without further ado here's my top tips for Creativity Bootcamp Success!!!
A Clean House – Starting the month with a clean tidy house will have you feeling in control, organised and clear headed for creative work. For some reason, it works, I think it's science.
Move Furniture – This has a really powerful effect on your energy and creative thinking. My suggestion is to do it first on Wednesday the 30th of September and then again half way through the month, or anytime you're feeling frustrated, stuck or uninspired.
Dedicated & Under-Utilised Space – Go through your home and really look at every bit of it, think about how each space and time is currently used. Do you have a dedicated space for working? If not where can you create one or more? Think also of making it as easy as possible to get straight to work. For example, our bedroom is large with a lot of floor space, set up, of paints for example, takes so long with kids around it puts me off AND I not only like to work early in the morning but I feel good when I hit the ground running and get something done early. So with all of that in mind I'm setting up a new space in the middle of the bedroom floor for the month. My plan is to write in my journal in bed with coffee then roll out of bed and paint something, or vice versa, so long as there's coffee… and rolling.
Food – You don't need me to tell you how much time cooking and cleaning takes but this October the priority is your creativity, however, you still have to eat. A little forward thinking and planning will help. I'm an old hand at this because practice, and determination, makes do! After all this is a way of life for me not just a month. Plan your grocery shopping and easy healthy meals now! No one is going to die so cut corners like there's no tomorrow. This applies to other things too, could you give up tv? Get up earlier? Put a hold on laundry? Cut back on FB?
Family – If you have children involve them, tell them you're all going to paint/draw/write a poem every day of the month. They will love it. If you have a partner they might be persuaded too. The point is make sure any family you share your home with know you're committed to this and how important it is to you that you don't miss a day. That you HAVE to do it.
Supplies – We all LOVE supplies, so I have no doubt that you already have yours, not that you need a lot. The beauty of this challenge is it's low on cost, high on rewards.
FB Group – I will be setting up the private fb group for everyone taking part this Thursday the 24th of October and will post details here on the blog. If you're not on fb you can post in comments here.
Actions – Have you decided what you are going to do? Remember there is one required action which is to keep a Daily Journal. This is because it's something everyone can do, it costs nothing, has wonderful benefits, and I feel it's good to have a focus, one set daily activity that doesn't change from day to day. It can be a written or an art journal but you must write/create at least one page everyday, about anything, just start and see where it takes you and then let us know how you're getting on, here or in the private group.
Schedule – If like me you are doing a number of things I suggest keeping a schedule or chart to keep track of it all. To keep on track I'll tick off each thing as it's done. I'll do more if I can but the target is important so make sure to set one or you'll fall off the wagon.
Another word on schedule. I suggest you allot dedicated time for your work. Include all your other daily activities too but remember your creative work is the priority for October so schedule it FIRST…
BTW I recommend you find 2 to 3 hours a day for this bootcamp or a minimum of 30 minutes. It's easier than you think, but I don't need to tell you this because once you start, you won't want to stop and probably won't be able to.
Commitment – This is by far the most important point. If you want to get the most from bootcamp don't miss a day. I can't stress that enough because it will knock you off course if you do. Ok so shit happens, if you do miss a day just pick up the next day and go on. I'm not going to be keeping tabs on anyone or anything like that, I'll be far too busy trying to keep up with my own stuff! But if you want the best possible outcome and to feel blooming great at the end of it this is the trick.
So that's my advice, it's good advice for starting out but if you're lucky enough to get in 'flow' for the month you won't care if the house falls.
Here is a badge I created especially for bootcamp, isn't it pretty? You can put this on your website, blog or page if you wish. Just copy and paste the code below the image.
Feel free to ask me any questions and have a wonderful Tuesday plus happy, happy planning and preparing to you xo Jane
BTW I hear you balking at the word 'work' to describe your creative dabbling's but believe me, that is the right word. Let the countdown begin…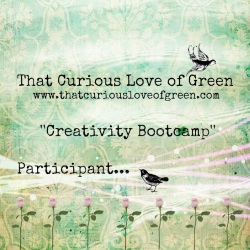 <a title="Participant of That Curious Love of Green Creativity Bootcamp" href="http://thatcuriousloveofgreen.com/creativity-bootcamp/" target="_blank"><img src="http://thatcuriousloveofgreen.com/…/u…/2015/09/Bootcamp1.jpg" alt="That Curious Love of Green" title=" Participant of That Curious Love of Green Creativity Bootcamp " /></a>
---
---