A Creative Daze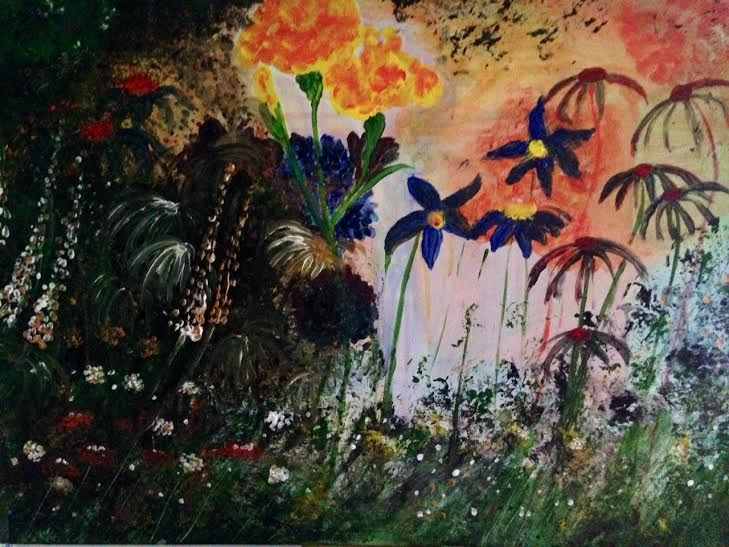 Morning all! 12 days into my 'Creativity Bootcamp' I'm so tired I think I'm sleep writing, so please forgive me if this post is less than eloquent but a creative haze has descended.
On top of daily journaling, painting and poem writing, curating the blog fb page, plus, you know, the family, house etc I've gone back to editing my book. What can I say, I had to!
Everyday the 98 women, all women now I think, blow me away with their talents, their stories, their hearts. If I'm not actively doing something creative I'm thinking about it or reading about everyone else's efforts. It's proving a life force, an incredible thing to be part of.
Now with coffee in hand I'm ready to make a stab at getting the story of this painting down before it gets lost. The tiredness won't win! I won't let it!
Some of you will have seen it already on FB, it's my first painting of this size and my first time painting on canvas. I've had the canvas for about a year now so this was one of my aims for bootcamp.
When I started painting with a month long daily art challenge over a year ago, I was starting from zero, and the shock of being able to produce a decent image (decent to my mind) was exhilarating enough, I didn't care about anything else. And I think that's a very good place to begin writing or painting because knowledge can be intimidating.
Now, while I think I've improved a bit I feel I'm at an awkward kind of teenage phase and might benefit from an e-course. One of the brilliantly talented artists in bootcamp, Eibhilin Crossan, has recommended a few so I hope to get one for Christmas perhaps. Trying to choose one may be difficult but it feels a good plan for new year. It will be interesting to see if it helps me. Thoughts?
But back to this particular painting and I have to say that even if I never paint again I'd be happy to have had this experience.
After psyching myself up for a good year to paint it and having started bootcamp I felt a sense of urgency to just get on with it. As it was a beautiful day I carried it out to the garden, making several trips for all I needed, as you do.
With everything finally ready I took a deep breath and started. No plan and yes, scary.
Well within minutes, between sun in my eyes and rescuing flies who'd got stuck in the paint, I realised it wasn't working, I just didn't know the reason. The reason was a canvas needs pre-painting! I can't remember now if it was Tig or Kimberley or Tamara in bootcamp who advised me what to do, this bootcamp is a mine of generous help and information.
I painted over the whole thing in pale blue and left it a day or two. By the time I came back to it I was afraid of messing it up again but perhaps because I'd already messed it up I was able to say, what the hell.
I started with the two orange flowers at the top. Immediately I felt the difference the pre-painting had made. I was happy enough with the flowers and said to myself;
'Keep it Simple now Jane, keep-It-Simple!!!'
Did I keep it simple?
No.
Long story short I messed it up, again!!!
But not before I had it a stage I was really happy with, a stage where I thought I could finish… but sob! Didn't!
It was so sad!
And in trying to repair I wrecked it further!!! What to do, what to do? Would I knew!
I figured I had two options;
Abandon ship, or
Go all gung ho with it
I went with option the second.
I wiped the entire left side off, the ugliness was hard to take, I added more black and then attacked the whole thing with a plastic bag dipped in water and paint.
Almost as soon as I did this, as soon as I let go, I started to see things, movement, flowers and grass swaying. From this point I became wholly absorbed and then, better able to follow my instinct, without thinking. I was either standing back to see how it looked from a distance, if the balance felt right, or, I was in deep flow mode, seeing these things hidden in the paint, teasing them through.
In the end I much preferred this version that you see here and not the one one I thought I'd ruined.
I think it was Picasso said, 'Unless your painting goes wrong it won't be any good,' I could be living proof of that statement 🙂
Incidentally I had three new tubes of acrylic paint that were so gorgeous and rich I found it hard to have to use the other brighter, brasher colours I've been using before this.
Now it sits in pride of place and would that were the end of the story but you know what the problem is now of course… how to top this?
To be continued…
Have a great week out there xo Jane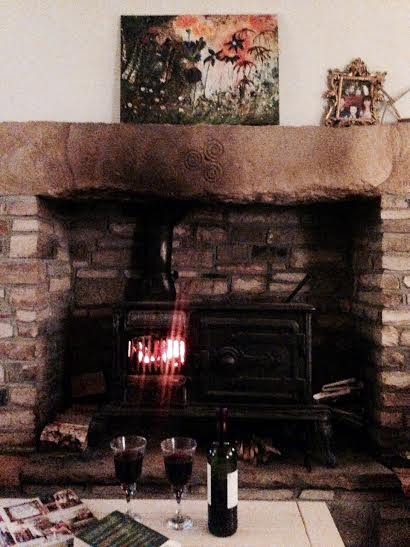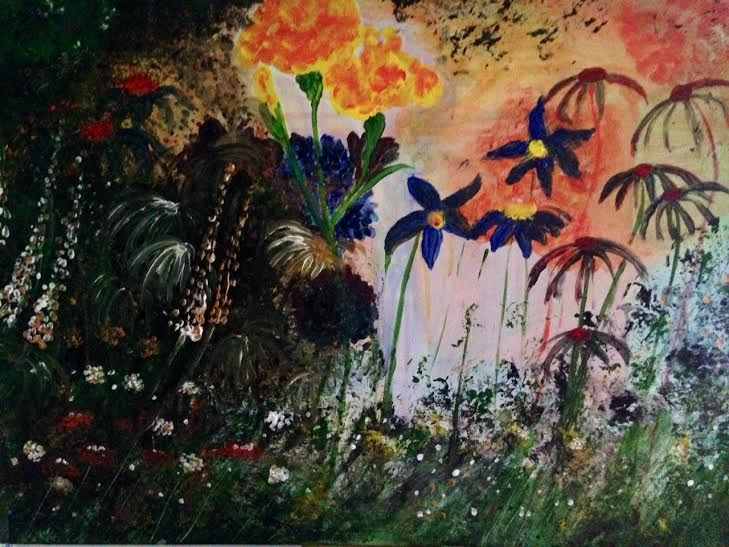 ---
---