A Feast for Friends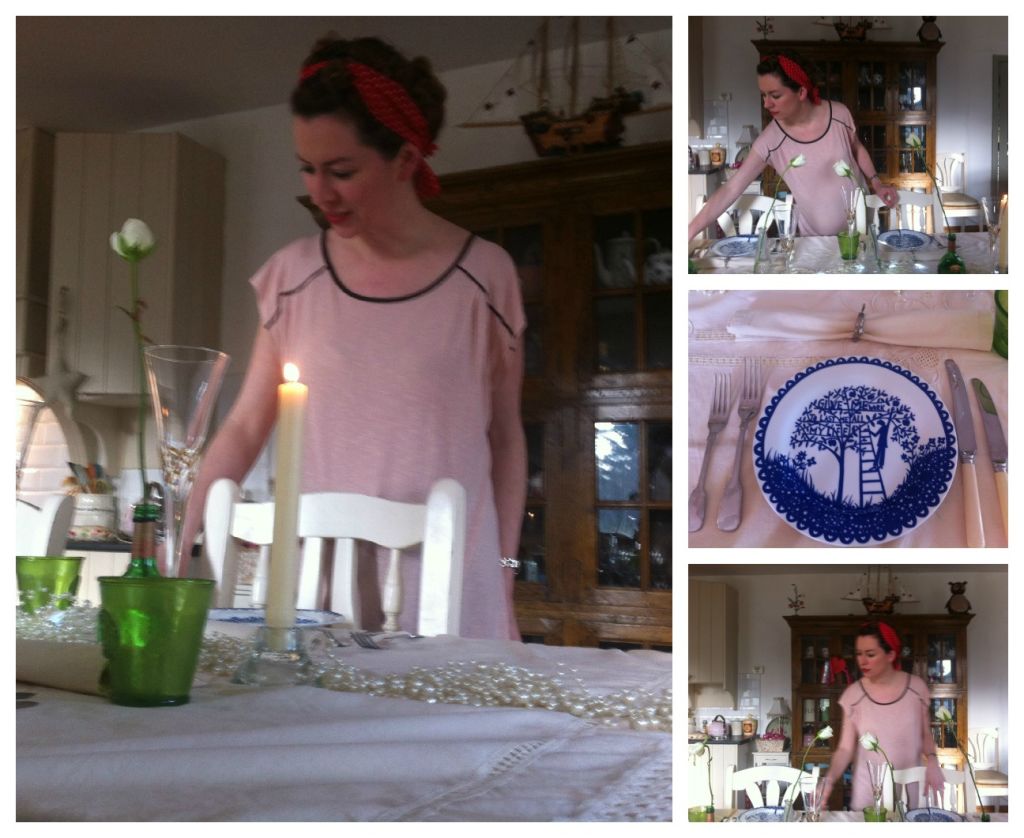 Hello everyone from sunny Leitrim…no really it shone all day yesterday and it's doing it again today, woohoo!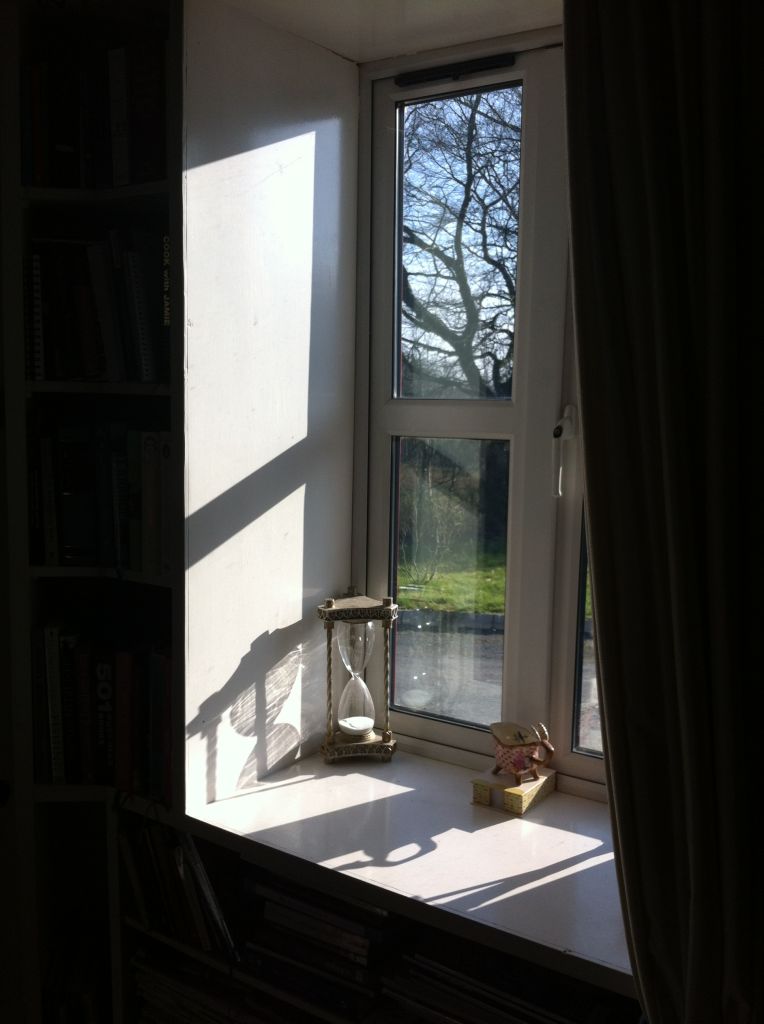 So if you follow the blog on facebook you will already know that on Sunday we threw a veritable feast to share with friends John and Edel McCartin.  It's the first time we've gotten together since they added twin boys to their existing troupe of three girls. If friends and parents of five young children don't deserve a feast I don't know who would.
Edel and I went to school together and John and I met thirteen years ago through the Irish Dance Company I founded and produced, The Shaylyn Group.   A brilliant musician John musically directed and lead the troupe and we've been friends ever since.
Drum Roll for The Evenings Menu Please…
Mango & Strawberry Bellini's
Scallops on the Shell in a Butter & Parsley Sauce
Mixed Leaf & Herb Salad
Beef Wellington's with Honey Roast Carrots & Celeriac Mash with Beurre Noisette
Poached Pears with Ice-Cream or Blue Cheese
The Beef Wellington, Poached Pear and Bellini recipes can all be found in Rachel Allen's book, Entertaining at Home…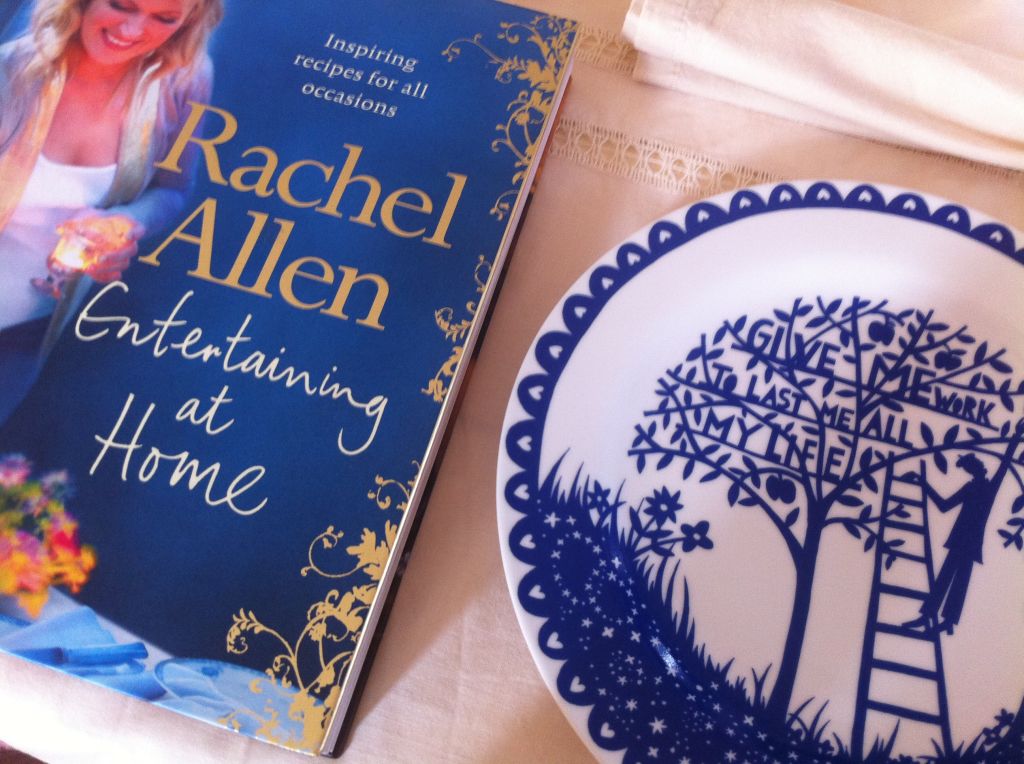 I started by poaching the pears.  To do this place place 300ml (half a pint) of red wine with 110g (40z) sugar, 1 cinnamon stick, the zest and juice of one orange and one clove in a saucepan over a medium heat and stir regularly until the sugar dissolves then add the peeled pears.  The recipe asks for firm but not hard pears and mine were hard as rocks but it still worked beautifully.
It remind's me of a tweet I heard once on the lifetime of a pear, hard, hard, hard, hard, hard, ripe, off… : )
I made my favourite salad dressing (it's from the 'A Year at Avoca' cookbook) by mixing two tablespoons of extra virgin olive oil, one tablespoon of sunflower oil, a teaspoon of grainy mustard, half a teaspoon of honey, salt, pepper and a tablespoon of white wine vinegar. Tip 694 is don't dress your salad until you are ready to serve or your leaves will go horribly mushy : )
The scallops are from Lidl's gorgeous Finest range and go from frozen to oven to table so the only other thing I needed to do for the dessert or starter was assemble salad leaves and make sure to take the lovely creamy Castelli Blue Cheese out of the fridge to warm up a little.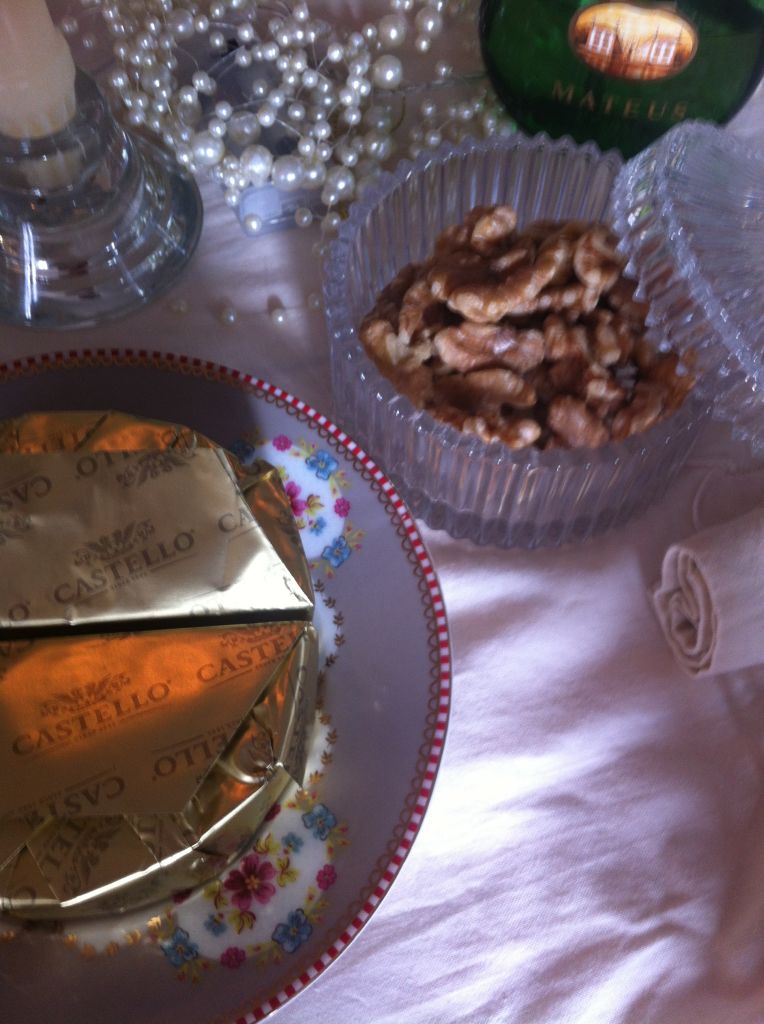 With the starter and dessert more or less sorted I started on the duxulles (mushroom stuffing) for the Beef Wellington. Click HERE for the recipe.  I spread the mixture on a large plate to cool then set the table…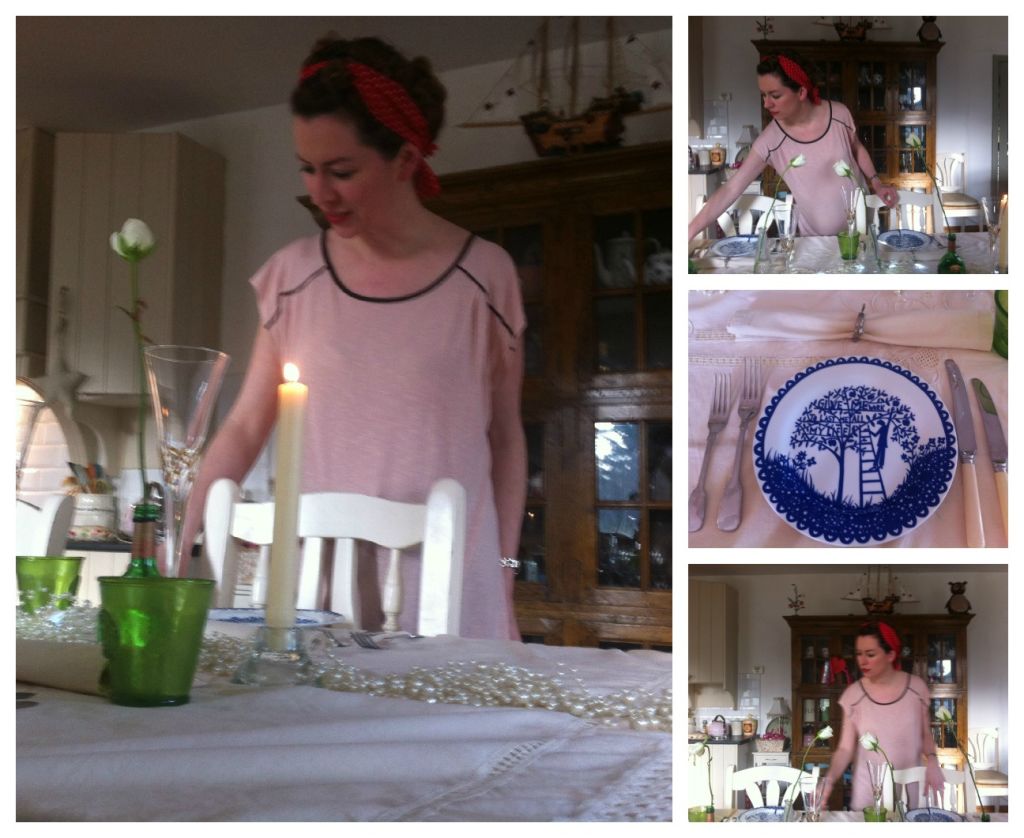 I used whites and greens for the table including white single stem roses in mini Mateus Rose bottles which are a lovely green colour and round shape, green water glasses, a vintage tablecloth, pearls, dragonfly fairy lights, candles and these beautiful blue and white plates by designer Rob Ryan, an adored present from my sister in law, Sinead.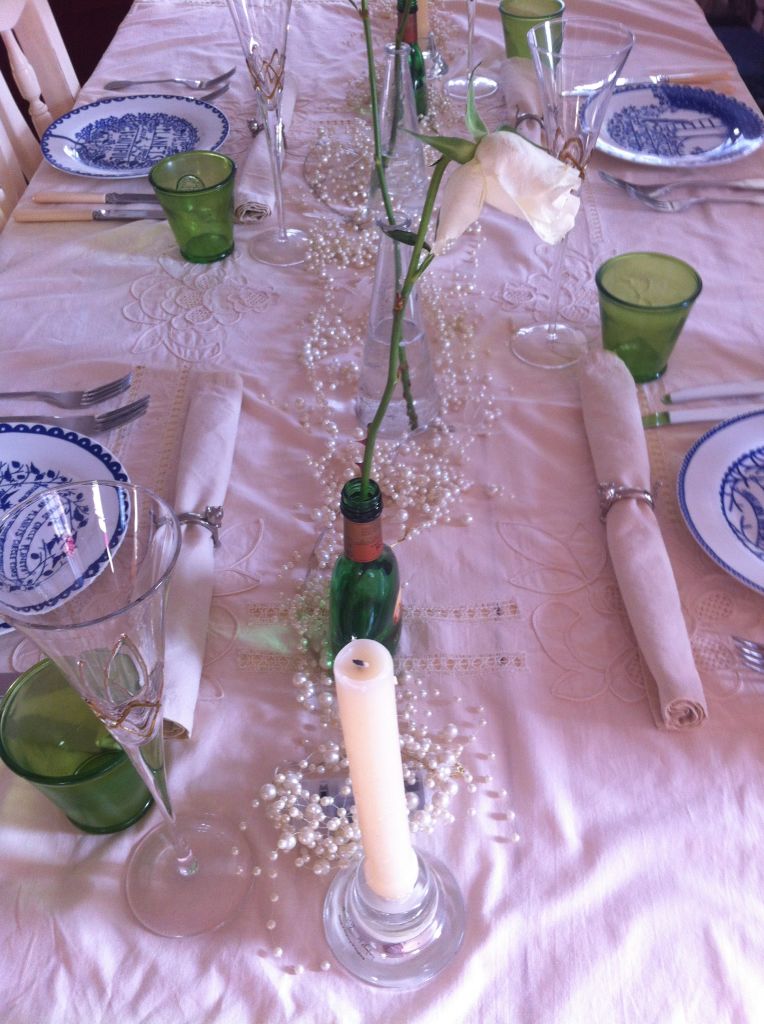 Meanwhile Adrian had a falling out with the celeriac (it's a nightmare of a thing to chop) and while I put the chopped celeriac on to poach for 30 minutes in a saucepan of milk with a good pinch of nutmeg he made the syrup for the bellini's by blending 100g of frozen strawberries with a whole peeled mango, 3 tbsp of lemon juice and 4 tbsp of caster sugar. Rachel uses raspberries and I think they would be nicer, less sweet but this way's still delicious.
Spoon the syrup into champagne flutes (about a third of the way) then slowly, slowly, a little at a time pour the champagne or any sparkling wine over and OMG that's a way to stop the work for a moment…absolutely delicious.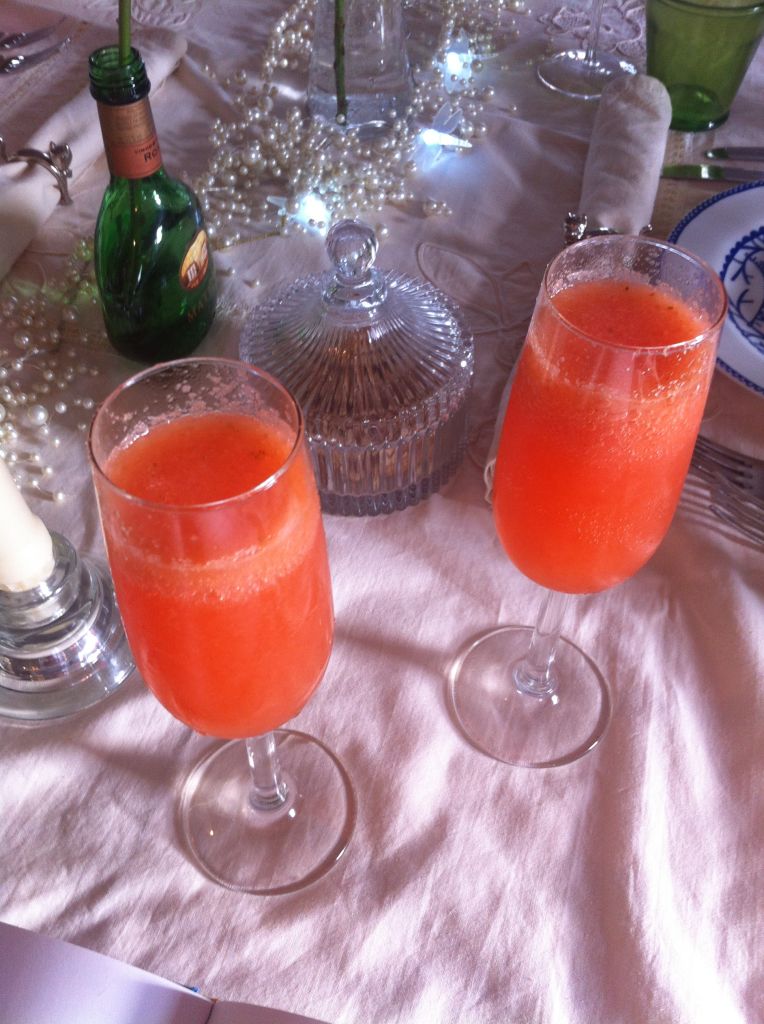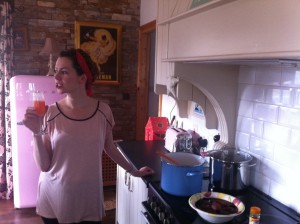 Ok so next we seared the steaks for the Beef Wellington.  The boys like their steaks medium so their's got one minute each side and the girls like it medium well so we went for three minutes each side then left the meat to rest for twenty minutes before placing on sheets of puff pastry spread with a little mustard and topped with the duxelles I'd made earlier before sealing and brushing with beaten egg. For the full recipe from Rachel Allen click HERE
While Adrian was busy with the puff pastry I mashed the celeriac (already very tasty) and made my new favourite food in the wide world, beurre noisette which means burnt butter. Julia (Child) would be so proud : )
A bit scary when it starts to sizzle like crazy but then it goes all dark and quiet and gives off this beautiful aroma of hazelnuts that fills your whole house.   Because I didn't need it right away I put the hot pan in water to cool the butter before mixing into the celeriac.  Even cold this was the most gorgeous mash I'd ever tasted.
For a two minute lesson in  making beurre noisette click HERE. Next time I think I'll make it as a sauce for fish.
With the Beef Wellingtons ready to go in the oven (20 minutes) along with carrots in honey and a little oil (20 minutes),  the celeriac mash with beurre noisette ready for reheating in the microwave, the pears poached and salad assembled all that remained was to pop the scallops in the oven for ten minutes and make another round of Bellini's.
We had a fantastic evening of great chat, just way too short as always.  Saoirse (4) summed it up best the next morning when she said, 'Mammy, I could hear ye laughing all night…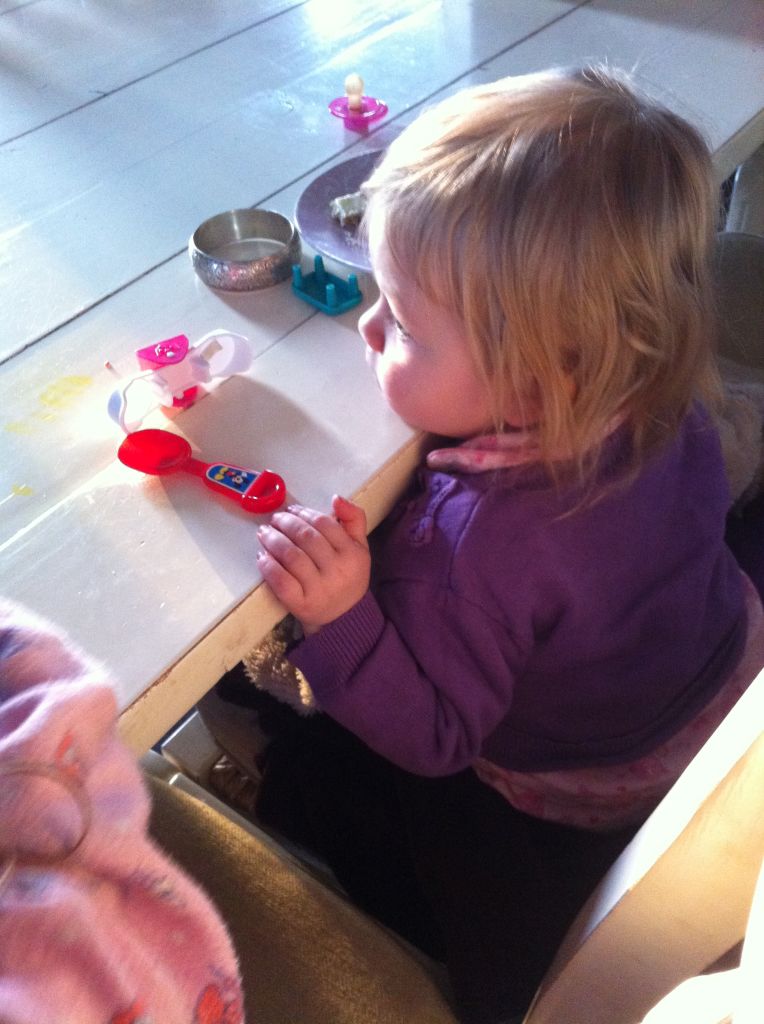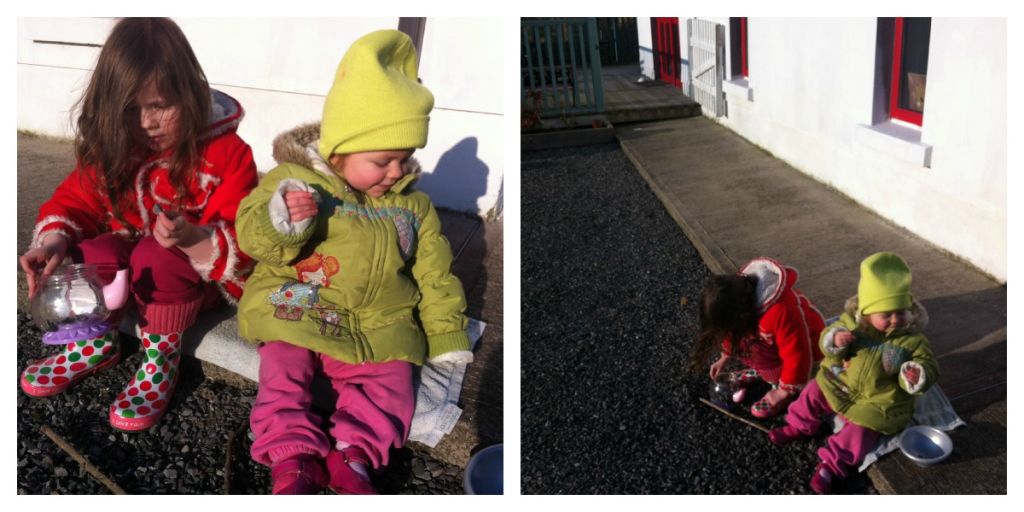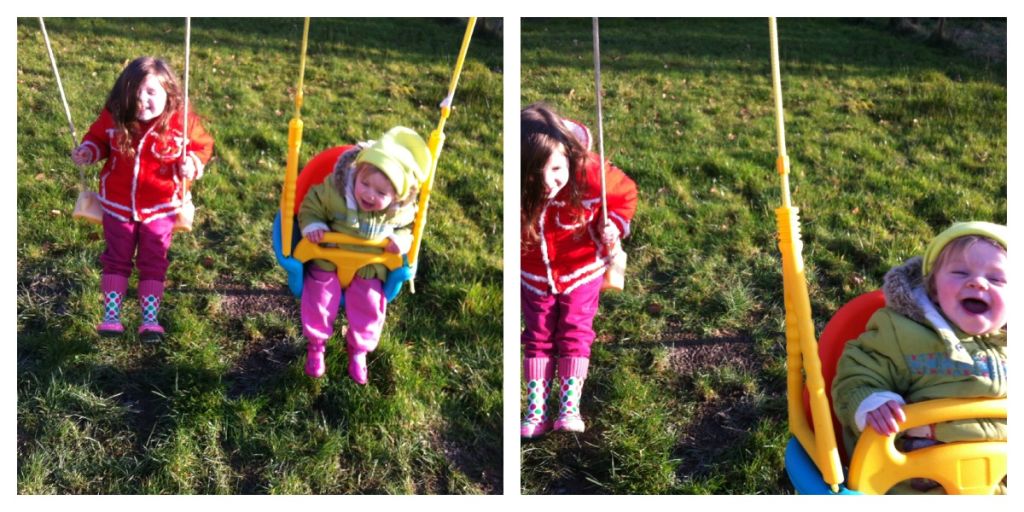 Have a great week everyone…
PS I've been told by few email followers of the blog that they don't always get the email notification of new posts anymore.  I don't know why that's happening but I will try to figure it out.  In the meantime if you are on facebook and you like the blog facebook page you can keep track of new posts there plus I post lots of other bits and pieces on the facebook page that don't appear on the blog.  Just click this link www.facebook.com/thatcuriousloveofgreen and make my day by liking the page : ) Chat soon

---
---