A Little Rain Never Hurt Anyone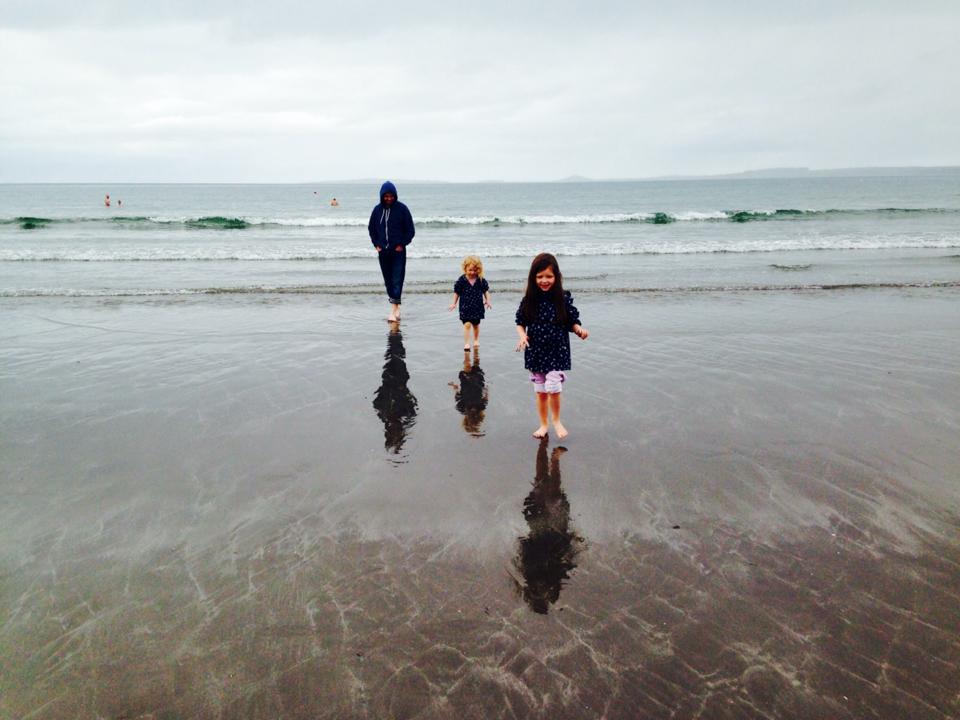 There's the great lesson when your're Irish that you can't wait for good weather. It's possible the sun will shine and you hope it will, but you don't wait, you live as if the sun were shining.
This is why you will see Irish people sitting outside in storms, at the beach in the rain, barbecuing in a gale, eating ice-cream on the coldest days and you will rarely if ever see them dressed for rainy weather. Walk down any street in Ireland and I guarantee you the adults in rain gear, are visitors.
I think it's a lovely thing don't you? That hope, that spirit.
The weekend was a case in point.
On Saturday we headed to Bernie Barry's annual hail or shine bbq. This is where my husband Adrian's family gather every year without fail in the scenic surrounds of Lough Allen and the Sliabh an Iarainn mountain at Drumshanbo, Co Leitrim.
Every year brings with it ever increasing numbers of children, they're going to outnumber us soon. The weather looked bleaker than bleak but the rain held and we stayed out until the small hours.
Our youngest are only five and three but they were looking forward to it and are already looking forward to next year 🙂
It's lovely for my husband and his cousins as they have the same memories of the old house that their children are now making, those memories of summer rain and cousins.
The view of Lough Allen from Bernie's front garden…
The children…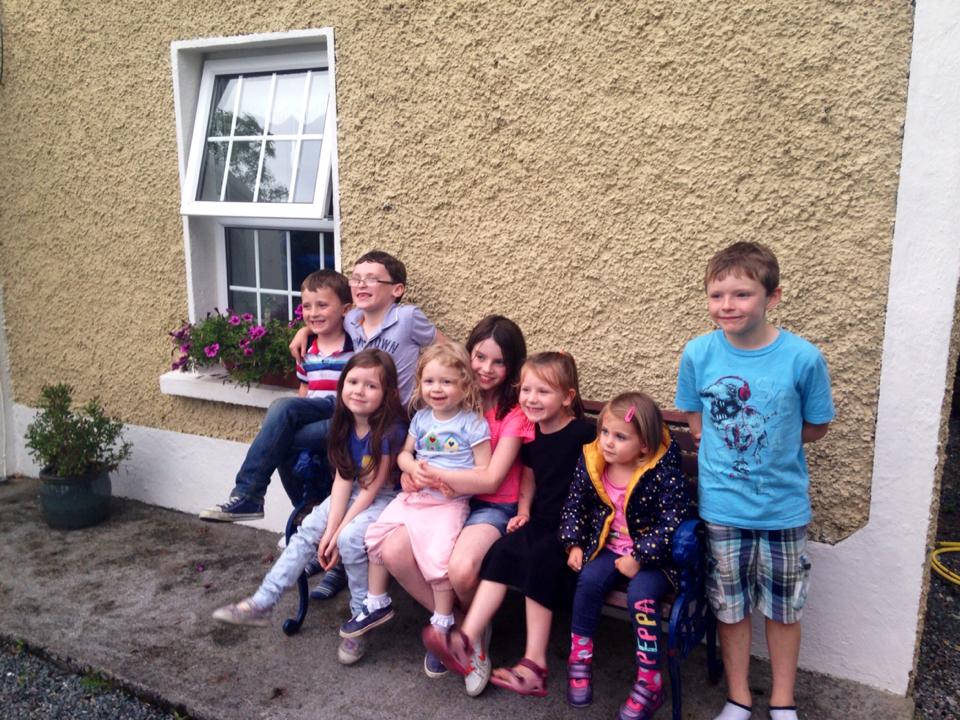 The pied piper, my sister Martha. She got all the children dancing…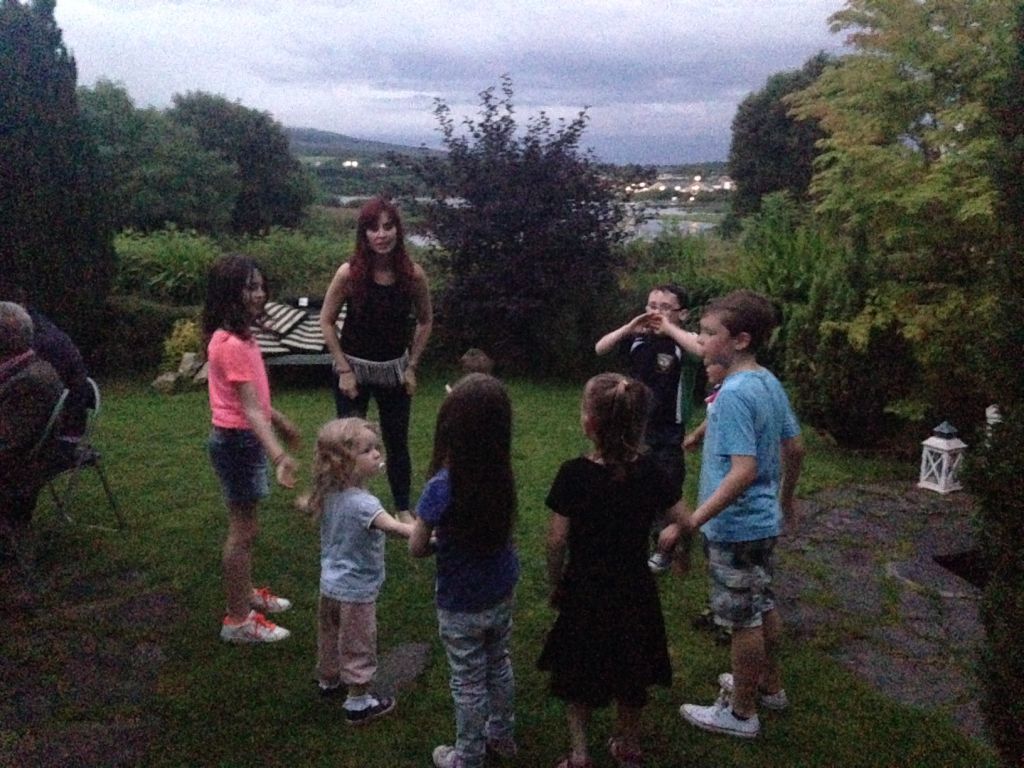 Bedtime? What bedtime?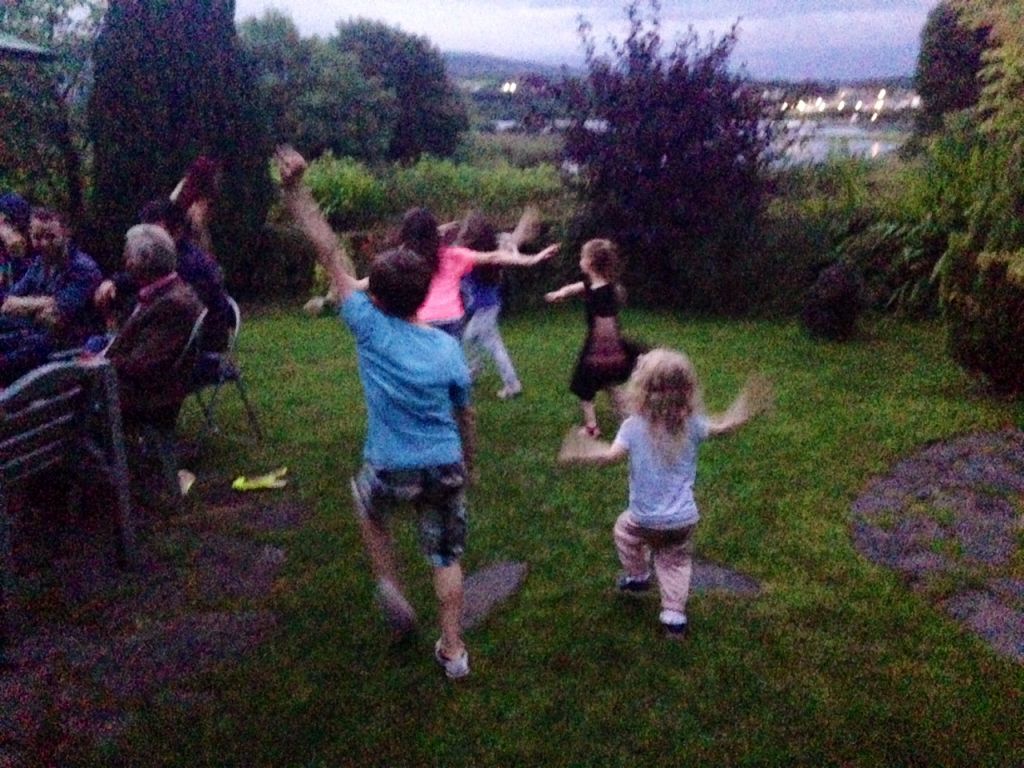 What a difference a year makes…Sadhbh at Bernie's BBQ last year, 2013…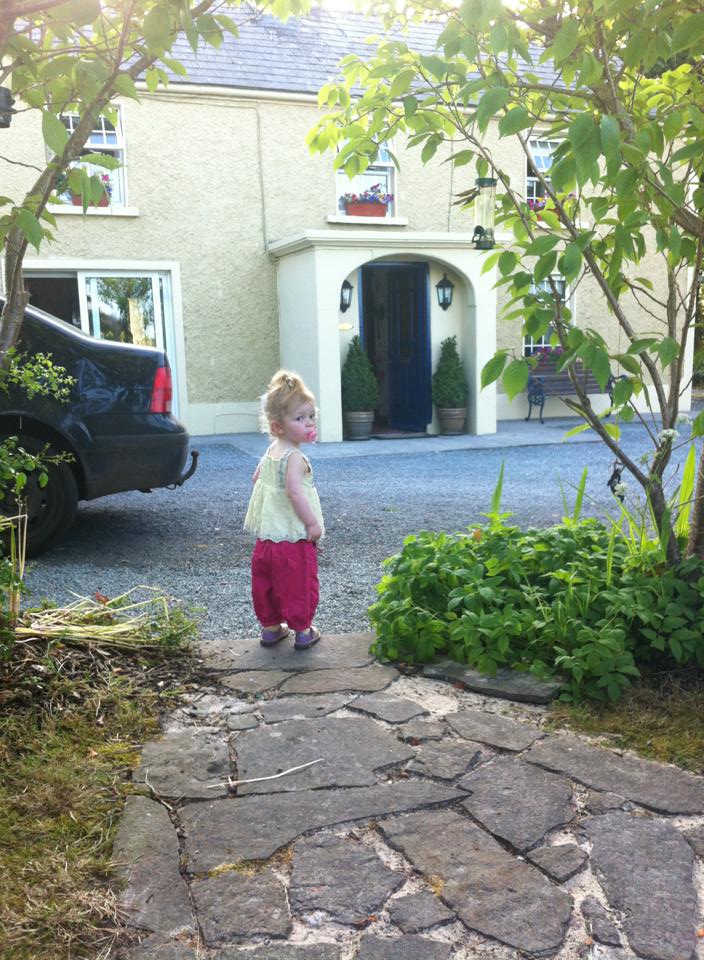 Then on Sunday, we just wanted to do something and we checked the weather and it said…
'Rain and Cloudy'
So we thought me might go to Forest Park, in Boyle, Co Roscommon but you know the new playground there is such a pain. You have to pay for it and naturally the children want to go there. For me it's taken the good out of the place. You go for the nature and end up in a tar park. I still love it, but…
I thought of all the places that I want to see this summer like the sea and Lissadell and this time the sea won though Lissadell I'll see you soon.
We opted for Rosses Point, Sligo, the closest beach to here, about an hour, a beautiful beach, clean and clear and overlooked by mountains, Knocknarea and Ben Belbun.
It would break your heart, the peace and beauty of it. Sometimes raining sometimes not, warm and clean and breezy. We had the best time and you know the rule with beaches is you have to get your feet out. Healthy, heavenly, good for the soul. You couldn't put a price on it.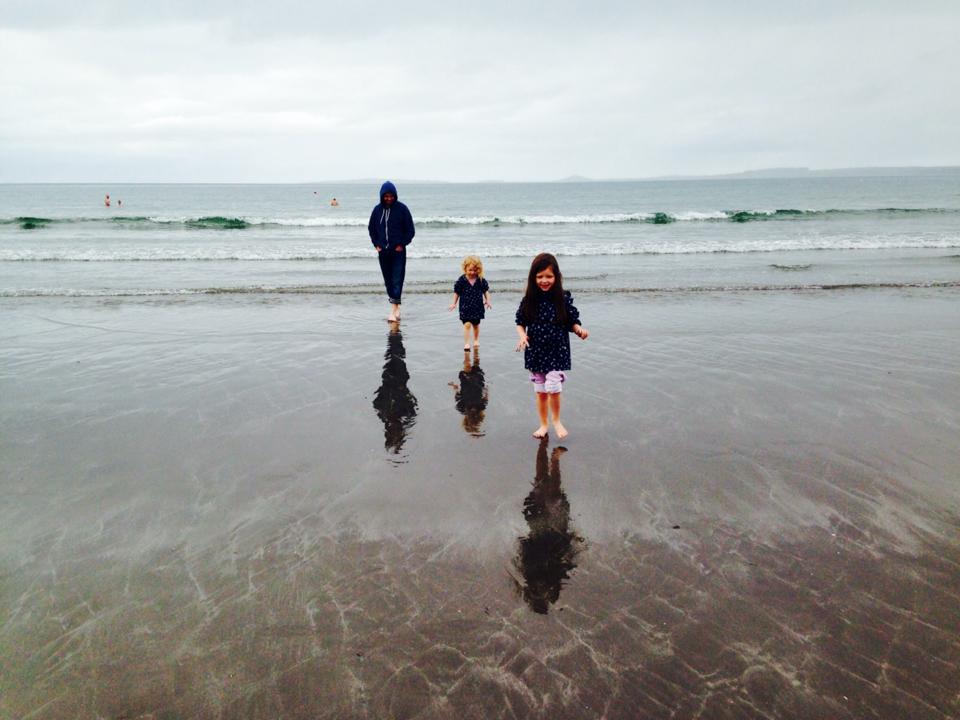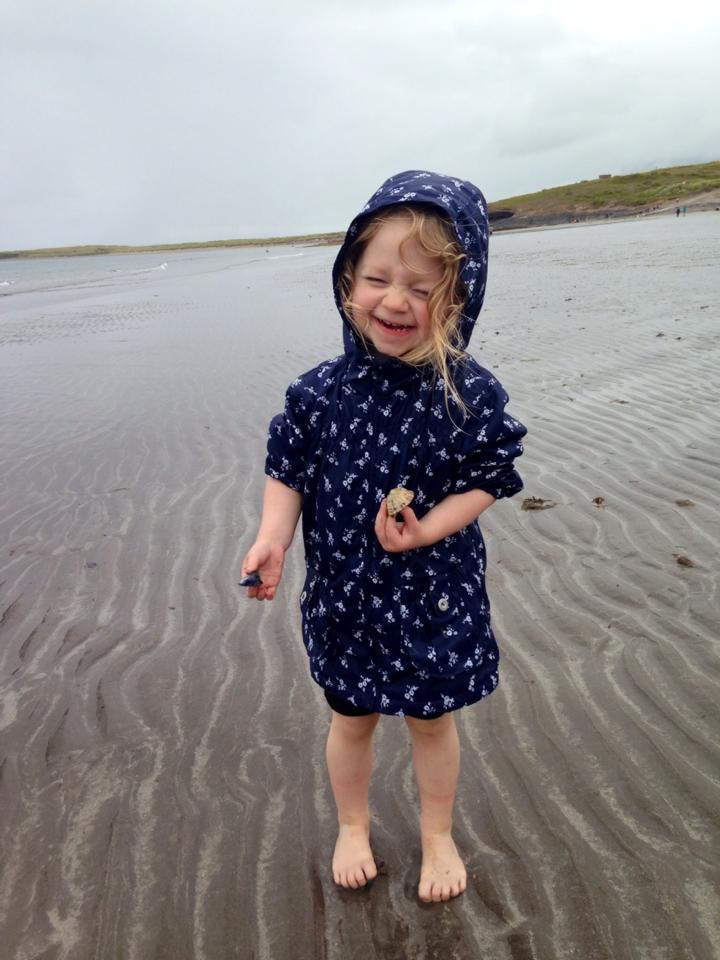 Why don't we come here more often?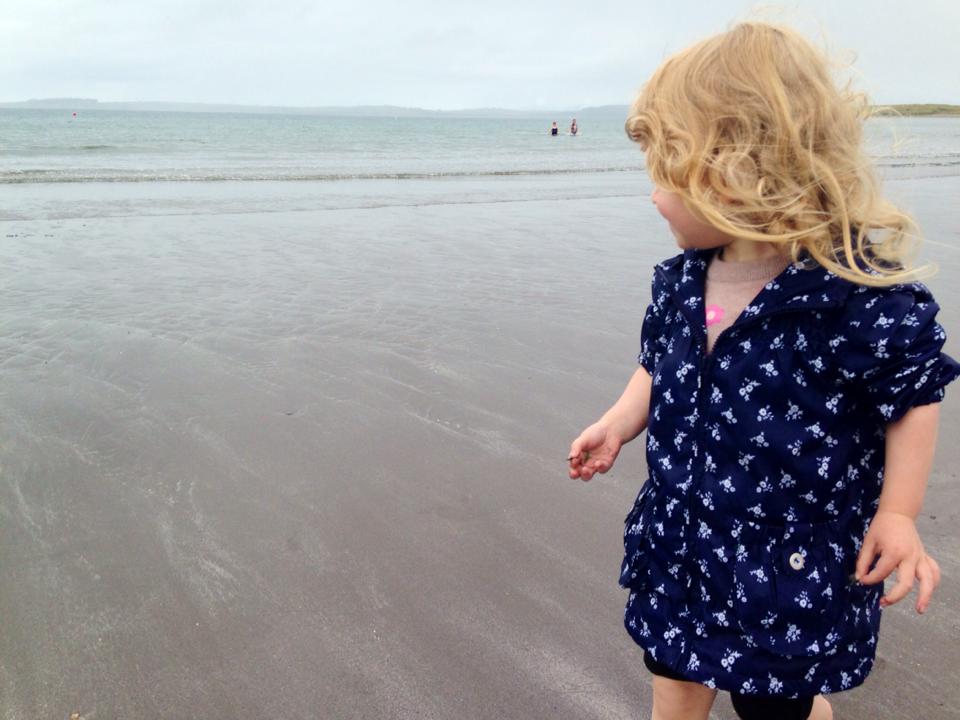 "IT'S A TERRIBLE THING, I THINK, IN LIFE TO WAIT UNTIL YOU'RE READY. I HAVE THIS FEELING NOW THAT ACTUALLY NO ONE IS EVER READY TO DO ANYTHING. THERE IS ALMOST NO SUCH THING AS READY. THERE IS ONLY NOW. AND YOU MAY AS WELL DO IT NOW. GENERALLY SPEAKING, NOW IS AS GOOD A TIME AS ANY." – Hugh Laurie
---
---