A Time to Dance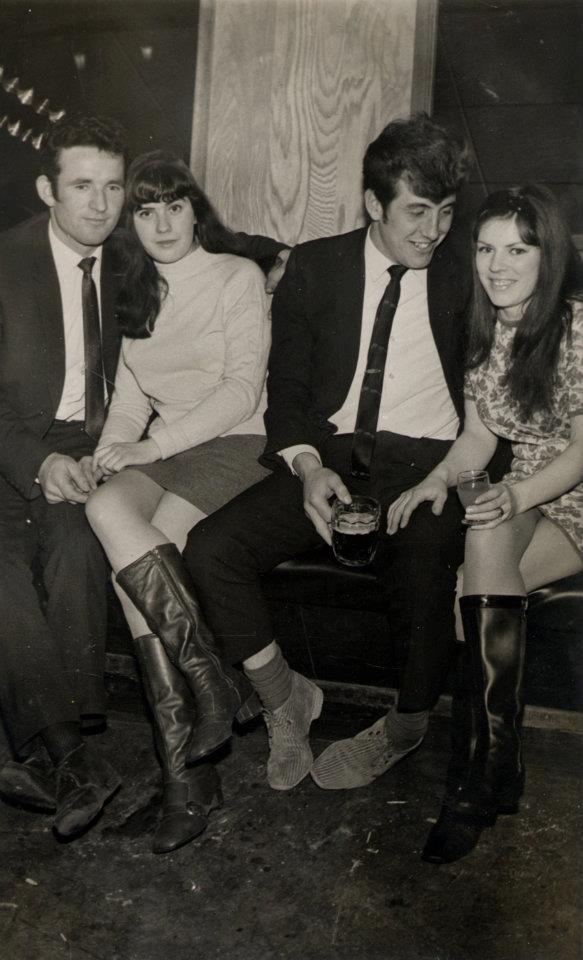 In 1920's Ireland, my grandmother Mary Susan Logan came home from dances through dewy grass as the sun was rising. All night dances, hard for us to imagine.
It was in her day that dances moved from peoples homes to the dance halls. The move for the young was exciting and she went to the hall below Martin's of Corlough.
All dances were ceilli's, Irish music. She loved dancing more than anything which I'm sure is where we all get it from and she danced for the whole of that decade.
In those days girls wore their hair down until they were thirty when it was put up in a bun and that was it, they never wore it down again.
Clothes were scarce and you had to borrow or make them yourself. My mother, Nora Gilheaney (Fox of Corraleehan) isn't sure when nanny stopped going, but she remembers girls would come to visit her and how one would lilt while the others and nanny would dance in the kitchen.
She remembers too the wide skirts and blouses of the older girls on dance nights, and watching in awe as they came rustling through the fields like butterflies, for a short cut.
The boys might cycle or would go the road. The girls would carry their dancing shoes and wear their old ones for the meadows. The old shoes then were left at the end of the road for the return journey, like the fairy tale, the twelve dancing princesses.
The musicians too would come through the fields from this parish to that, and would play a few tunes on the way at my grandfathers house. In the wee small hours the return parade, the girls, the boys following after, the musicians and the corncrake, the skygoat and the laughter.
She remembers her sister's first dance and that she wore a blue circular skirt with a stiff slip and a brown fitted cardigan. Clothes were precious still and handled with real care, the slips would stand alone, surreal and ghostly sentries round the fire. This was to make them starchy, stiffer. Nanny would make the skirts for her girls, run one up from a dusk to a dawn.
Hair was curled with a flat tin curler first and later when they came out, rollers. Makeup was white powder and red lipstick.
When mum, her sisters and friends started going to dances they were still ceili's but it was in her time the Showbands, influenced by popular music started, and new dancehalls were popping up like mushrooms across the countryside.
With her friends she cycled to dances at 'The Wonderland' in Bawnboy, 'The Star Ballroom' in Ballyconnell, 'The Erin Palace' in Belturbet, 'The Mayflower' in Drumshanbo, 'The Cloud' in Roosky and to 'Fenagh Villa' which had a bandstand that moved up and down the dance floor!
They cycled long distances, as much as 16 miles a night in their big skirts and curls, with their white faces and red lips. I asked her was this not hard, she replied, 'No Jane, think of the craic!'
There were no cars on the roads and at every corner and laneway a few more would join in, a great convoy of people and bicycles.  Most started going from the age of thirteen and by the time mum and her friends were a few years older a few people were driving. She remembers one lad tying a rope around the car to keep it and everyone together.
Even though there were a lot of dance halls and they were all big, they were always packed to the rafters and the music was all live. The showbands were really terrific and it was exciting when some of the bigger ones would come. Dances were held on Sunday nights and there was no drink, only tea, minerals and sandwiches. Monday work held no importance compared to Sunday mass and in lent there were no dances at all.
Each dance had three parts or tunes and if a guy had seen the girl of his dreams he knew he had to be quick if he was to get her for the dance. After all several other guys might be thinking the same, and usually were. It was terrible for a girl not to be asked to dance. If she was new to dances, neighbours and friends of the family would ask her to be kind.
Some girls had queues of guys wanting to dance with them and hoping to be faster when the next set began. In the ladies choice girls tried to play it safe by asking neighbours hoping no one would get any ideas. If someone fancied you they would ask you to come for tea or a mineral and a 'club bar'. At the end of the night the driver would have a time of it trying to round up the courting (kissing) couples. All the generations were emigrating then so most of the romances started at the dances were a fleeting thing before you were gone.
Before my mother went to England at sixteen she made two shift dresses, one white and one black, for her and her sister closest in age, Bridgey. She bought the material in 'Cryan's' on Main St in Ballinamore. The dresses were sleeveless with round necks. She put a gold braid around the neck and sleeves of the black one and made a red rose from red material to put on the white one.
Another time she made herself a royal blue drop waist dress with a flare at the bottom and a large black bow just above the flare. She had no patterns or experience she was just inspired. She had ideas in her head of how it could be done. She said always the girls would be dying to have something nice for the dances.
As was the order of the day my mother and her friends had all emigrated while still in their teens. Coming home from London in the 1960's the highlight was the summer carnivals every town held because it meant dances every night. They were very young still and coming home was all about, dancing…
As told to me by my mother Nora (Fox) Gilheaney, daughter of Mary Susan Logan and Patrick Fox, Corraleehan. Now living in Ballinamore, Co Leitrim.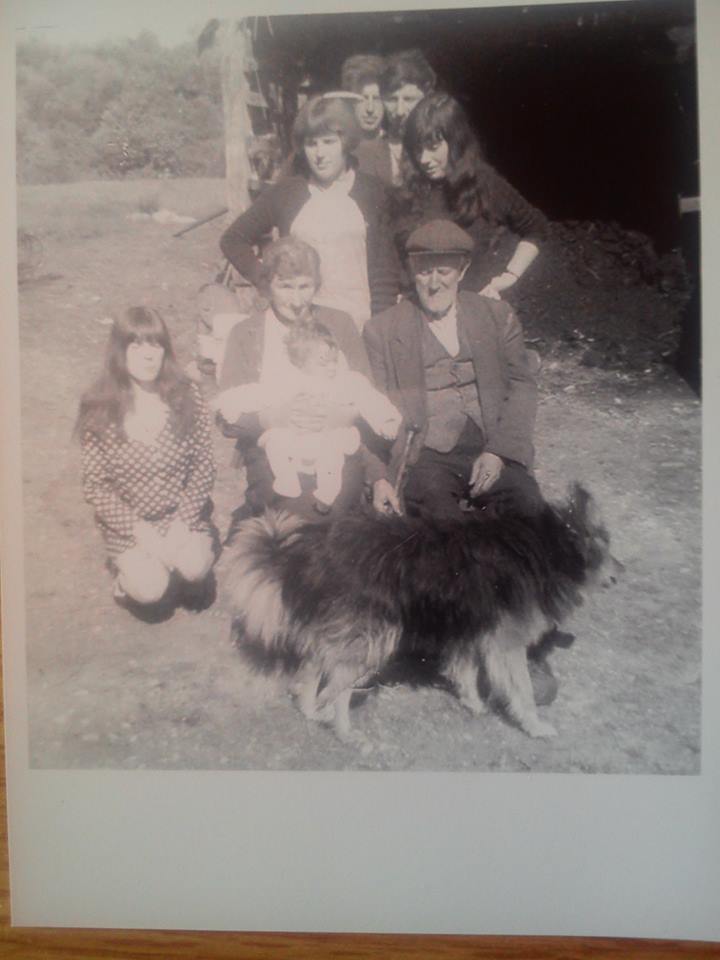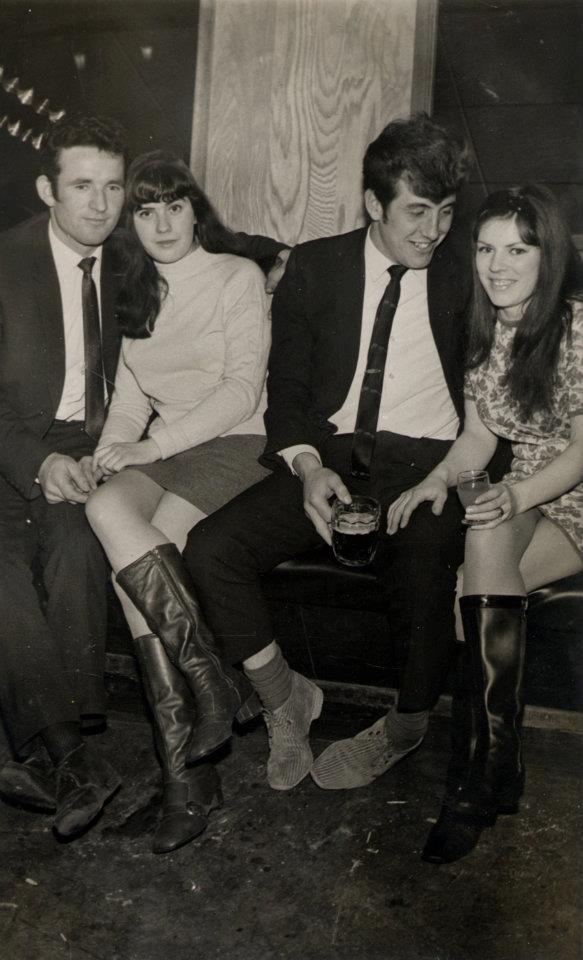 ---
---