A True Story – Children from 2 to 18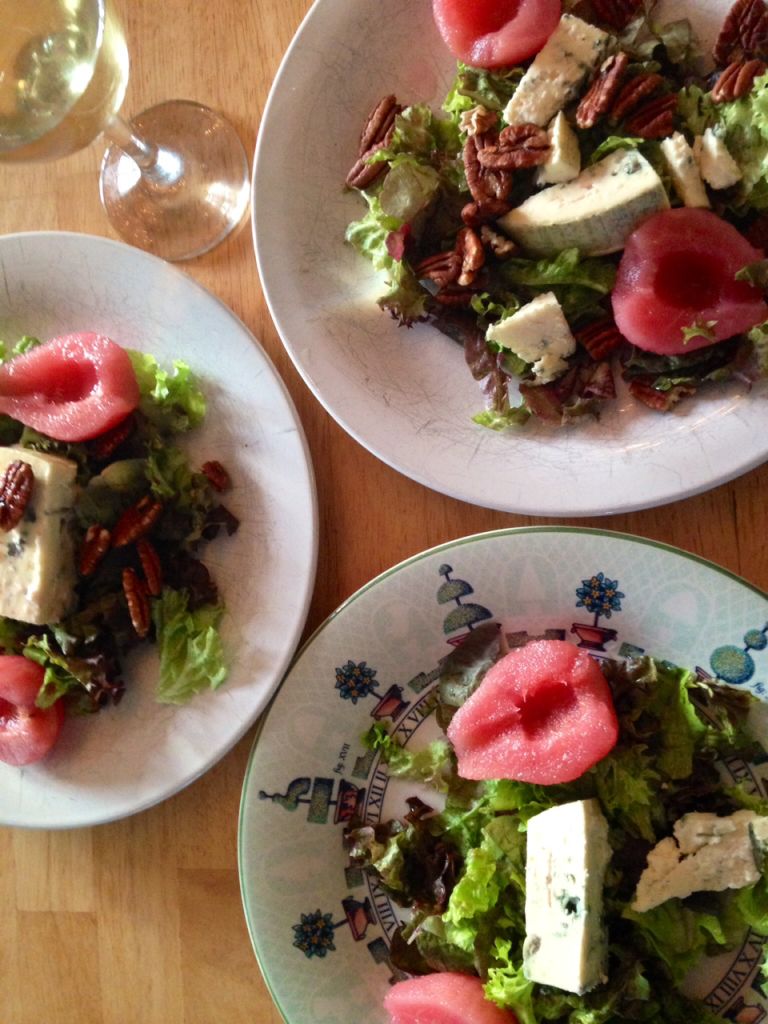 Morning all, I hadn't thought to be back so soon but then yesterday the first of April was sunny and warm and a good writing day and a good food day and a good family day, plus funny.
I'd slept in. I woke up at seven aware of a weight on my feet, Sadhbh.
It's a new world of tired when you find you can not only sleep but can sleep with a child on your feet.
Undeterred and on a deadline I sat down to write on my novel for an hour. It was going well. A few pancakes, raspberries, hair bobbins, school bags, work ties and goodbyes later it was just Sadhbh and me again, oh and Shaylyn.
Sadhbh said, 'Mammy, can I look for rabbits please?'
'Where are you going to look for them?'
'In the sky.'
'Ok.'
'Yaaaay'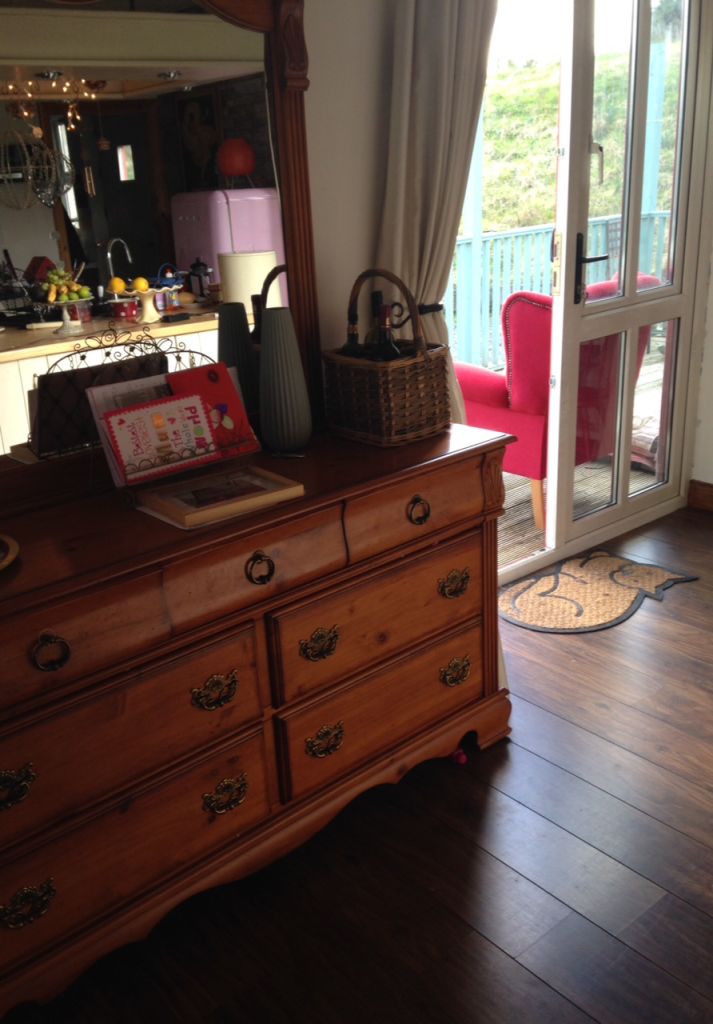 Shaylyn is doing her Leaving Cert and stayed home to study, she has her Oral French today. I buzzed around, tidying, dreaming, we spoke French and talked college and future and music and hoped Sadhbh worn out from her rabbit hunt would go for a nap which she did in the end at which point I got back to my book again.
I couldn't stop for a breath or for anything until coffee although even with my eyes closing I resented that interruption, the time it took, the noise of making it, the chance of waking Sadhbhy up.
Coffee in hand and word count climbing and still I was fading and Sadhbh was now waking. I decided to make something, made pancakes for the morning.
For lunch I fried chestnut mushrooms in crushed chilli peppers plus garlic and black olive pate. We ate this lovely saucy dish on the deck in the sunshine with cookbooks and pitta bread and were getting back into our French when Sadhbh appeared covered in lipstick.
'Nothing to problem about,' says she with happiness. How can you be cross with that? Simple, you can't.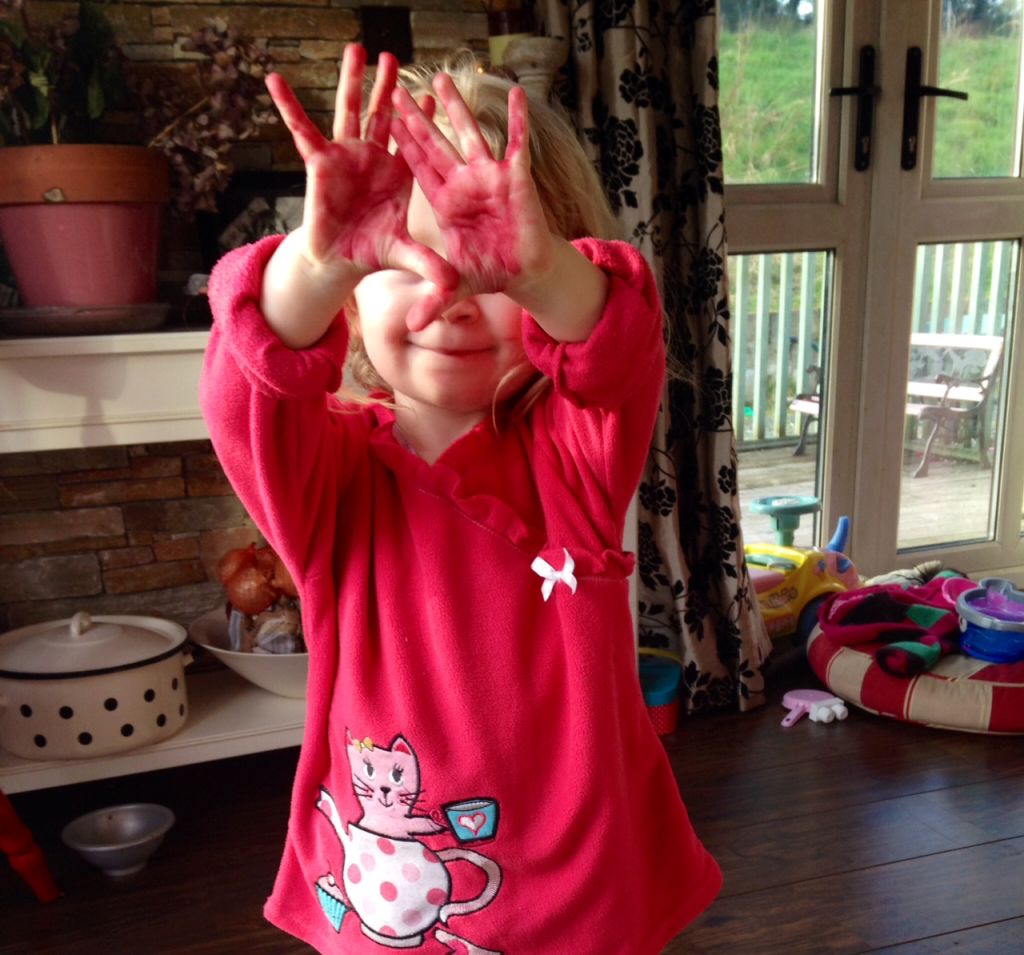 I was making dinner because you know, the cooking never ends, when Adrian and Saoirse came home, she'd been in my mothers.
'I already had dinner,' she chirped as she pottered about.
'Ok, I replied, I'll just give you a bit of the salad.'
'I had brussel sprouts with it.'
'Very nice.'
'So can I go out? Can I go on the swing, can I, can I?'
'Yes, ok.'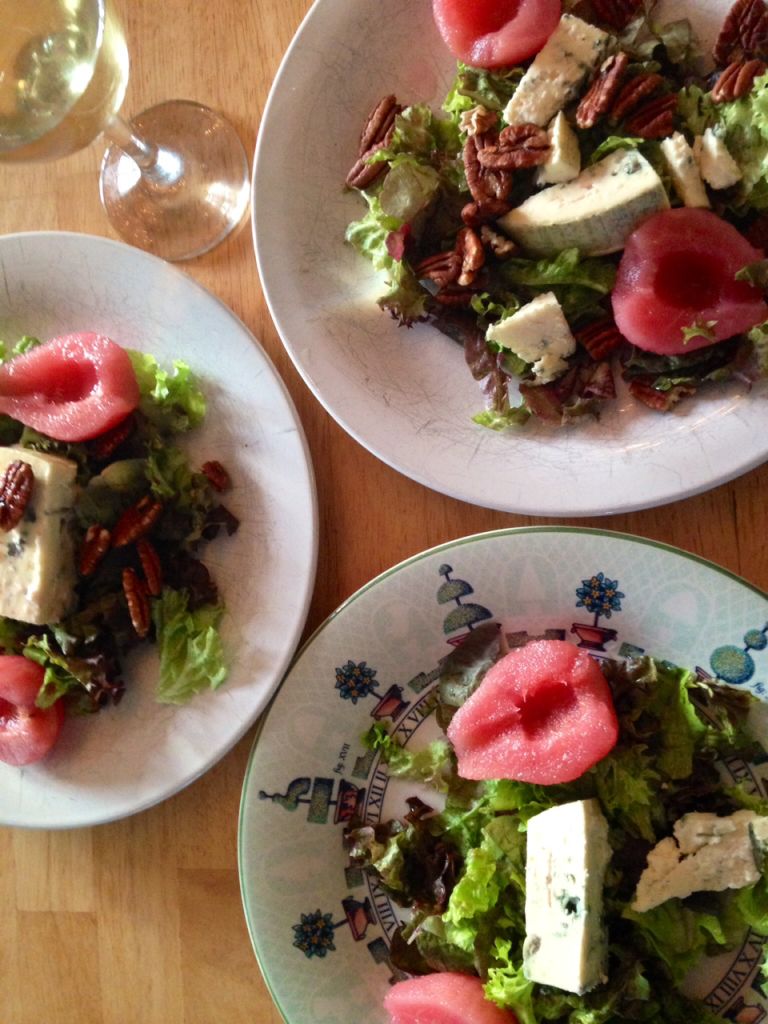 Dinner and dishes and more planting done in the garden. By bedtime for little girls it was still bright out and then Saoirse announced she was hungry.
Turns out the 'dinner' in mums was an April Fools trick on us. I couldn't believe it. 'But what made you think to add brussel sprouts to it?' 'I just remembered them, thought it would sound good,' she said.
Stunned and impressed and hit suddenly at the breadth of life around me.
One Leaving Cert, one Junior Infant, one 'Super Sadhbhy'
But you know, 'nothing to problem about'…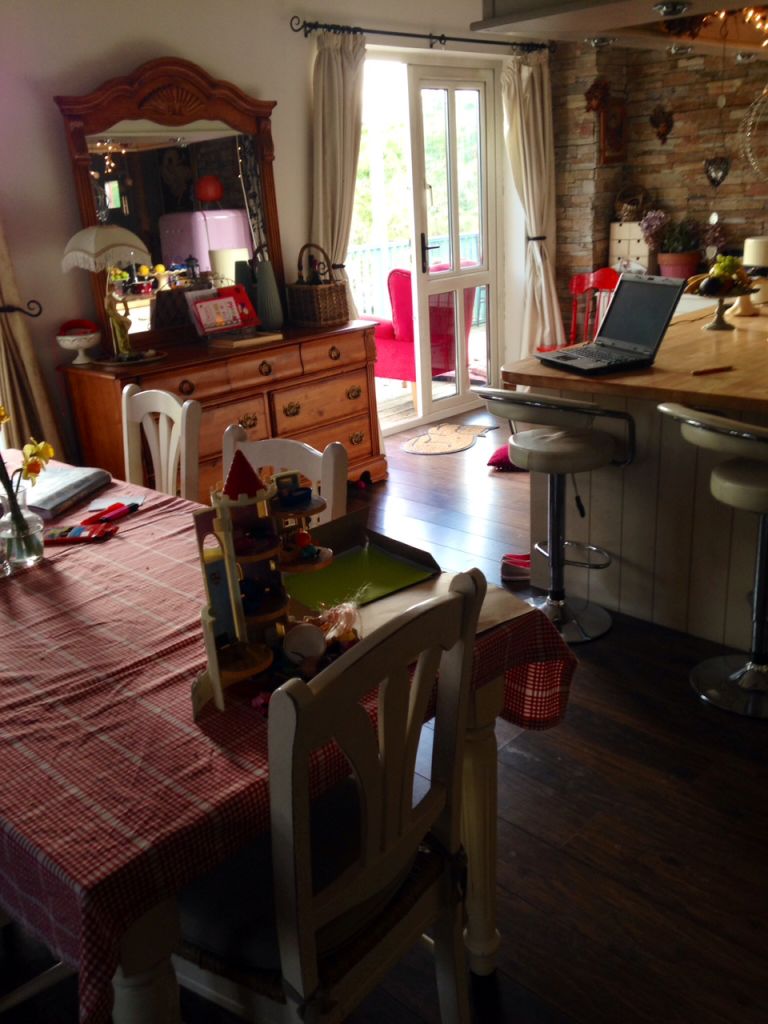 Poached Pears in Cinnamon Syrup
3 cups water
1 cup or less of brown sugar
1 cinnamon stick
4 pears cut in halves or quarters, cores removed
Cook the sugar, water and cinnamon over a low heat for a few minutes until the sugar dissolves before adding the pears and cooking for 10 to 15 minutes until the pears are tender.
Remove the pears, turn up the heat and boil the syrup for another 10 to 15 minutes to thicken before pouring over the salad or if you prefer, over ice-cream.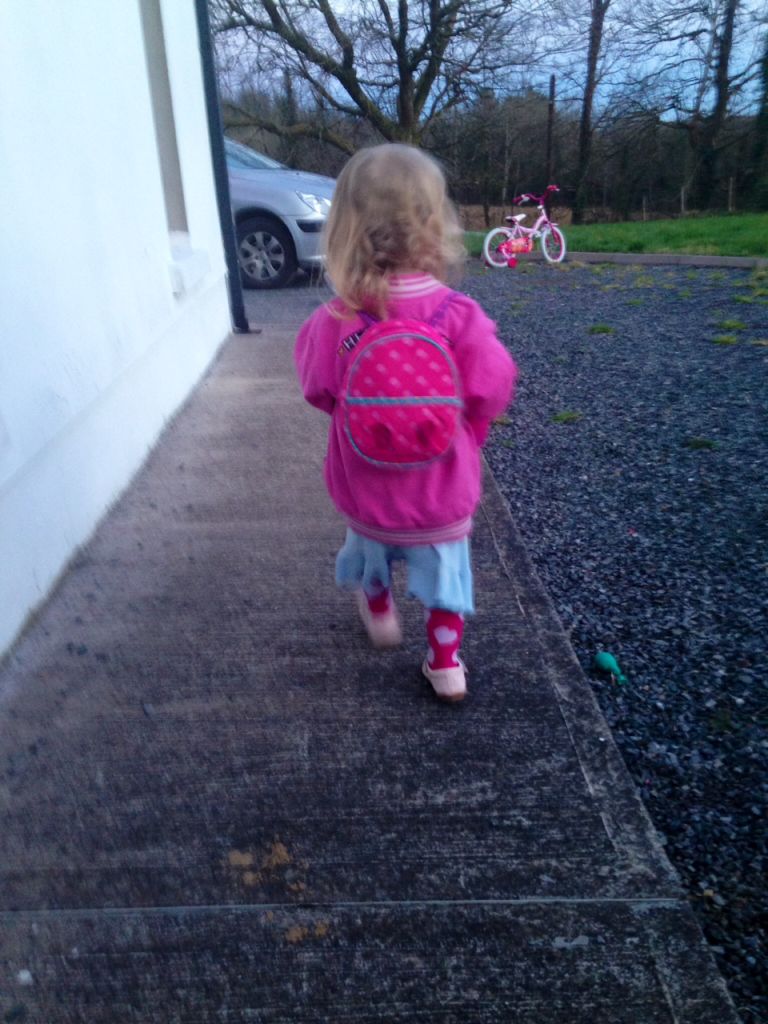 For the salad assemble salad leaves, toasted pecans or walnuts and blue cheese (Cashel Blue or Castello are my favourites) on a plate, add the pears and drizzle over the syrup.
To toast the nuts (optional) just rattle around in a pan over a medium heat taking care not to burn i.e. For gods sake keep your eye on them. 
By all means feel free to poach the pears in red or white wine instead of water (I used a mix of water with a dash of red wine on this occasion)  or feel free not to poach the pears but just use ripe pears and any salad dressing, honey and mustard dressing also would work well here : )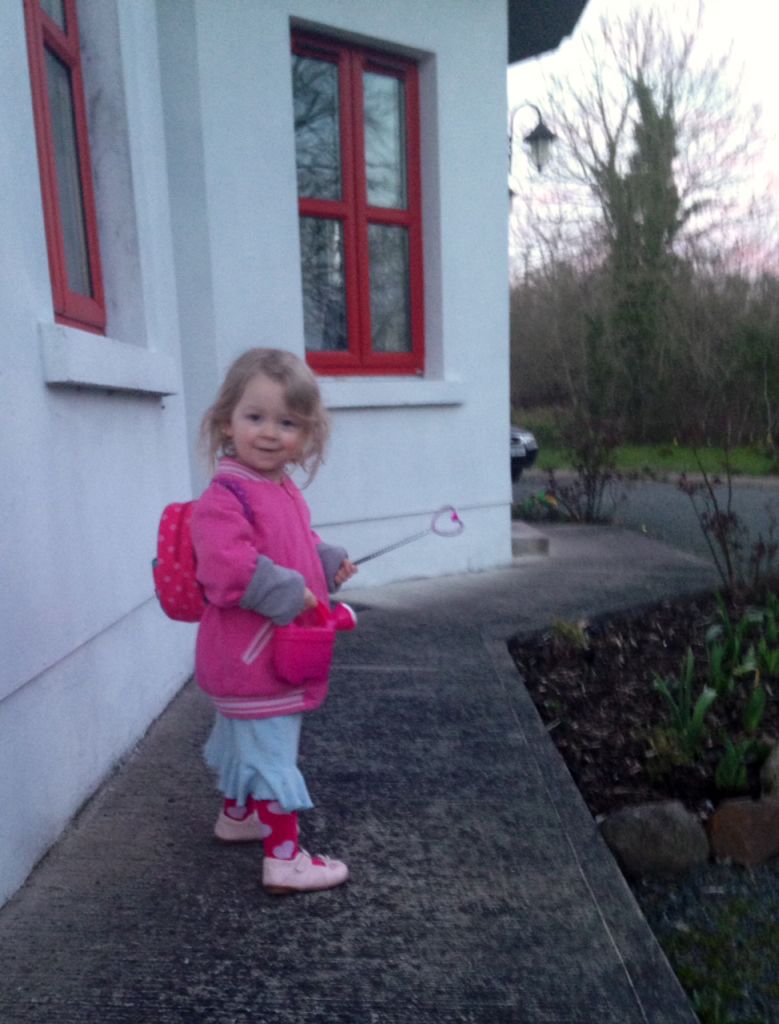 ---
---