My Sister in Italy – Gone are the Days of the 46A (first in new blog series by Martha)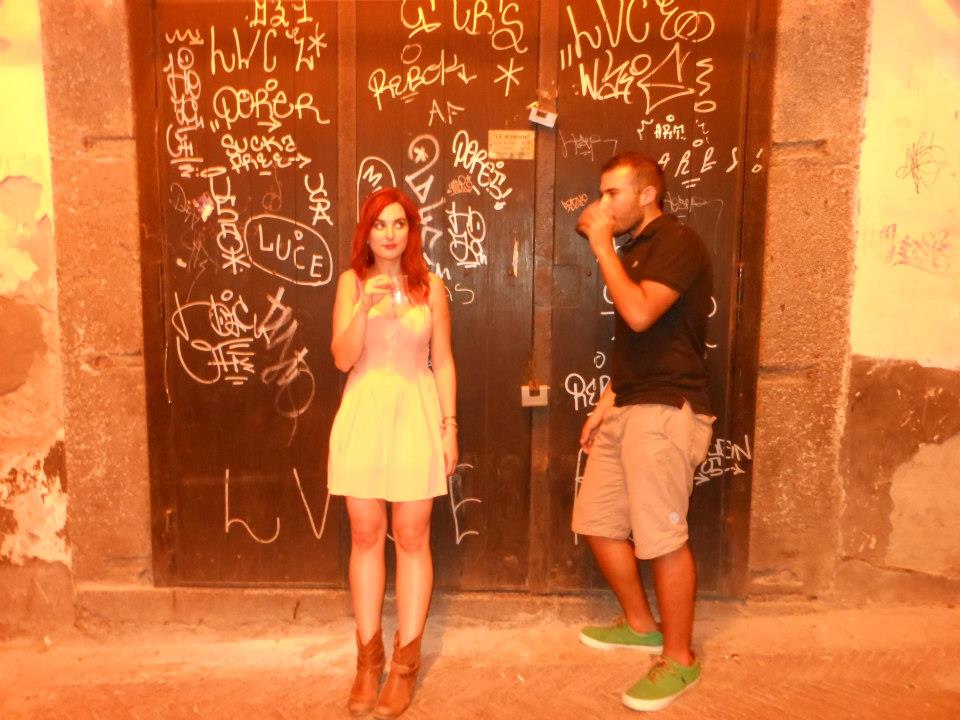 Gone for me are the days of the 46A. It may be one of Dublin's most famous bus services and I had a mild obsession with it while I lived there but my life is quite different now.  While I'm with Dorothy on matters of home lately my daily commute is somewhat more enriching…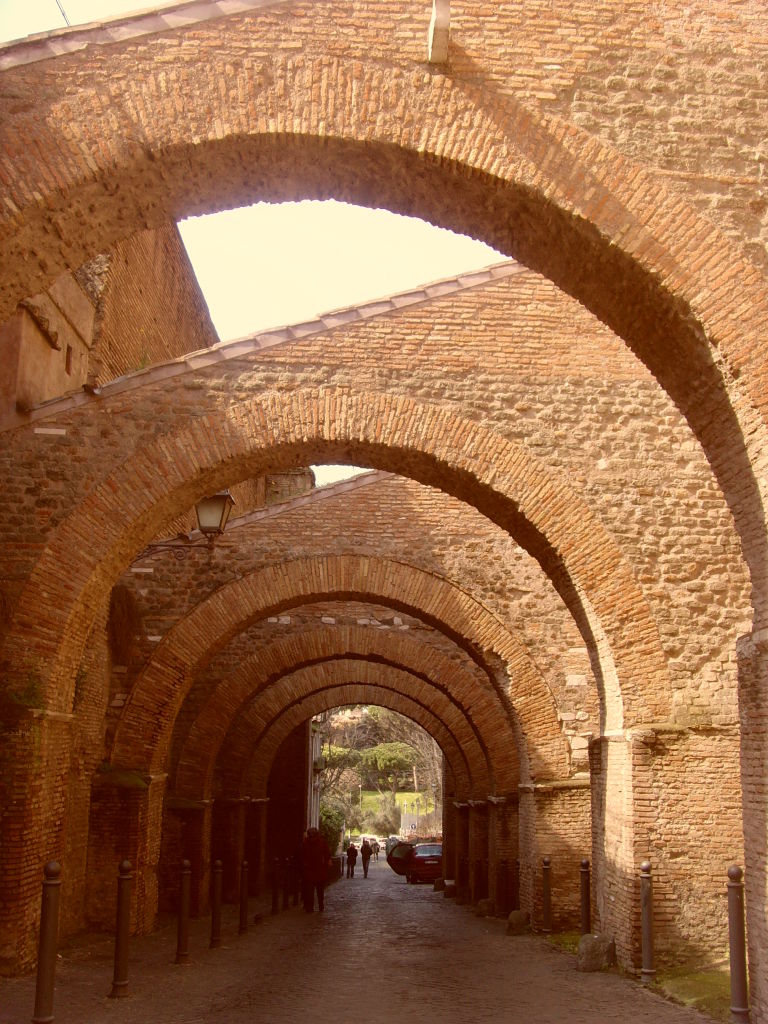 When Jane (my sister : ) asked me to guest blog I didn't know where to start. In the end I started writing from where I start walking. This is no ordinary walk. It's a walk through the world's finest open museum. I live in Rome you see, I've been here for three months and if you asked me to sum up my experience so far it would be…walking.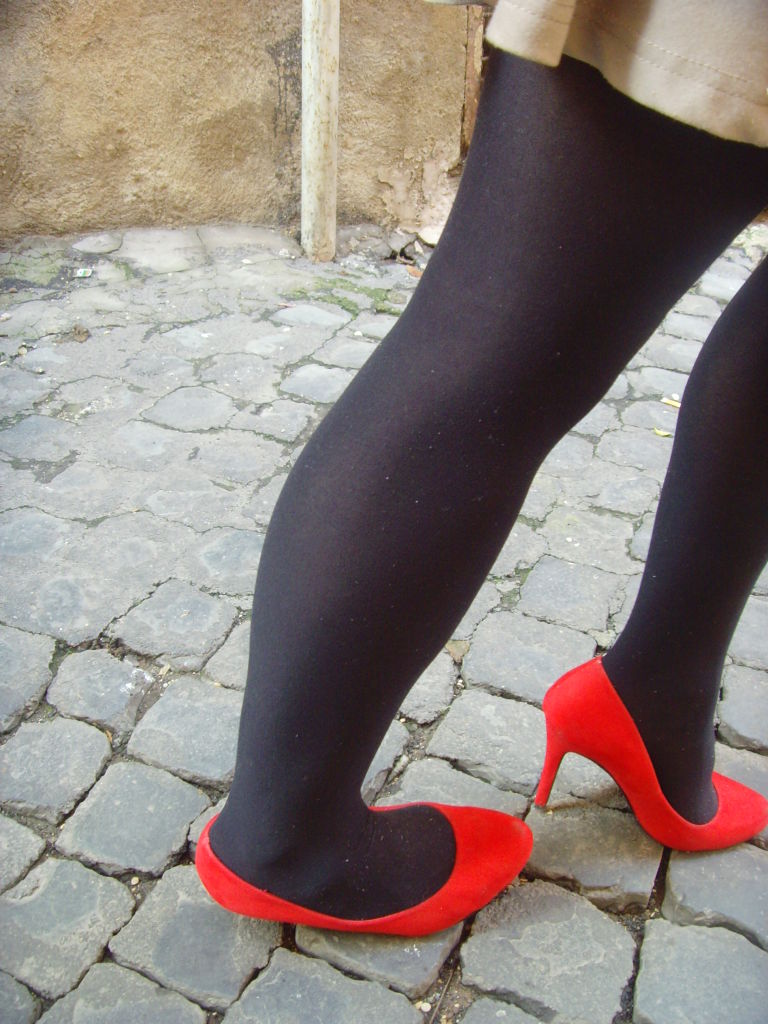 Fresh off the boat three months ago we were completely and utterly broke. We'd left our life of ease in Salerno on Amalfi behind for new adventures, forgetting I think just how long it takes to get set up somewhere new.
It got to the stage we were reusing teabags and sheepishly eyeing discarded boxes, containers, etc on the streets wondering, could we use that for something? Such is the price of starting a new life!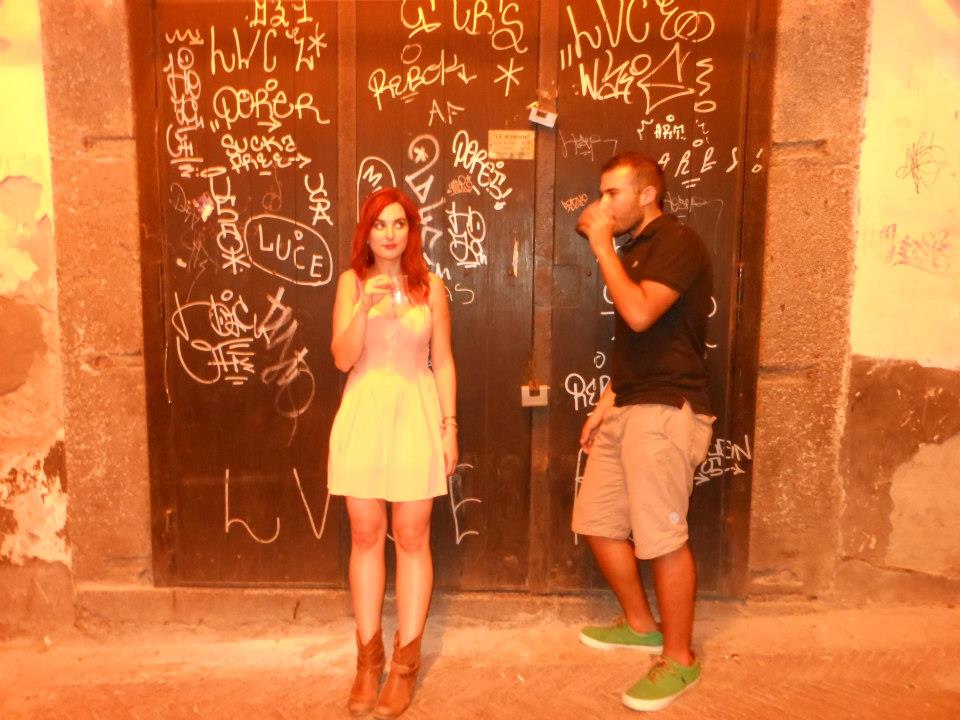 I live with my best friend Christian in Trastevere, the historical centre of Rome.  Trastevere is a wonderful hive of activity with winding cobbled streets and great Italian food.  Most people who know it wonder at how we can afford such an affluent address but if you're willing to live in a shoebox sized apartment with almost no natural daylight it's somewhat obtainable!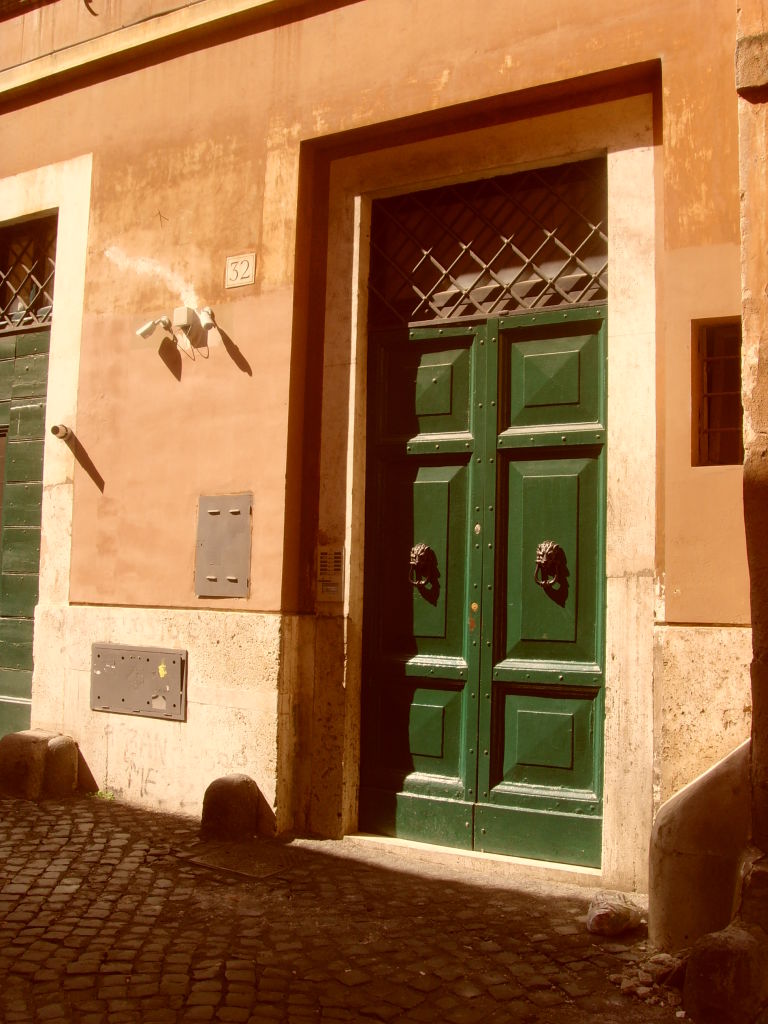 Thankfully three months in work and life has settled down again. In our tiny Italian home we have no tv, no internet, no phone reception and no books.  My mother tentatively asked 'what do you do for fun?'  I replied….. 'I walk.'
Knock knock open wide, see what's on the other side, knock knock any more, come with me through the magic door (Bosco circa 1980's) Today I'm bringing you with  me on my Roman commute…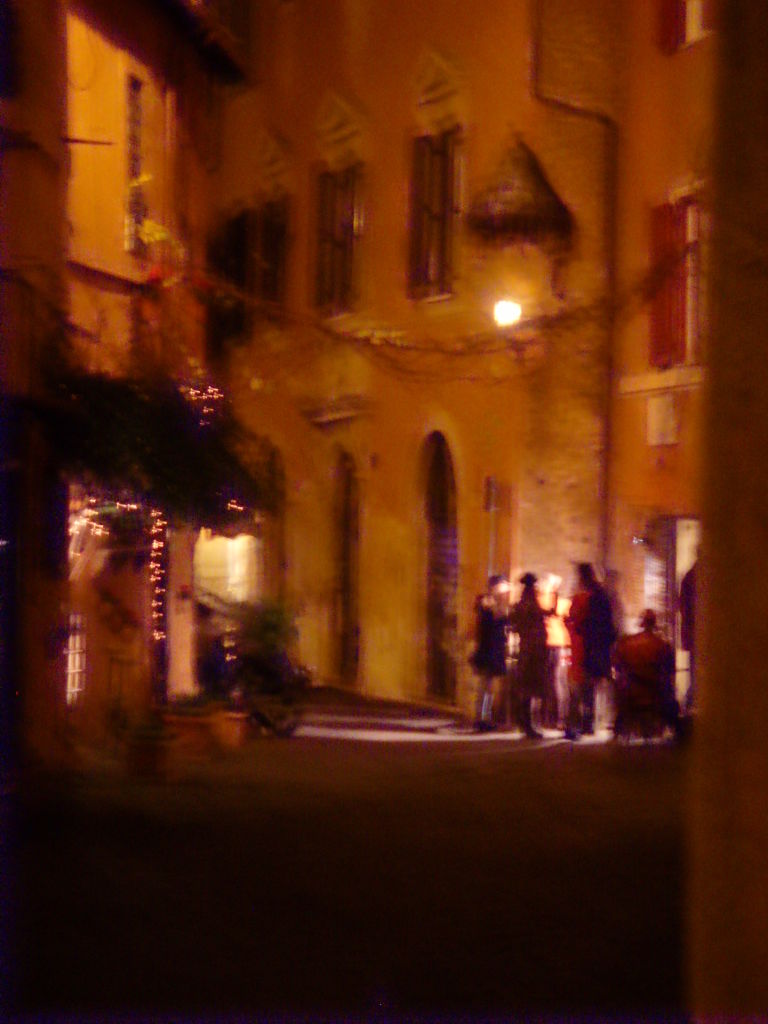 On leaving my street I cross the Tiber River. I come face to face with a fascinating person, sex unknown, we refer to her as 'HeShe.' Wears a skirt…and a beard…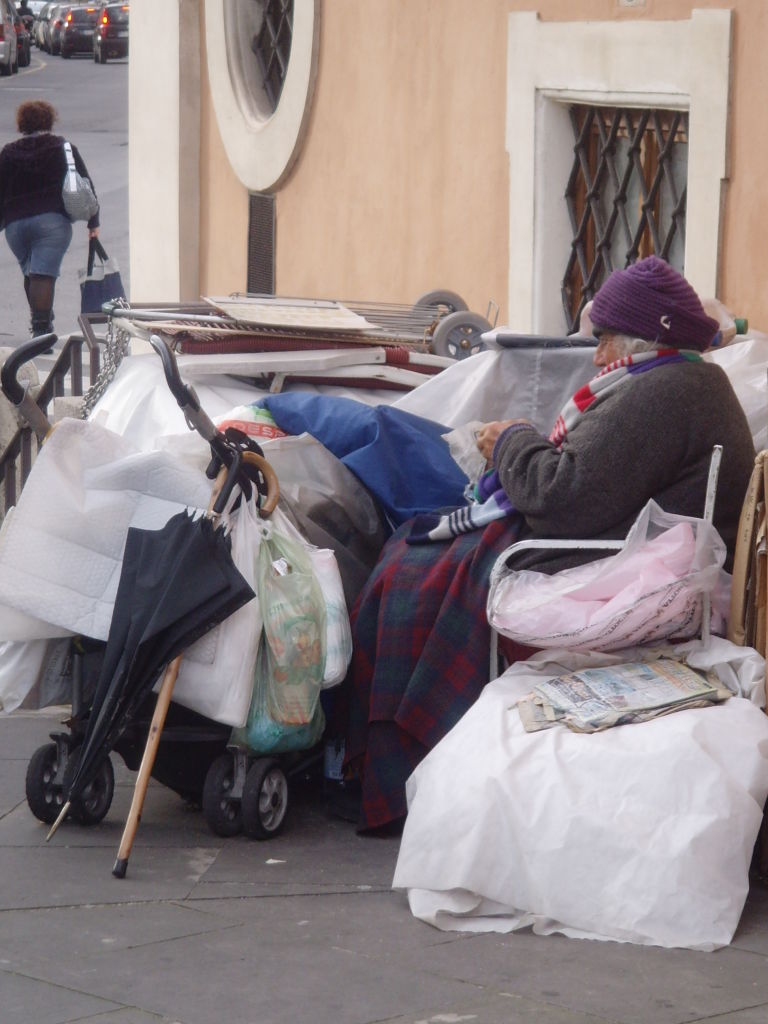 The feminine pronoun will be used from here on for matters of simplicity. This is something you're not going to find in a guide book.  To me Heshe is as much a landmark of interest as the crumbling ruins that surround her. Her life has been pared back to some of life's simplest pleasures: eating, sleeping, sunning herself and reading.
She never begs and giving her money would seem an insult.  While waiting to cross the road I'm entranced at how completely content in her no abode life she appears.  If not munching on snacks she's engrossed in her newspapers or lovingly folding and storing them for again.
She has lovely granny hands, you know the sort.  Sometimes I think its well for Heshe watching the world go by as I trudge towards a stressful work observation or nightmare lesson.  She probably thinks she is unseen, but I see her.  I'd love to know if she ever considers me, even a pinch.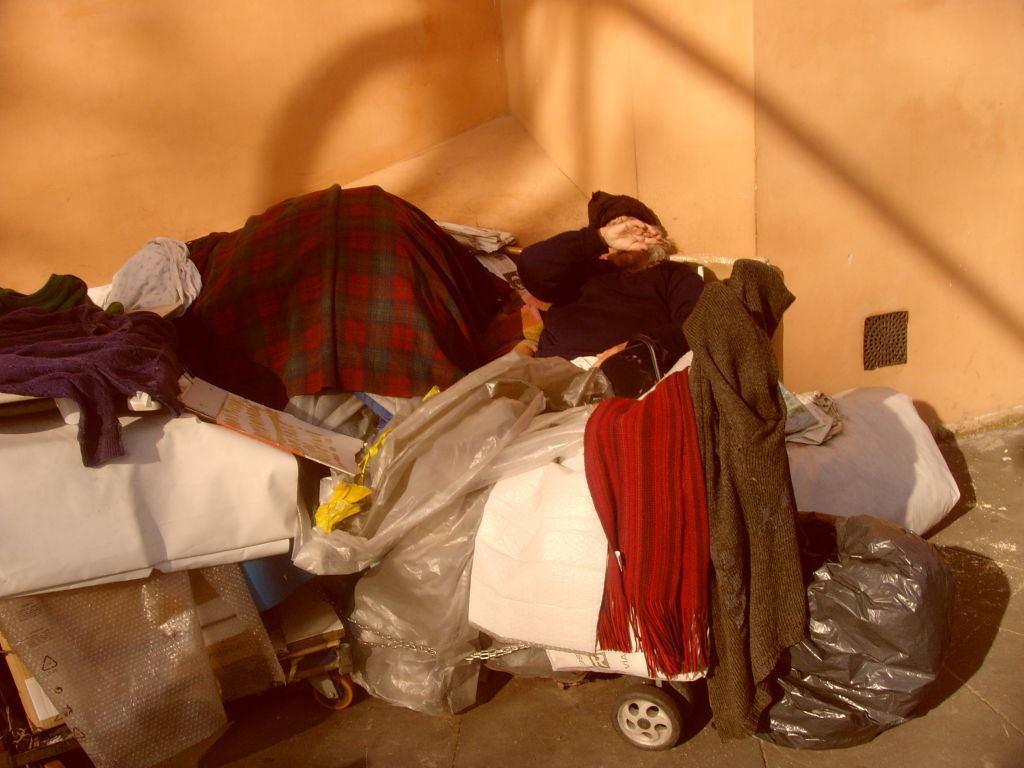 Next I pass La Bocca della Verità or The mouth of Truth, made famous by the film Roman Holiday starring Audrey Hepburn and Gregory Peck. Legend tells us that if a liar places their hand in the beast's mouth it will be bitten off.  Watch the film scene by clicking HERE. Christian and I have decided to create our own Roman Holiday calendar so we'll be re-enacting this scene along with many others soon.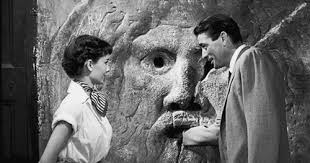 Time for coffee. Italian espressos nearly killed me when I first arrived.  After the first experience I left the café shaking, feeling nauseous and wondering why on earth anyone would ever willingly drink one of those little bitter cups of hell but now I love them!  A true sign of integration, assimilation or institutionalization, I'm not sure which but I definitely feel the part when I stand at a bar enjoying one like a local.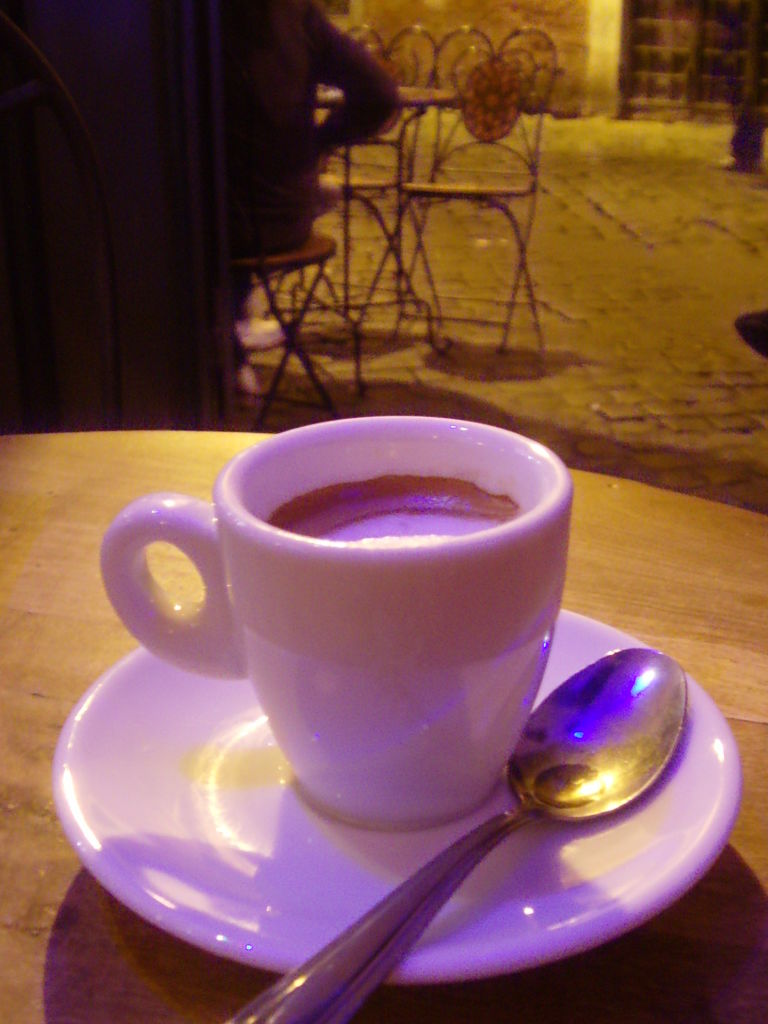 Walking through Circus Maximus I always get a sense of the chariot races long ago and it gives me the urge to run!  Little remains today except for an open space and a lot of ghosts.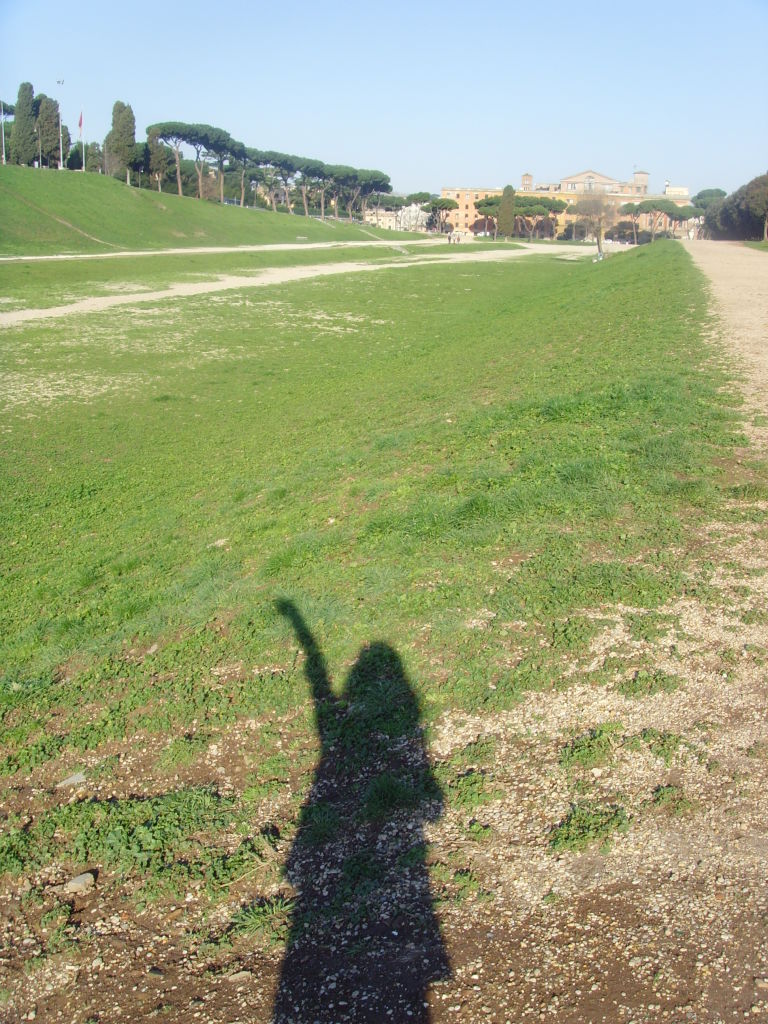 Getting around all of Rome's churches would take a lifetime however I discovered a beauty on my walk to work; The Medieval Basilica of Santi Quattro Coronati.  On my shortcut and therefore off the beaten track it's usually serene with only wild cats to witness your coming and going.
Inside it's cold and quiet. The air is odd. It's full of incredible chandeliers more becoming to a fairytale than a church and that's essentially why I love it so much.  Sometimes it seems wasteful to have so many beautiful churches all for the purpose of silent, unmoving prayer.  I wish it was a ballroom for 'leaping and dancing' before the lord (I got that from the Bible via Kevin Bacon in the film Footloose)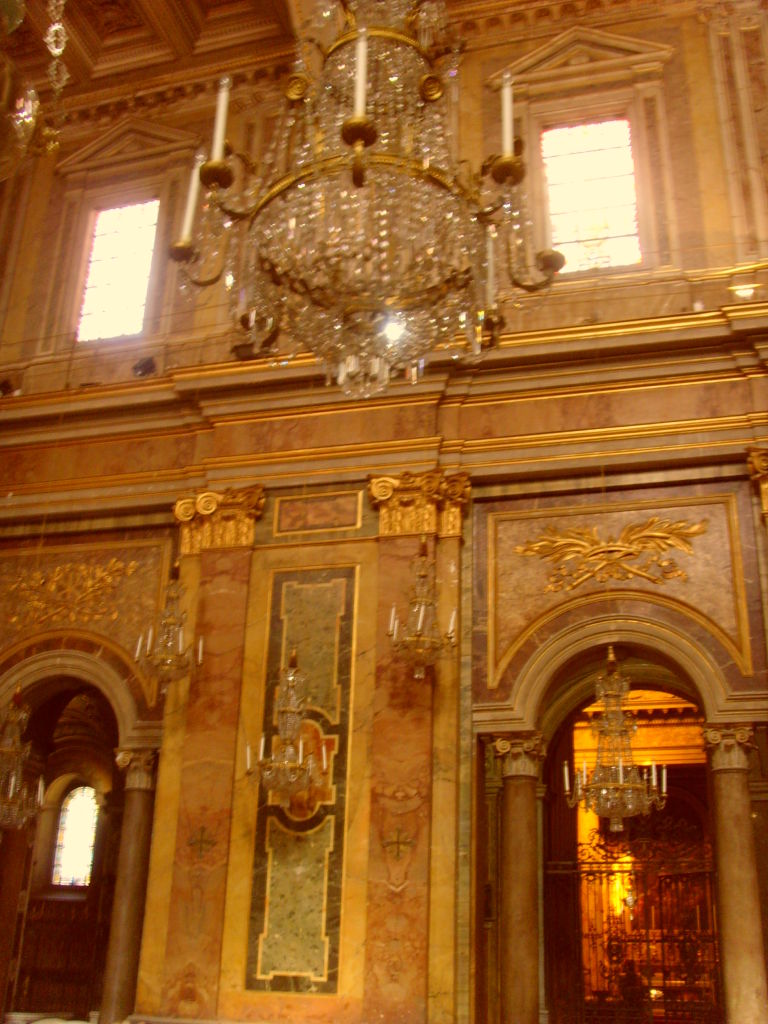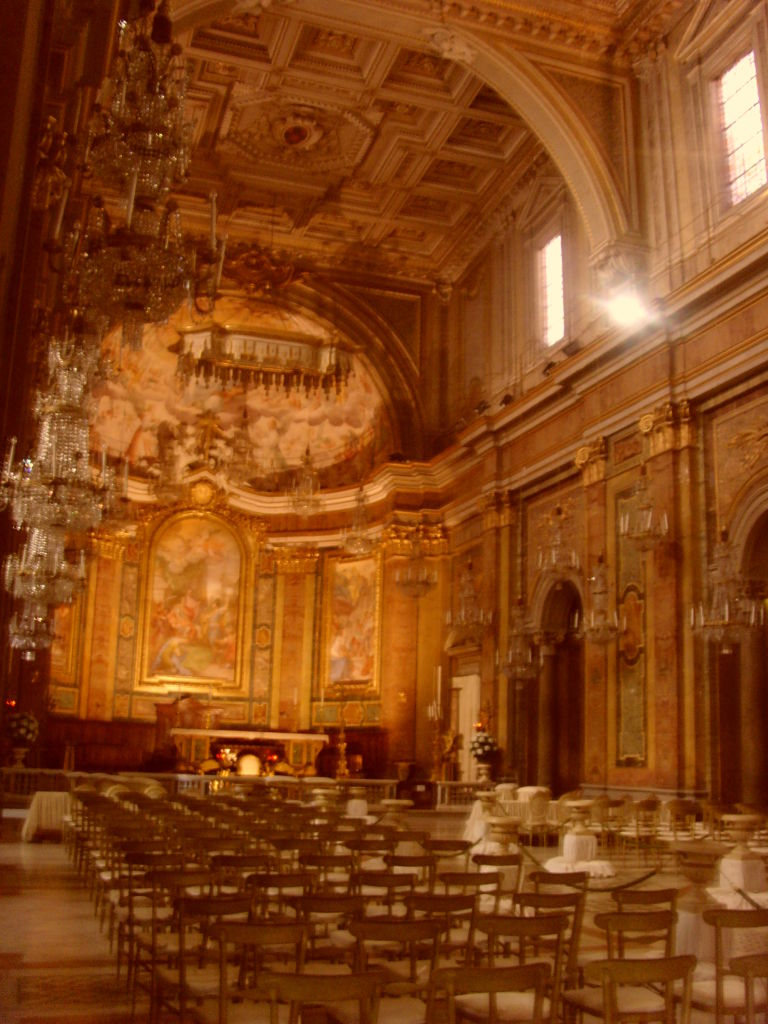 Now I'm nearing San Giovanni where my school is located.  After forty five minutes of power walking my heart rate is up and the morning cobwebs have long been blown from my mind.  To think that some people take the bus baffles me.
Every day I walk through history, movies and art and I savour every second.  Sometimes it really hits me, I live in Rome! It hits me in the little everyday things and other times it's while walking to work past sights like this…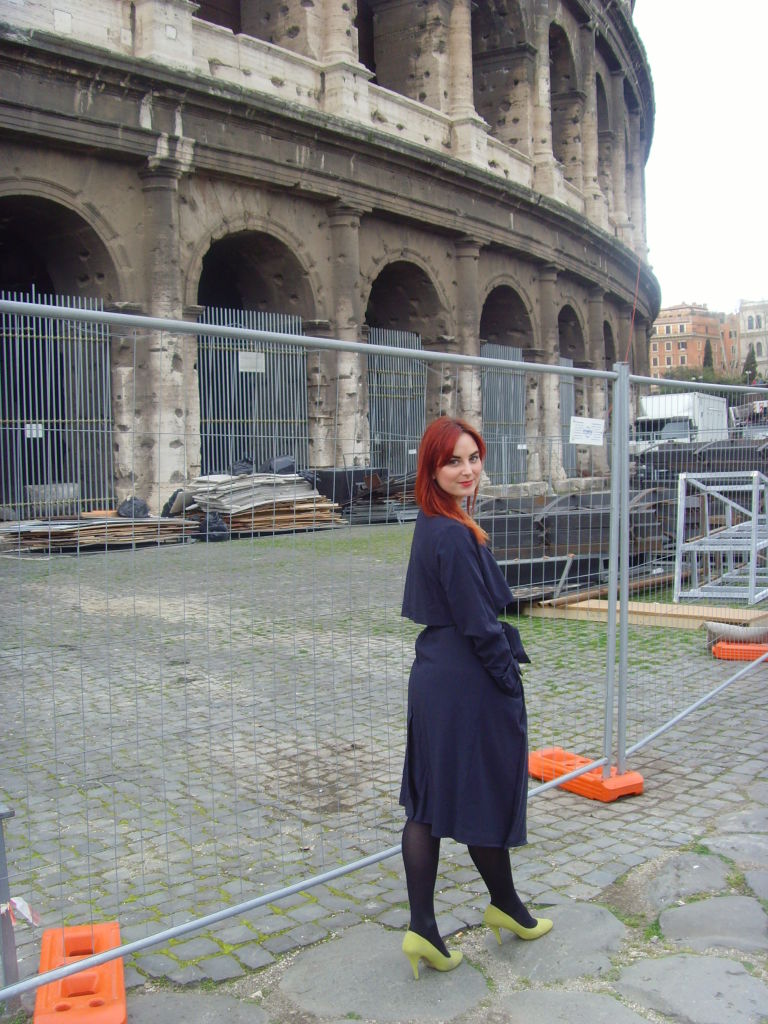 And I think… If only Mammy could see me now : )
I'll be back in a few weeks with another report on the life of an Irish girl in Italy.
---
---