Birthday, Barbecue, Recipes, & Memories…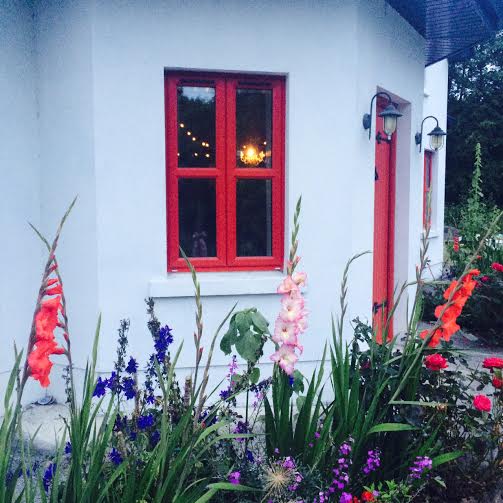 I never thought I'd have a summer child, or a blonde child. Tomorrow our baby child, our little joy pocket, our charming Sadhbh (rhymes with five) is five. She's not sure about it herself and keeps saying, 'What age am I now?' in alarmed tones, and, 'I'm sure going to miss four.'
To celebrate we threw a barbecue for close family and friends. Here's a taster of what I made…
On The Menu…
The Fish Course…
Hake marinated in fresh Thyme, Rosemary, Mint, Bay, Coriander, Lemon zest & juice, extra virgin olive oil, salt & pepper. Hake is quite a bland fish but it can absorb lots of flavour and has a solid meaty texture making it good for fish newbies. 
Trout marinated in lime juice & thyme, with olive oil, lemon, salt, pepper & chilli. The delicate, gentle option.
The Vegetables…
The biggest hit of the day, you might be surprised to hear this… My Spicy Broccoli, spread out in a bbq tray, sprinkled with chilli flakes, ginger, salt, pepper and a good dousing of oil. Cook on the bbq for approx 15 minutes. Douse liberally with soy sauce to serve. Two trays inhaled with equal parts shock and pleasure 🙂 Note: You can do this in your regular oven too. In my view broccoli, and cauliflower, were made to be roasted.
Potato Salad
Boil the potatoes drain, and then in the same saucepan add a good glug of oil and two crushed cloves of garlic. Cook gently for a few minutes then take off the heat and add a tbsp of wholegrain mustard, plus a good dash of white wine vinegar, and stir. Chop the potatoes to the size you want before tipping back into this mixture and tossing to coat. Add handfuls of chopped fresh spring onion and chives, plus s&p. Serve right away or leave at room temperature to cool.
Fennel
Make a double parcel of tin foil and add a sliced fennel bulb, juice of half a lemon, chilli, rosemary, s&p, and roast on the BBQ or in an oven for 25 minutes.
Pak Choi
Another foil parcel, this time I added ginger, coconut milk, chilli, lime juice, s&p, and a dash of oil. Approx 15 minutes on the BBQ.
Salad
Caprese – Slices of buffalo tomato, mozzarella cheese, and basil leaves, drizzled in extra virgin olive oil, balsamic vinegar, and salt.
Salsa
Chop and combine spring onions with fresh chilli, coriander, mint, tomatoes, and cucumber. Let the flavours meld overnight. Beautifully zingy and fresh.
For the Meat Course…
Sausages, Chicken Skewers, & Burgers in Jamie Oliver's BBQ sauce, get the recipe HERE
Desserts were provided by Karen Barry, Strawberry Meringue Pie, and Caoilfhionn Ni Dhonnabhain, Rocky Road. Adrian made the birthday cake, a strawberry and cream sponge with icing.
Complement and compare this birthday post with another birthday post HERE
Have a great week out there, we'll be taking it easy, xo Jane
---
---