Cailleach (Witch) a Novel by Jane Gilheaney Barry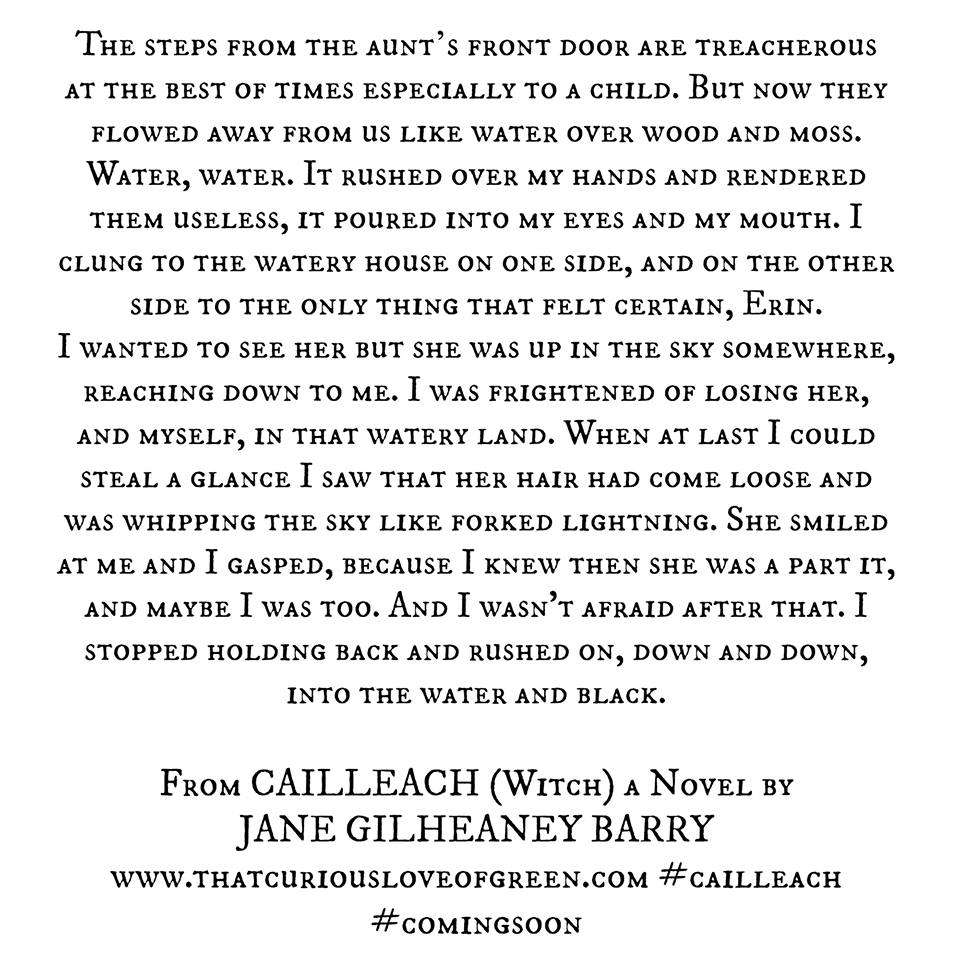 As you know I'm currently seeking representation for my debut novel CAILLEACH (Witch) An atmospheric, modern gothic, mystery, reminiscent of Daphne du Maurier. It's a story about women and the search for freedom. I hope it will appeal to readers of authors like Alice Hoffman, the Bronte's, Daphne du Maurier, and Kate Morton.
Here's a little more about it…
The book in three words… Atmospheric . Moving . Eerie .
It's 1995 and the sisters are returning to their mother's home in the west of Ireland, where the aunts still live. They are Bean Feasa (wise-women) witches. They have a troubled relationship with the town, and are bound to a fearsome Cailleach.
'For a long time the sisters had known they'd be going back. It was the law of the wild that was there and they'd stayed away long as they could but now the pull was strong. They knew the mountain was where they belonged…'
Cailleach explores how we are shaped by external forces, and how we become ourselves. It's a story about the ever changing relationship between nature and culture, between the ancient and the modern. The changing roles of women, of evolution, freedom, and the battle for the self…
'For what is a witch but an outsider woman? And that is all a witch has ever been.'
I know many of you have been waiting a long time to get your hands on this book. And from the bottom of my heart THANK YOU for journeying with me. It's no small thing.
Some of you have been here since the start, I appreciate that very much. You've made the process less lonely, and it always makes me smile to see familiar names.
You've supported me through thick and thin, changes in direction, fb changes, life challenges, content changes, a lot of changes! And of course the evolution of this novel from idea back in 2012, to the heady days of writing the first draft. Then came the big moment, writing THE END on that first draft. If we knew then what we know now. That was just the beginning.
On through subsequent drafts, nine in total, of 85/90,000 words, and if you follow me on fb you know that this week I started draft ten. Just because I can, it's still mine for a little while longer.
So here is a tiny excerpt from the book, that's never been seen before. A little taster, I hope you like it. And yes there is a typo, but you'll get the gist.
Out there somewhere is the right agent and publisher for #Cailleach That is unless, the right publisher is me. Time will tell. I'm giving it another year. I'm not so invested in the traditional route to publishing that I'm going to wait years and years. I started submitting to agents in April 2017 and plan to keep submitting until April 2019.  If I haven't found the right agent/publisher by then I will self-publish. That's the plan.
Talk to you later. Have a great weekend, xo Jane.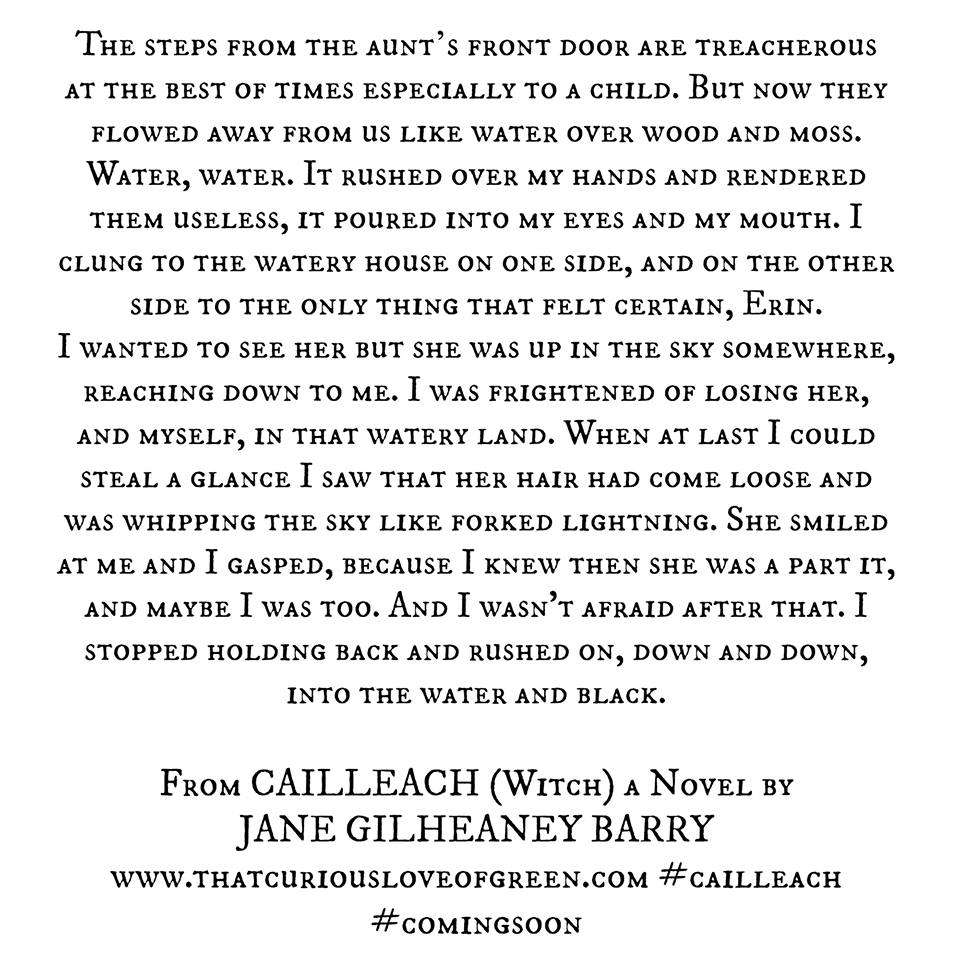 Tags:
#amwriting
,
Ballinamore
,
blogger
,
book
,
cailleach
,
creativity
,
Daphne du Maurier
,
editing
,
editing your novel
,
emerging author
,
family saga
,
gothic
,
how to edit your novel
,
Ireland
,
irish mythology
,
irish women
,
Jane Gilheaney
,
jane gilheaney barry
,
Leitrim
,
lifestyle
,
Magic Realism
,
modern gothic
,
mystery
,
novel
,
outsider women
,
paranormal
,
sisters
,
sliabh an iarainn
,
suspense
,
That Curious Love of Green
,
the self
,
witch
,
women
,
writer
,
writing
---
---