Celebrating 13,000 Followers of That Curious Love of Green, on FB.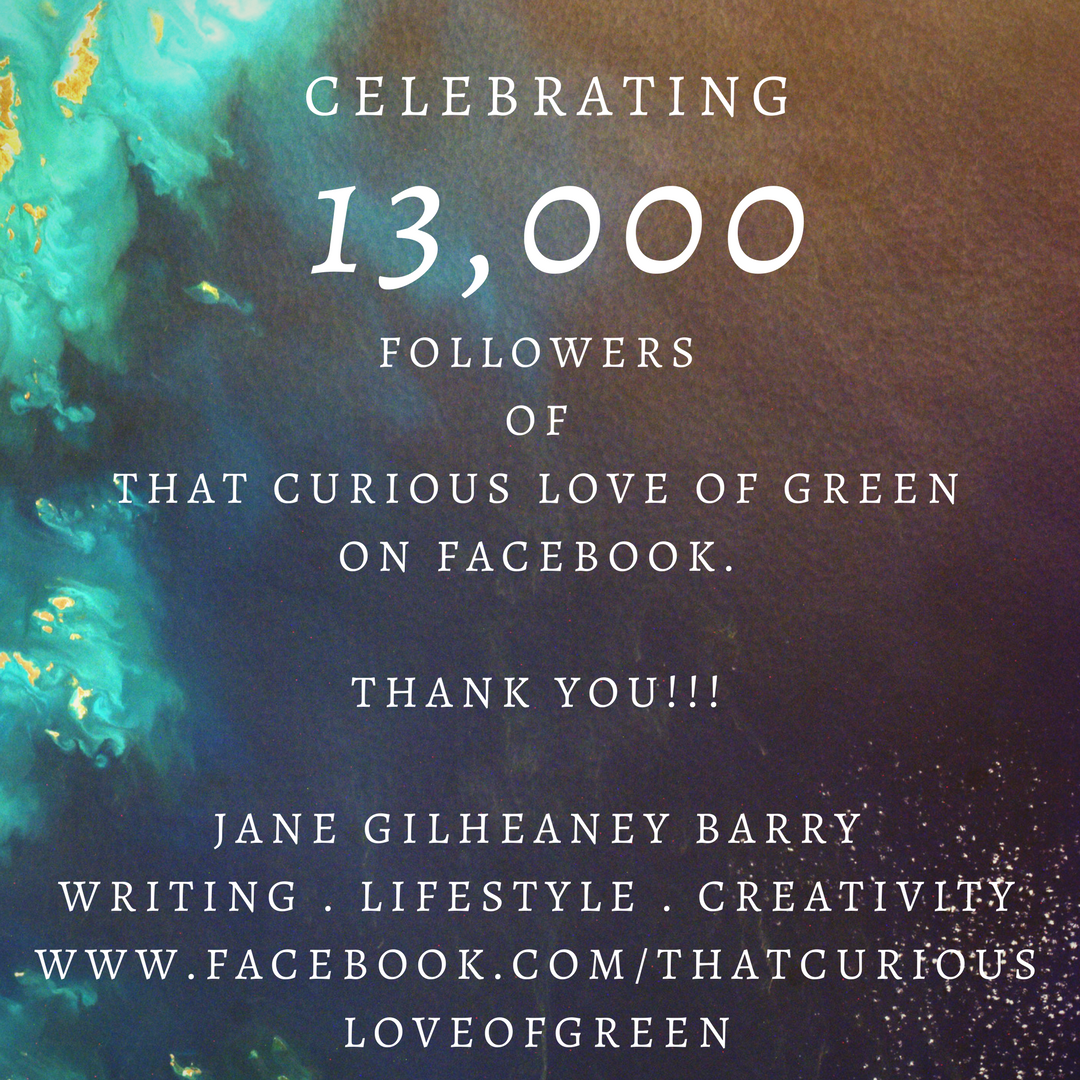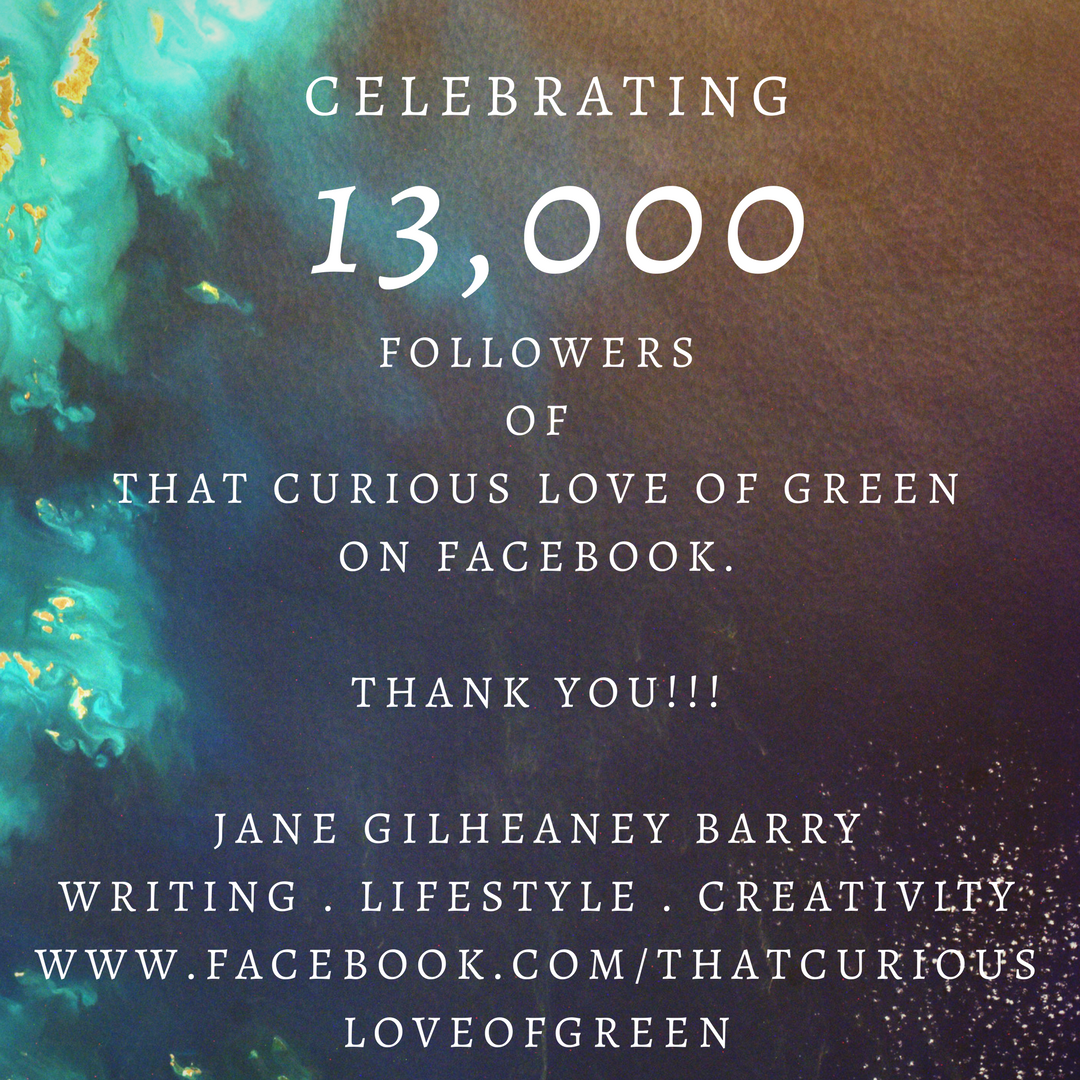 That Curious Love of Green is 13,000 followers strong on fb, it's amazing to me, and I just want to take a minute to notice and appreciate, and to thank you all for your support of me, my creative explorations, and my novel writing journey. I hope that along the way you've found some inspiration and encouragement here for your own path.
When I started this page I was new to writing. I was on a quest for healing, learning, and a more creative life. As I gathered these things the quest changed. And the page, evolved with me.
It became a space for sharing my novel writing process, from idea to publication, and beyond. A path I'm still on. And somewhere along the way I went from sharing my love of art and wishing I could paint, to a beginner painter, just having a go, when I signed up a month long daily art challenge.
I found that the more I immersed myself in artistic pursuits, the bolder I got, the more I witnessed the astonishing transformative and even life-saving power of creativity, in every area of my life.
It wasn't long before I started to imagine the abilities, forgotten dreams, that in all of us lie sleeping. I wanted to tell everyone what I knew. That you can do these things too, if you REALLY want to. And everything you need to do it, you already have.
I hosted a number of creativity bootcamps, another great learning curve. Well that was what I asked for after all, healing, learning, and a more creative life.
I wrote another book, a non-fiction one, on this very subject. I started creativity coaching, and this year I qualified as an Art Therapist. Yes, in case you don't follow me on fb, this week I received my first Distinction, for Art Therapy, for the design and implementation of Art Therapy workshops, using artistic activities for social, educational and personal development.
And the books ARE coming! Janey, it takes so long.
But here's the thing. I started all this six years ago. My eldest was in Leaving Cert and the other two were pre-school. I've NEVER been able to give any of it my undivided attention, yet.
I just did what I did, when I could, however small, but boldly, devotedly. And if I don't remind myself occasionally, I forget. Because I'm simply too busy to notice, too wrapped in the process.
So here's to six years of That Curious Love of Green, to 13,000 followers on fb, fun times, and fabulous people. And to the future. The publication of my novel is in there. I can't wait to share that with you.
I'll leave you with a quote from David Bowie;
'I don't know where I'm going from here, but I promise it won't be boring.' It hasn't been so far.
Heartfelt thanks again, dear curious tribe of green. Love and courage, xo Jane
I guess that was more than a minute.
Tags:
#amwriting
,
art therapist
,
Art Therapy
,
Daily art challenge
,
Daily Writing Challenge
,
facebook
,
freedom
,
how to be creative
,
how to be free
,
how to live a creative life
,
how to paint
,
How to write a book
,
inspiration
,
Ireland
,
jane gilheaney barry
,
social media
,
social media marketing
,
That Curious Love of Green
,
the creative adult
,
the creative life
,
Writing a Novel
,
writing tips
---
---