Colm & Lisa's Magical Wedding in Malta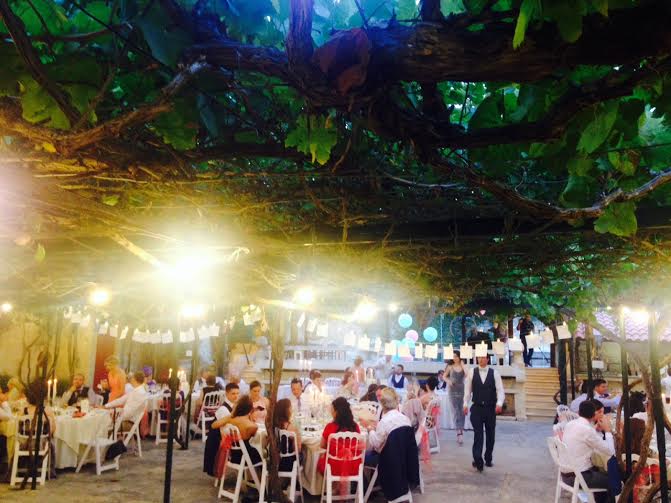 Get ready… for the most epic, the most photo laden post ever. It's the beautiful wedding of brother Colm and Lisa, on the 3rd of September 2015, in magical Malta…
Here's the stunning bride Lisa with her beautiful bridesmaids, from L to R, her best friend Aine and sisters Leanne, and just out of sight here, Elaine…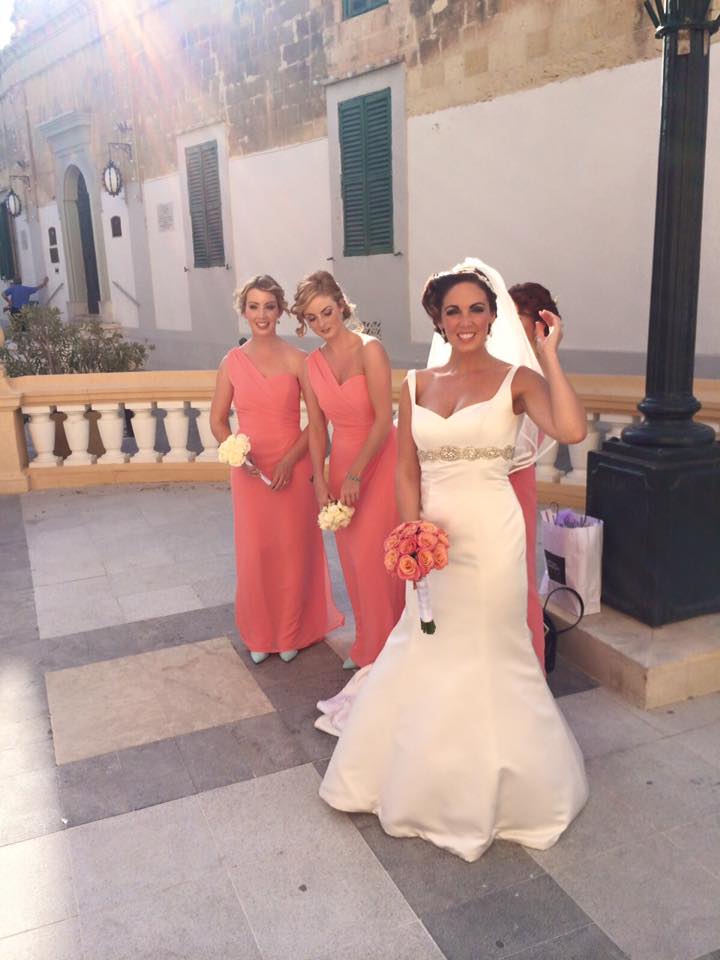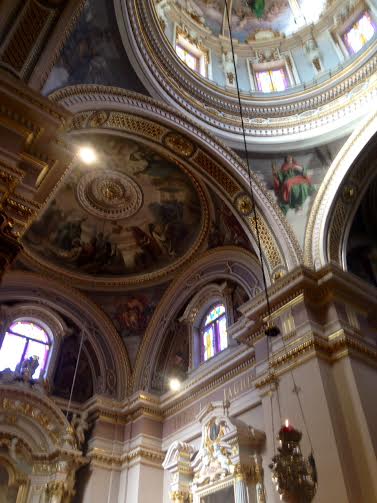 We were so excited in the chapel, excited and emotional, it was just all so beautiful, be warned, I may have to say that a lot, and HOT! Thank goodness for the fans, the church was a sea of elegant waving…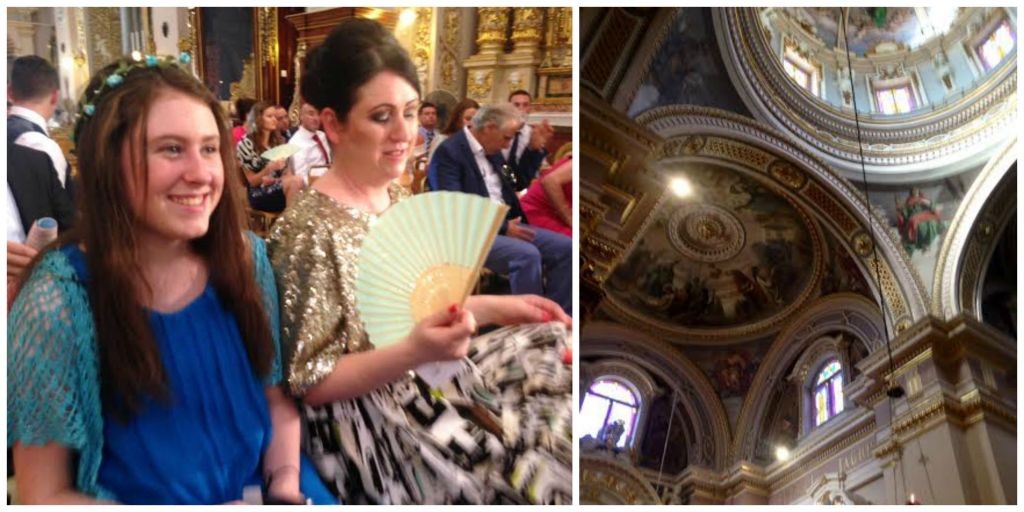 Caught mum and dad in the door on the way out…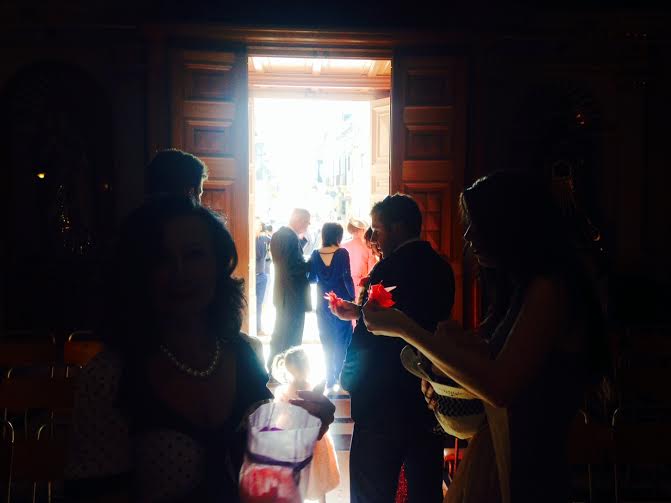 A wedding feast for the senses, from the colours of Malta to the colours of the bridesmaids hair…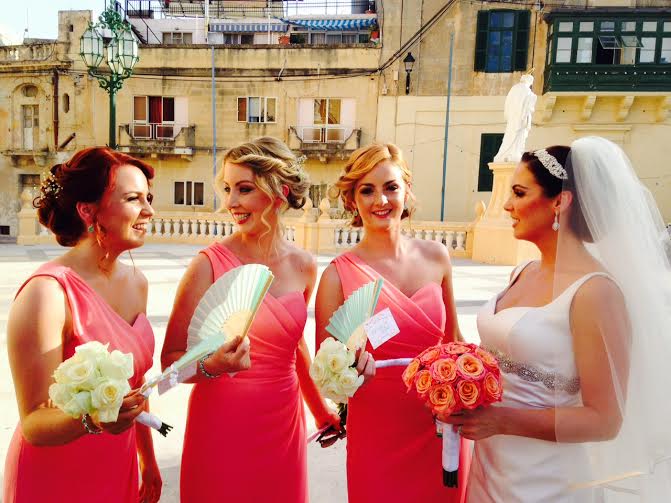 The light! The light put a sheen on that which was already beautiful…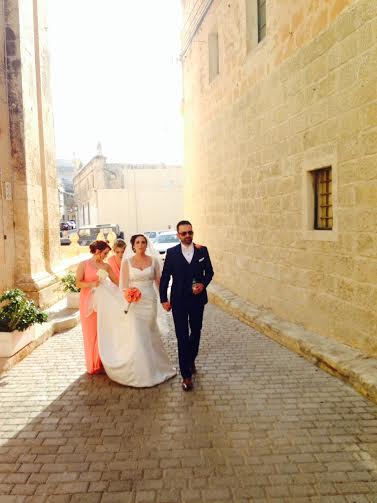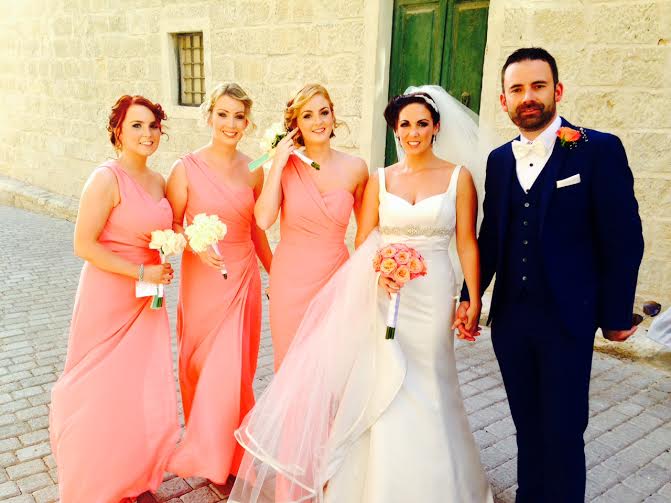 And then, between church and reception we stepped into Italy it seemed.  Family, fun, and refreshments in a golden side street..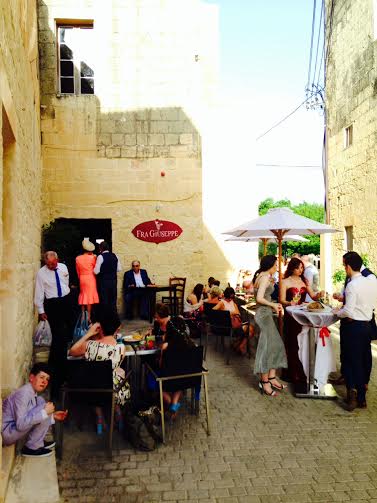 Just not for me! I was way too busy taking photographs.
With all the beauty and inspiration I couldn't help it, there was even a green door… Lisa loves green too and it gave us the perfect backdrop to her beautiful dress and dark hair…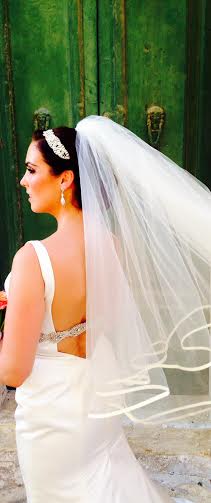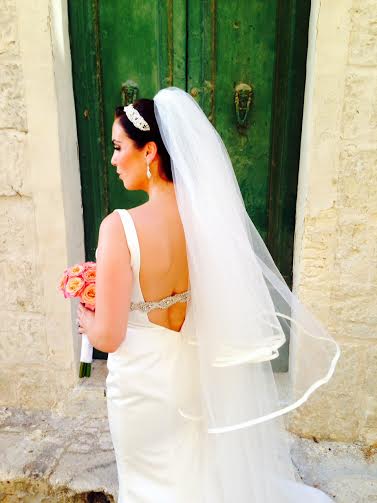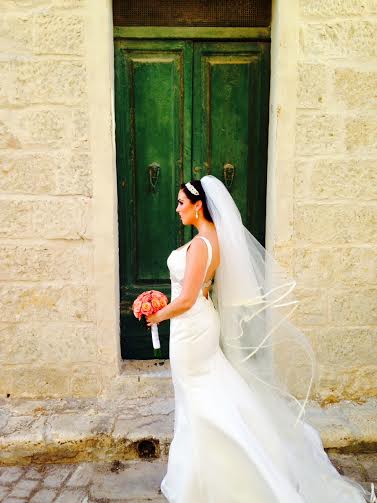 'The beauty of a woman must be seen from in her eyes, because that is the doorway to her heart, the place where love resides.' – Audrey Hepburn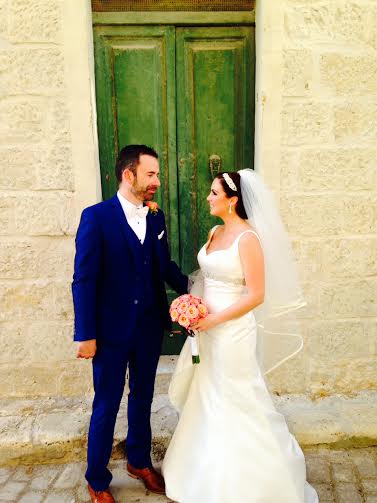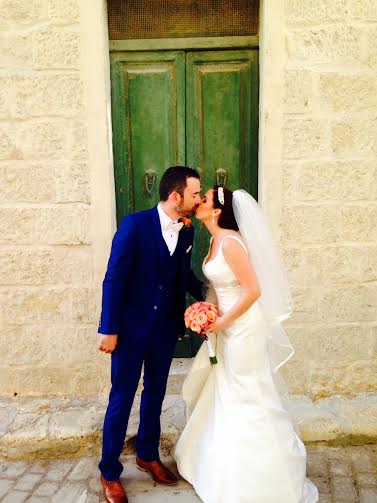 Dad & my niece Rowan had their own door, and a secret club all their own…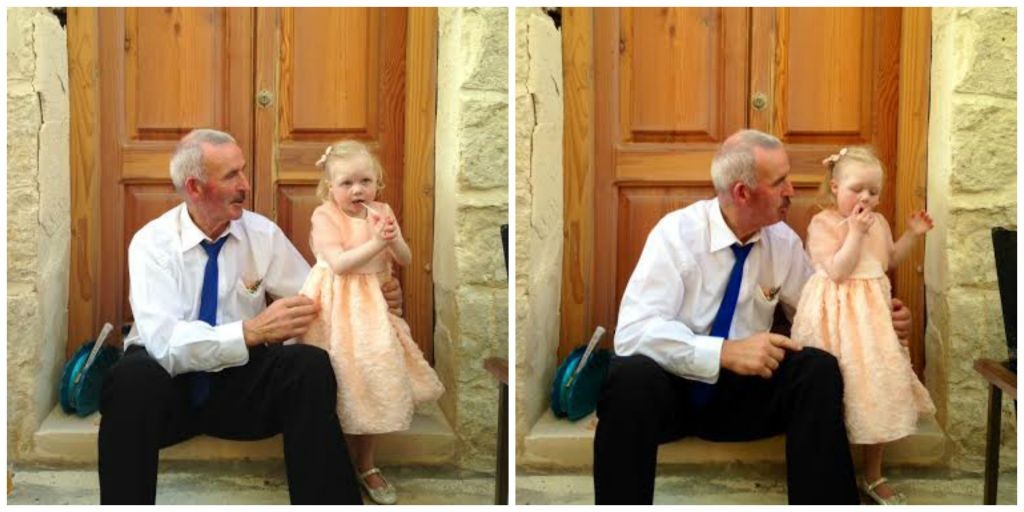 After so many months of planning and hard work Lisa was finally ready to bring the beat down…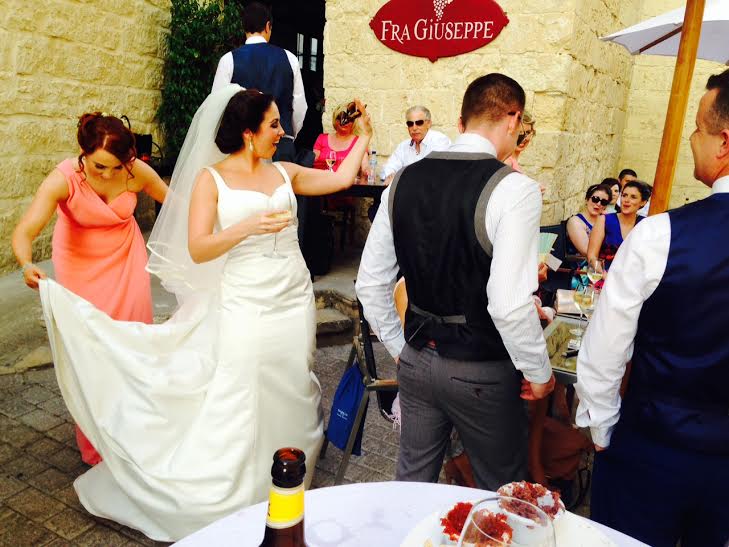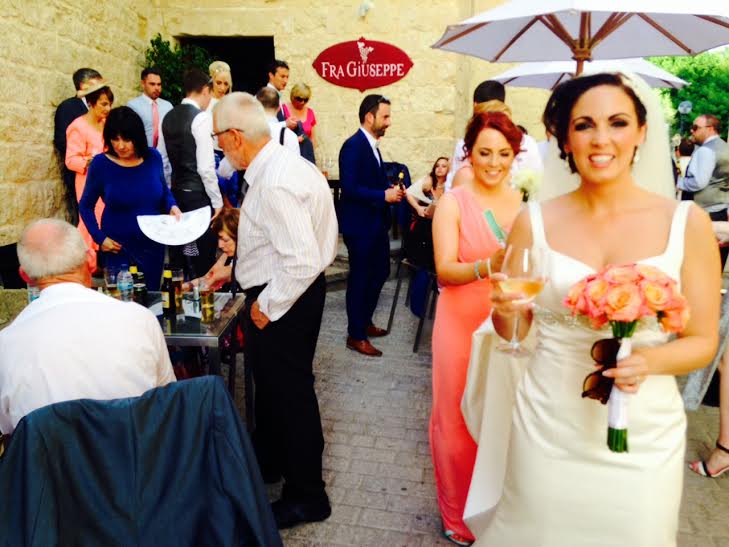 Casey…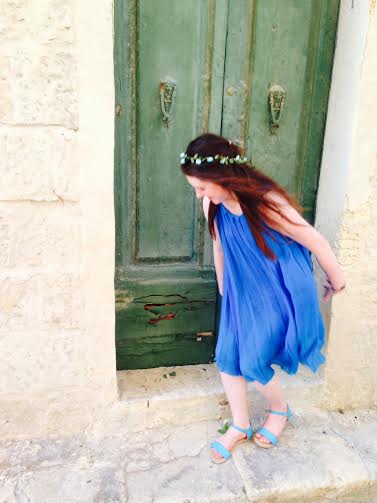 "Her hair was copper-red, like the grass of the shore on which the spring floods leave their rust; but her eyes were dark, like the pools among the marshes, drawing the beholder down into their depths." – Aino Kallas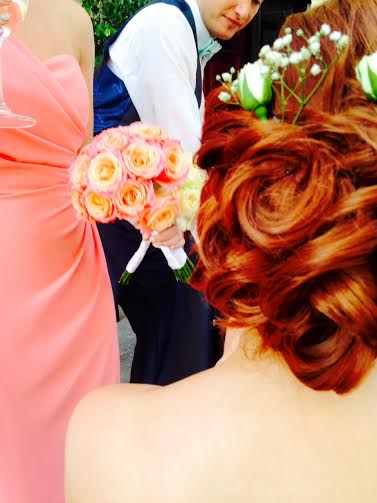 The eyes have it… two of my sisters Laura & Brenda, plus two of Brenda's children, Casey & Dara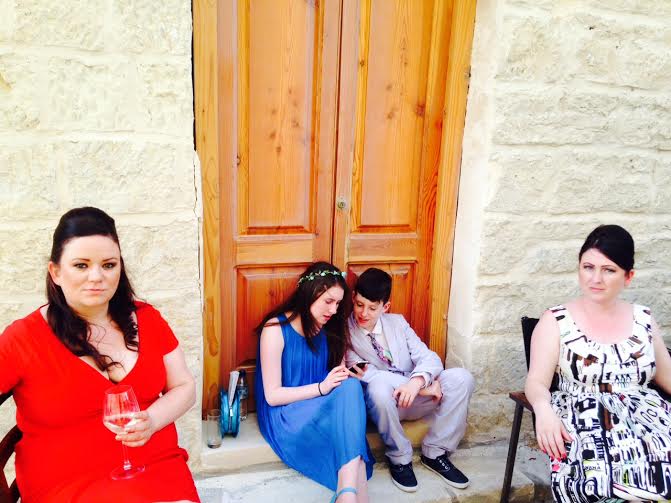 Yep… there's the other sister, Martha, photo-bombing Mum and Colm 🙂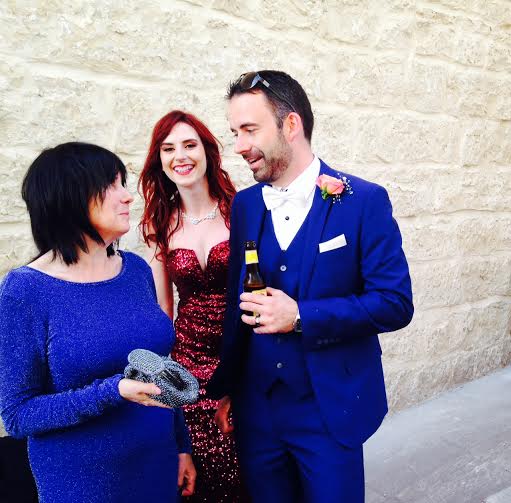 That's my girl, my eldest, Shaylyn, the little ones stayed home with their Daddy.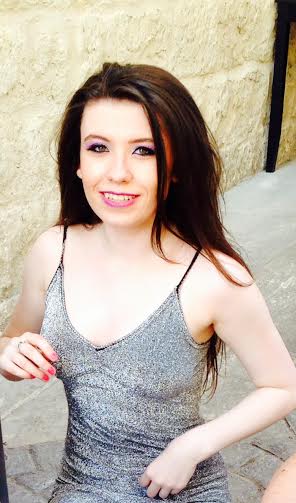 Just time for a quick selfie with Shaylyn before we moved on to the reception venue. This, as you can see, is a rare shot of my eyes, and they're still not fully open…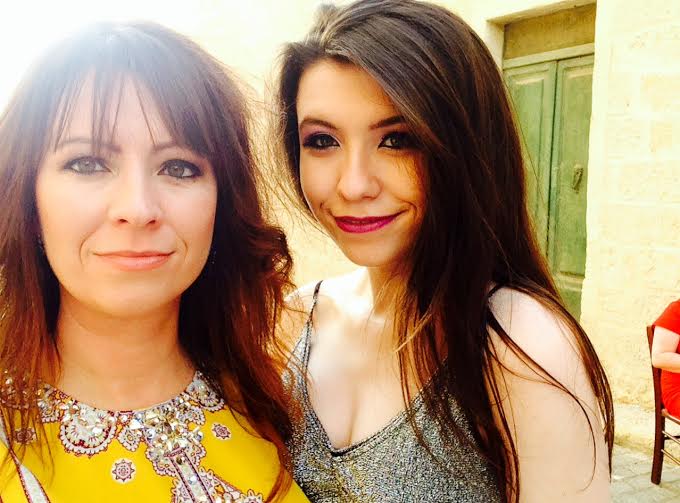 Next we were whisked away to a privately owned villa, Razzett L-Abjad… yes really, sigh…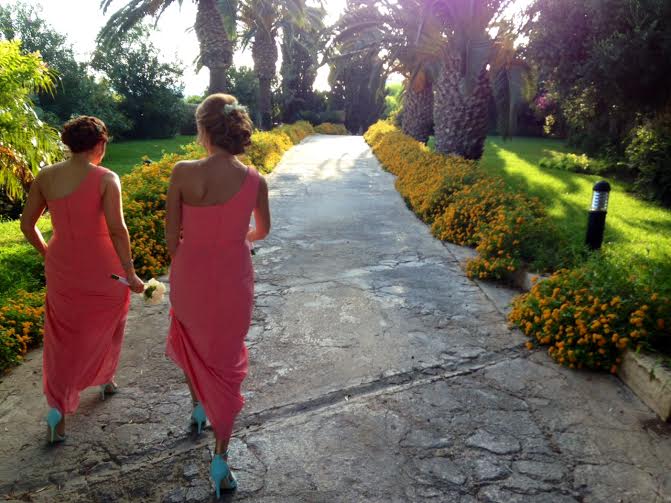 The perfect setting I'm sure you'll agree, for beautiful Irish women, in turquoise (shoes/jewels) coral and blue eyes…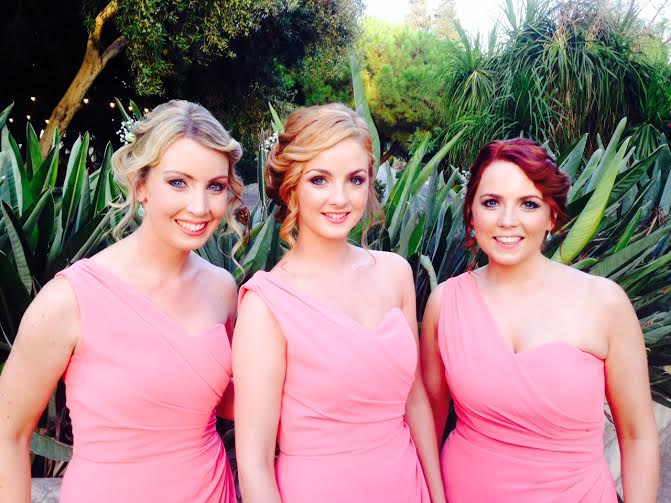 Shaylyn & Padraig under the vines and bougainvilla…

Mum & Dad waiting for the bride and groom to arrive…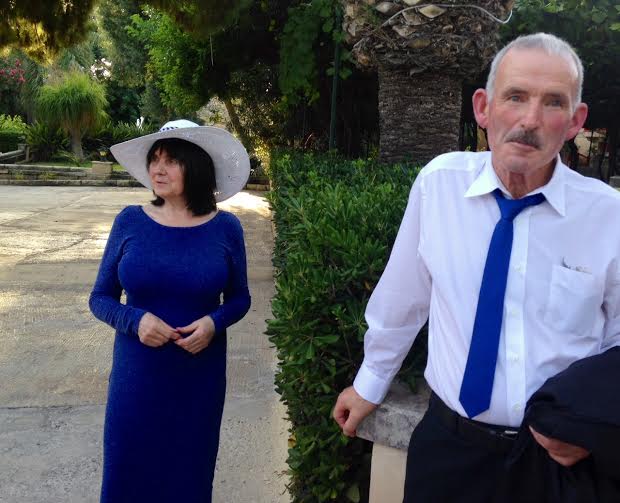 As Lisa's Dad Gerard, Mum Bernadette, and sister Elaine look on…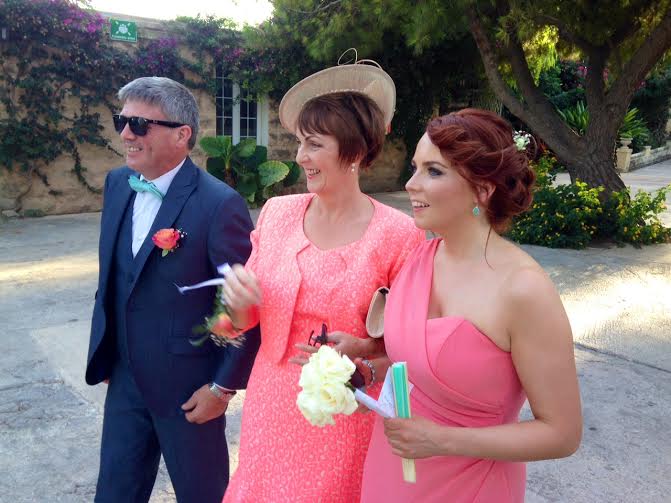 Just when you think things can't get any more magical…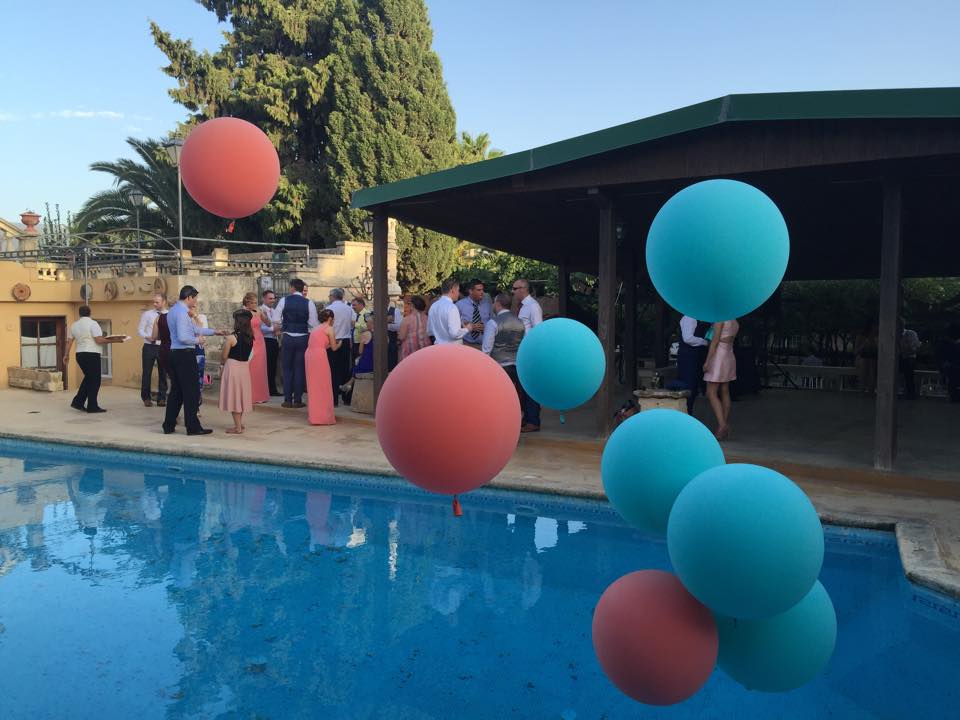 The tables were spread under the vines heavy with ripe sweet grapes and the guests moved around in a dreamlike haze, the heady scent of bougainvilla in their wake… Jane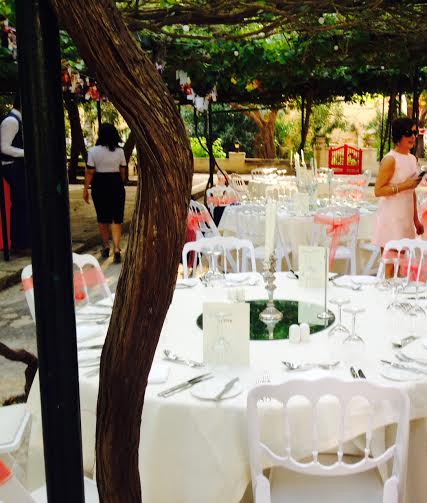 I couldn't resist this quirky shot and look at that backdrop!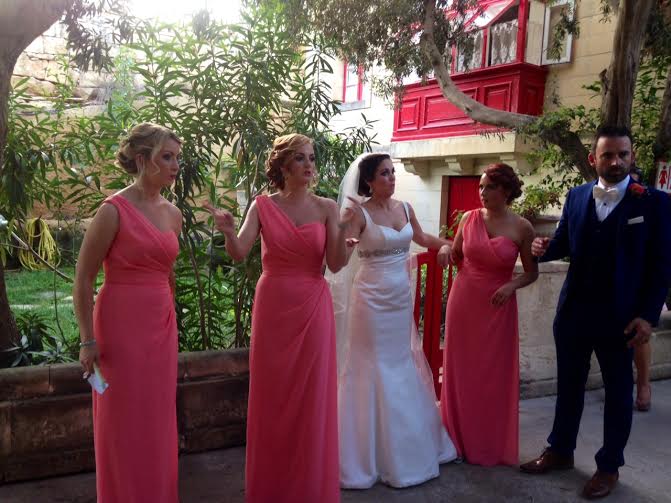 And I might add I loved my dress, from Monsoon…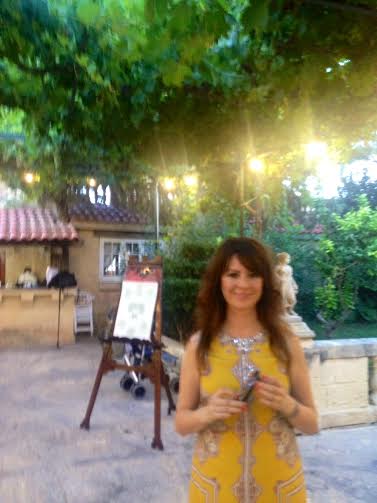 In the garden of Eden…
From L to R: Me, My sisters, Brenda & Martha, the bride, Lisa, my brother Colm, sister Laura & daughter, Shaylyn…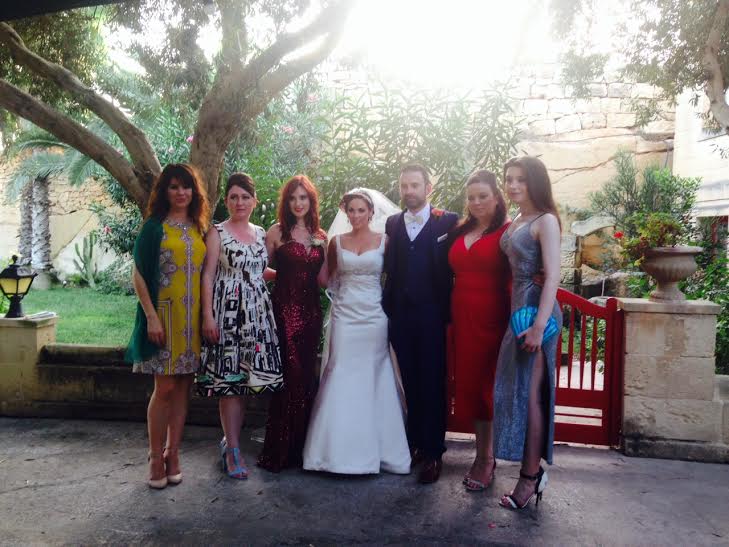 The beautiful couple with Rowan, the bravest little girl on earth.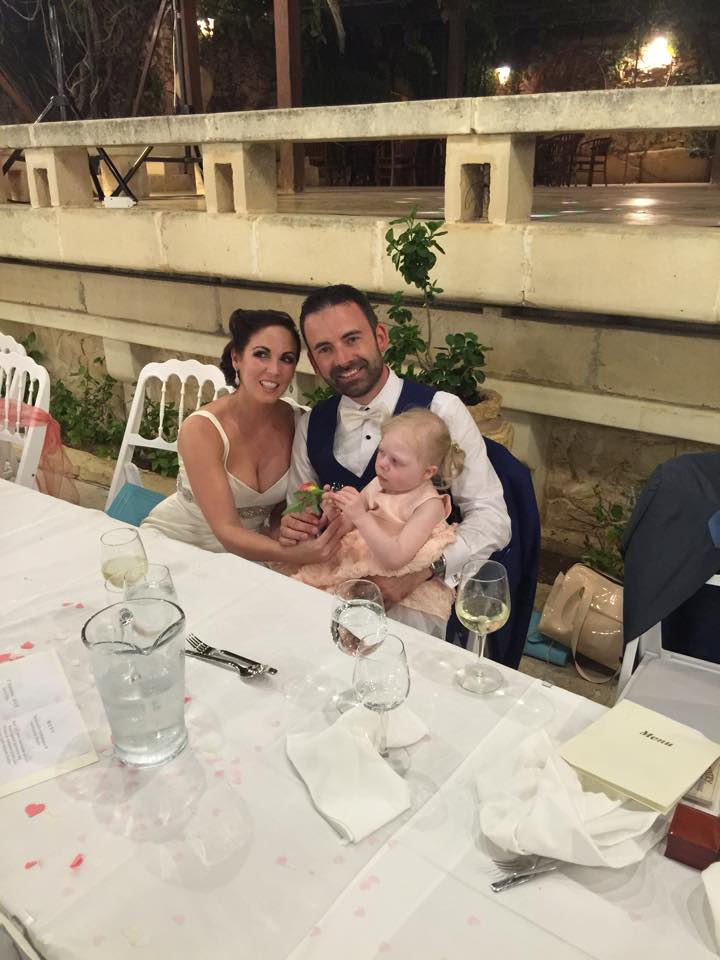 We spent the day in a fairytale, the afternoon in a movie, the night in a storybook, every detail was perfect but at the heart was the people, Colm, Lisa, family and friends. The speeches brought with them fresh tears as love flowed to the top and you could feel it, and that was the real magic. Jane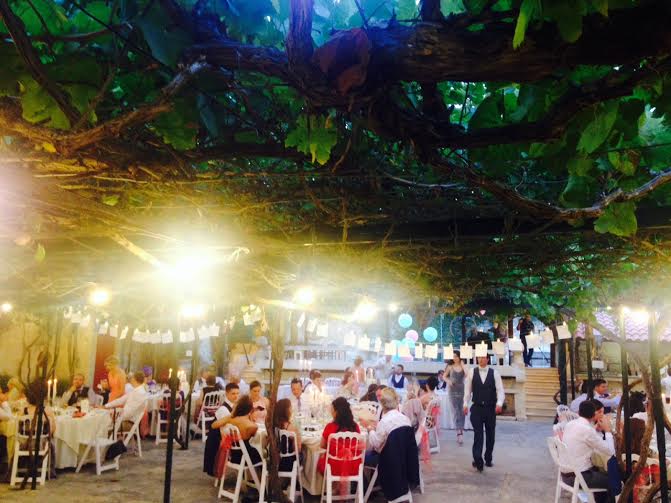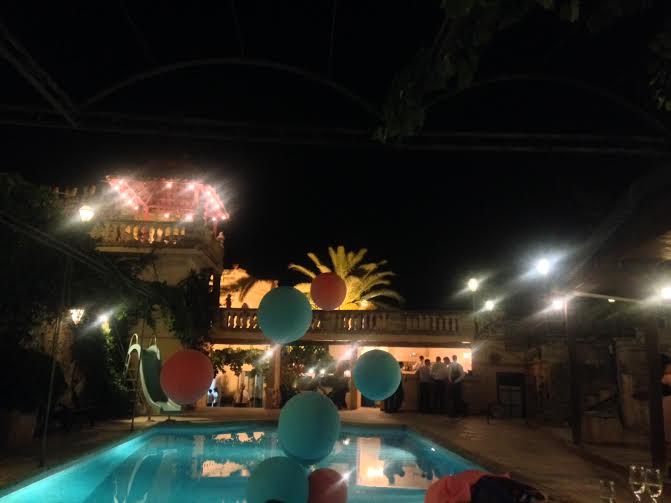 'And the way he looked at her was the way all girls want to be looked at.' – F Scott Fitzgerald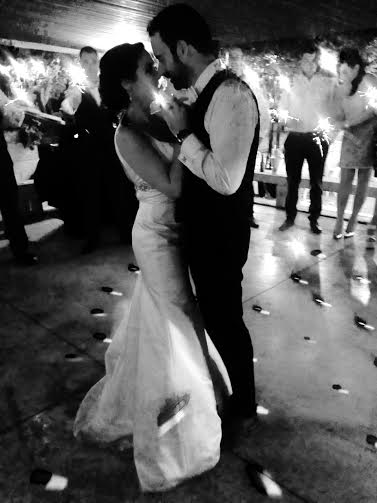 Wishing Colm & Lisa a lifetime of love and happiness…
---
---