My father came from the mountain. My mother from the valley.
Memories of my mothers home in Corraleehan are older, from when we were younger and full of sunshine.
These grandparent are harder to grasp. The children of children born in the famine Patrick Fox is an old man in a cap brought to life in stories, a sepia photograph.
He was the local storyteller, the man to whom people brought letters to read and forms to fill. He had died before we were born but lives on in our memories still.
My grandmother Mary Susan Logan lived until I turned six. She had long silver hair in a bun, gentle elegance. Her corner by the fire seemed dark but she'd draw you in with emerald sweets and sweet smiling eyes.
By the fire I see her, and every time I see wild roses I think of her. The memory says, a froth of wild roses brushed her dear head that time we walked to the corner. Somehow I knew I'd remember.
She had a passion for music and dancing and before we knew how we'd dance for her, our shoes into slippers on her flagstone floor.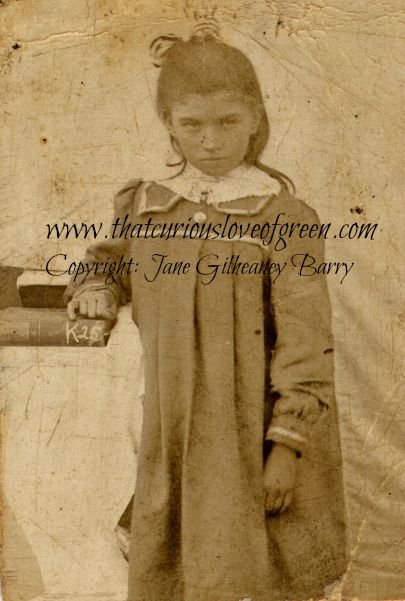 The lane from the road to the house was long and it wound, through high fields to a dip, a rugged place of fiery whin's to golden crops and down again in verdant green to street, and house.
Whitewashed walls of stone with pots of begonia and another leafy plant I can't remember. The blind goose who'd fought the fox and lived would make his way along the wall then turn triumphant at the gap. The black dog Jasper was always waiting for us at the end of the lane without fail. We didn't know uncle Joe had told him we were coming, and set him on our trail.
Corraleehan was quiet in our childhood, a place for daydreams, but from our mother we knew it hadn't always been and her stories of farm and family, of dances and ceilis and everyday things were easily imagined. I could see the young people coming over the hill at dawn from a dance or the summer the house was re-thatched they slept under the stars, I like to think of that.
Hay time in summer heat we'd hide under trees in the cool grass and one bonfire night we had a big fire there with our uncles Joe and Pat, Daddy and Mammy. It was one of those perfect evenings after a long hot day when the air is balm and the ground smells sweet.
'Listen' my mother said. 'Listen to the sound of the corncrake, a creature under threat, a bird of the past we might never hear again, this time might be the last.'
I tried really hard to imprint it in my head only to find was other things got printed there instead.
By Jane Gilheaney Barry