Creativity Bootcamp & More…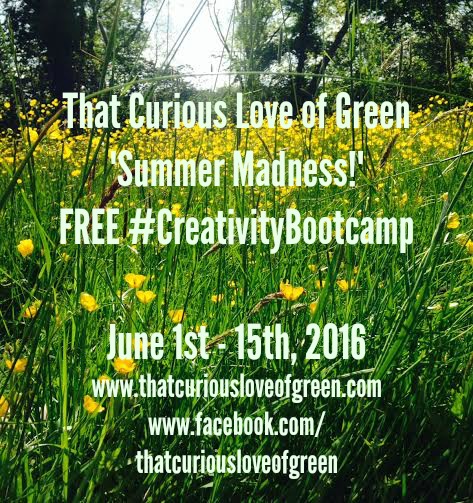 I've been thinking for a while about e-books and e-courses. Not for my novel, I'm still going the traditional route for that, seeking an agent, a publishing deal etc first. But I've done preliminary research into e-books and what a minefield!
My plan is to offer a series of e-book titles starting I think with a cookbook. I'm actually really excited at the prospect of writing a cookbook, despite the obvious pain of getting measurements right, see, my mathematical glitch strikes again!
However, my recipe and food posts in general have always been really popular so I think an e-book with the best ones all together, with photos, and a narrative, might just be a winner. What do you think? I'd love to hear your thoughts. Other titles I'm planning are…
Styling Your Home on a Budget

Easy Entertaining

Write Your Novel, Step by Step Guide/Workbook
Or perhaps that last one should be a course? I don't know yet, maybe both. They'll have better names though I promise you that! 
If I could wish for one thing it would be a technical wizard to handle that side of things, and fast! leaving me to the writing, photos, and promos, well you can't have everything. 
This is just one development of my current blog evaluation/evolution which is really fun because as you know I love creating, editing is sans craic!
It really is all about lifestyle here on That Curious Love of Green, or rather it's elevated living in spite of life! On the other hand it's about creativity, the two do work well together. I believe life can be art as much as anything, that a fully lived life is the best work of art. 
In that spirit don't forget that my next FREE 'Creativity Bootcamp' is running from June 1st to 15th. I'm calling it 'Summer Madness'… Don't Miss It…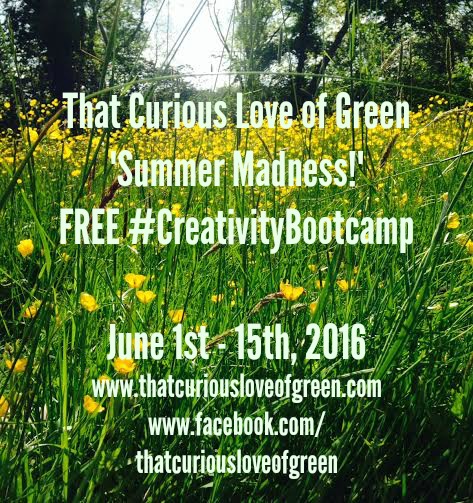 Here's the info you need…
"The 3rd FREE, TCLOG #CreativityBootcamp Is daily supported creating for anyone who feels the call to creative work. 
Writing, painting, crafts, music, what you do is up to you! So long as you do it daily, for the two weeks, plus share in the SECRET fb group if possbile/ but at least discuss your process. We have a lot of fun there.
The TCLOG community is one of nicest on the internet so even though you might be scared now prepare to be uplifted, encouraged and empowered like never before, to do the work you were born to do…
Past participants will tell you that this is a once in a lifetime LIFE CHANGING experience. In the course of my bootcamps, and the salon (the year round group) they have, among other things, written books, started blogs, created daily creative habits such as writing, blasted fears, increased output of finished works, started painting, started creative businesses, started selling their work, started sharing their work more widely, are building their own online presence, found their TRIBE! found their TRUE PATH…
If you KNOW you want to, know you can, know you NEED to do these things, but lack the motivation, structure, focus, guidance, support, enouragement, understanding, coaching or mentoring, find them here. 
Jane Gilheaney Barry is my name. Curator of TCLOG lifestyle and creativity blog, I'm also a writer, pr, and creativity coach, plus learner painter. And for two weeks in June I'll be your Bootcamp coach and leader.
So whether you've always wanted to write/paint/blog but don't know where to start, or are already a writer/painter who would like to expand, do more, get your mojo back. Whatever your reasons, whatever your level of practice or expertise, you're welcome here 🙂
To take part is easy…
1. Click 'attending' on the event page (top of the fb page or click HERE)
2. Like the FB page www.facebook.com/thatcuriousloveofgreen
3. Sign up to follow the blog via email www.thatcuriousloveofgreen
4. Keep an eye on these for details and how to join the secret group when it opens on the 31st of May!
And that's all there is to it!
Now you can think about what you'd like to do for the two weeks, will you draw a sketch and write in a journal every day? Start a first draft of a novel? Start a blog? Post in your existing blog daily for two weeks? Do a daily photography challenge? A daily knitting challenge? Paint every day for two weeks? Write a poem every day for two weeks? Start writing songs, writing music, think about it, you can do it…"
Here's what some past participants have to say about bootcamp, and the salon…
'This is a fabulous experience! I've been here since the October bootcamp and have no intention of leaving. I've found support, inspiration, and affirmation…as well as a bunch of new friends who I wouldn't trade for anything!' – Kim Smith, Tennessee, U.S
…
'This is an exceptional place to share your hopes and dreams for a creative future!! It is such a safe and welcoming group. I have been here since the October creative Bootcamp and it has been such a wonderful experience!! Everyone in the group had fears and reservations about sharing their innermost creative dreams, but once you say 'the words and soak up the warmth and encouragement you will feel like you can achieve anything!! Please if you can just give it a try, you won't be disappointed!!!' – Michelle Bermingham, Waterford, Ireland
…
"This has been a pivotal experience in my life. I'd put away the creative part of myself for so long, only using in cases where I could blend it with something that could be deemed productive. It is like a part of me has reawakened. Creativity itself is productive, we are here to create the life we want.
The group is such a wonderful collection of expressive, compassionate, encouraging and endearing souls. If you are looking for a place to be brave, this is it." – Melissa Steffy
…
"The Creativity Bootcamp has been a key to re-start the stalled Artist inside my heart – I'm already loving the Salon and can't wait to see what this next year will bring! Encouragement, inspiration, and beauty on all sides… I think this was exactly what I've been needing for years, without knowing I needed it. Onward and upward!!' – Jules Sevenky, Kentucky, US
…
'I totally recommend this for any creative individual. I did the bootcamp. I am overjoyed I did, it has led to so many sparks of inspiration, new friendship, fun and advice. I am a blogger and the writing tips I have garnered have been amazing. I write confidently from the soul now.' – Kathryn O'Sullivan, Dublin, Ireland
…
"Where to start? The October Bootcamp gave me focus. Daily accountable focus to do something I'd wanted for so long. The way everyone interacted, sparking off new ways of looking at old ideas has been, and I know this sounds cliched, a huge wake up call. I've always created but lacked the discipline to do it every day."
To integrate my personal path of creativity into my everyday life until I was just 'doing' it with almost every breath seemed an impossible thing. Now not a moment goes by where I don't ponder my next step.
They say it takes 6 months to retrain the brain into new habits and I feel a good measure along that path already. The Salon is the natural extension of the Bootcamp. A comfortable home to venture into after a day of mundanities. Where one can get sit down and talk about what ideas have cropped up, how best to express oneself and feel like you've plonked down into a comfortable chair to talk with those who just 'understand' and embrace your creativity." – Tig Beswick, Canberra, Australia
"The first bootcamp was my greatest gift of 2015 –it deepened my creative practice, led me into my long-lost tribe, connected me to my kindred spirits, and helped me deal with the plagues of pursuing a creative life — the doubts, fears, guilt, and anger, to name a few.
If you have ever wondered and looked for a safe but productive place for your inner artist, then consider participating in the 2nd Creativity Bootcamp in February.
It doesn't matter whether that inner artist is a seed, a sprout, a shaky shrub, or a full-grown tree — the bootcamp will help you with what you need at your particular creative stage.
I was a misshapen bonsai, but now I am definitely something else that grows in a magical forest." – Marichit Garcia, Artist at Ink & Water, Pasig, Philippines.'
---
---