Do What You Love
Friday was  the two month anniversary of starting this blog and while I'm proud of the fact I've already stared down what fellow blogger Rian from Truth and Cake calls the 'slippery slope' more times than I care to think about!  Apparently 95% of blogs fail in the first three months and while I have no intention of joining the majority I can easily understand how it happens so I've been seeking inspiration to bolster me for the danger that is month three in the life a blog!
Rian wrote a two piece post 'So, You Want to Start a Blog' which came at the perfect time for me as I struggled away with the juggling and thinking and writing and editing and Jane of all trading and then there's the housework, the children and let's not forget living!
Rian gives advice that works just as good for living by saying, 'keep blogging, keep going, have a blog that looks like you and sounds like you, be fearlessly and relentlessly yourself…'
She also tells us to remember why we started blogging in the first place which got me going over that again for myself. I wanted to get back into creative writing and I knew by committing to a blog I would have to do that on a regular basis.
I craved a creative outlet…other than moving furniture around the house! As a result not only do I now have to write regularly but I'm also taking and styling photographs, learning new technical skills and keeping up to date with social media marketing, networking and pr.
There are other reasons…  I definitely have a thing for the little things.  Savouring moments, thinking deeply…and widely.  Writing gives me a way to do something with that…
Believe me I know it would be easier not to do it and not to put myself out there.  At least half of the time the voices in my head are not saying very nice things to me about it and I know I have enough to keep me busy at home but here I am, because even though it's tough I also know it's good for my soul, that I'm lucky to know what my thing is plus I've learned from experience that when you do put yourself out there exciting things happen…: )
"Throw your dreams into space like a kite, and you do not know what it will bring back, a new life, a new friend, a new love, a new country."― Anaïs Nin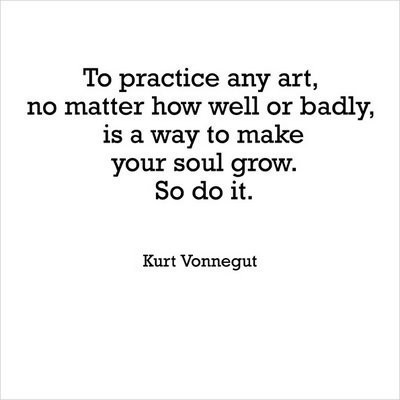 In the movie 'A League of Their Own'  (about women taking over the professional baseball leagues during the war ) there is a part where Geena Davis is giving up and going home, she tells Tom Hanks  'it just got too hard'.  His response is one of my favourite movie quotes…
My 'Day in the Life' features are about creative and inspiring people who do what they love. They're lives are varied and interesting and you can tell they're fulfilled but they're not without fear which seems to be key.  We all have fear but some people as the well known line goes, feel the fear and do it anyway!   Even if this kind of fearless living is beyond us most of the time we can still take inspiration from it for our own lives.
During the Olympics I watched a documentary about Usain Bolt who said about what he does that 'it hurts all the time'. I found that statement both humbling and inspiring.  It makes you think that if someone at his level, with his talent 'hurts all the time' then why are we so hard on ourselves in our own little efforts!
So keeping close thoughts of inspiring people, quotes and experience and remembering that everything hurts just nothing so much as boredom I'm pressing ahead, I'm committed and I'm blogging…for now at least : )
I hope all of you who started down this path with me and who've  been so supportive and encouraging will continue along and will  find some inspiration for whatever it is you find yourself doing….. or dreaming of doing…: )
To visit Rian's blog 'Truth and Cake' please click HERE
---
---