Dublin (Part 1)
I have returned from my trip.
Darling Dublin, it was wonderful, for I am bored with life here now, there is no colour, no nourishment in it. And it's not the few people who are very good and worth staying afloat for, and it's not my house that I've conjured, can paint all the shades that are in me but the cold hard winter never ending, like a grey sea.
I survive, always, though my internal world still demands filling. Writing, the blog, painting, reading, decorating, vignetting, photographing, talking, dreaming, thinking yes, thank goodness, are still, not enough for the well.
Like the garden where even the richest, darkest soil will lose it's richness if the crops are not rotated often I have lost something I feel will return with the spring.
Here, this time of year, you can't depend on anything, on walks, or even school or as a new driver, driving, not even those freedoms, so here I am, rooted in darkness, craving light, culture, adventure and I would go anywhere, but then when the chance comes I am anxious, find it hard to go. That is how rooted I am and how far, like so many women, trying to bloom where we are.
And in the day or two before I left I wouldn't, but I could have sabotaged myself. It all seemed so difficult. Why, is it so difficult? To untangle oneself? The children are no longer babies and though it's been some years I have taken this train a thousand, no, ten thousand times. At the point of tears I think how the universe is conspiring to stop me, then I laugh, I know it is only me.
I was going now, to see my eldest daughter in a fashion show, to buy some new clothes, to fill the well, restore some sanity. The day I left was of course, mad.
Lists, phone calls, instructions…cleaning and leaving things just so, you know, in case I get hit by a bus, never get to come back. I'd already done a massive grocery shop, in case they all starve while I'm away.
Sadhbh tells me how much she will miss me and cups my chin. I tell everyone how much I love them. I feel guilty. I'm going for three days. You might think I'm crazy and though I agree, you probably only think that if you are not like me, if you are travelling, doing these simple things all the time, but I, I never leave my house.
Between home and the station I can't breathe but on the train I read, May Sarton, I love her, we are kindred, I'll tell you of her another time. Once in Dublin I'm breathing again, the air is good. It is already warmer than Leitrim though the next few days will be biting cold, I feel better.
My sister Martha, a teacher, stylist, a dancer, meets me, full of the joys of that spring I crave. We make our way through the old familiar streets without having to think, and ponder how I used to meet her off the train as a child, coming to me for a visit, and now we are going to see my child modelling. And though time flies I am not sad or even nostalgic because it feels right and I know I am more confident now, even if trips give me stage fright.
At the venue we've time, buy a bottle of wine and share the most wonderful talk, the kind that runs on in perfect sparking harmony, like a dance. We come together quickly in thought, then, still in synch move apart, before coming together again, it is perfect though short.
Seeing Shaylyn on the runway's a thrill. I'm her mother so when she appears the world turns invisible. But she is unusual my girl, she has small features yet a high planed face and these green almond shaped eyes, shown now to dazzling effect, courtesy of lighting and a slicked back hairstyle.  She has started to inhabit herself. I always feel sorry for teens, the way they are not yet quite at home in their skin, but she will be twenty this year and has presence, you would notice her.
It's Monday as I write this, we woke under a blanket of snow that's falling heavy again now, beautiful, I hate it so.
The fire's crackling and the house is quiet but, I have to go…
I'll be back soon with the next installment of my trip to Dublin xox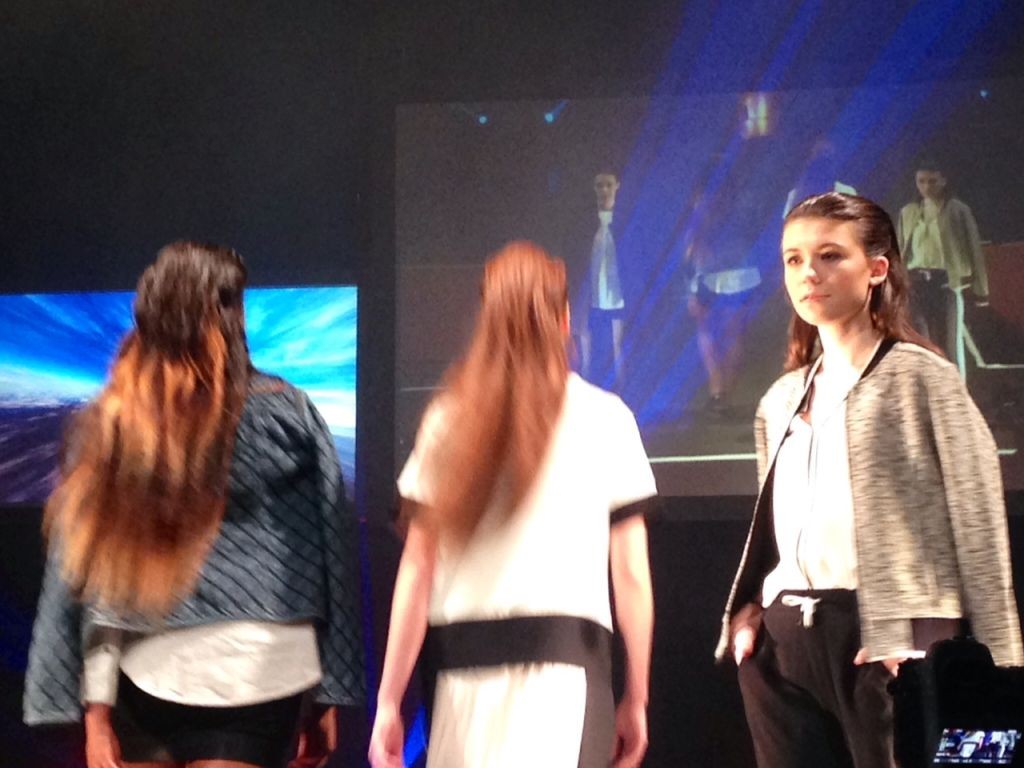 ---
---