Eat, Drink & Be Merry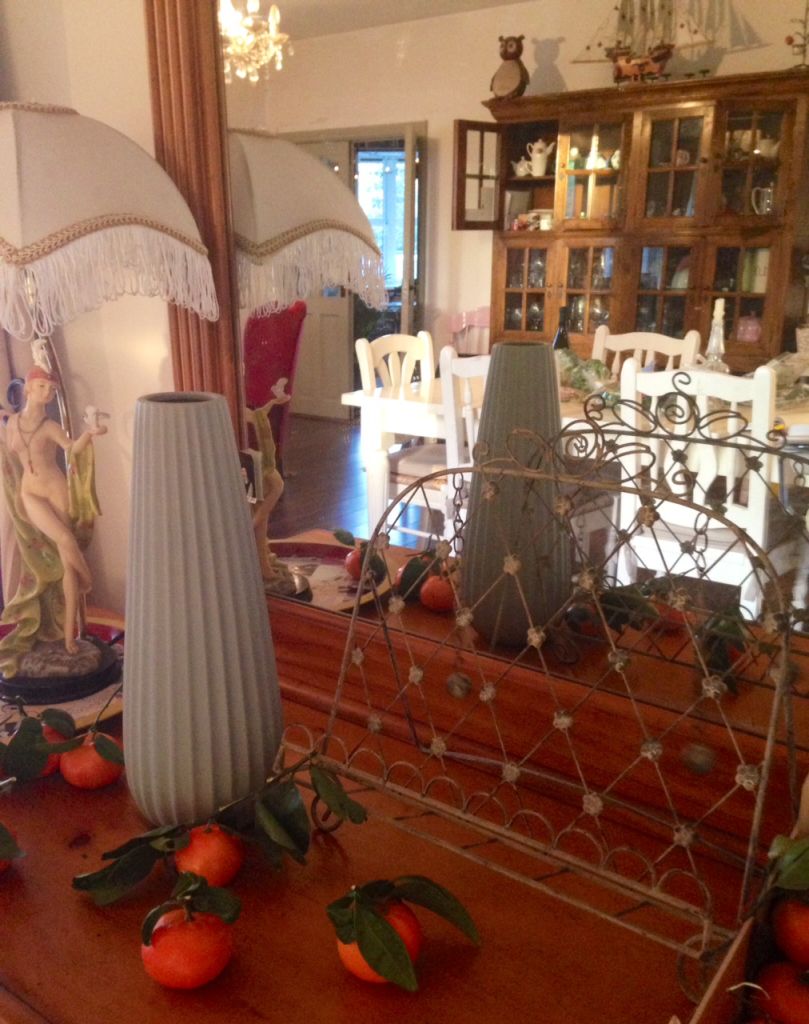 You will remember a few weeks ago we went to my brother and his girlfriend Lisa's for dinner. We had such a great night, so fun, we were dying to repeat it real soon and we did. No sooner was the date set for a Saturday than we received an invite from Caoifhionn and Sean for the Sunday of the same weekend, great complaint.
All ready for a weekend of great food and company we went shopping at Lidl as usual only via Heatons this time where I picked up this beautiful vase for €3.50, so pretty…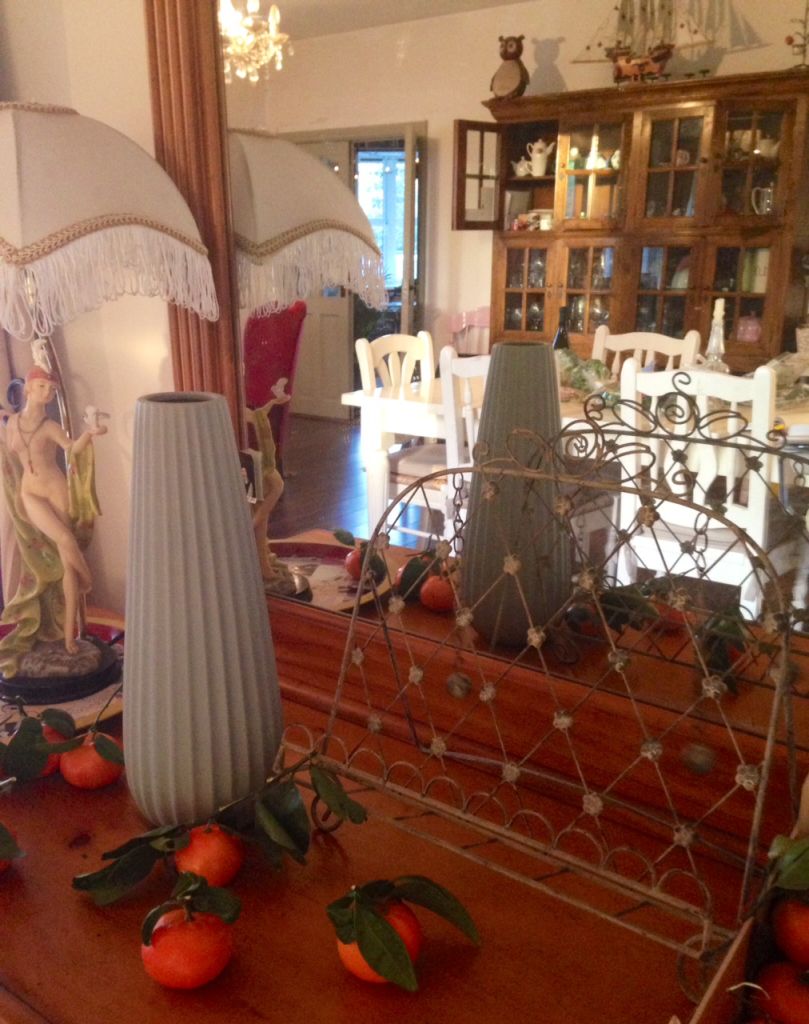 Our Saturday Menu…
Blood Orange Prosecco Cocktails
Nigella's Coriander, Lime & Rocket Prawns
Blue Cheese & Walnut Salad with Poached Pear in a Cinnamon Syrup (for Colm)
Roast Duck Breasts with Plum Sauce & Roast Potatoes
Prosecco Panna Cotta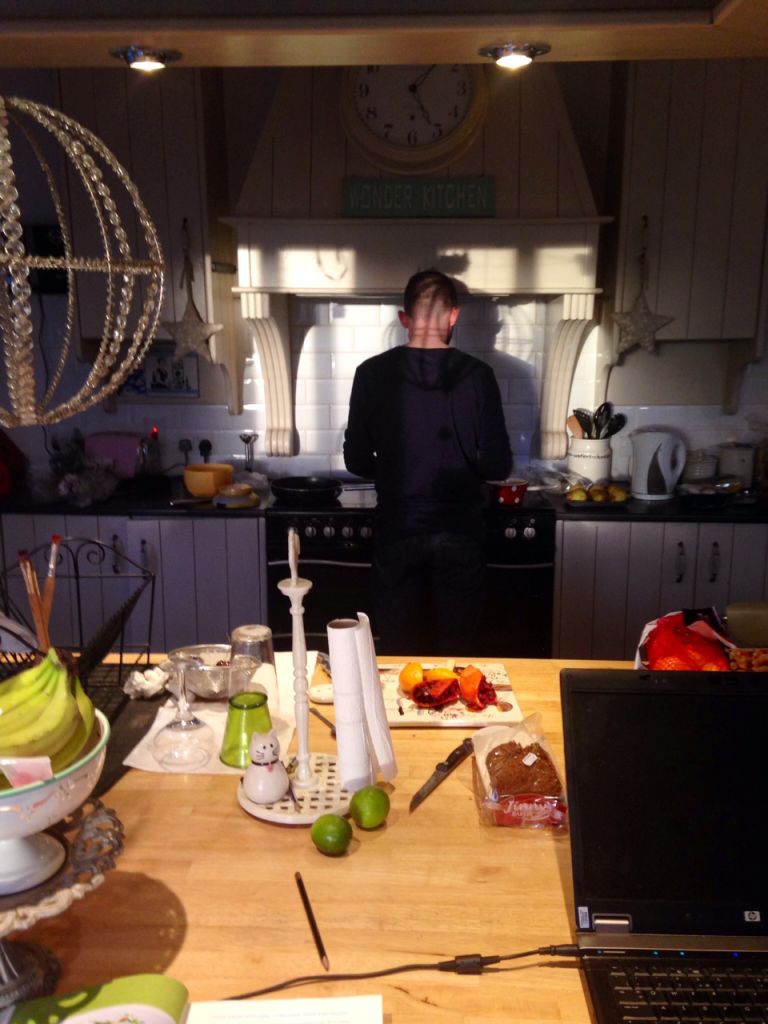 We made dessert first as it needs time to set in the fridge. 
Prosecco Panna Cotta
1 sachet of gelatine powder
500 ml cream
75 g(⅓ cup) sugar
½vanilla bean, seeds scraped
200 ml prosecco
Lightly oil some ramekin dishes, moulds or as in our case, cups and milk jugs. Chill in the refrigerator.
Meanwhile, softly whip half the cream in a bowl and set aside. For the Prosecco Panna Cotta
Put the remaining cream, sugar and vanilla seeds in a saucepan and bring to a simmer, then remove from the heat.
Add the gelatine to the hot cream and stir until dissolved. Pour the mixture into a bowl set over a large bowl of ice and stir until it has completely cooled and begun to thicken (5–10 minutes).
Gently fold in the whipped cream. Pop the cork on the prosecco and quickly fold in 200 ml. Pour into the cups and refrigerate for at least 2 hours, until set…delicious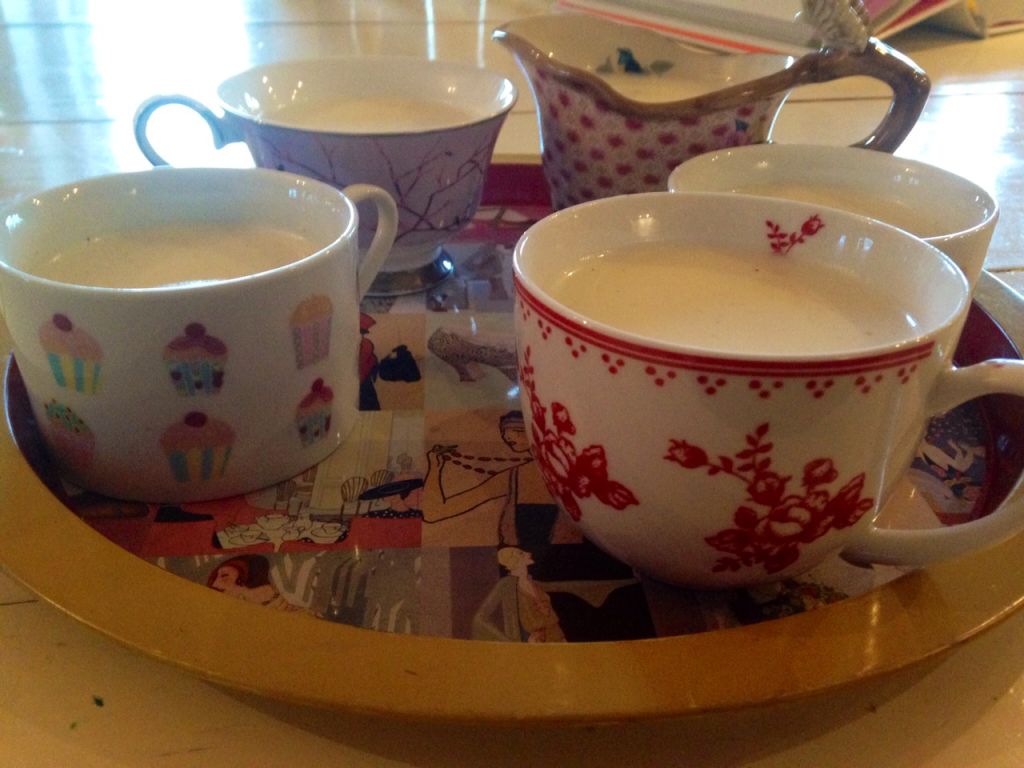 On this occasion I made two starters as Colm's not a fan of prawns, he is however a big fan of cinnamon so for him I made Blue Cheese & Walnut Salad with Poached Pear in a Cinnamon Syrup.
This is so simple you're going to love it…
2 cups of water
half a cup of brown sugar
1 cinnamon stick
1/2 pears
Combine the water, sugar and cinnamon and cook stirring now and then until the sugar dissolves
Add the pear/s and cook until tender, about 20 minutes. Remove the pear then boil the syrup for ten minutes to thicken slightly. I poured the syrup into a small jug and gave it to Colm to use as a dressing for the salad. I'm pretty sure it was his favourite part of the meal : )
For the rest of us I made Nigella's Squid Salad (I used prawns) with Lime, Coriander, Mint & Rocket from her 'Forever Summer' book. Click HERE for how to make the dressing which is the most beautiful dressing EVER you have to try it.
I defrosted some raw tiger prawns earlier and simply fried these in oil for about 3 minutes each side before placing on top of the salad and spooning the dressing over. You could use pre-cooked prawns either if you wish.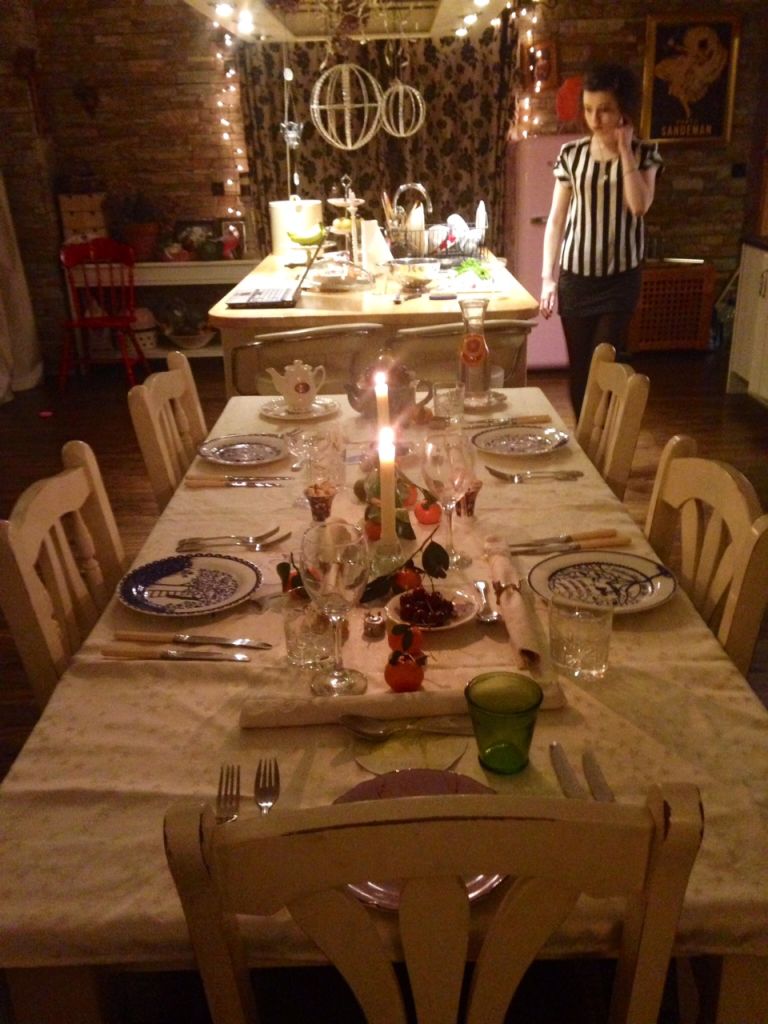 For the Roast Duck with Plum Sauce
Roughly chop a punnet of plums, removing the stones
Place in a saucepan with 5 tbsp brown sugar
1 cinnamon stick
Juice and zest of 2 oranges

Cook over a medium heat for 15/20 minutes, stirring & mashing occasionally until you're left with a rich glossy pulp. Put to one side for reheating later.
Parboil the potatoes then season and roast for one hour until golden and crispy.
To cook the duck breasts (we used Lidl's garlic and pepper marinated breasts) place the breasts directly on a grill tray over a bed of foil and roast for 30 minutes until the skin is blackened and crispy.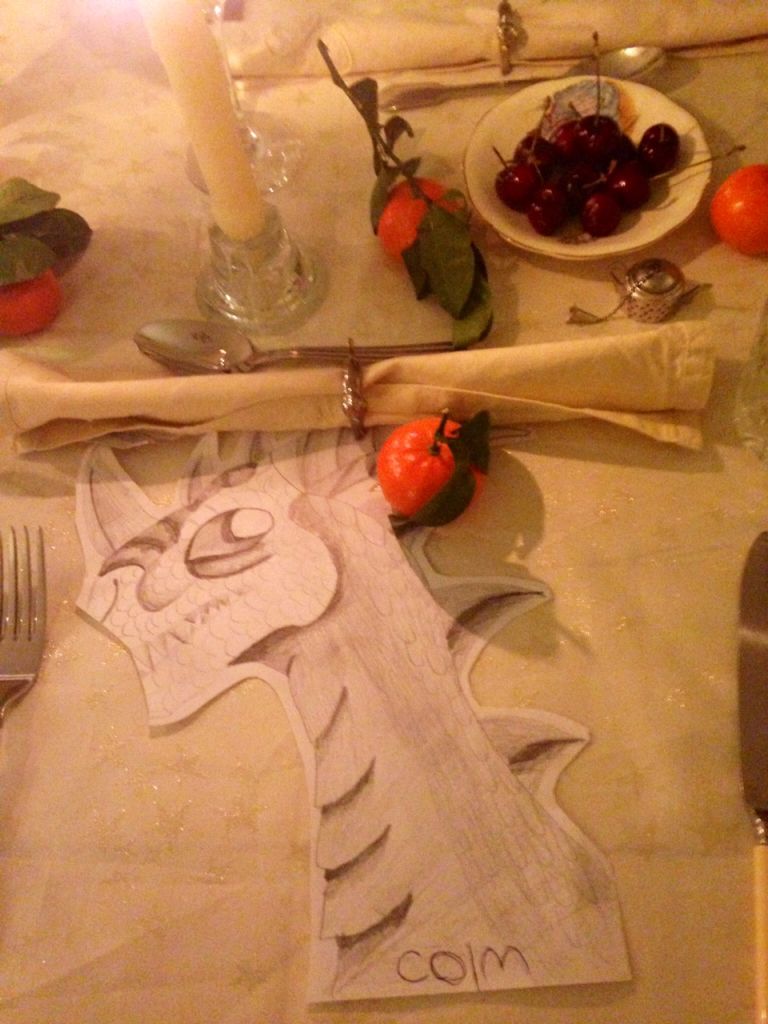 I decorated the table with these gorgeous leafy oranges, fresh cherries, mismatched vintage teapots and saucers & little cups filled with pistachio nuts.
For the Blood Orange & Prosecco cocktails half fill a champagne glass with the freshly squeezed juice before topping up with prosecco.
As you can see we take our place mats very seriously…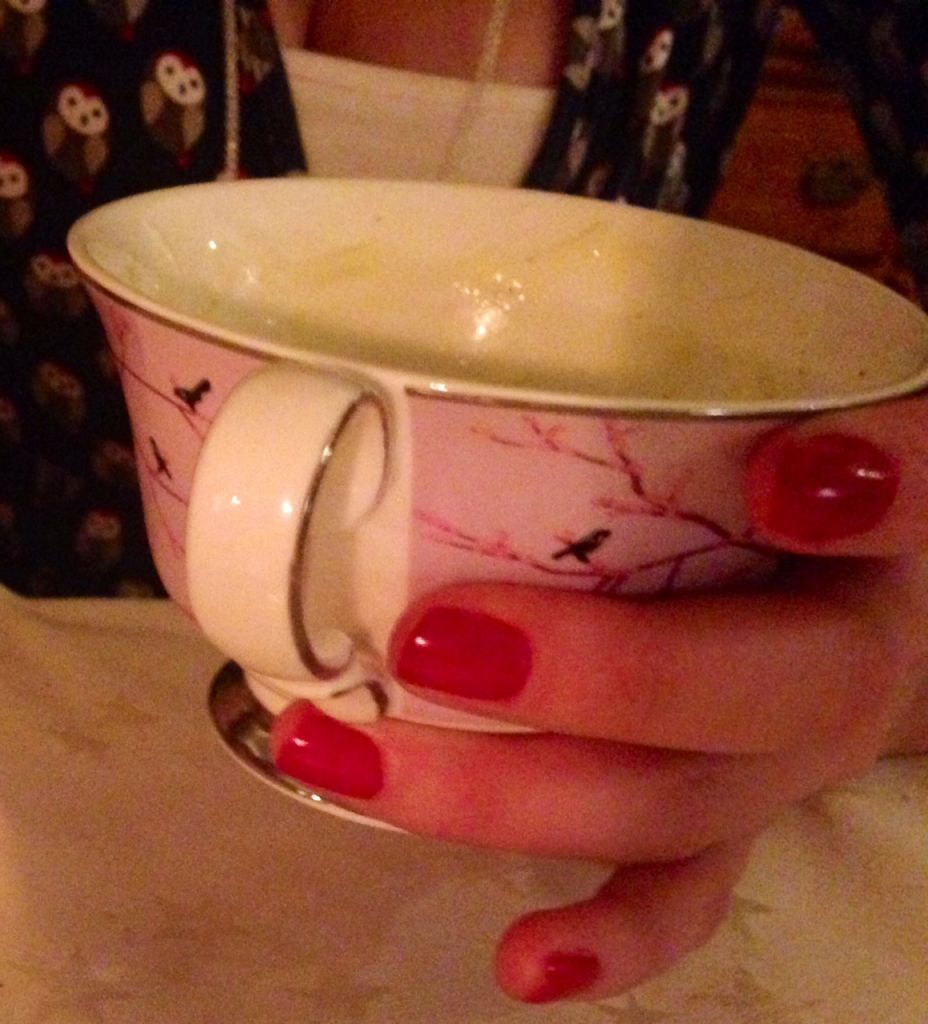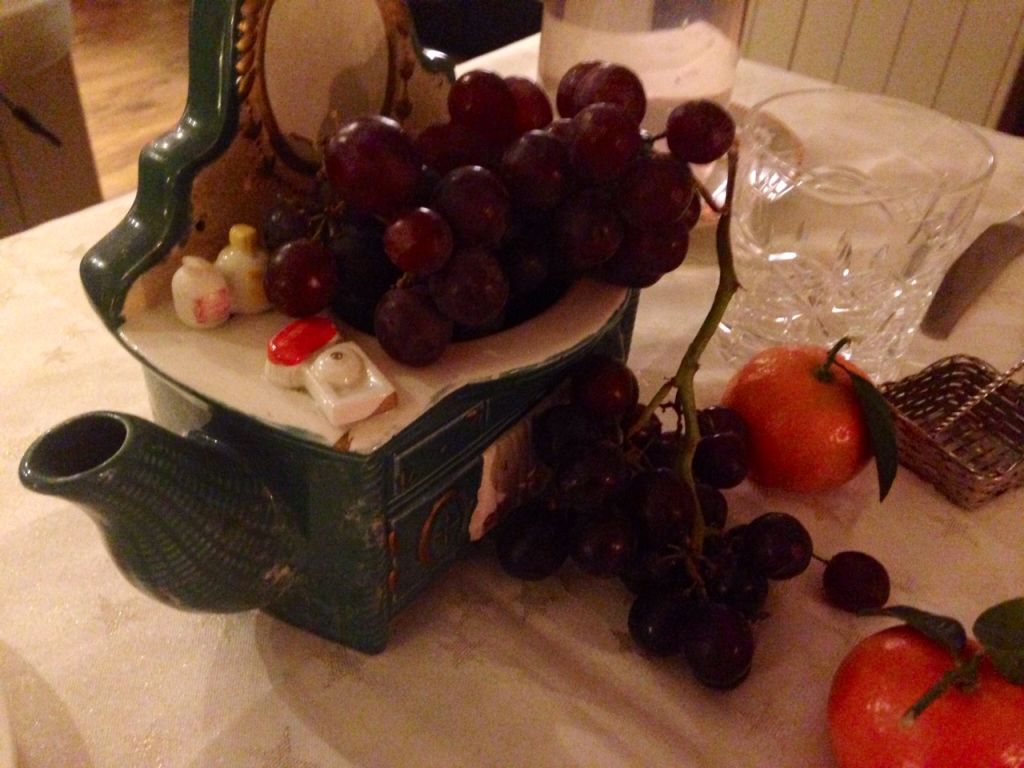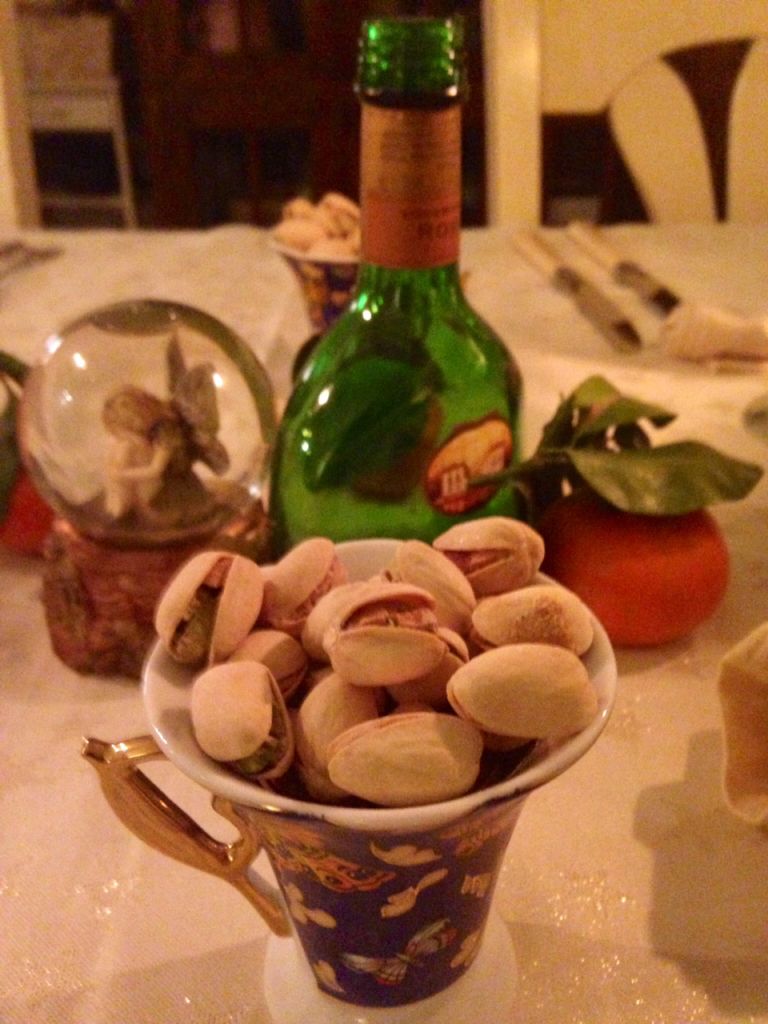 Caoilfhionns Sunday Menu
Lychee Bellinis
Pork with Pak Choi & Oyster Sauce
Sweet & Sour Chicken
Rum Baba, a French dessert done a Jasmine flavoured syrup to give it a Chinese twist!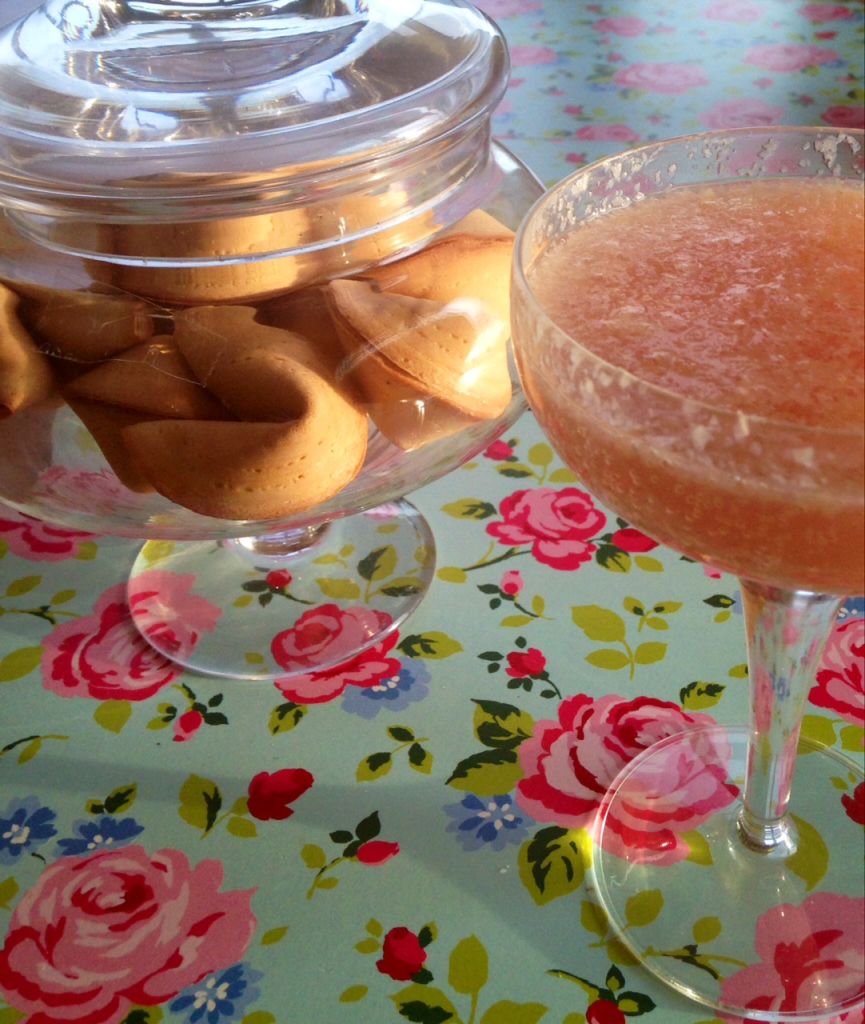 Forget everything you think you know about Chinese food unless you've had homemade because unsurprisingly it cant compare…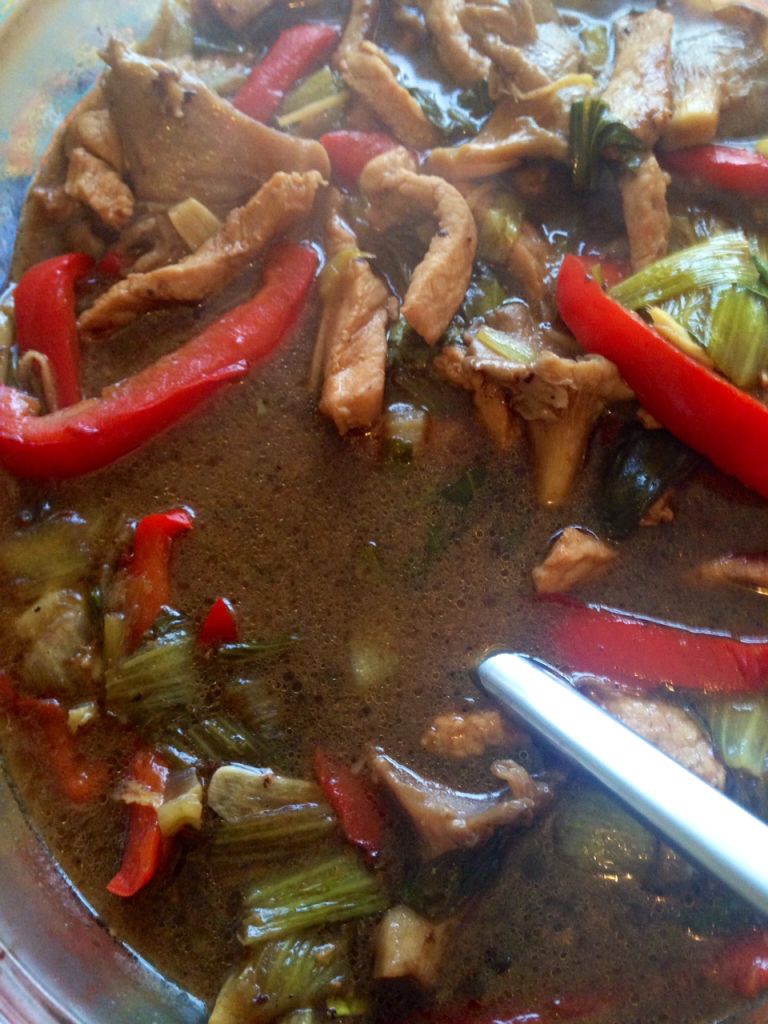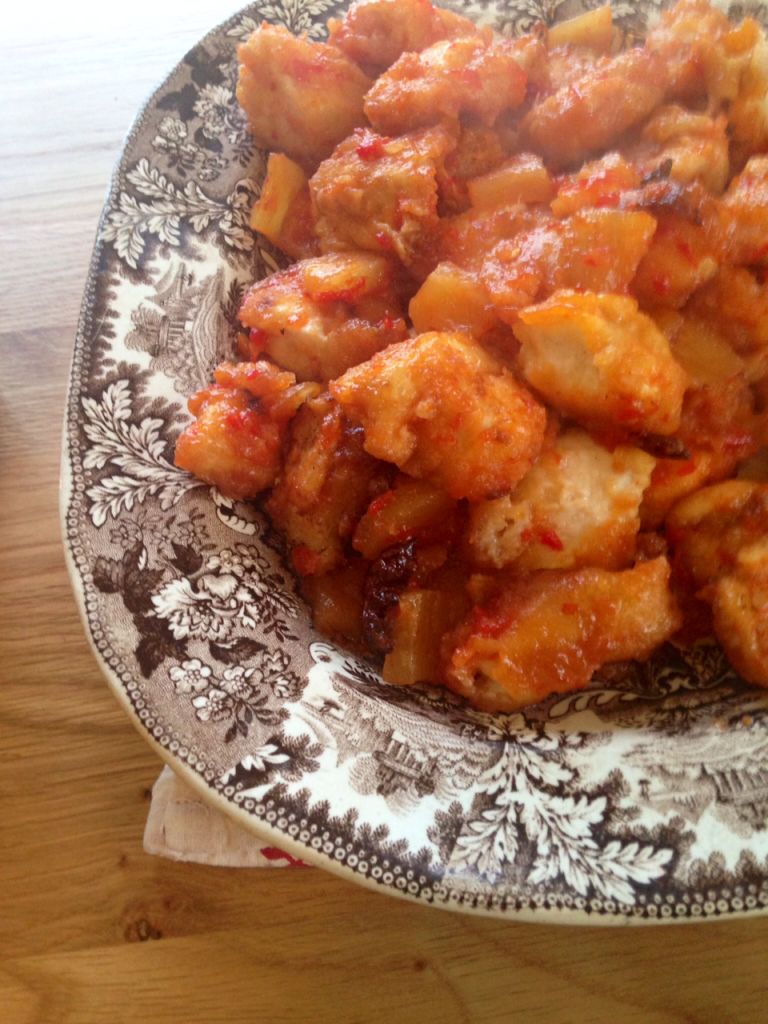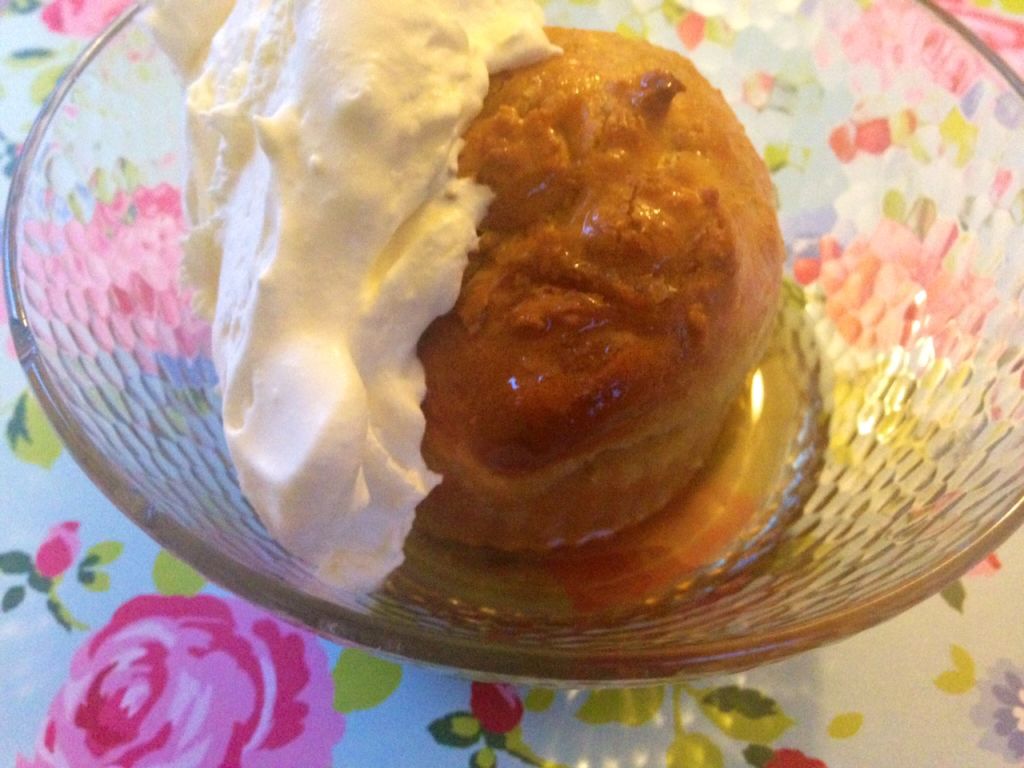 And so ended another weekend in the drab part of the year without a hint of drabness thanks to great friends and food. No night out in my eyes could compare.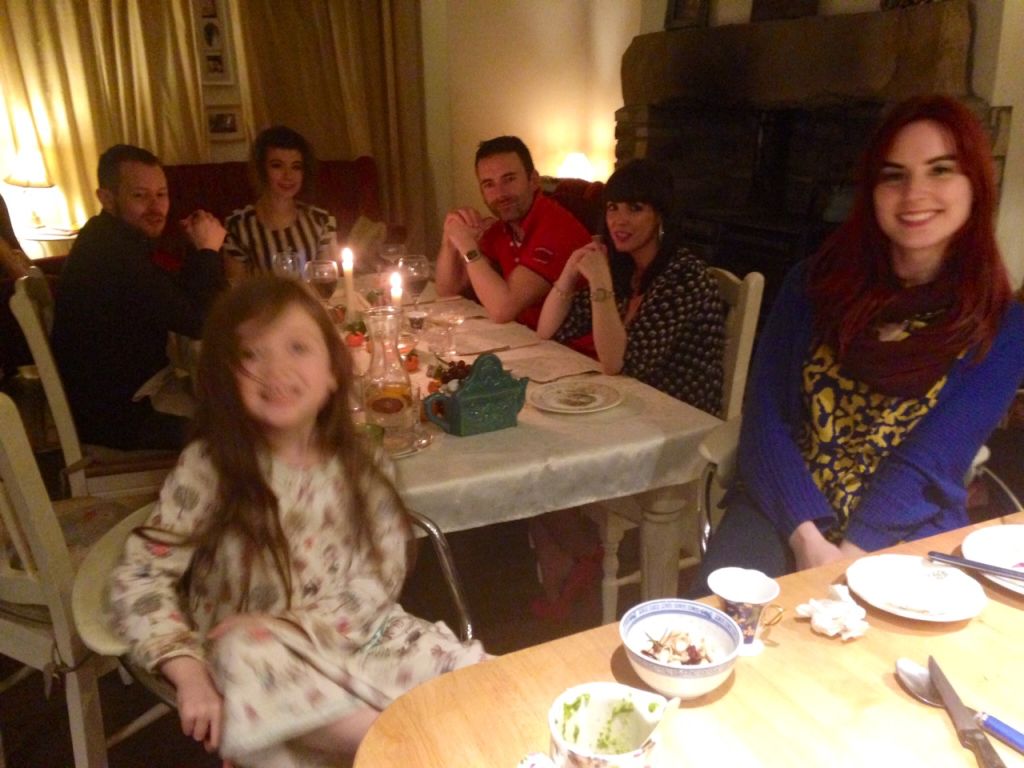 That's all for now. On Sunday Adrian and I will be attending the 'Plan a Whole Years Harvest' Course at The Organic Centre in Rossinver so look out for a blog about that next week. If your're interested or thinking about doing one of their courses in Leitrim or Clare click HERE. They have a great variety of one day courses for all levels and total beginners.
---
---