Eat your Greens – Healthy Eating Tips for Kids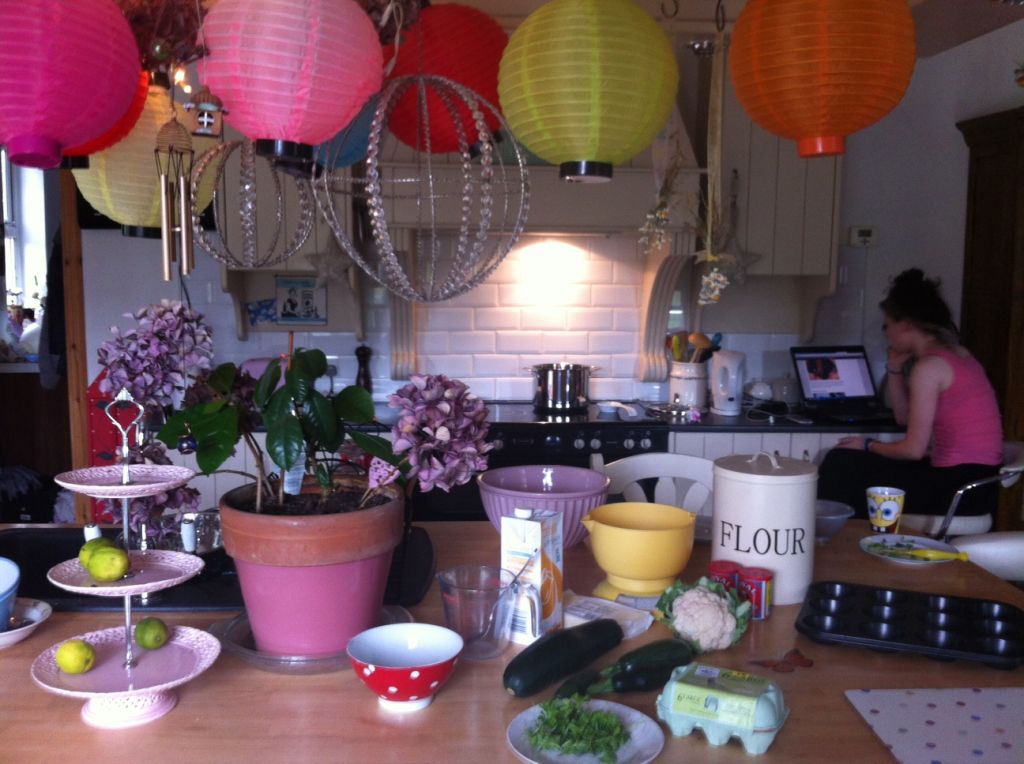 Hello all, Friday again and here I am at last with the recipes for Cheese and Herb Muffins and Spring Onion Soup I talked about on FB this week . As promised these muffins are the ideal thing for non baking cooks like me or just non cooks in general. Trust me you can't fail!
Also in this post I'm sharing my tips for helping children eat more healthy food based on what's worked for me and please feel free to share your tips as well.
So without further ado…
Preheat your oven to 210 C and grease a muffin/bun tray with a butter wrapper.
Next get two mixing bowls, one for the dry ingredients and one for the wet ingredients. In the first one throw…
250g self raising flour, 2 tsps baking powder,  100g of grated cheddar cheese, 2 tsps each of chopped rosemary and thyme, 2 tbsps of chopped parsley, some black pepper & stir.
In the other bowl mix 285ml of buttermilk, 2 eggs and 70g of melted and cooled butter.
Ok so all you do now is add the wet ingredients to the dry and bring together gently until only just combined. Over mixing will spoil the texture ok!
Spoon into your muffin tray, sprinkle with some more cheese then bake for 15 to 18 minutes until risen and golden. Brace yourself, the smell of these muffins cooking is so good it's going to drive you crazy. Transfer to a wire rack to cool.
Note: I used my own herbs. If you can use fresh instead of dried it will make a difference but of course you can used dried if you need to. My friend Kerry correctly pointed out that if you're using dried herbs, use less! Half quantities should do it! Thanks Kerry for saving us from extra strong muffins : )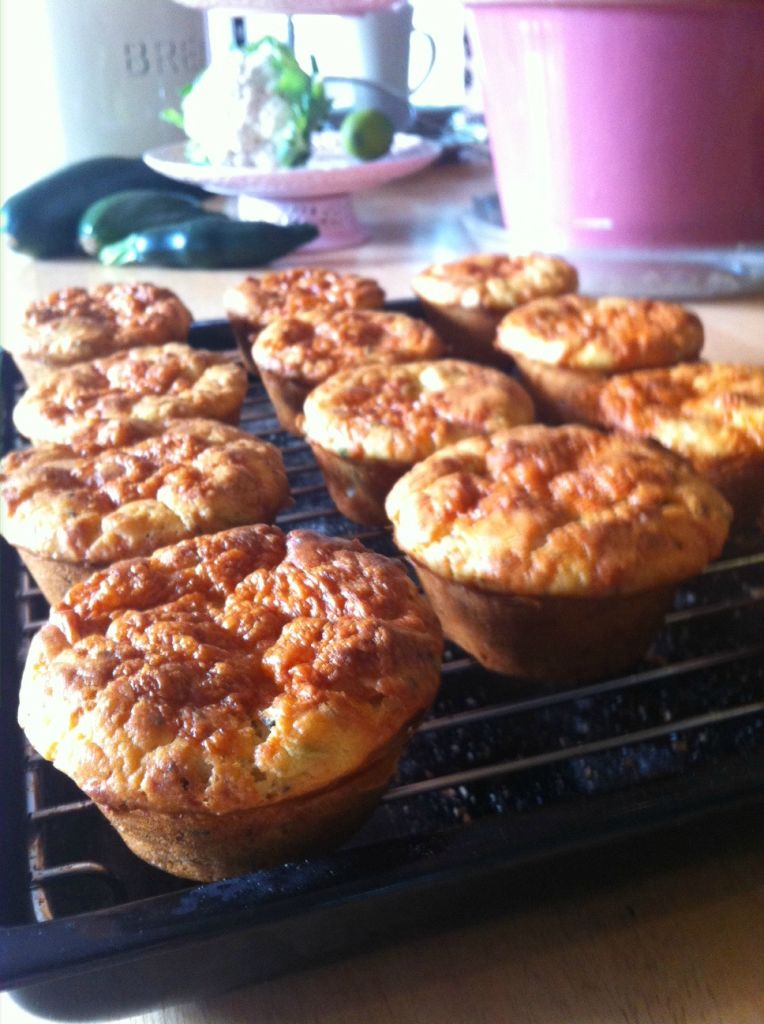 For the Spring Onion Soup you will need…
About 7 bunches of spring onions chopped…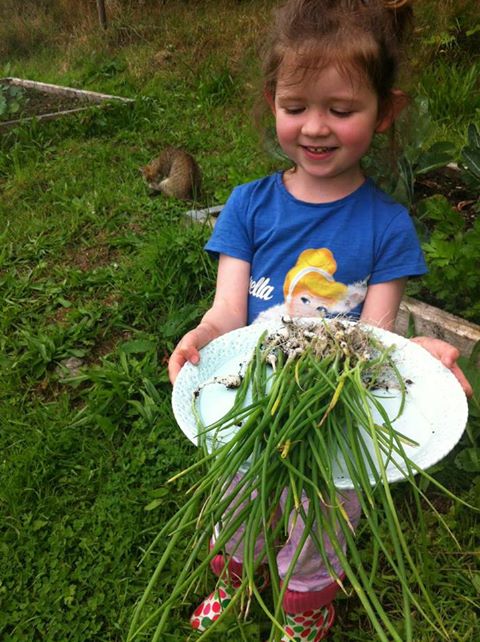 50g of butter
1 crushed clove of garlc
Half a tsp of celery salt or else sea salt
2 tbsps of cumin
1 peeled & chopped potato
1.5 litres of stock
Cream & seasoning to taste.
Fry the white part of the onion in butter with the garlic, salt and cumin. Turn regularly.
Add the chopped potato and stock and bring to the boil.
Reduce the heat, cover and cook for 20 minutes before adding the green part of the onions and cooking for another 3 minutes. Whizz or blend if you have the means until smooth. Stir in some cream to taste and season. Serve with the cheese and herb muffins. Easy peasy and delicious.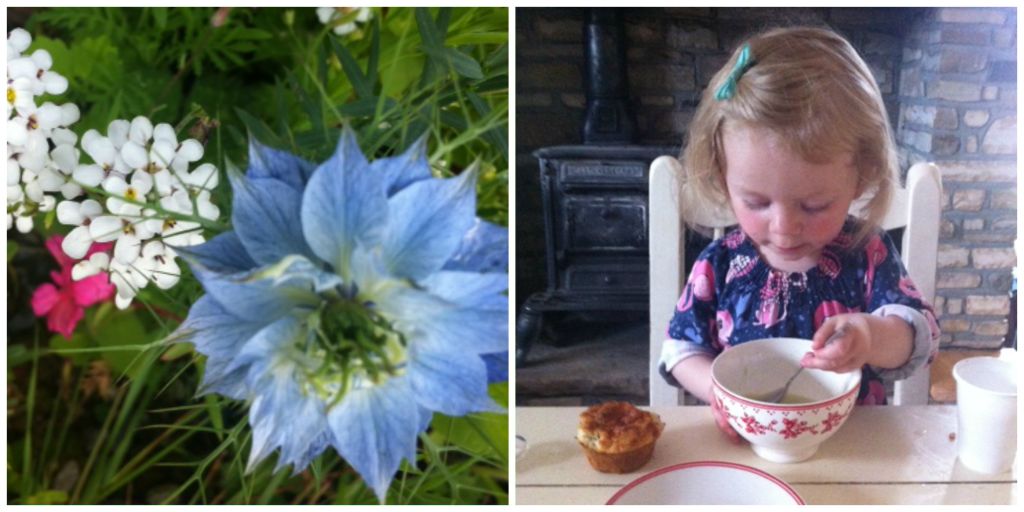 So that's the food, now, the photos in my last blog post of the children eating big plates of veg created a stir of the how on earth do you get them to eat that stuff and I wish my children would eat that stuff variety. This got me thinking what the answer might be so here are my tips for helping children to eat healthy food based on what's worked for me.
Give Them a Plate of Raw Veg every single day without fail. The chopping's a pain sometimes but this is what I do and it's worked brilliantly. Don't ask, don't explain, just put it down. Mix things they like with new things and plenty of colour. Don't be pushy but don't give up.
Cook & Eat Good Food Yourself. An obvious one I know but it's hard to expect the children to eat good food if you don't.
Consider Your Own Relationship with Food. Anyone who knows me will tell you when it comes to food I'm into public displays of affection. My children have to listen to my ooh's and ah's and general delirium over tastes, textures, colours and smells. I'm telling you it's infectious.
Variety is the Spice of Life. Introducing lots of different tastes and flavours will give children a good palate and help alleviate food boredom. I don't consider myself a great cook though I was recently introduced to some people as 'the perfect housewife', not by my husband let me add hahaha. With me it's all passion. I just love food and finding new recipes and tastes to try. As a result even though we have some favourites no two weeks are the same and my crew never know what's going to appear on the table. I've noticed that new things tend to 'spook' my littlest girl but that over time she has gotten used to her daily plate of veg which is great and if she doesn't want to try anything that's fine but I will give it to her again.
Involve Them in Cooking. I sometimes get the girls to help me with the cooking and then talk about the dinner we made. It doesn't mean they'll eat it but it raises their interest and the chances of them tasting it at least which is what you want. 
Don't Boil The Vegetables. Ok so I always add peas for the last few minutes when I'm boiling pasta but as a rule most people who think they don't like veg only ever tasted the boiled version and I use the word 'taste' lightly here because boiled veg is usually over cooked and has no taste.  Instead look up recipes for frying and roasting or turn them into sauces or soups and offer them up raw with snacks or dips. Mine like raw veg most of all, especially red pepper, peas & carrot strips.
Don't Force Them.  We all know this doesn't work and you don't want food to be a battlefield.  I don't make the girls eat anything. What I do is put the food in front of them and to no one in particular I'll talk about how gorgeous it is, how healthy and what it's good for like energy, running faster or for sparkling eyes. If they say they don't like it/don't want it I'll encourage them just to taste it. I tell them if they don't like it they don't have to eat it. The 4 year old is now at the stage where she will at least taste everything whereas the 2 year old will still point blankly refuse based on the look of something but that will change with time because of my next tip…
Keep Putting a Variety of Good Food in Front of Them.  Do this whether they eat it or not. How often have I been disappointed at the lovely dinners not eaten, it can be soul destroying but keep doing it anyway.  In time they will taste the thing that initially looked foreign especially when they know they won't be forced to eat it.
Call Rubbish, Rubbish. I've been doing this for years and only noticed recently! Naturally my children love sweets but they know they're rubbish too. It's about communicating a message from early on. Sugar is rubbish, processed food is rubbish, any food with its own tv ad is clearly rubbish. If we're eating out they can eat any rubbish they like, chips, sausages, burgers, ham, coke or other minerals/soda but they're rare as white blackbirds in the house.
Eat at the Table. We eat dinner at the table every evening and linger as long as possible. It's the time when everyone shares their news. Inevitably the small ones will leave pretty quickly. I don't make them stay I just try to keep them there as long as possible by getting them to tell us the days adventures. The longer they stay the more things get tasted and even eaten.
Never talk about diets, calories, cellulite or fat. I've always had a great relationship with food but I have three daughters so I can't afford to be complacent. If I could make one tip a rule it would be this one. I believe that all the 'talk' about this kind of thing causes more problems than it helps. The focus should be on knowledge of good and healthy food, balance and acquiring the skill of cooking and might I add I never met a slab of butter I didn't like. I always go for the full fat option so long as it's a 'natural' food it's good. That's my rule.

The highlight of this week has been chopping spring onions. I kid you not. They also ate a ton of them, I kid you not!

Don't Buy A Lot of Rubbish.  If you don't keep it in the house you won't eat it. When I'm grocery shopping I aim to have a beautiful basket of healthy stuff so it pains me to pick up a packet of biscuits and most of the time I won't. Inevitably then we'll get the munchies and Adrian has to go and get crisps and chocolate but that's still better than keeping a stock of rubbish to hand! It also helps that I don't have a sweet tooth.
Grow Some of Your Own. Without a doubt being involved in the planting and growing of food and being able to pick their own has contributed to the healthy eating habits of the two little ones. Everything is sweeter, it's more fun and it's within reach. However I didn't have this with my eldest girl and she's no different to the other two.
Leave Some Food Within Reach & Give Them Raw Food. Little apples is an easy one. Small children love to help themselves and even if they only take a bite at first it's a positive step in the right direction.  If your're giving your children a snack include things like olives, nuts, dried fruits, cheese, grapes or pineapple and raw veg sticks like carrot and red pepper. Dips are fun as well. They may well throw it back at you but again keep doing it and they'll grow used to it. Similarily if I'm chopping veg I'll let them help and encourage tasting. I will also put a plate of herbs and salad leaves on the table, the sweeter varieties. Smaller children especially will be curious enough to at least handle, play and inevitably taste them.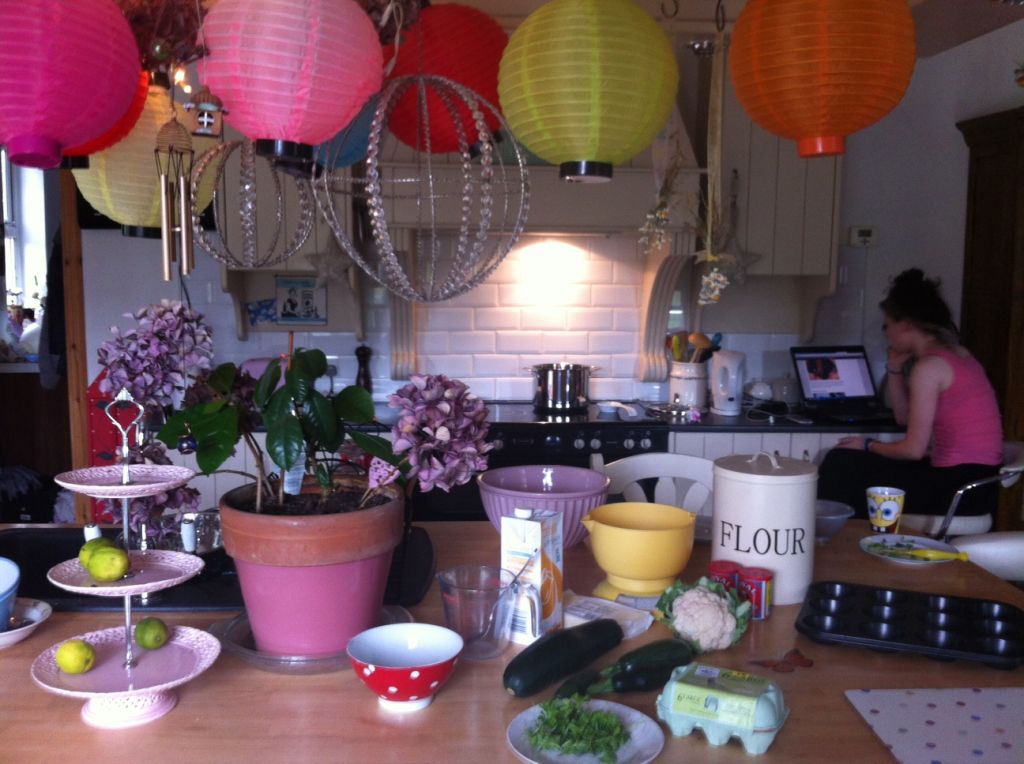 So that's what we do! To be honest I never consciously decided to do any of it, it's just what has always felt natural.
I'd love to hear your own tips and thoughts in comments here so don't be shy!
If you're in the Kilkenny area I'm going to be on 'The Food Files' on Community Radio Kilkenny City 88.7FM today at 5.15  It's all about food, growing, cooking & eating and is presented by Fiona Dillon of Hunter's Lodge Living. Really looking forward to it : )
Have a brilliant weekend. Chat to you next week…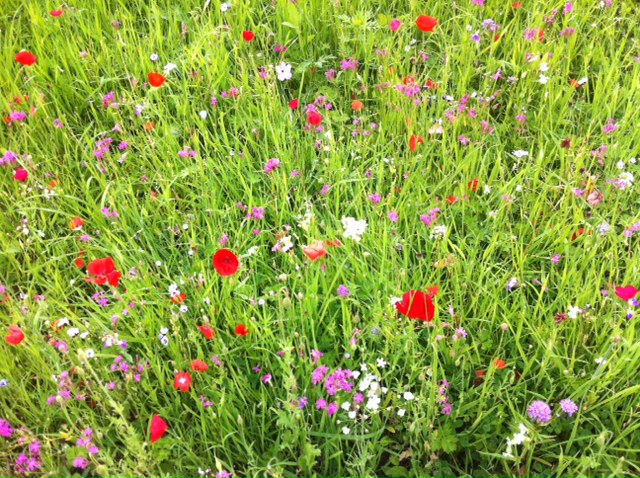 ---
---