Feed Five for Two Weeks on €100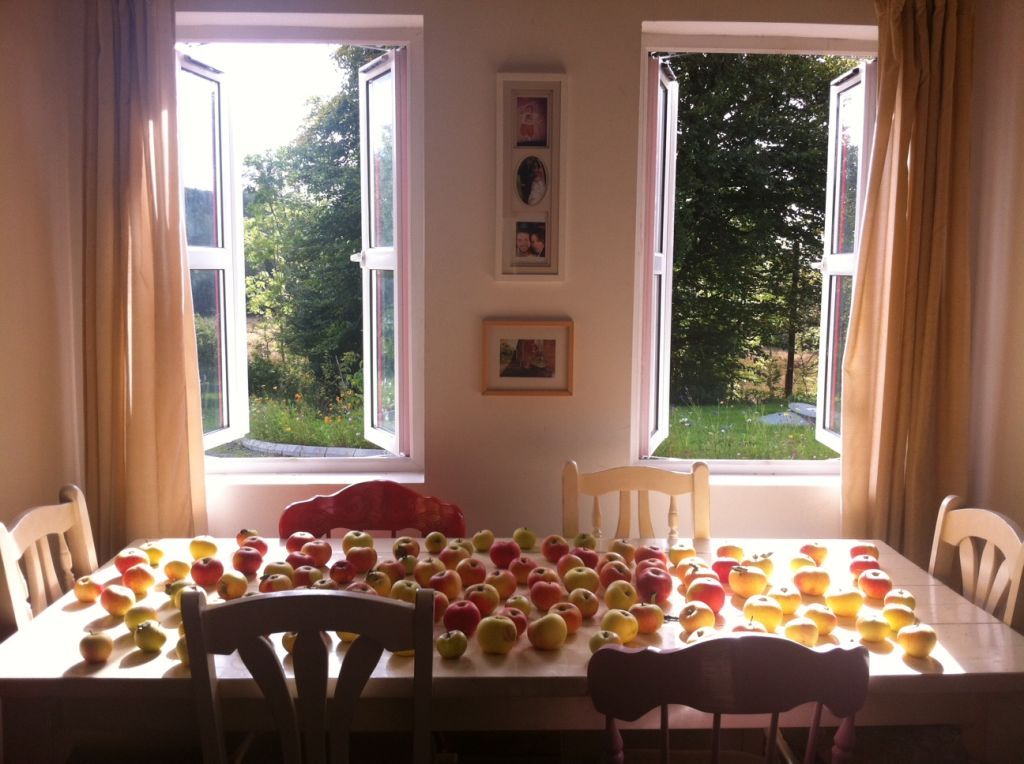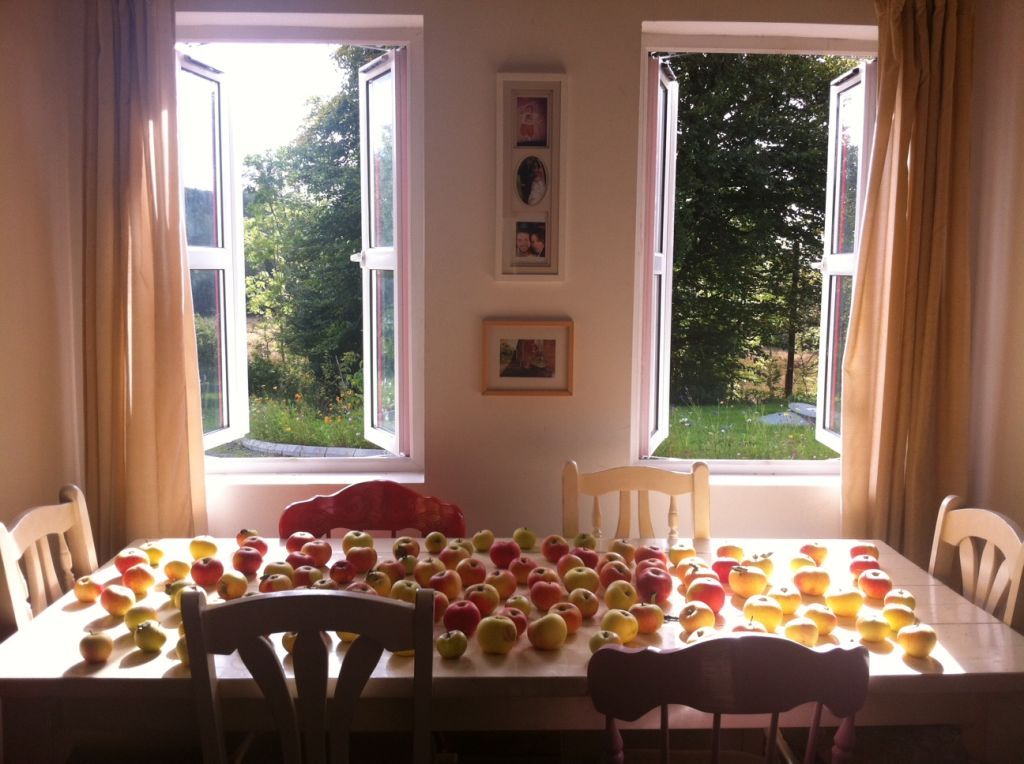 Evening all and happy Friday. As you know I've been keeping a kind of food diary this week and its been really fun, I've even been dreaming about it. Part food diary and part menu plus recipes, the aim was to take my grocery shop from Lidl €105.47, combine it with a decent store cupboard I always keep at home and show how much I could do with, and for how long.
To read and compare with that post just click HERE.
So after we got back from Lidl last Saturday Adrian had to go pick up a load of timber for our winter fires so lunch was a hurried affair of cheese sandwiches, a simple start. While he was gone I wrapped apples.
Fire wood and apples, signs of the season.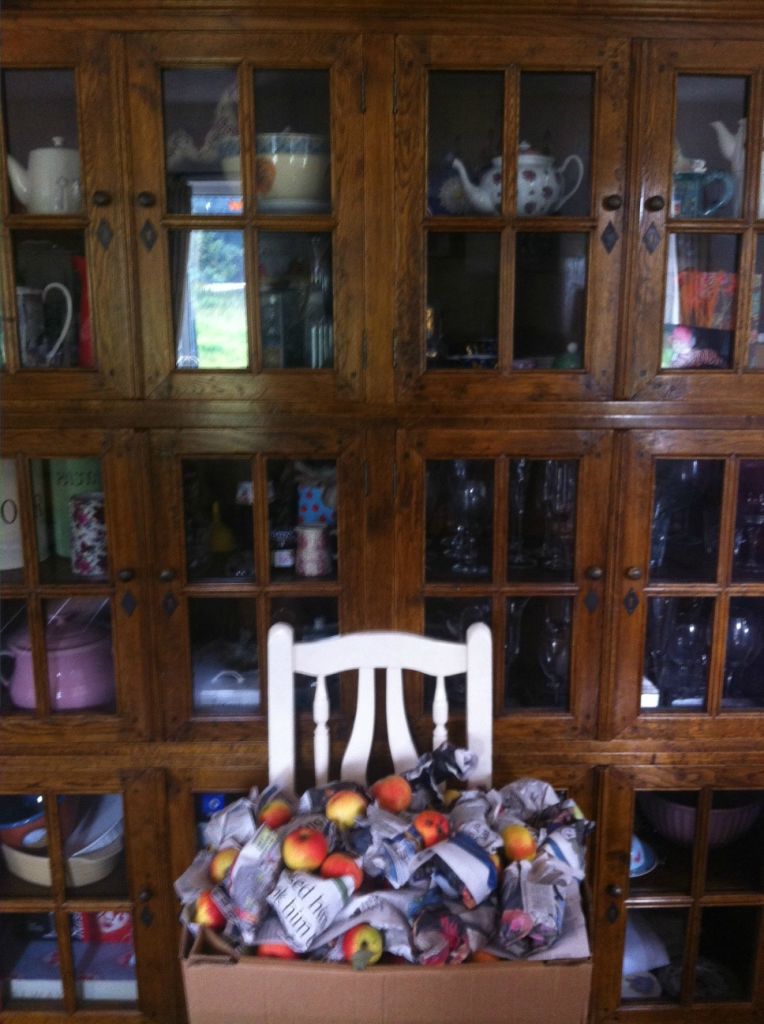 I put away the shopping, left the bag of prawns I'd bought out to thaw for the evenings dinner then thinking of the week ahead I made this lovely Granola. You will need…
About 250g Porridge Oats
Any seeds if you have them. I had a packet of milled linseeds so added a handful
About 125 g Raisins or Sultanas
3 tablespoons of Maple Syrup
1 teaspoon of Cinnamon Powder
1⁄4 teaspoon of salt
Mix all the dry ingredients but not the raisins in a large mixing bowl, drizzle over the maple syrup and mix, you may find your hand is best for the job. Empty the contents onto a large baking tray and spread out evenly
Toast in a low oven for approximately 20 minutes. 180°C should work but keep an eye on it as it can burn quickly. Give a stir halfway through the time and add the raisins. Allow to cool. Store in an airtight container.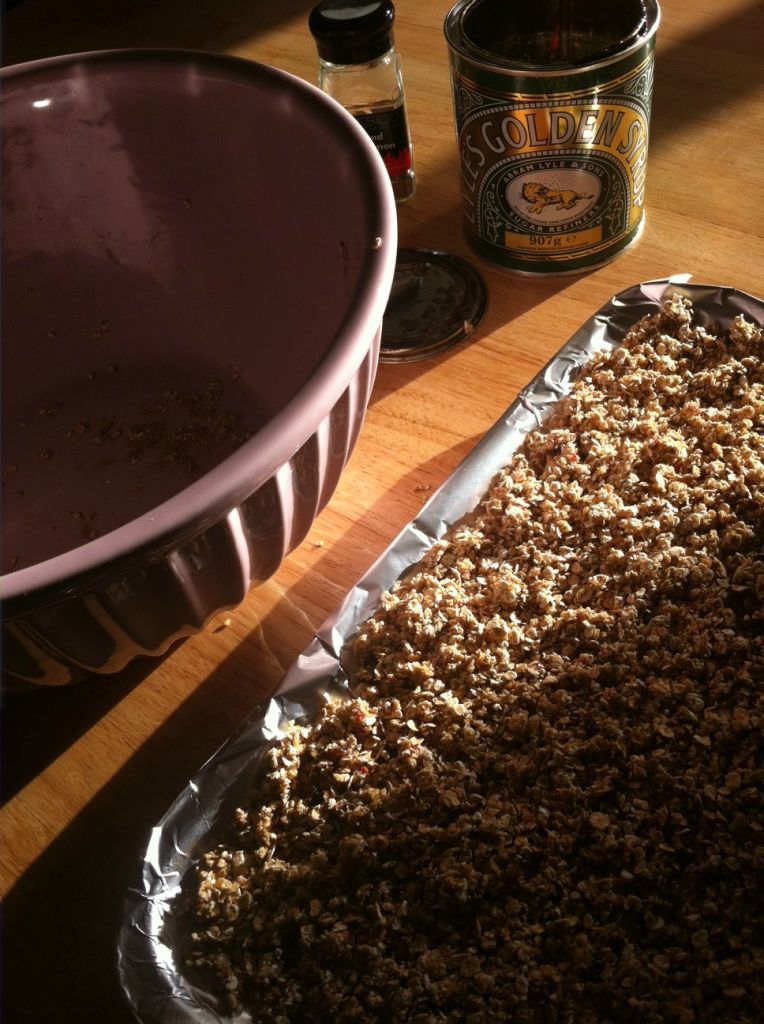 Next I marinated some of the chicken fillets for Sundays dinner, the following day. You'll meet the recipe further down in this post.
Saturday night I made my Garlic Chilli Prawns. SO yum. For a link to that recipe click HERE. I usually serve this with pasta but on this occasion we had bread instead and watched Django Unchained which was great! I love westerns and this is a good one.
Tip: To defrost prawns in a hurry leave soaking in a bowl of water for about twenty minutes.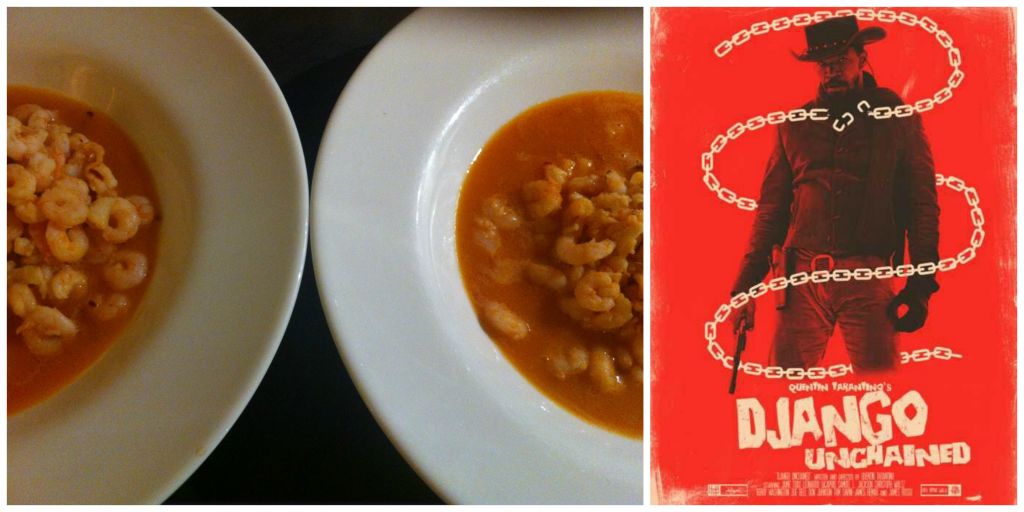 Lie ins are a thing of the past but we still love our lazy Sunday mornings with fresh coffee and a nice breakfast or brunch. On this occasion I made Courgette Breakfast Tacos from a great page Food 52. Click HERE for the recipe.
We still have our own courgettes so they feature a lot in my menu these days. My favourite way to cook a courgette is to fry it so this is perfect. It may sound like an odd recipe but trust me, it's easy, creamy and delicious. I used Ballymaloe relish as I had some but you could use any relish or even ketchup.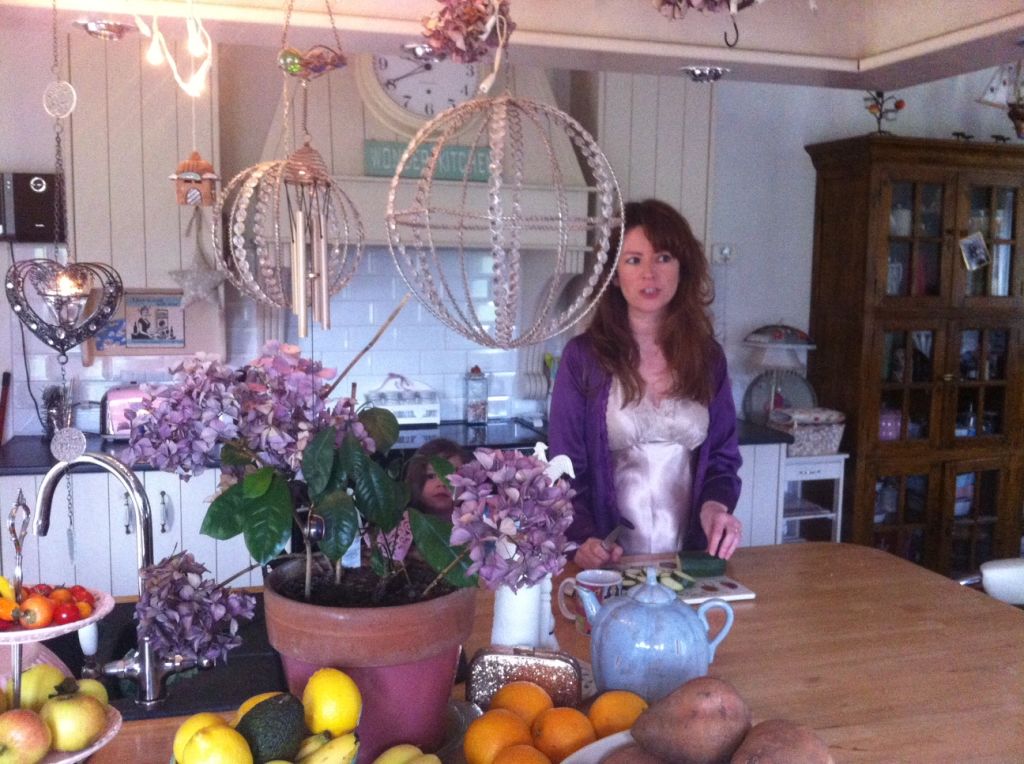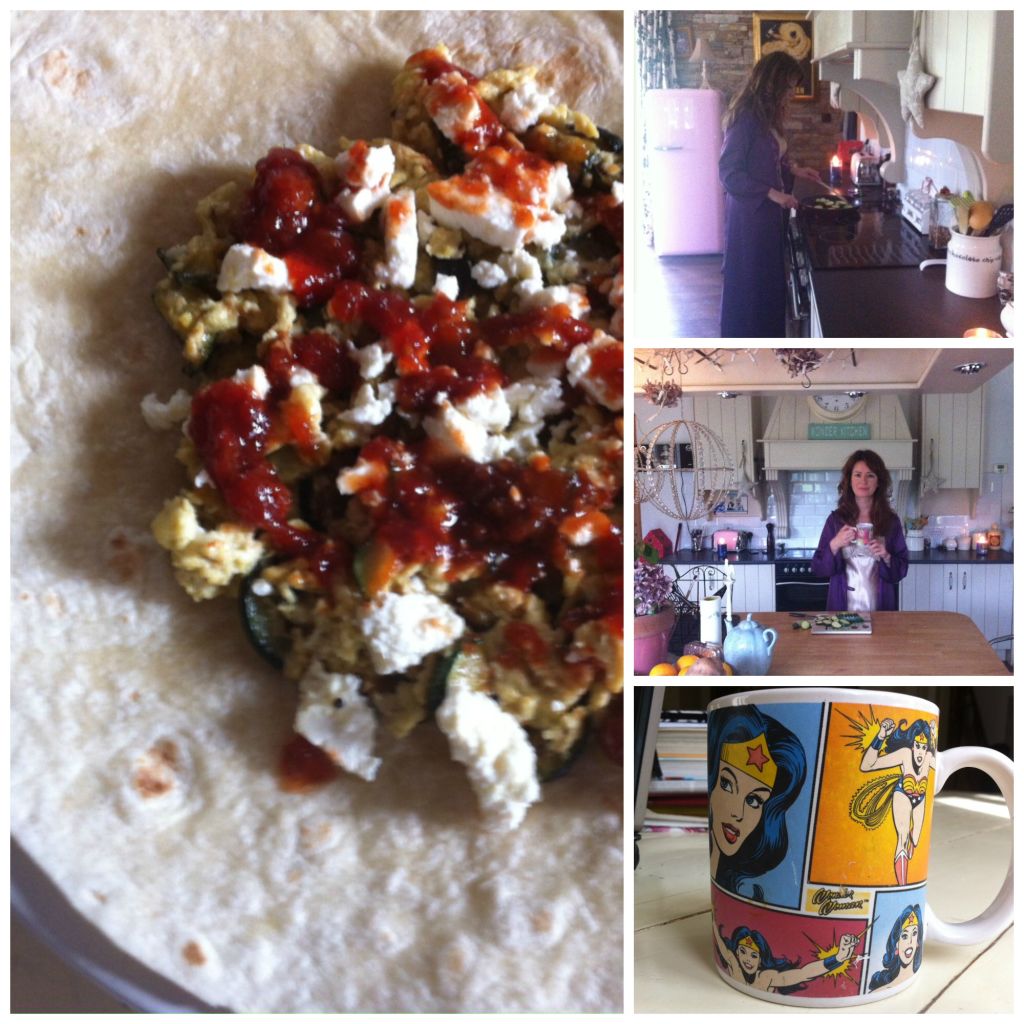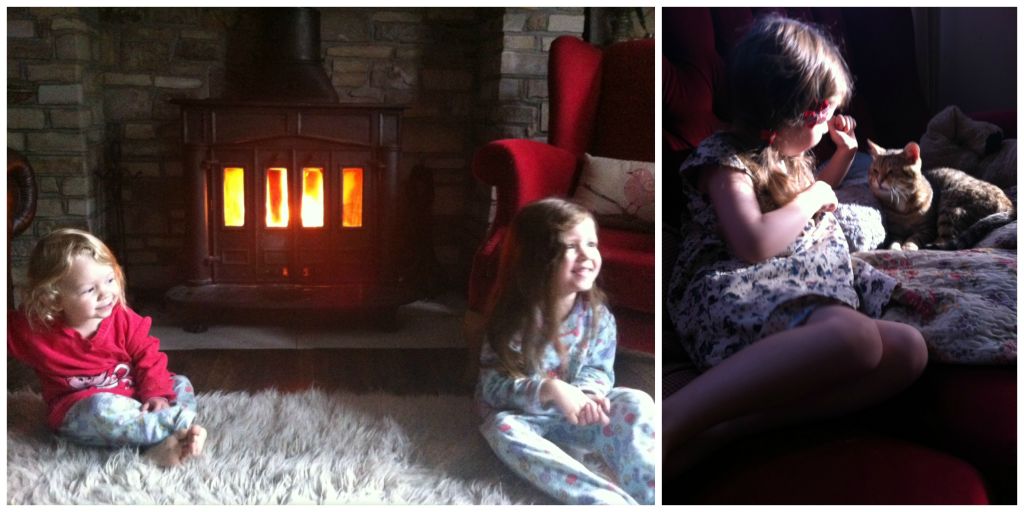 Sunday was the day I went to the forestry with Dad to see his old home place. If you haven't read that yet just click on the name here, 'Little House in the Forest'. It was also a day for chopping firewood. Dad was at it, Adrian was at it. I even had a go myself.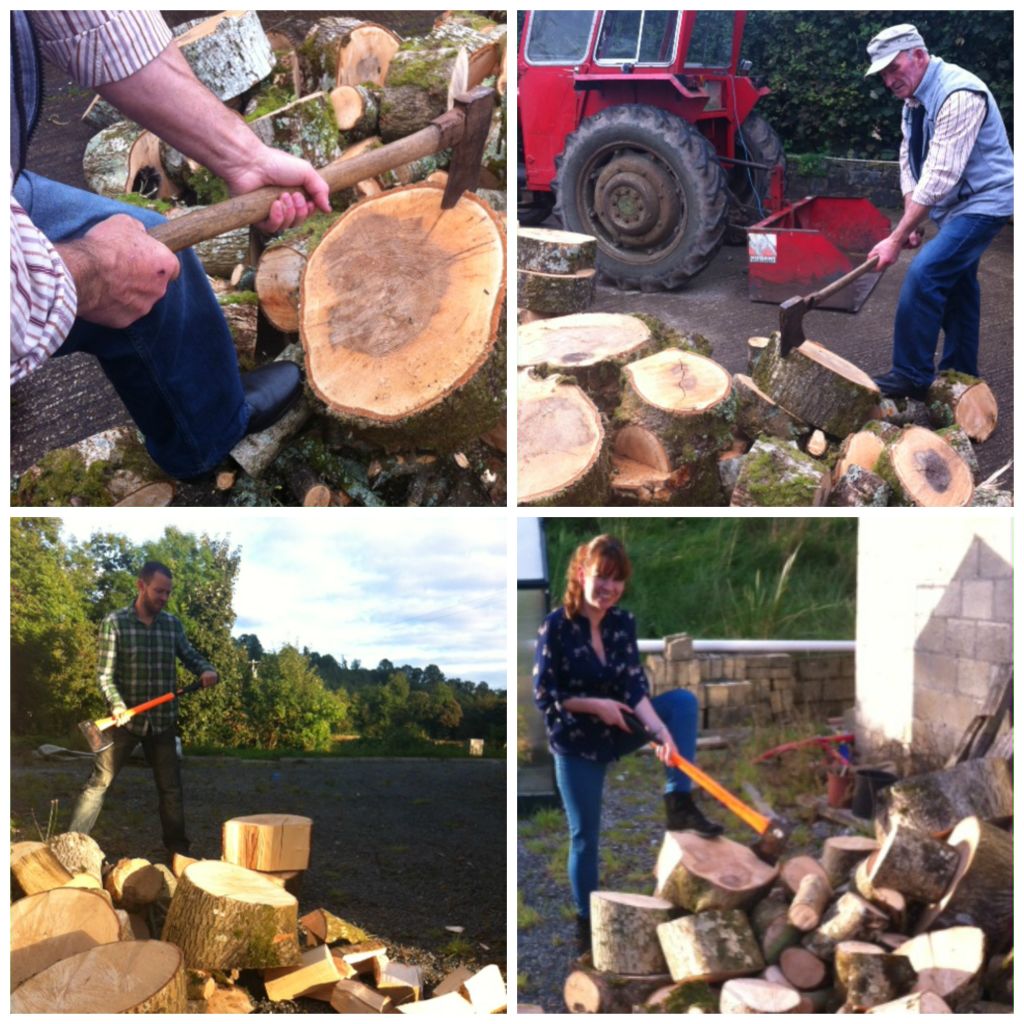 Tandoori Chicken with Turmeric Roast Cauliflower & Potatoes
Everyone was looking forward to this dinner favourite, remember I marinated the chicken the day before? Here's how I did it..
In a large bowl place the following:
1 cup of natural or greek or natural yoghurt
1 garlic clove crushed
1 tsp of grated ginger (it's really worth getting fresh ginger if you can)
Juice of half a lemon
1 tsp each of garam masala, chilli powder, ground coriander, turmeric & salt
2 tbsp of oil, I used Irish rapeseed.
Mix together, add your chicken pieces and pierce/slash well to help absorb the flavours. Cover and leave in the fridge for 3 hours or overnight like I did and that's it ready to bake!
What to do with the Cauliflower
Break a cauliflower in small pieces in an oven dish. Add three tablespoons of olive or rapeseed oil. Add a tbsp of Turmeric, some sea salt and black pepper and mix until the cauliflower is well coated in the earthy, orangey spice and oil.
Read the amazing health benefits of turmeric by clicking HERE. Note number two on the list is a special mention for the combination of turmeric and cauliflower.
What to do with the Potatoes
Boil some potatoes until just starting to give a little (test with a plain knife). Drain well and break up in another oven dish before adding 1 tsp each of Ground Coriander, Turmeric, Garam Masala or Cumin, some salt, black pepper and a splash of olive oil. Mix well. You could plain roast or boil them either if you prefer.
Throw all in the Oven
Cook the potatoes in a preheated oven 230 c for 40 minutes, stirring halfway through.
Add the cauliflower to the oven for 30 minutes, stir occasionally (you want it to get quite burnt, black edges are perfect!) Transfer the chicken and marinade to an oven proof dish add it to the oven for the last 25 minutes.
If you only have two shelves or less mouths to feed you could put the potatoes and cauliflower in one dish and if you're feeling super lazy serve the chicken with naan bread or tortilla wraps and side salad instead but you have to try the cauliflower, it is gorgeous.

As you can see this dinner is very popular…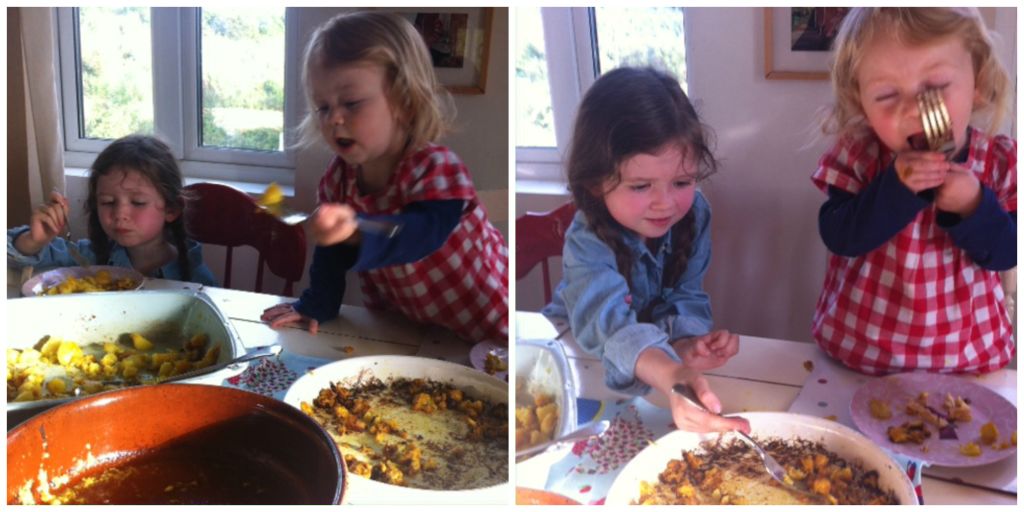 If you're not used to these ingredients you might think this would be hot and spicy but it's really not. It's fragrant and mild. I'd hoped to have leftovers but no such luck but I did have some par boiled potatos left in the pot, some raw cauliflower and of course plenty of courgette from the garden so these I baked, the oven was still on, with another shaking of turmeric and oil for about 30 minutes. I let it cool before covering and putting in the fridge for Monday's dinner.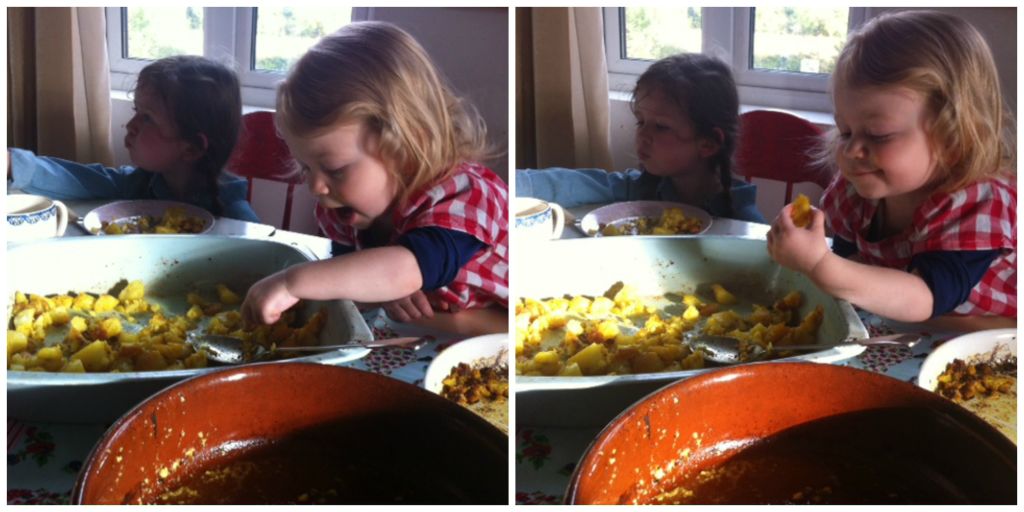 The Weeks Breakfasts…
Monday to Friday breakfast options included…
Homemade Granola with Greek Yoghurt and defrosted Berries or Stewed Apple. I stewed the apples on Monday (we have loads).
Porridge with Honey or Stewed Apple
Weetabix with or without Sliced Banana and/or homemade Blackcurrant Jam
Homemade Soda Bread with or without Grilled Tomatoes or just plain with Butter and/or Jam
I'm not a cereal fan but sometimes I like porridge, I love the granola plain and I love the soda bread most of all! I don't really like sweet things.
The Weeks Drinks…
Fresh coffee first thing then green tea, two or three cups throughout the day, an occasional cup of real tea and a regular glass of wine is my thing. I prefer the taste of green tea so the health benefits are an added bonus. We only drink bottled water now because of the fluoride in our tap water (Republic of Ireland). The children drink bottled water or milk.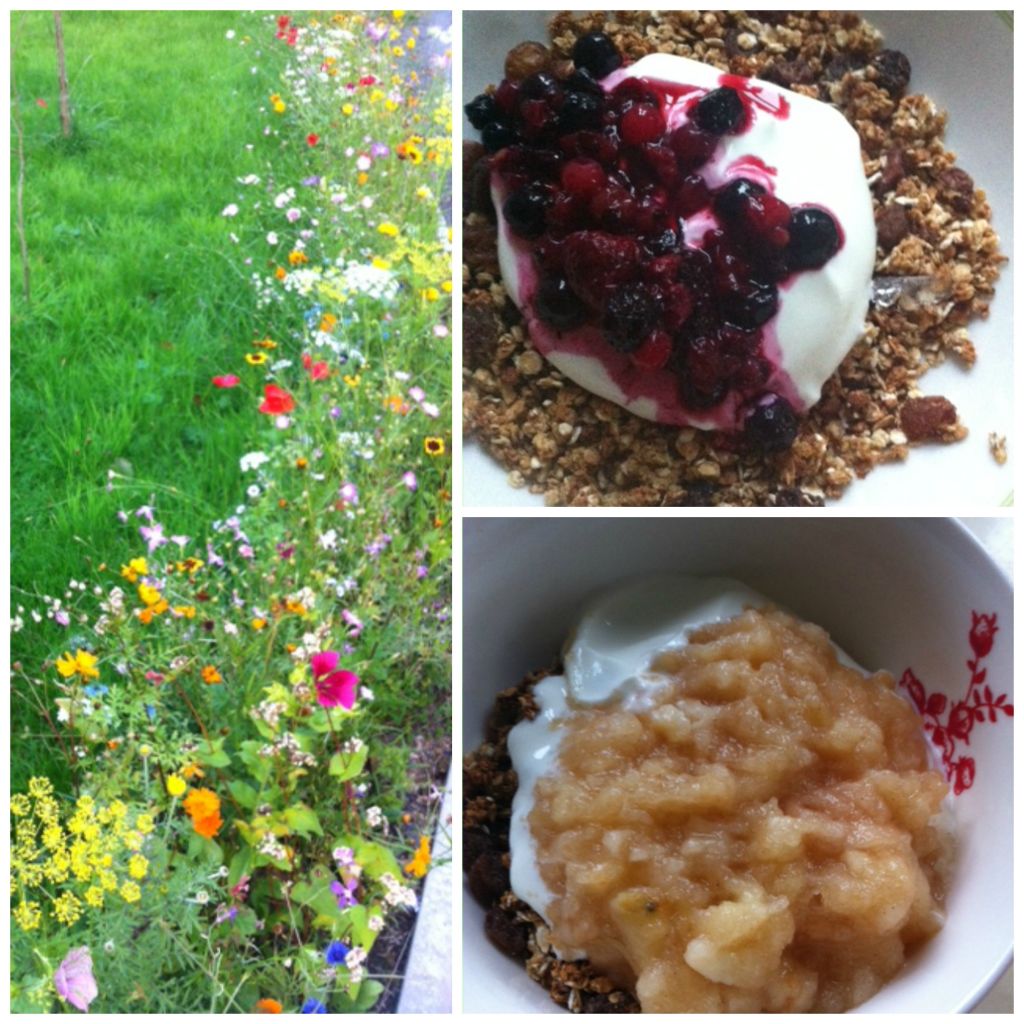 The Weeks Lunches…
Lunches included but were not limited to..
Home Made Soup from Leftovers – See below under Wednesday. Some of the best soups are made from leftovers, just heat your leftover potatoes and veg, add stock – one to one and a half litres depending how much leftover's you have, a little white wine if you like, salt and pepper, noodles or beans if you want to make a more filling meal, even pasta. Bring to the boil then reduce heat and simmer for ten minutes and serve.
Cheese Toasts
Rice cakes or bread with Peanut Butter and/or Banana & Honey
Tomato & Avocado Salad
Beetroot, Tomato and Chickpea Salad with Parsley & Sea Salt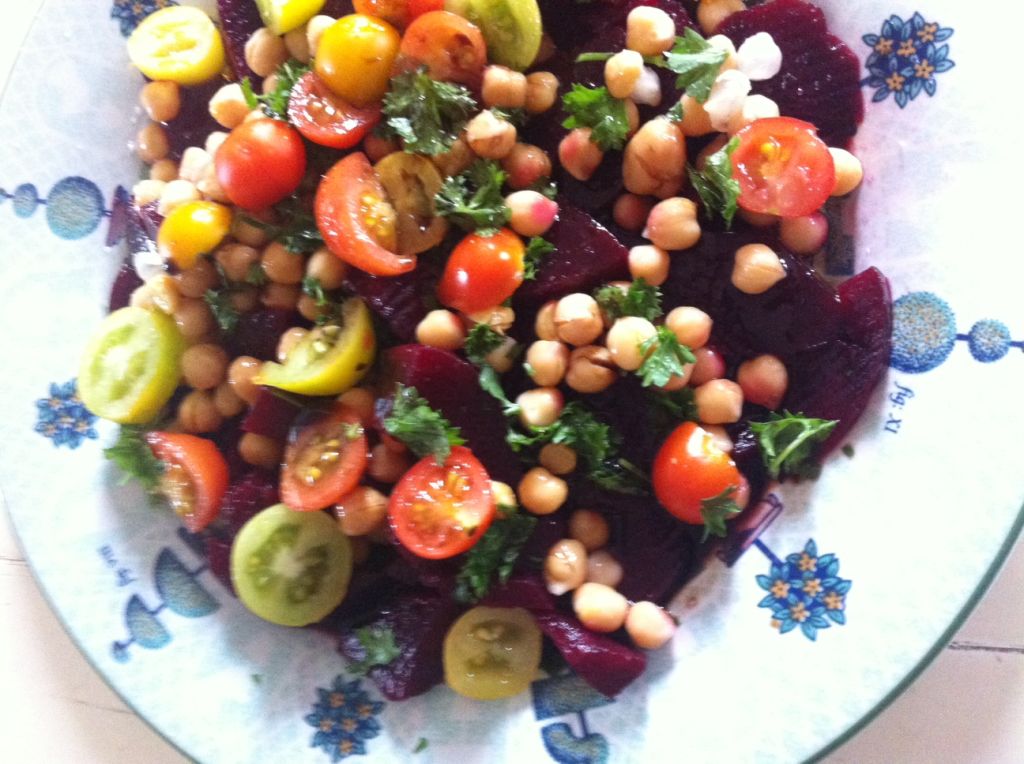 Monday
For dinner the little girls had Saoirse's favourite Pasta with Parmesan & Peas because they're not keen on tonight's offering…
 Turmeric Roasted Cauliflower, Courgette & Potato Frittata
I put my leftovers (cold roasted potato, courgette and cauliflower) from the previous night in an ovenproof dish, mashed lightly then poured over some beaten, seasoned egg and baked at 200 c for 30 minutes. You need just enough egg to almost cover your veg mixture. I don't like mine too eggy but it's whatever you like yourself. I used four.
DONE
You can use any leftover veg for this AND it's lovely hot or cold so it's also perfect for lunch the next day.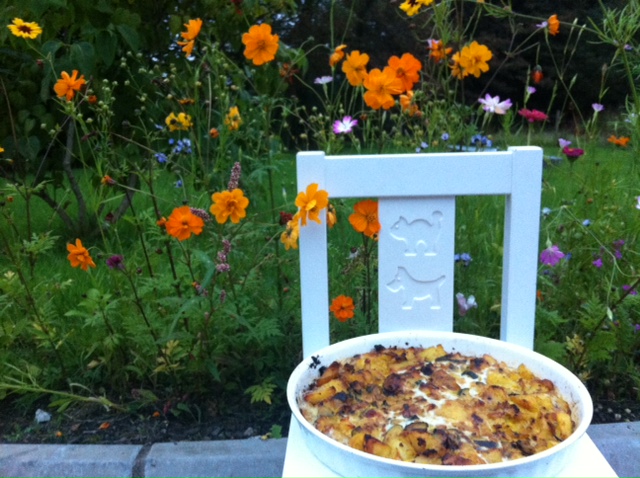 Tuesday
Adrian made bread…Actually Adrian would cook if he ever got a chance but even so he's still chief baker, bread maker and BBQ king plus he makes a mean roast, perfect pastry and Christmas cake and that's why I married him. Well one reason…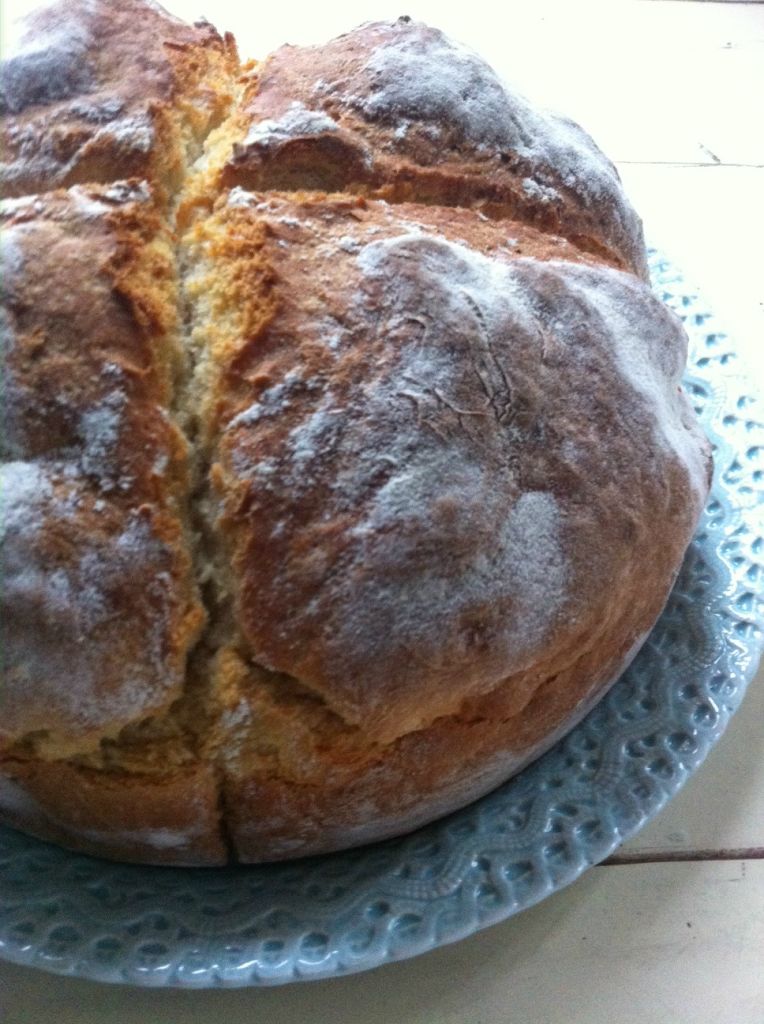 Moroccan Fish Stew & Sweet Potato Chips
So while not everyone loves my Frittata, everyone in our house LOVES this Moroccan Fish Stew from Bill Granger. Here's the link to the recipe and remember to use wild salmon. Click HERE and prepare to be stunned by how easy it is.
Remember I said in my grocery post how this week I'd be focusing on recipes where you just keep adding a lot of ingredients but have nothing hard to do? Well this is a perfect example, you just keep adding things which is the best fun of cooking and at the end is something beautiful.
To go with this, and we didn't really need it, I made Sweet Potato Chips using two quite large sweet potatoes. I cut them into chip shapes then tossed in olive oil, paprika, sea salt and a little cayenne pepper before roasting for about twenty minutes – keep an eye on them. In the end I had a quite a bit of leftovers so I put them all together, the chips and stew and put in the fridge until Wednesday…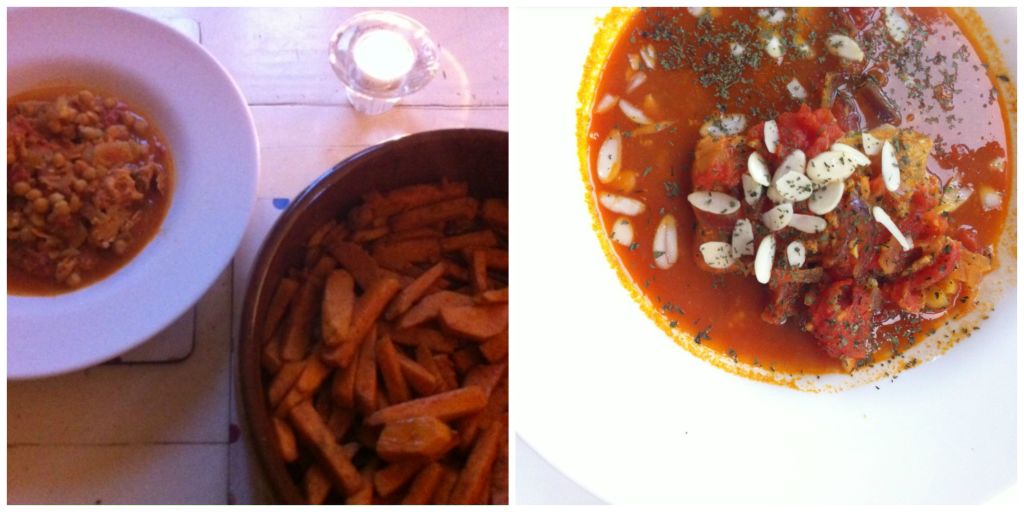 Wednesday
I am so excited about this soup I made from the leftover fish stew and sweet potato chips because it was wildly delicious. I broke up and heated the leftovers in a pan and added vegetable stock and a splash of white wine. I brought it to the boil before reducing to a simmer and adding chickpeas, sea salt and black pepper. I had two bowls for lunch.
At dinner the children shared a small Pizza and Salad of Olives & Sliced Red Pepper, Carrot, Apple and Tomatoes.
Adrian was away so Shaylyn and I had more 'Moroccan Sweet Potato & Wild Salmon Soup with Chickpeas' for dinner. I can't wait to make this one again.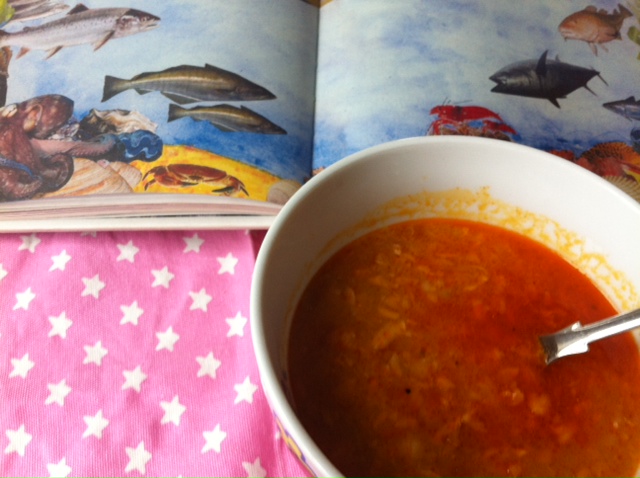 Thursday.
Dinner on Thursday was Pasta with my Homemade Pasta Sauce. Click HERE for the link to a post with that recipe and feel free to tweak and play around with it. You'll never buy ready made sauce again. The carrots I bought Saturday are organic so I didn't peel them just washed and grated straight in to the sauce.
The Weeks Snacks…
I had planned to at least make simple flapjacks from the porridge oats, a crumble to use up more apples or even some muffins but I didn't get a chance so the weeks snacks included…
Apples
Raisins
Krackawheat Crackers
Olives
Yoghurts
Liga Junior
Peanuts
Veg crudites & dip
Blueberries
Friday (One Pot Dinner from Leftovers)
Today I had loads of leftover pasta so I made 'Pasta Bake with Mozzarella'. Leftover pasta always looks so drab and boring but not when I'm finished with it, in fact I think that with a just a little TLC it's even nicer the next day.
To make this I put the leftover pasta in an oven dish with the leftover pasta sauce, also from last night, a little more oil, some olives, grated parmesan and chopped fresh mozzarella but you could add almost anything you have, snipped ham or sundried tomatoes, peas, fresh or tinned tomatoes. I covered it with tin foil and baked for 15/20 minutes at 200 c for a really satisfying dish…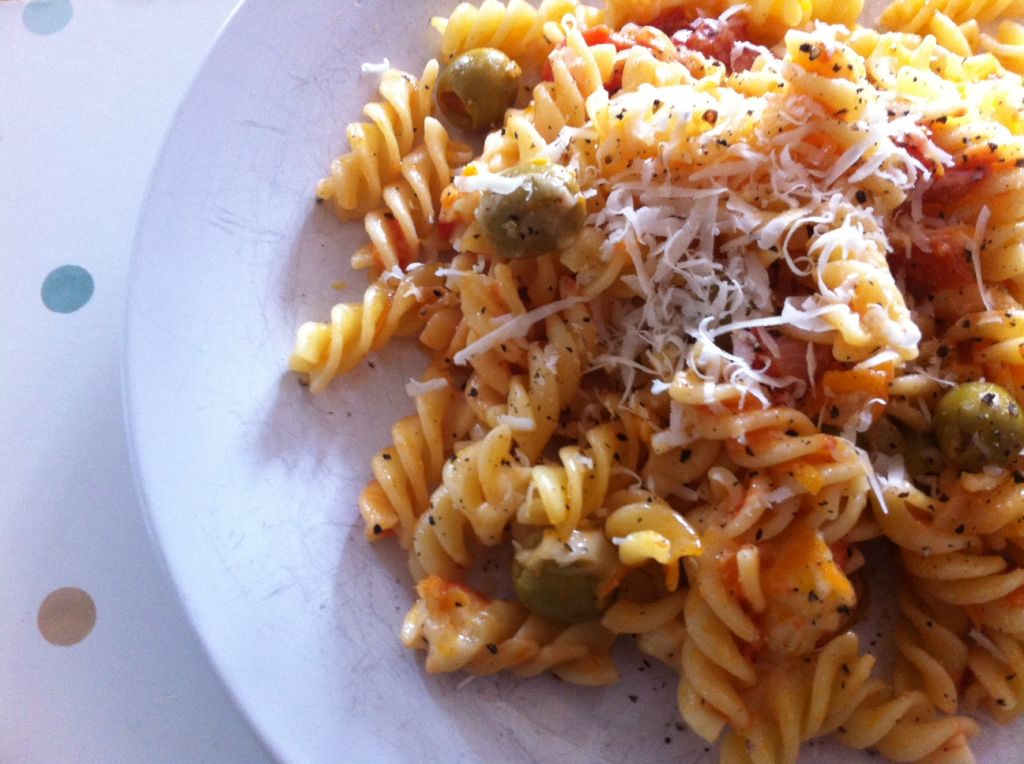 Did I mention I'm really enjoying our home grown tomatoes…they deserve a special mention…I'm sure going to miss them.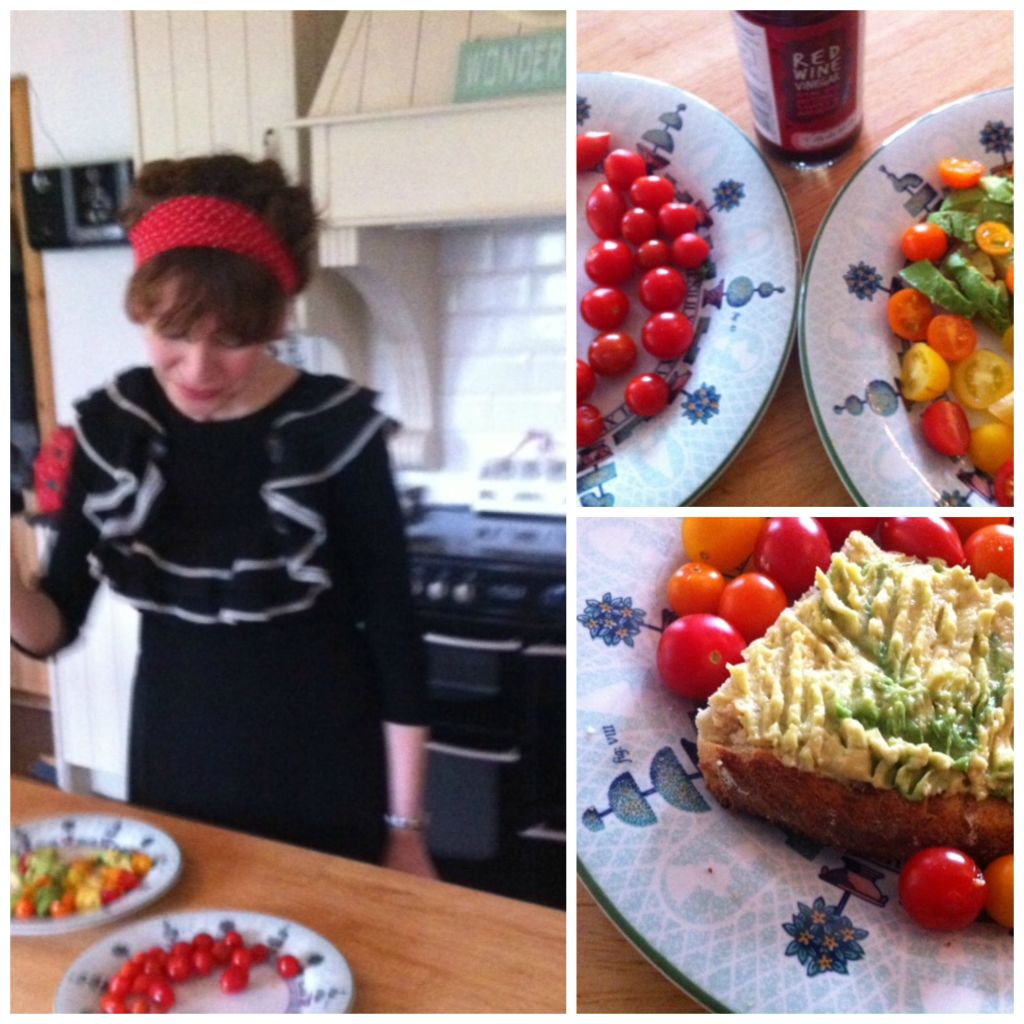 Saturday (A Stunning One Pot!)
So tomorrow is Saturday and I have another family favourite planned. Click HERE for the recipe. It's called 'Leon Gobi' a stunning one pot vegetable curry. Please believe me when I tell you that you may think you've tasted a vegetable curry before but honestly you haven't and neither had I until I tried this one.
So far I've only made it without the dessicated coconut they put on at the end, the sultanas and black onion seeds but oh my! Deliciousness! You have to scroll down in that link to get it…worth the scroll!!!
One more thing, rather than making a paste of the garlic and ginger etc I just grated these straight into the pot, you know I'm afraid of my processor. Anyway I just found it easier and you might too.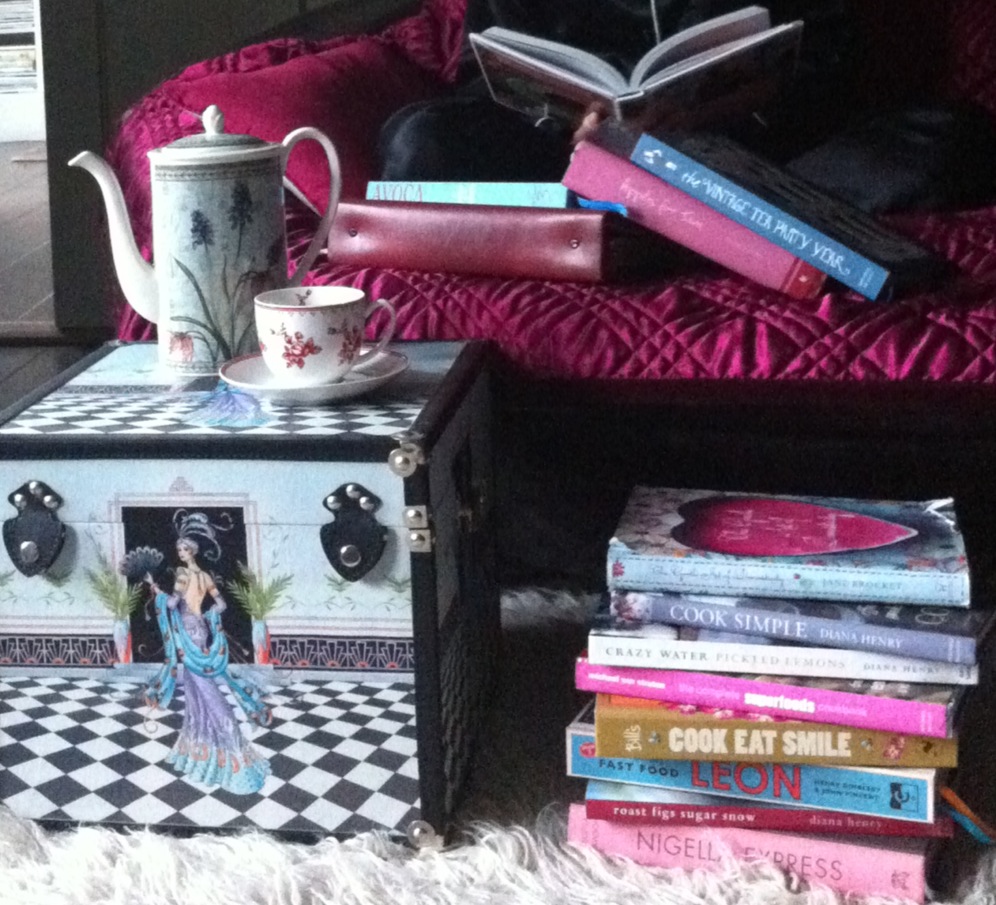 Sunday (One Pot, My Most 'Traditional' Dinner this Week!)
On Sunday I'll be making my 'Baked Chicken in Balsamic Vinegar', another family favourite. Again all you have to do is put a number of things in one dish and throw in the oven with love, the right time, the right heat : )
In a single layer, in a large oven dish, place chicken pieces, partly boiled and quartered potatoes, some quartered onion, a couple of smashed garlic cloves and a sliced red pepper or two.
Pour over about 8 tbsp of olive oil, 4 tbsp of balsamic vinegar and about 5 sprigs or a tsp of dried Rosemary.
Toss together and season, making sure to get the sea salt well into the chicken and bake for 35 minutes at 200 C/400 F
To serve, sprinkle with crumbled feta cheese. The contrast of cool feta with near caramelised onion, pepper and garlic will blow your mind while the balsamic glaze on the chicken, oh my! This one's a keeper. I like to mash the smashed garlic cloves, spread on the chicken and spear with some crumbly cool cheese : )
And that concludes my recipes for the week based on my €105 shop from Lidl, no processed food, my store cupboard essentials and a world tour of recipes : )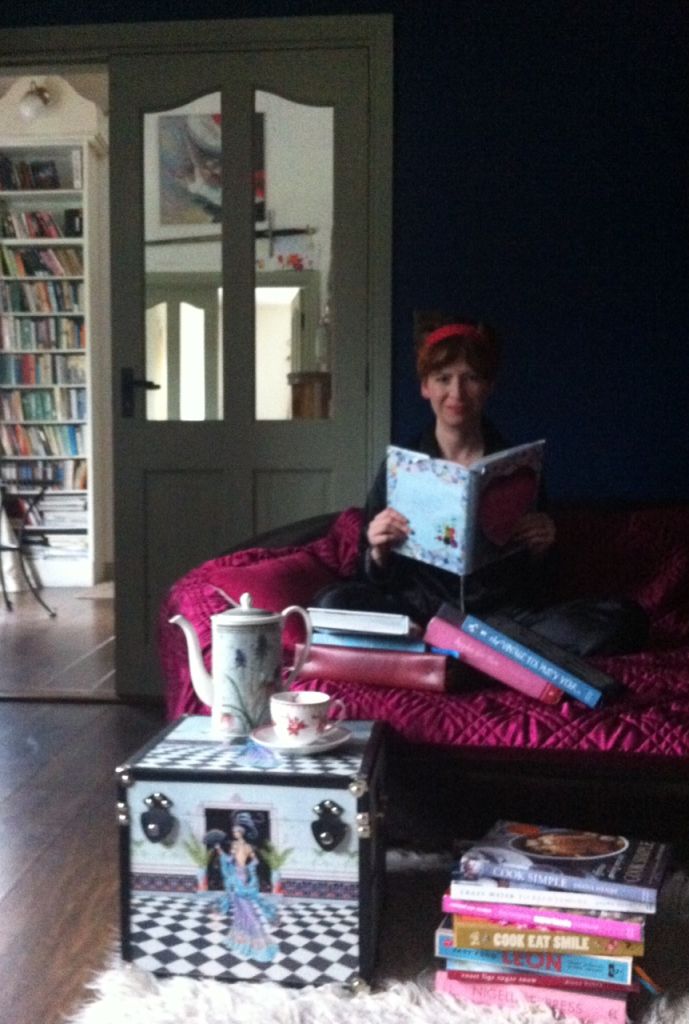 But hold on. I still have LOADS left, so here's at least seven more dinners I could make without buying one thing extra and without making the same thing twice…
Easy Veggie Biryani. Put about two handfuls of rice, one handful of frozen veg, some raisins, a tbsp of curry paste and a stock cube in large bowl, cover with boiling water from the kettle, stir, cover with a plate leaving a gap at the side and microwave to cook. Sprinkle salted peanuts to serve.
Sweet Potato Chips with Greek Yoghurt Dip Delicious, healthy and filling. (see the accompaniment to Moroccan fish stew above)
Mexican Tortilla Parcels. I love this… Fry onion and crushed garlic with a sprinkling of chilli flakes and a teaspoon of cumin, add a tin of tomatoes (reserve juice and add as needed if the mixture seems very dry) and cook for about ten minutes or so. Throw in a vegetable stock cube and stir to dissolve. Add a tin of beans like kidney or cannellini and stir. Spoon on to soft tortillas. Grate some cheese over and serve with greek yoghurt if you have it or sour cream…or mashed avocado with a splash of lime juice, yum! Alternatively fry the tortilla parcels in oil for a crispy and admittedly even tastier version, double yum!
Beans with Tomatoes & Cinnamon. Click HERE for my favourite bean recipe from Hugh Fearnsley Whittingstall (It's the third one down)
Courgette or Broccoli Pesto Pasta. Lightly boil some frozen broccoli, drain well then fry with oil, crushed garlic, sea salt and chilli flakes, add a squeeze of lemon and some reserved water from the pasta and mash lightly. Serve over pasta and add some toasted almond flakes or pine nuts if you have them and some grated parmesan. Do the same with fresh fried courgette, add the garlic and so on as with the broccoli.
Pizza – Remember I bought some pizza last week but haven't used it yet. Win!
You will also have noticed this second week menu was completely meat free as I had no meat left but you could simply buy some chicken and/or bacon, as both would be great and add to your hearts content.
I'm going to leave you with one recipe, a very great favourite I've posted before and one I'll be cooking next week, Pork Chops with Plums and Chinese Spices. So far everyone who has tried this has loved it. I can tell from all the messages! So here it is, click HERE
I hope you enjoyed this post and find it inspiring for your palate and your pocket! Please share your thoughts on the subject in comments and if you have any questions big or small on any of the recipes don't hesitate to ask. After all I love talking food.
I'm taking a little blog break now but I'll be back in a few weeks with some new posts on fairy forts, a wardrobe revamp, rowan trees, Halloween, new dinner parties, room makeovers, room tours and home styling tips to name a few.
In the meantime please keep following on Facebook for more regular updates, just click HERE  thank you : )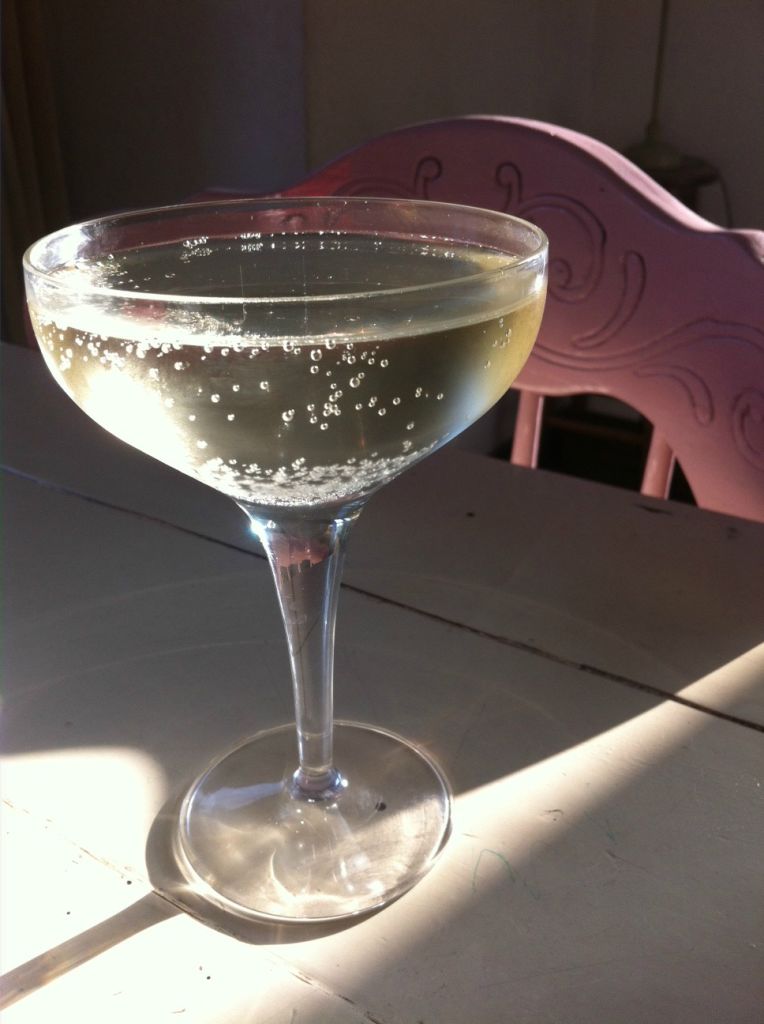 ---
---