Happy One Year Blog Birthday To Me : )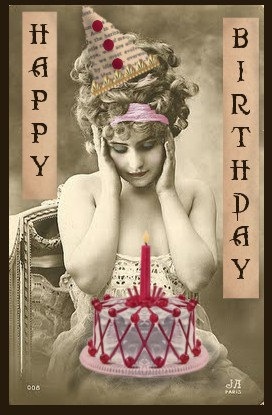 I'm feeling really happy and giddy because today is my blog birthday! One year ago today I made the start I'd been thinking of and planning for a while and wrote my very first blog post. It was exciting and scary. I was scared of several things, the unknown and putting myself out there and not of the work but of the effect the work might have on the family.
As someone who has set up and run two businesses in the past I have no illusions about the level of work and time it takes to build and maintain something and and once I commit that's it, I'm committed. There are no half measures.
So I had all these thoughts and more running around in my head.  I knew I could do it but should I wait a bit longer, that sort of thing. I didn't rush in but I decided not to wait. I took time to plan the whole look and feel of the blog I wanted. I read up on blogging, I wrote ten posts before I started; I tried to grasp the technical aspects. In other words I did my homework and decided to start in my birthday month of September. I thought as I was turning 39 it would be a cool project to have in the run up to 40 and wow was I right! Blogging this past year has been amazing and here are my reasons why.
Babies – Having babies addles your head. Well I can only speak for myself. I wanted something to take me out of that, something cerebral and intellectually stimulating.
A Challenge- Blogging is hard work and takes a lot of thought and time. It's also very rewarding to have a challenge, to set goals for yourself and to watch it grow and meet new milestones.
New Friends – Making friends as an adult is hard but blogging is a brilliant way to find like minded people and I should know having made such great new friends this past year that without the blog I never would have known which is a terrible thought now. Finding people is hard at any time but finding people you really connect with can seem impossible right? Blogging cuts right through that.
A Record of a Life – It only occurred to me quite recently that the blog will be something for the children to look back on in the future and for me too, a lovely record of our lives.
Socrates said 'The unexamined life is not worth living' and there is something to that. It's been a revelation to have to think about, analyse and challenge my thoughts and feelings about what I put in writing in the blog.
Connectedness – I don't get very personal but I am fully here, the same me as in real life. I'm pretty much an open book and glass half full kind of person and through that I think I've found a level of connectedness I didn't imagine. In the words of F Scott Fitzgerald;
"That is part of the beauty of all literature. You discover that your longings are universal longings, that you're not lonely and isolated from anyone. You belong."
Not that the blog is literature but the principle is the same. You put something out there in writing from the heart and if you're like me you try not to think that others will read it and you wonder if anyone who does will say 'what is she on about?' when in fact you find that lots of people do feel the same. It's humbling, liberating, surprising and lovely.

New Skills – I have learned so much this past year, improved my photography skills and my computer skills but more importantly I'm a better writer than I was a year ago. Before the blog I hadn't written creatively since my schooldays despite always wanting to. The blog gave me the push, the discipline. I have to post regularly, keep going and while it's been good discipline I still decide how and when I do it so it's freedom too.
As We Get Older Life Narrows – We listen to the same music, follow the same routine, move in an ever decreasing circle but because of the blog I've found myself more motivated to do new things and more opportunities have come/are coming my way. My brain and my life has expanded rather than narrowed.
Change – Before I started the blog I knew I wanted some things. I wanted to meet new and interesting people, to be challenged and inspired, to learn something new, to have an adventure, the opportunity to be creative. I also wanted to 'get over' some past traumas from a cancer scare and from having my children. I didn't want my world to 'narrow' to be diminished by things that had happened to me but it's hard. I chose the words 'healing' and 'muchier'  (from Lewis Carroll 'You used to be much muchier, you've lost your muchness') as my focus for the year and I started a blog. This quote, from Socrates again and one of my favourites really sums up my feelings on the matter.
'The secret of change is to focus all of your energy, not on fighting the old, but on building the new.' Socrates
Blasting the Comfort Zone – In my opinion the only truly age defying thing is to blast the comfort zone, a seductive place of doom.  Oh believe me I like my comforts as much as anyone and they do make me happy but not this kind of happy.
So yes the blog has impacted on family life but only in positive ways. Sure the house is messier, drives me crazy and people say 'how do you find the time?' which the answer to of course is when you really want to do something or feel a pull to do something you make the time. There are days when I'm not feeling it. I wonder how long I'll keep it up and what I'm doing it for – I'll have to read back on this list! So you see I really don't know why I'm compelled to do this I just know the rewards have been great and I'm feeling much muchier.
Thank you guys for reading and for your comments and support this past year. A blog would be a lonely place without readers and without comments so I'd love if you'd use today to check in. Ah do. You could tell me how long you've been following, just say happy birthday dear blog or write me an essay, whatever you're feeling.
I'm running a competition on facebook to celebrate so if you're not already following the blog on facebook pop over there to follow and enter, though it's only for readers in Ireland so apologies to everyone else : ( I will have to come up with a more international competition sometime in the future.
Today I'll be celebrating by cleaning aforementioned messy house and walking two miles with the buggy in the rain to collect Saoirse from school. Later I'll eat something lovely, one reader said recently 'I can't wait to see what you eat next' and raise a toast to That Curious Love of Green. One birthday down and two (mine and Saoirses) to go on September 17th.
Have a great week out there : )
---
---