How to Have a Creative Life…
What does it mean to have a 'creative life'? Why do so many people yearn for a creative life, even when they're not sure what that is exactly? And why do so many people feel excluded from having a creative life of their own?
I could wax lyrical for endless hours but I'll try to keep it brief.
For me, to have a 'creative life' means to be an individual, while to truly be an individual means you are not motivated, impressed, or influenced by anything the 'mainstream' has to offer. You are outside society, marching to your own tune, and for a great part of your life that makes you feel 'odd' 'outcast' 'wrong' different' 'alone.'
If you're lucky you find support, a tribe, some understanding, an appreciation perhaps. But whether this happens or not doesn't change the fact. To be creative, is to walk alone.
Why???
Because a creative person can never be comforted by external forces, a job, children, a god, a partner, a religion. A creative person has to make their own meaning.
And they don't choose this path, this is what they are.
I believe this is most people, if they're brave enough, honest enough, or can't help it! It's not about talent. Eric Maisel said no one decides 'I'm a talented writer so I think I'll write a novel.' Individuals decide to write a novel because they feel compelled to do it and are willing to put in the work and that's it, it's in the blood or it isn't.
To be a creative person means to be sensitive, observant, empathetic, prone to anxiety, intuitive, visionary, emotionally intelligent and powerfully imaginative. None of these things are celebrated in our world but they are valuable and at this stage, critical.
Personally, and I'm sure lots of you will have had this experience, I was always made to feel that being 'sensitive' was as bad as having the plague.
Another example, one very accomplished and talented artist friend said she left school having been made feel like an idiot, capable of little, a fool. What a success for the system, what a failure for humanity, and what an extravagant lie! She had to find her own meaning, create her own life, which she has done, beautifully.
So why do so many people 'yearn for a creative life' more than ever it seems? There is no denying this is the mood of our time. I think there are a few reasons. First, we are inherently creative beings and we are evolving, humans 2.0.
Second, in the past people looked 'outside' for meaning, for their 'reason for being', this has changed. We are beginning to see the power of the individual, not in a selfish way, the complete opposite in fact.
By developing the self we affect the whole in a positive way. We are starting to think globally, to see the connectedness in all things. We are waking up to the fact that we are in control and we are powerful.
Why do so many people feel excluded from having a creative life their own? This is simple.  No matter how different, how rebellious, how brave we are, the system is bigger, and we're adults so we've been in this spin a long time.
It's not possible to be unaffected, sometimes I fret about the possibility to be truly free within it, am I? Can I be? I desire it deeply, that freedom. But here's the thing, we are not alone as we think. There are millions of people just like us, millions. We can change things, we are changing things, take heart.
If you are lucky enough to have internet access and brave enough to put yourself out there, you will find them, they will find you. We creatives are not in power, not yet, but we are on the move, coming out, thanks to the democratising power of social media, they can't isolate or intimidate us any longer.
This is all happening at the perfect time, what a glorious pioneering time to be alive! Ah, we were born too soon really! So stay strong creative soul, you are ahead of your time or maybe you are of your time, you are a pioneer.
7 Ways to Be More Creative
Choose a creative project e.g. daily writing, starting or finishing a novel, starting to paint etc
Increase the time you would normally spend. For example, you might normally watch two hours of tv without feeling guilty but then feel guilty at spending that exact same time writing. Prioritise your creative work. Schedule it first, ahead of housework, tv and social media for example. Ahead of the things will happen anyway.
Start to observe your self-talk around creating. Challenge your negative thoughts. When I was writing my first book and the negative voices would strike I reminded myself 'But you're doing it…'
Learn to prioritise and handle distractions, keep up the positive self-talk and keep at the work. Here's the big truth, the more you commit and allot time daily, the more you can handle the negativity and anything else comes your way. The 'doing' will become second nature, part of your life, your creative life, and it will keep you one step ahead of the negatives.
Be prepared for those who won't understand, often the people closest to you, but be assured that you are not the only person who feels this way, they, we, are out there…
Be further assured that this is important. If you want to write a book there is nothing wrong with that, that is wonderful. If you feel it, it's true, it is for you. By the same token if you want to paint or write poems or are just bored by small talk then it's your duty to up the ante. Do your work and call it work, it is your life work. Housework, the day job, and childcare is not your life work. The stories, the ideas, the thoughts you have, your expression of these, are part of the story of life in the world now, the experience of women, or men, what we face, what we love, what we fear. Be a fearless creator, a record keeper.
Finish the project, talk about it, start another.
After all that, watch your life change…
If you enjoyed this post you may be interested in joining our dedicated creative community, coming soon. Keep an eye here and on FB for details. Have a great day xo Jane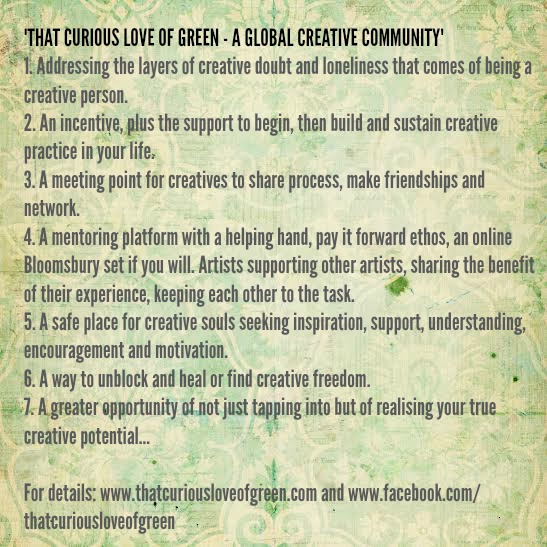 Jane Gilheaney Barry is a writer, creativity coach and curator of the hugely successful lifestyle and creativity blog and brand, That Curious Love of Green. In just three years of blogging Jane has attracted a following of over 10,000 fans and helped countless others tap into and make the most of their own creativity.
In a past life Jane ran her own 'Public Relations and Business Consulting Company' specialising in arts, tourism, culture, community development and business mentoring.
For eleven years she ran 'The Shaylyn Group Ltd', a traditional performing arts company and show she founded. She designed and delivered four major arts based projects worth a combined investment in the region of over 750,000 euro.
Jane is currently focused on bringing her first novel to publication and to the launch of a global online salon and creative community for creatives everywhere. She lives in Co Leitrim, Ireland, with her husband and three children.
Coming in 2016 is one to one creativity coaching and bespoke creative writing courses. Email janebarry17@gmail.com
---
---