Hunger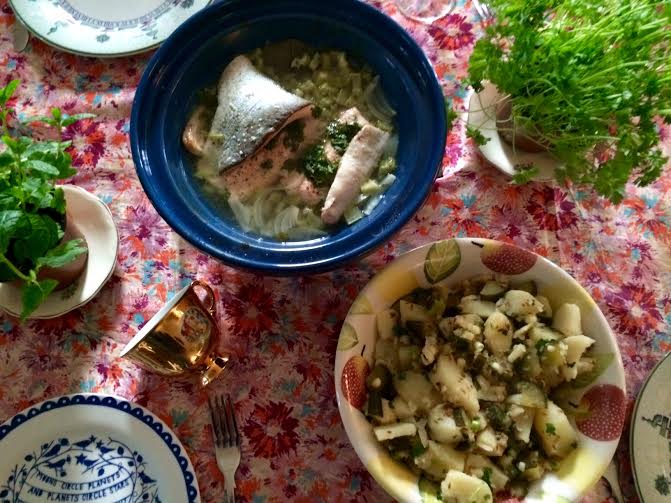 'Appetite; a universal wolf.' – Shakespeare
'Pray for peace and grace and spiritual food, For wisdom and guidance, for all these are good, But don't forget the potatoes.' – Prayer and Potatoes, J.T.Pettee
'I'll make her a pudding, and a pudding she'll like, too… Many a one has been comforted in their sorrow by seeing a good dish come upon the table.' – Cranford, Mrs Gaskell 
'Streamlined to the ultimate for functional performance the earthworm blindly eats his way, ridding and honeycombing the ground to a depth of ten feet or more as he swallows. – Anatomy Underfoot, J.J. Conde
A wise man always eats well. Chinese proverb
'She wrenched from her brow a diamond and eyed it with contempt, took from her pocket a sausage and comtemplated it with respect and affection.' – Peg Woffington, Charles Reade
'They eat, they drink, and in commuion sweet, quaff immortality and joy.' – John Milton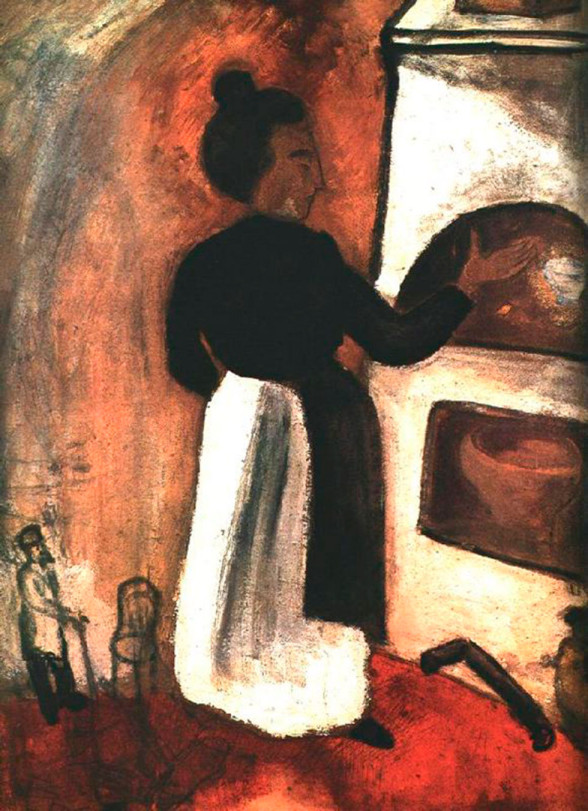 'There are too many of us who feel an impatience for the demands of our bodies, and who try throughout our whole lives, none too successfully, to deafen ourselves to the voices of our various hungers… Some stuff the wax of religious solace in our ears. Others practice a Spartan if somewhat pretentious disinterest in the pleasures of the flesh, or pretend that if we do not admit our sensual delight in a ripe nectarine we are not guilty of even that tiny lust!
I believe that one of the most dignified ways we are capable of, to assert and reassert our dignity in the face of poverty and war's fears and pains, is to nourish ourselves with all possible skill, delicacy, and ever-increasing enjoyment. And with our gastronomical growth will come, inevitable knowledge and perception of a hundred other things, but mainly of ourselves. Then fate, even tangled as it is with wars, cannot harm us.' – 'How to Cook a Wolf,' MFK Fisher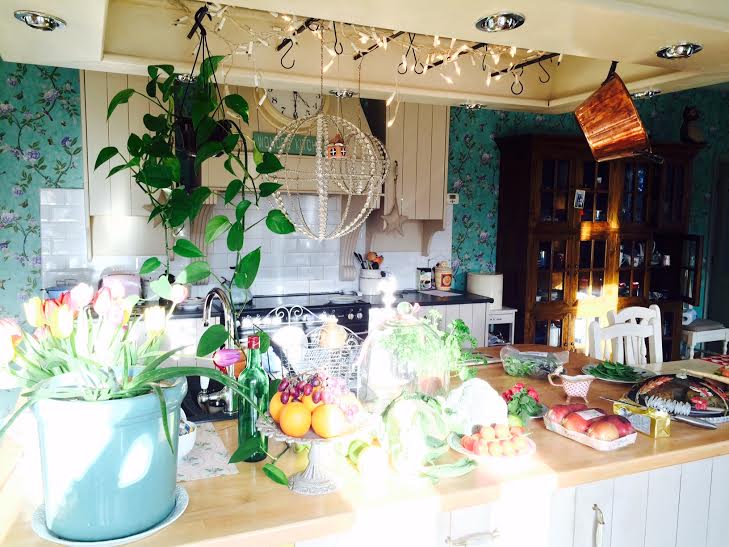 Saturday March 5th…
Coffee with cook books, notebook, and pen. 
I have at least seven different hungers now, I won't deny me or them.
There will be fish swam free in the coldest deepest darkest oceans never reached,
and there he feeds on richness, a richness he imparts to me.  
Later at the market, the fish man had a hint of Clare, reminded me of my aunt and uncle and their house there. The sea is in the accent, in the man too. I settle for a sea trout sleek and glossy, bake him sings the sea man.
I linger on remembering the mackerel my uncle gave me, caught himself that morning. Sublime still had the sea in it, I remember and the sea man sees.
'You can't get this in a shop, fresh is the secret, 'Smell that, says the sea man.
'Butter, salt, lemon, keep it simple, cook it on the pan.'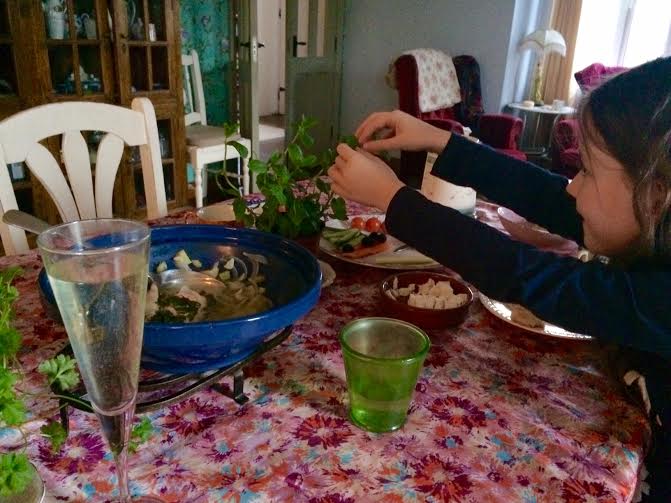 Broccoli Salad with Avocado, Mint & Lime Dressing (The most heavenly dressing on earth…)
Ingredients
Broccoli & Salad Leaves

Chopped Hazelnuts or Almonds

Feta Cheese crumbled

For the dressing:

1 Ripe & mashed avocado

75 g natural yoghurt

A handful of chopped fresh mint

Juice of one lime

Chilli paste or fresh chilli to taste

2 tbsp of extra virgin olive oil

s&p
Method
Parboil the broccoli for about 3 minutes then drain under cold water until cool.

Pat dry and add to the salad leaves, mint and feta cheese.

Mash the avocado then stir in the yoghurt, chilli paste, and lime juice. Season and add a few tablespoons of water to loosen further.

Stir into the salad along with the chopped nuts and toss lightly.
Note: The children don't favour dressings so I did two separate bowls for them with a plain mix of everything, all the veg, plus bowls of yoghurt, and oil and vinegar, and fresh bread.
Never from a Shop, Pan-Fried Mackerel 
Sprinkle with salt and fry in hot butter for just a few minutes each side before serving with a lemon wedge to squeeze over, heaven…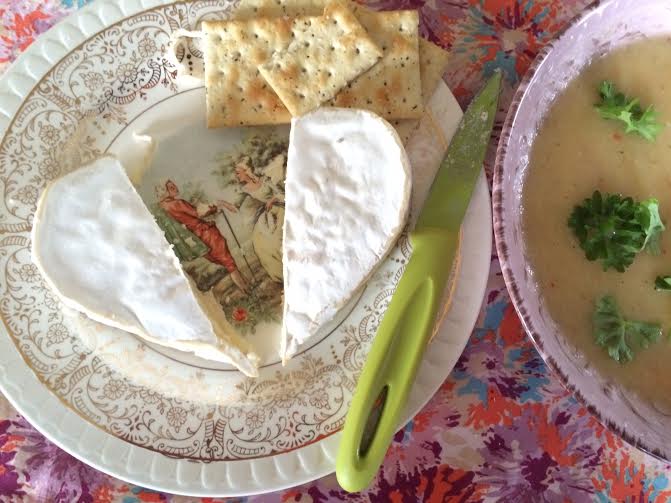 Sunday, March 6
Organic sausages fried in butter and olive oil with tomatoes and purple sprouting broccoli, once the girls portion was off I added slivers of thinly sliced garlic and a squeeze of chilli paste to the mix. 
Avocado on the side with sea salt and a squeeze of lime. Then my mums homemade raisin soda bread with great slabs of butter for dessert and tea to follow. A breakfast of kings and queens for Mother's Day. But no stopping there please…
Trout Poached in White Wine with Warm Potato Salad
Trout fillets
Fresh herbs like parsley, thyme or dill
1 Onion sliced
2 Celery sticks, sliced
2 Garlic Cloves, chopped
2 Bay leaves
75 ml white wine
s&p
For the salad:
Potatoes halved and quartered
1 tsp of fennel seeds
Chilli paste or flakes
50ml White wine vinegar
1 tbsp sugar
Half to one cucumber chopped
3 tbsp extra virgin olive oil
Big handful of parsley or dill chopped
2 Spring onions sliced.
Method:
For the warm potato salad…
Boil the spuds until just cooked, not too soft
Dry fry the fennel seeds and chilli flakes for just a few minutes on a low to med heat, until you can smell them. Pour in the vinegar and 2 tbsp of water, then stir in the sugar and season as you bring to the boil.
Add the cucumber, turn the heat down to a simmer and put the lid on. Stir again after a few minutes then leave the lid off and continue to cook for about five minutes.
Stir into the spuds, adding the olive oil, herbs and spring onions.
For the fish…
Scatter the onion, celery, garlic and bay leaves of the bottom of a roasting dish and lay the fish on top. Season and stuff or spread with the herbs.
Season and pour over the wine plus an equal amount of water. Cover and bake for 20 minutes in a pre-heated over 190 C/fan 170 C/Gas 5
Monday, March 7
Today my challenge is to use up more and more of the organic veg while they're still at their best. First things first… For breakfast I fried some of last nights potato salad, complete with it's dressing of cucumber, herbs, and fennel seeds.
To this I added chilli paste, and the remaining purple sprouting broccoli, plus a good shaking of salad leaves, just for the last few minutess. And dear lord, the flavour!!!… You could add cheese, a poached egg, but why bother? It's already perfect, you will want to lick the plate…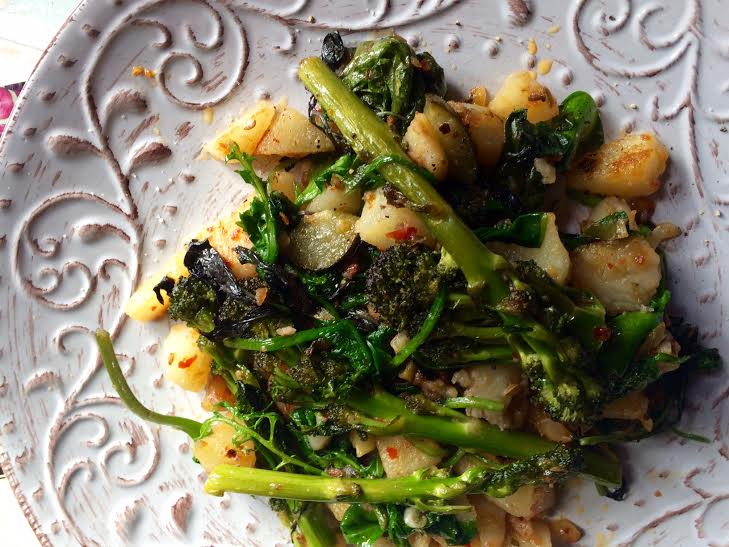 I had the same again for lunch, topped with leftover trout this time, still covered in parsley, all pink, delicate and cool, smooth flakes of flesh, and delicate flavour….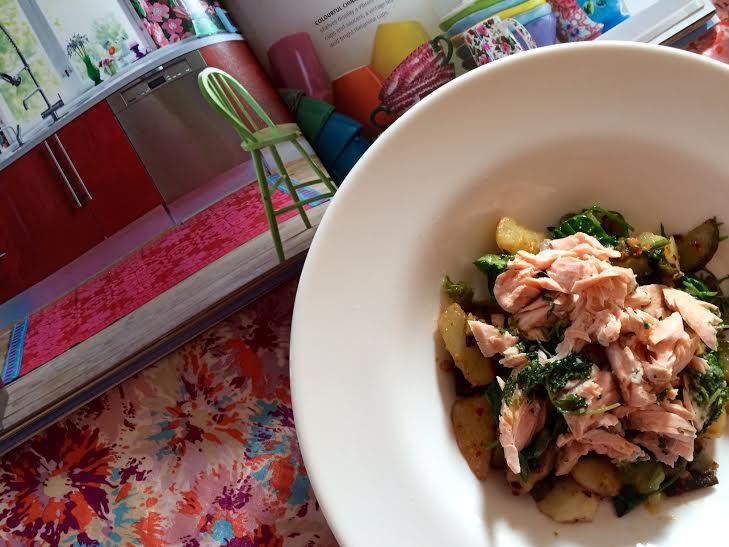 Next… I made a big pot of chilli using the organic steak mince, in short, I browned the mince and added a mix of grated, also chopped, parsnip, carrot, onion, celery, garlic, plus spices, ground coriander, cumin, turmeric, garam masala, chilli, seasoning, two tins of tomatoes, a tbsp of brown sugar and at the end, kidney beans. Cook, for ages… tastes even better the next day.
Meanwhile the parsnips were fading in front of my eyes so I whipped up this simple Parsnip & Apple Soup…
Tumble chopped parsnip, onion, garlic, and apple, into a hot buttery saucepan. To this I added some still leftover potato salad and a teaspoon of ground coriander.
Cook gently until starting to soften, then add a knorr stock pot cube straight to the pan, season and add boiling water straight from the kettle, bring to boil and then simmer for about 20 minutes. There you go. Tomorrow's lunch.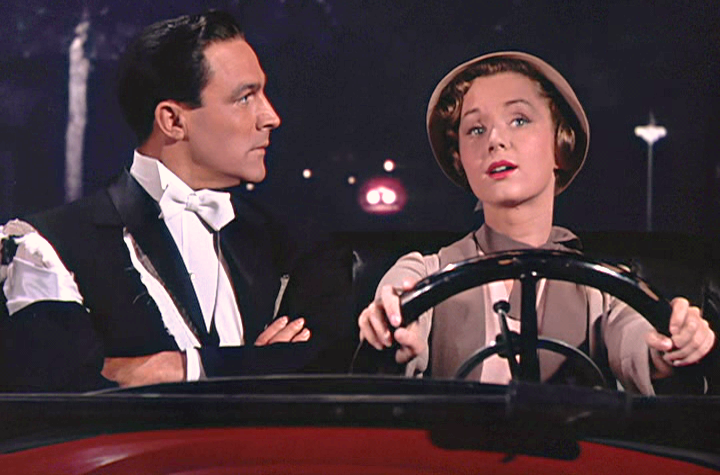 My shopping list for all of this and more… part iron clad plan, part cosmic…
From the Organic Farmers Market in Boyle, Co Roscommon… Sea Trout, Mackerel, Garlic, Broccoli, Cauliflower, Beetroot, Potatoes, Sweet Potatoes, Ginger, Tomatoes, Salad leaves, Celery, Blueberries, Red Grapes, Carrots, Parsnips, Eggs – NOTE: ALL ORGANIC VEG
Total: €55
From Lidl… Organic onions, oranges, lemons, and cucumber, organic steak mince, organic porridge oats, two confit duck legs, olives, coconut milk, natural yoghurt, crackers, two gourmet cheese's and a block of parmesan, organic fairtrade coffee, limes, spring onions, bananas, chilli paste, two avocados, pasta, butter, milk, wine, hmmmm…
Total: About €60
Super Valu – Organic sausages, two McCambridge brown bread loaves.
I spent a little more than usual this week. I usually spend about €105. I plan 3 or 4 dinners and leave the rest to mood, fate, and leftovers…
Tonight I'll be making, an Organic coconut, cauliflower and sweet potato curry that will go for two dinners but right now I'm making one of my favourite salads. I've shared versions of this before, this is my new super sized Organic Bean & Beetroot Salad… In a large bowl place one tin of mixed beans or chickpeas, two chopped celery stems, and one raw grated beetroot. Stir in two tbsp's of tomato chutney, a dash of red wine vinegar, a dash of extra virgin olive oil plus salt, and stir… Heavenly…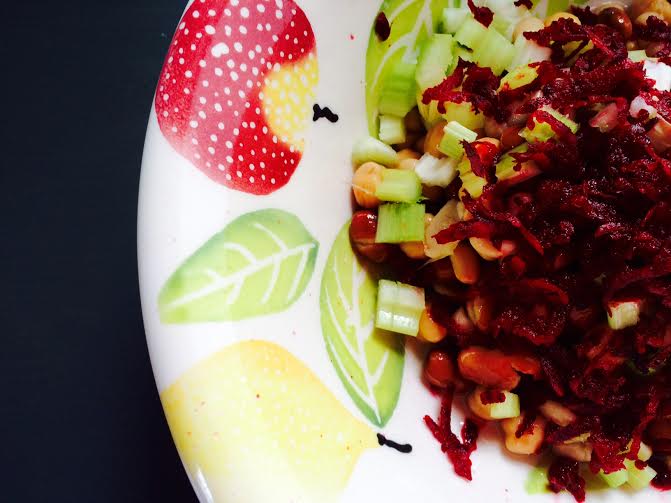 And so, here ends another epic food post, I didn't even write about the market! Another time…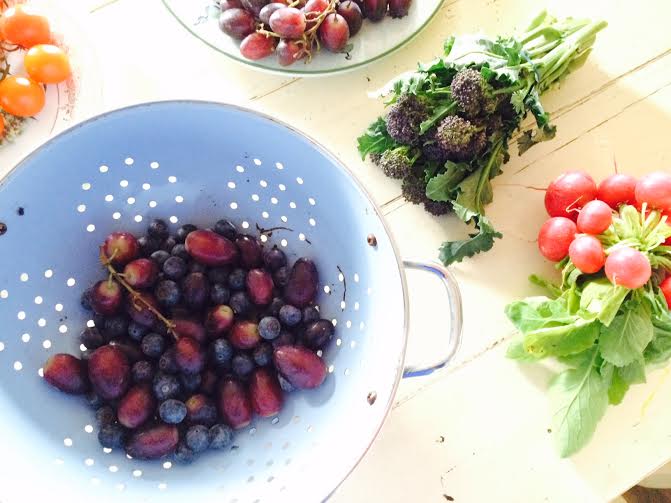 'We do not 'come into' this world; we come out of it, as leaves from a tree. As the ocean 'waves,' the universe 'peoples.' Every individual is an expression of the whole realm of nature, a unique action of the total universe.' – Alan Watts
ENDS
Note: Super Salad and Poached Trout dishes adapted from recipes by Allegra McEveedy's 'Big Table, Busy Kitchen.'
---
---