I Know What Love Is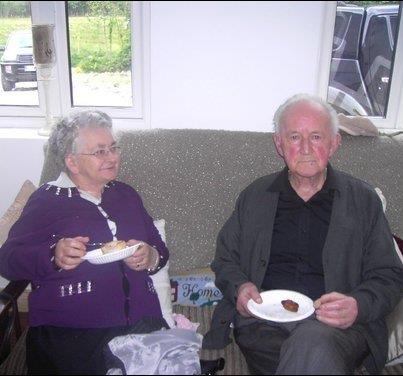 On Friday last an old man, the oldest man in the parish passed away, born in 1918 he was 94 , his name was Tom Gilheaney and he was my grandfather.
The nurses and doctors who attended him could see that Tom was loved, he had nearly all his nine children about him, sadly Brendan died at the age of four and Margey was a much loved child with Downs Syndrome.  They saw he was loved but of course they didn't know his story, a story not only of long life, good health and devoted children, grandchildren and great grandchildren but one of true love for one person, for a lifetime, a love that only death could part.
Once upon a time Tom was a teenager living on the Sliabh an Iarainn mountain.  He met a beautiful girl there called Margaret Jane Reynolds.  The pair met at a dance in a neighbours house, eloped, were married, and settled in his home of Aughnasheelin.  Times were hard and while he worked in the local coal mines, the forestry and occasionally in Belfast or Dublin, she was at home minding the farm and the nine children.
Madge and Tom had the same hardships that many people had rearing a family in 40's and 50's Ireland but they also had the kind of relationship that would echo through the generations, keeping the family close, showing us how love should be, giving us all an impossible act to follow, an amazing thing to see, to be in the presence of all our lives.
"I am an ordinary man with ordinary thoughts, I have no monuments dedicated to me and my name will soon be forgotten, but I have loved another with all my heart, and to me that is enough." (The Notebook)
If I was to think of a word to sum Tom up as an individual it would have to be 'classy' he was a very classy and a very smart man.  Maths was a passion, he was playing electronic sudoku until recently, he loved crosswords, beating the clock on countdown, politics, playing cards, nice clothes and his animals.  He was enough of a presence in his own right to be remembered forever except that it is almost impossible to think of Tom without thinking of the love of his life…
Madge was a beautiful girl.  She loved art, auctions and collecting furniture.   She was kind and loving,  fiercely protective of the family. One of the many memorable things she did was save spare change for each of us in turn in old Bovril jar,s with a five pound note folded in the bottom.
She baked us mini soda cakes on the range, gave us toast with butter and sugar and tea at a young age, loved the sounds of children playing and kept every odd and end she thought might amuse the baby or small child of the moment.
I remember one summer we had a bonfire behind the house and nanny came up with a pound of sausages on a pitchfork.  She was great fun and laughed a lot, a character, an entertainer, she made us happy.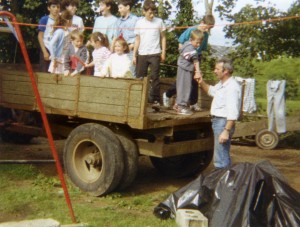 When I think of being in my grandparents house in Miskawn, Aughnasheelin, I think of Nanny in her apron, her smile and the endearing way she would tilt her head to one side, I think of her hands a lot, folded in her lap or making a soda bread, washing, mending, comforting, nursing someone and holding mine. And then I think of Tom, coming in from the cold, his cap and cardigan, his hair and a glint in his eye, a laugh and a tease.
Later in bed you would listen from the upper room to the clock above the range, the gentle voices, the laughs.  With them you felt safe from the world.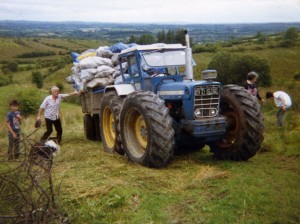 Of course we didn't realise until we were older that Nanny and Tom were an unusually loving couple, or 'the lovebirds' as the local health nurses called them.  Together they were flirtatious, competitive, teasing and devoted.  They talked, they laughed, they fought, they took care of each other.  They always had visitors, everyone loved their company, they were great craic.
A family friend who used to visit them as a child in the fifties remembers always wondering why her parents weren't like Madge and Tom and later in the eighties when I used to go them on my 'holidays' more than anything I realise I loved to watch them together.
My favourite memory of all is Nanny waltzing with Tom around their kitchen to 'When you were Sweet Sixteen' by the Fureys While I sat watching, oblivious and happy, they waltzed and sang the words to each other, intoxicating stuff for an eight/nine year old.
Later, when I was older, some friends would say they felt disadvantaged in finding a partner because they'd had such bad examples at home and I used to wonder the opposite, if having such good examples in my parents and grandparents meant it would be harder for any of us children to find the same.
When nanny died in 2008 at the age of 89 it was unimaginable that Tom would be without her.
Now the matriach and patriarch are gone and sadly we won't see them by the fire or bask in their lovely shade, the great couple, the lovebirds are no more but the legacy is a special one, a legacy of true, true love.
So rest in peace dear Nanny & Tom, we miss you so so much, because of you a lot of people know what love is, because of you I know what love is and how many people can say that for sure…
How do I love thee? Let me count the ways.
I love thee to the depth and breadth and height
My soul can reach, when feeling out of sight
For the ends of Being and ideal Grace.
I love thee to the level of everyday's
Most quiet need, by sun and candle-light.
I love thee freely, as men strive for Right;
I love thee purely, as they turn from Praise.
I love thee with a passion put to use
In my old griefs, and with my childhood's faith.
I love thee with a love I seemed to lose
With my lost saints, — I love thee with the breath,
Smiles, tears, of all my life! — and, if God choose,
I shall but love thee better after death.
Elizabeth Barrett Browning
Nanny & Toms song, When You Were Sweet Sixteen
---
---