I Want These….3 Glamourous, 2 Quirky Plus 1 Childrens Wallpaper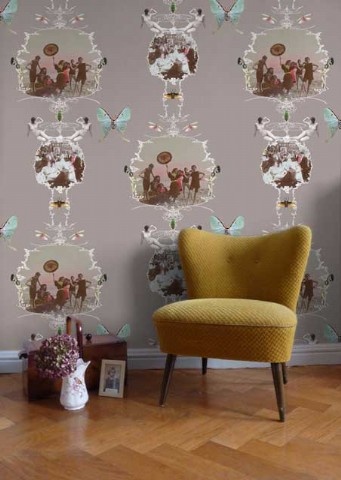 I adore wallpaper, I don't have any in my house yet but if I could choose right now and have anything I want I'd be more than happy to choose from among these stunning examples!  
The first, 'A Bash or Do' by Elli Popp comes in rose, yellow or lavender and is available in Ireland from Garrendenny Lane 
Described as, 'nostalgic and representative of a bygone age through its dining and seaside scenes while also unusual, vivid, burlesque and saucy!'  Unfortunately it's out of my reach but a girl can dream…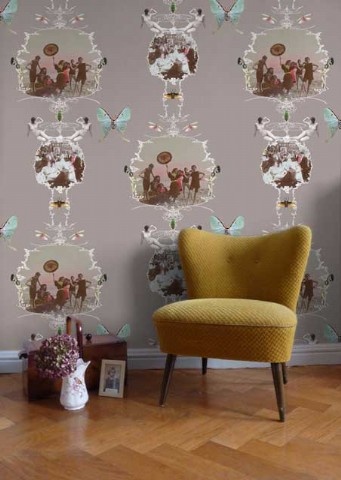 Here is a close up sample…sigh..
'This beautiful Tea Anyone? Wallpaper by Elegantly Deviant of Northern Ireland and also available from Garrendenny Lane is based on old damask floral designs and depicts a tea-drinking elegant lady who is also carrying a gun, therefore representing the 'guns and chiffon' of the revolutionary Irish women one hundred years ago.'
During the Easter Rising, the Irish Weekly Times reported that the girls in the dining-room at the GPO "were dressed in the finest clothes and wore knives and pistols in their belts." All I can say about that is how fabulous!
Next up is my blog wallpaper, a vintage sample I am completely in love with.  I would love to find something like this for my kitchen though for now I think I'll have to content myself with the virtual version…
I just realised that my first two 'glamourous' choices could also qualify under 'quirky' but ignoring that fact here is the first of my two officially quirky choices!  
By Brian Yates for Pip and depicting spools, reels, buttons and ribbons, I haven't a clue where I'd put it and much like my other choices, I could never afford it BUT isn't it fabulous!!!  It just makes me smile…..
Next up (also by Brian Yates for Pip Studios) is so gorgeous I just can't stop looking at it. They had a sample of this on the wall in Avoca on Suffolk St, Dublin for a time, I used to drop in just to visit my wallpaper!
I stood in front of it for so long on one occasion I think the security guard was eyeing me suspiciously!  If I had this in my house I would never get anything done…..
Finally I have my children's choice which is 'Enchanted Forest', children's mural wallpaper from Anthropologie…
In the springtime Shaylyn will be swapping rooms with Saoirse & Sadhbh so I've been gathering lots of ideas and inspiration for re-decorating!
If you'd like to see some more gorgeous ideas for children's rooms check out this latest post from my friend, co-blogger and professional photographer Aine Teahan at Alegria Photography 
So that's it, my selection of dream wallpapers!  Could you live with any or all of these in your house?  Let me know what you think?  What are my chances of finding one of these in a bargain bucket at TK Maxx with a red sticker on it I wonder/wish: )
---
---