In The Bleak Midwinter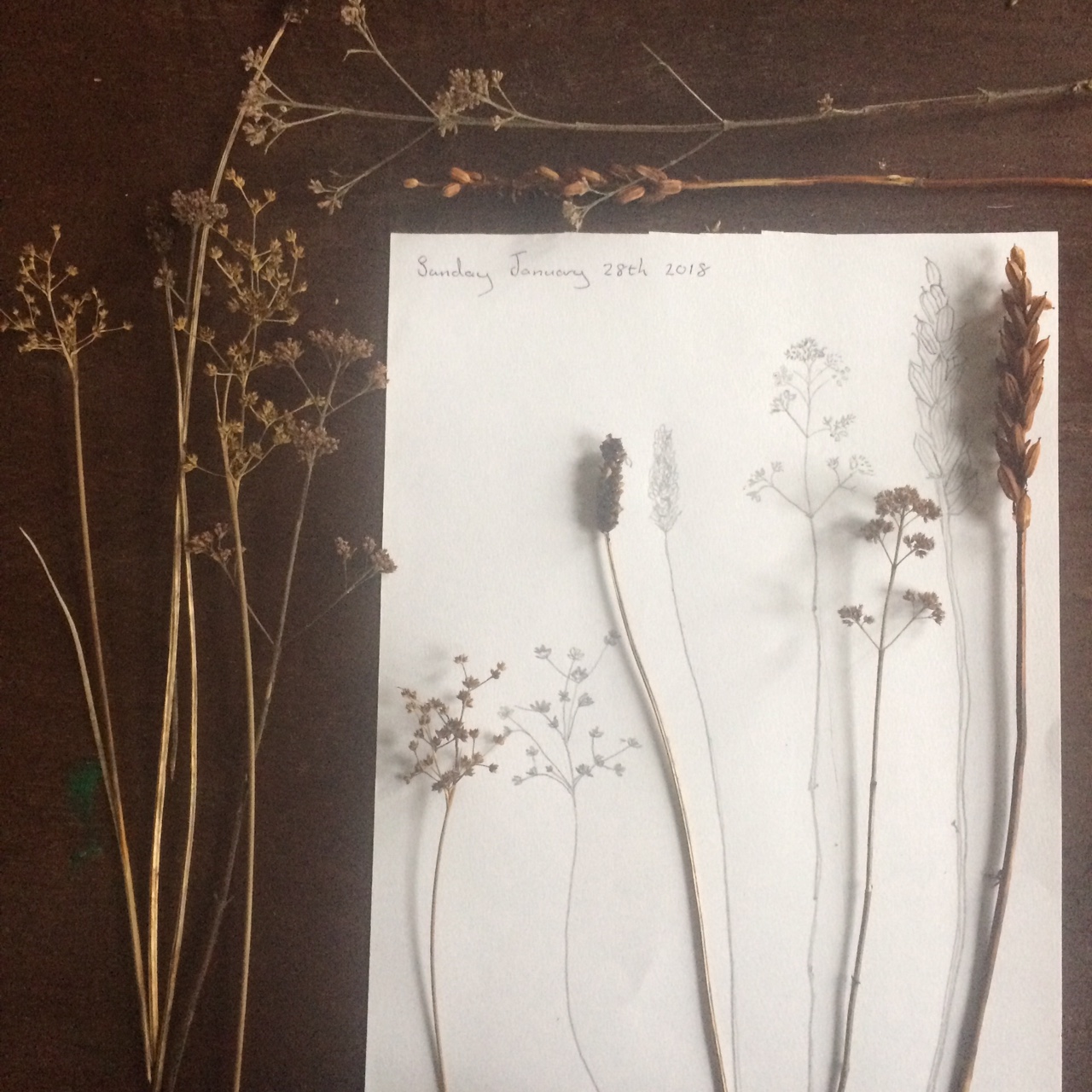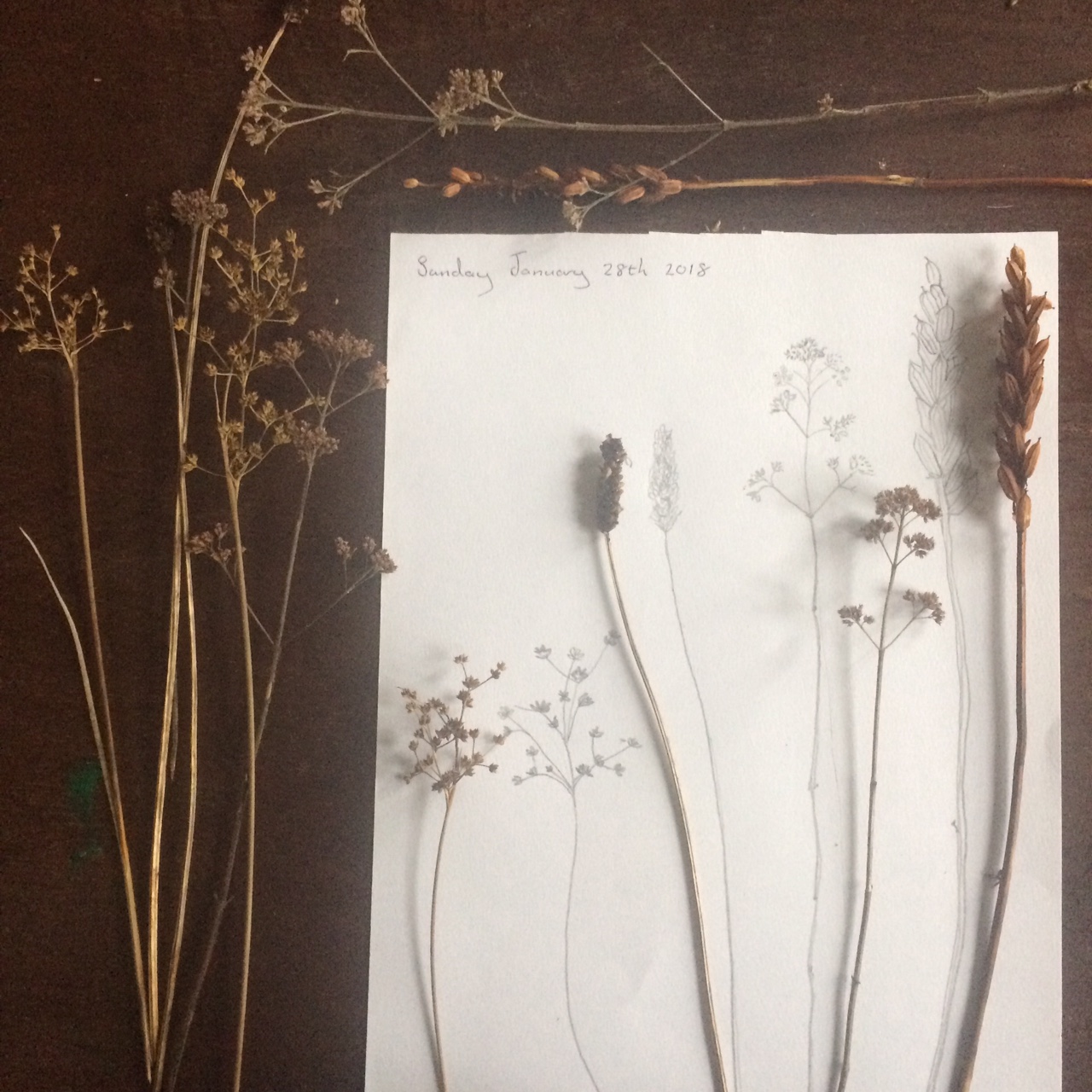 In the bleak midwinter
Frosty wind made moan,
Earth stood hard as iron,
Water like a stone:
Snow had fallen, snow on snow
Snow on snow,
In the bleak mid-winter,
Long ago. – From 'The Bleak Midwinter' a poem by Christina Rossetti 1830 – 1894
It's been a long hard winter in the West of Ireland, but even so there is beauty to be found if you look really closely. Inspired by artist Emma Mitchell @silverpebble2 I went out yesterday looking for things we might draw. That was a lovely experience in itself, for the closer I looked the more beauty, variety, interest, and even colour I saw. And this from someone who prides herself on being a noticer.
It was mostly shades of brown, many more lush than you'd imagine, even in death. And the evergreens, where would be without those? Ivy's my favourite. All beautiful, in ways you don't see unless you go looking purposefully. And it was blustery, another layer of magic.

Even though I rarely draw this was so relaxing and fun to do. I wouldn't let any lack of drawing skills put you off. I'd say give no thought to the outcome, just enjoy the process and the surprising things you find there. I enjoyed the drawing but what I enjoyed most was the searching, the studying, the seeing. Looking deep into nature is good for the soul. Even in winter…
Today dawned brighter, the house filled with light the kind of which we haven't seen for a long long time. The ivy we gathered has lived, several lives in the meantime, as crowns for little folk, as wreaths for pictures on walls.
February 1st is upon us, Brigid's day, a day of great hope, the first day of our spring. And today can we feel it… It's the air that feels different, and so very wanted, so needed. Snow is promised, and there are tough months ahead, but the die is cast, the players set.
Speaking of players, we just finished watching Peaky Blinders, hence the poem and title above, a reference from the programme. What a brilliant series. You know I don't watch much tv but Adrian convinced me on this one. He'd seen a few episodes and knew I'd love it. I did.
It is beautifully shot, deeply atmospheric. I love that it's about a family, is there anything as interesting as family relationships? Not for me. An outsider family? Even better.
As for Cillian Murphy, perfect casting, there is something different about him, in any setting. It wouldn't surprise me at all, if he was one of the fairy folk. An otherworld stranger among us.
And who doesn't love Tommy Shelby? Or Polly Shelby for that matter. Played by the wonderful Helen McCrory. I'm a sucker for a great character study. In the very last episode, no spoilers mind you, a quote from Dorothy Parker came to mind, 'They sicken of the calm, who knew the storm.' And I thought that fit rather perfectly.
If you decide to watch it be warned, it's graphically violent. If you can get around that go for it. And learn the real story HERE.
What have you been up to/watching/doing this January?
Until we meet again, xo Jane.
---
---