Ireland Explained (kind of)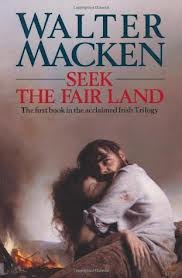 I've sometimes been asked by friends for a book recommendation that would 'sum up' or at least shed some light on the Irish situation, conflict, culture, division and so on but in an easy to read, not too political, academic or boring way.
What do you mean it's not possible!
Well as far as I know this 'one' book doesn't exist BUT thinking about the question got me thinking about a possible answer using a collection of books while also keeping the strict requirements in mind.
So without further ado here is my crash course on Ireland in just 8 great, mostly easy to read, can't put them down, will make you cry, sigh and sometimes shock you to the core books…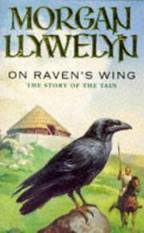 Think we learned something about Irish legends in school? Think again.  'On Raven's Wing' the tale of Cuchulain, Emain Macha and the Red Branch warriors by Morgan Llwelyn is one of the easier reads on the list and there's no need to feel unimpressed by the term 'legend', after all the legends inspired the poets and writers who in turn inspired the rebels and leaders so it makes sense to begin here with the tales of ancient Ireland..
'Memorised as they happened, then handed down from generation to generation by bards before the introduction of literacy, the adventures on which these tales is based took place at least two thousand years ago. Originally intended to chronicle actual history during successive centuries the stories were transformed into myth.  The earliest written versions were transcribed by Irish monks of the sixth century A.D. drawing from a much older oral tradition.'
Morgan Llwelyn is a historian and writer of Irish historical fiction.  I've read and own almost every book she's ever written and haven't found anyone to compare in this genre.
My own copy of this particular book has a colourful history all its own having spent a few years travelling Ireland with various friends and siblings!  It even spent one cold winter in a tall house in Waterford with my brother. Everyone living in the house read it.
Second on my list is…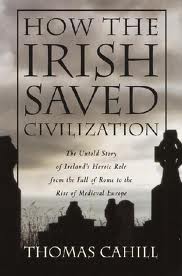 We've all heard of the monks such as Colmcille and Columbanus and of Ireland 'the isle of saints and scholars' but trust me we didn't hear the half of it.
This fascinating book is not for non readers I'm afraid but is utterly beautiful. Mine is full of  underlined parts I wanted to remember forever. It explains how these Irish 'warrior' monks and scribes rescued and copied the manuscripts of both Pagan and Christian writersincluding Homer and Aristotle while libraries on mainland Europe were forever lost.
'As the Roman empire fell, as all through Europe barbarians descended, looting artifacts and burning books, the Irish, took up the great labour of copying all of western literature.  These scribes then served as the means through which the the tribes of Europe, newly settled amid the rubble and ruin of the empire learned to read.
Without the mission of the Irish monks who single-handedly re-founded European civilisation by their exile throughout all of Europe,  the world that came after them, our world, would have been an entirely different one – a world without books.'
My third selection is…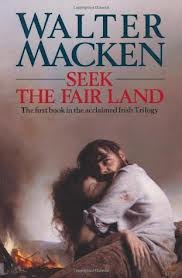 'Seek the Fair Land'  is about the struggle of one Irish family to survive in 1600's Ireland under the savage sweep of Cromwell when over 40% of the population, over 600,000 Irish people were killed or died from hunger or disease.  Heartbreaking and utterly shocking it is nonetheless very easy to read.
This book will give you an understanding of the basis for our relationship with England in the decades that followed.  The first in a trilogy it can be taken as a stand alone read.
In short, read it and weep. I'm not joking. It will affect you deeply.
The author, Walter Mackens own story is an interesting one too  www.waltermacken.com
" Before I die I want to do the history of our own people from the viewpoint of the little man, not all the big shots and the people who have done 100 things or anything like that." (Peggy Macken, Cúrsaí , 1988) [6] He set out to do this by researching historical records and documents for two years before he wrote each book in the trilogy. He told Peggy that he wanted to be as exact as possible with the history in order for his work not to be criticised by what he called the so-called experts.
My fourth recommendation….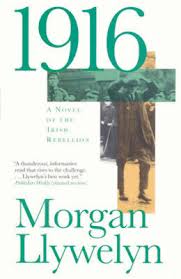 Historical fiction yes but also an easy to read, entertaining and moving account of surely the single most  important event in our history with all the main events and players, their personalities and motivations, Dublin city and the rising all brought vividly to life.  I couldn't recommend this enough to readers or non-readers alike who would like to know more about 1916.
Interestingly the leaders of the 1916 rising were mainly writers, poets and teachers. The following is an excerpt from leader Padraic Pearses poem 'The Rebel'.
And I say to my people's masters: Beware
Beware of the thing that is coming, beware of the risen people
Who shall take what ye would not give.
Did ye think to conquer the people, or that law is stronger than life,
And than men's desire to be free?
We will try it out with you ye that have harried and held,
Ye that have bullied and bribed.
Tyrants… hypocrites… liars!
 Number five on the list is…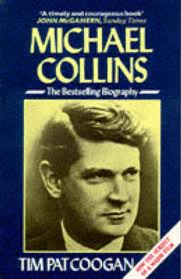 Quite simply the most exciting book about the most exciting Irish person in history, Michael Collins.  If you read at all you can read this book just prepare to be totally blown away by depictions of unremitting courage and self sacrifice on a grand scale including first hand accounts, excerpts from letters and interviews with people who knew him.  What's more the descriptions of what life was like for Irish people at this time is quite astonishing if you're new to this kind of thing, after all its not that very long ago.
At number six…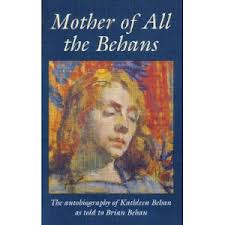 The autobiograhphy of Kathleen Behan is an excellent (also short and easy to read book I love) about this fascinating woman and her extraordinary life and family (two of her sons Brian and Brendan became famous writers and playwrights). Set in the tenement slums of Dublin in the years around 1916 Kathleen talks about everyday life raising a family in the tenements, working as housekeeper to Maud Gonne, her friends like the Michael Collins and recreates for us all the atmosphere and colour of Dublin and the characters of the time.
Another favourite of mine is number seven…
One of those books you can dip in and out of again and again.  True accounts of lives fully and courageously lived, a few pages to each person on those largely written out of history, the women.
From politics and war to literature and the stage, these courageous, outrageous,  inspiring and talented women all so ahead of their time is one you will come back to again and again.
So that's my list of books to explain the riddle that is Ireland.  What did you think of it?  Have you read any of these books or do you have any to recommend me?  My only wish now is that I could read them with you, nothing like discovering books again through someone else.
I hope you enjoyed it but if you didn't yet still feel you need some knowledge on the subject there's always number 8 on my list…: )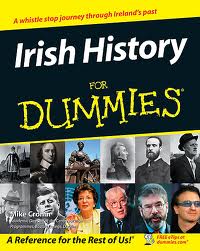 It does make a handy reference.  Happy reading : )
---
---