Jane's Glamorous Bathroom Makeover
Here it is at last, my bathrooom makeover reveal…
I found the stunning piece below in TK Maxx in Sligo years ago. It's actually a candle holder with space for one candle either side. I think it's meant for outside which brings me to one of my top tips for decorating every room in your house. Are you ready?
Use unexpected furniture in unexpected rooms.
I've said it before, I have bedroom furniture in the kitchen, garden furniture and artwork in the bathroom, that sort of thing. It adds character, luxury, quirkiness, fun and originality. It doesn't have to cost a penny, just move stuff around, it looks great…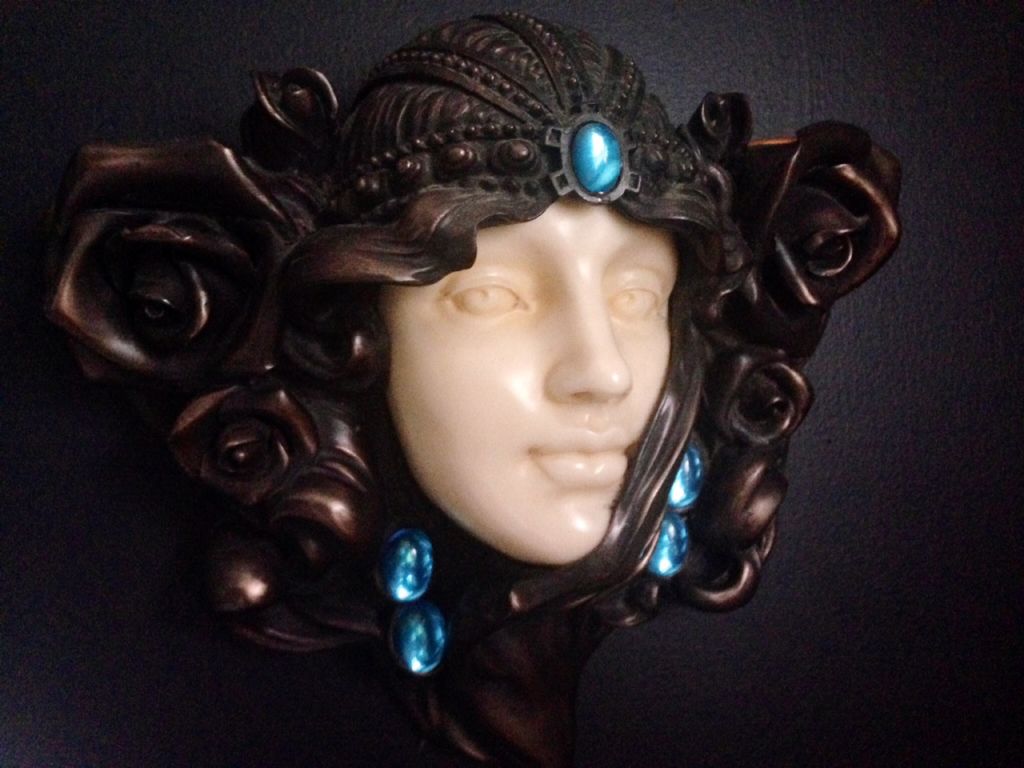 I've had this birdcage for 15 years or more, the mirrored candle holders are from Woodies and the beautiful painting is from some shop I can't remember, bought years ago before the house was built. This takes me to my second decorating tip. Brace yourself!!!
If you love something that's more than likely enough. Don't worry about what it goes with or if you haven't any place to put it you can think of. You love it, you can make it work.
Does space count? No. A large scale piece of art or mirror looks amazing on a small wall.
One other tip, don't hang things high i.e. light fixtures, mirrors or art. Low is the way to go. In my book it is anyway.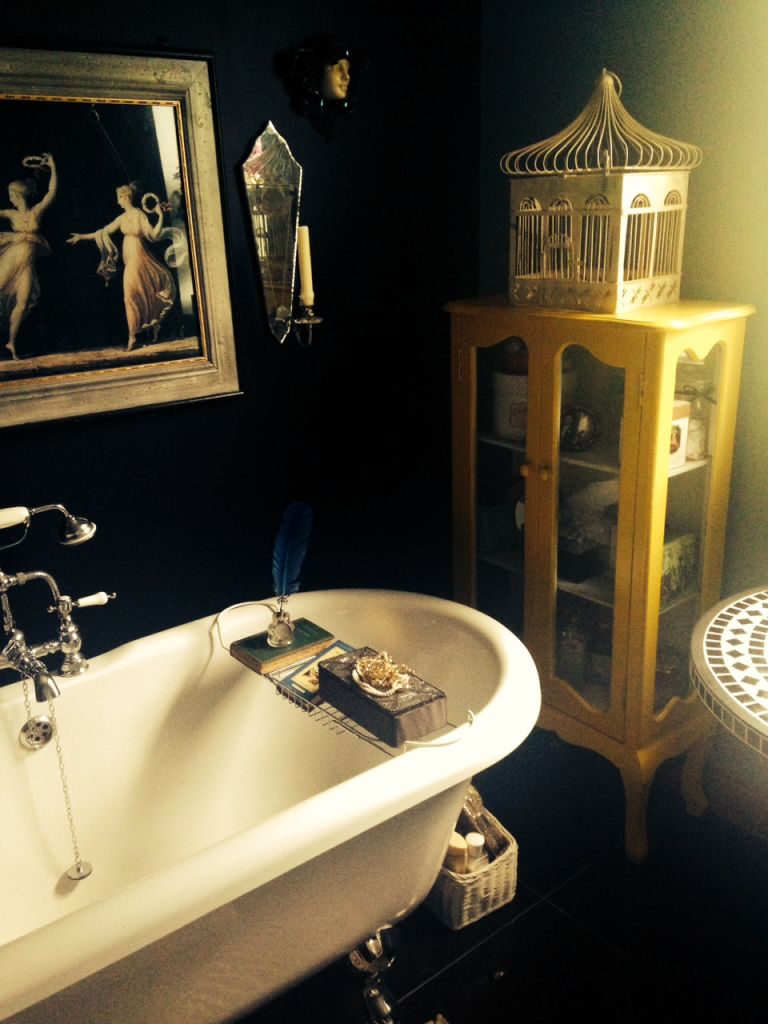 I've been asked the very reasonable question about art/mirrors and steam in a bathroom.
There's no shower in this bathroom so that probably helps but I use the bath a lot and this painting seems completely unscathed (seven years in). It's been splashed and steamed a plenty but so what, it looks great. That's good enough for me.
If your're worried steer clear of priceless art (if you have any….lucky you) or treasured family photos) but art and bathrooms belong together.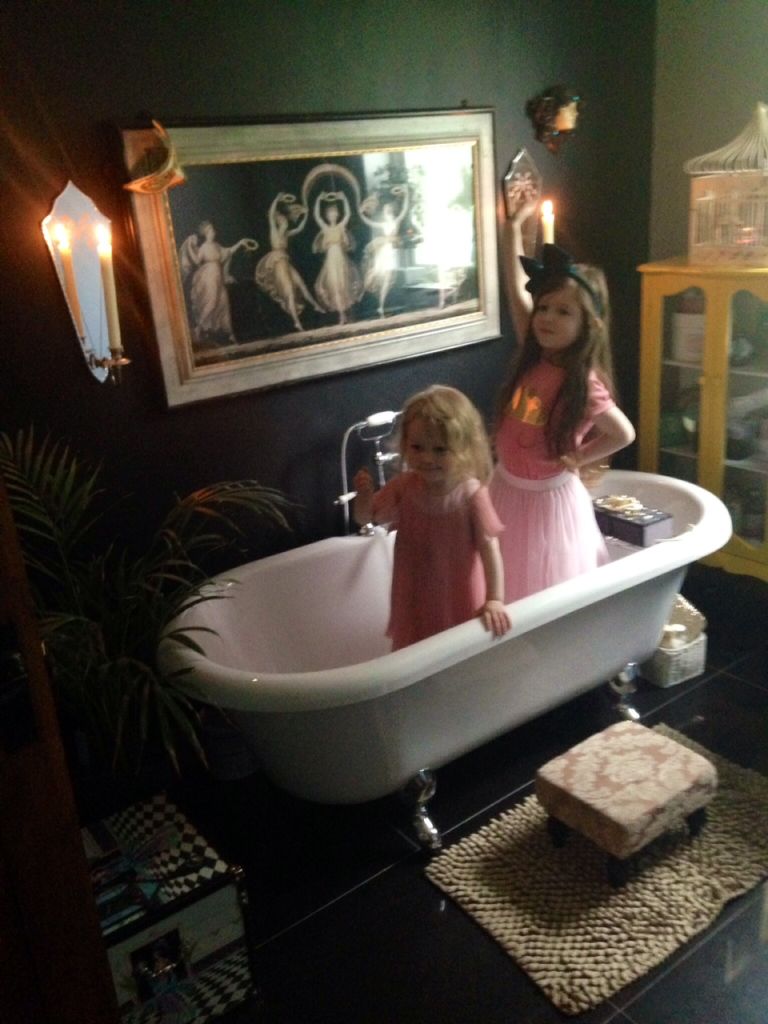 It was hard to photograph the room well as the light never seemed quite right but we finally did it on Sunday which also happened to be our 7th wedding anniversary, just before going for dinner.
As regards my style I would call it eclectic. It's definitely more vintage than modern but I like to mix it up. I do like pretty things but they must have a sense of drama or at least something quirky. Pretty's not enough. I also need comfort, warmth and a great deal of beauty.
Here you see a glimpse of my window with an art nouveau insert. The bust was a gift from Adrian a few years ago. I made her headpiece with a metal lampshade and by made I mean I just scrunched it up and put it on.
Vase €3.50 from Heatons. Lilacs from the garden…
Sigh, my little yellow press I love thee. It picks up the yellow/gold in the window beautifully. I'm afraid I can't do justice to how lovely it is.
We bought this in a sale years ago and I've been meaning to paint it ever since. The wonders of paint, seriously…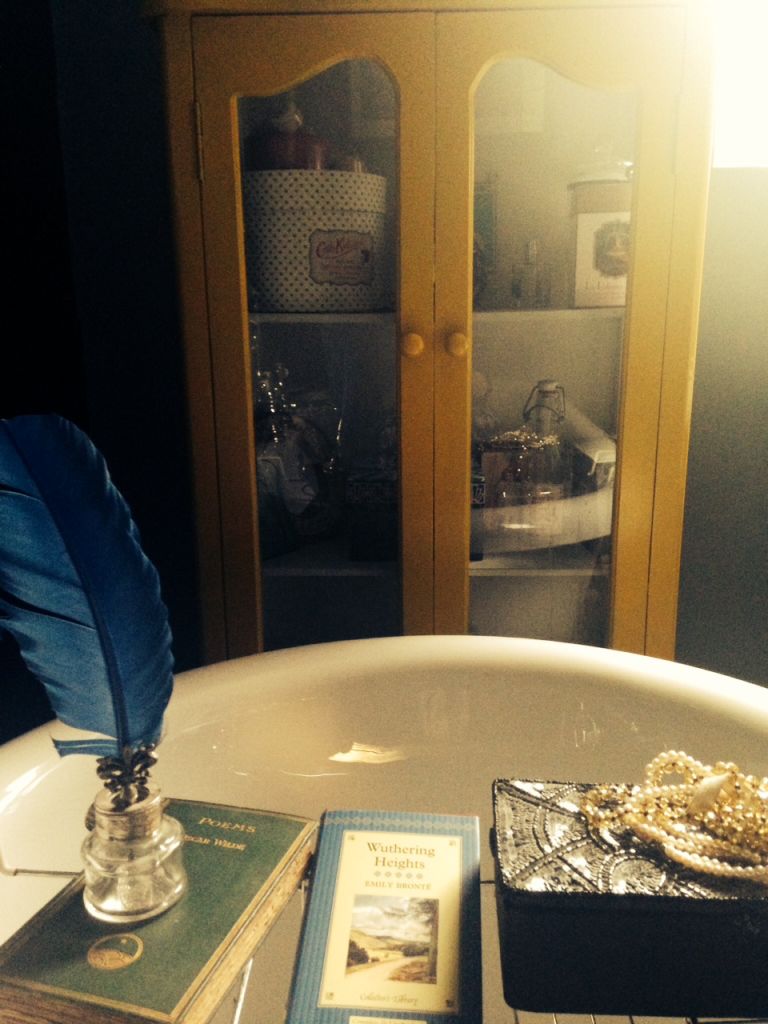 Another tip for you is large scale plants. They can be expensive but once you know you want some keep an eye out. I bought this one for €12.50 in a sale in Homebase.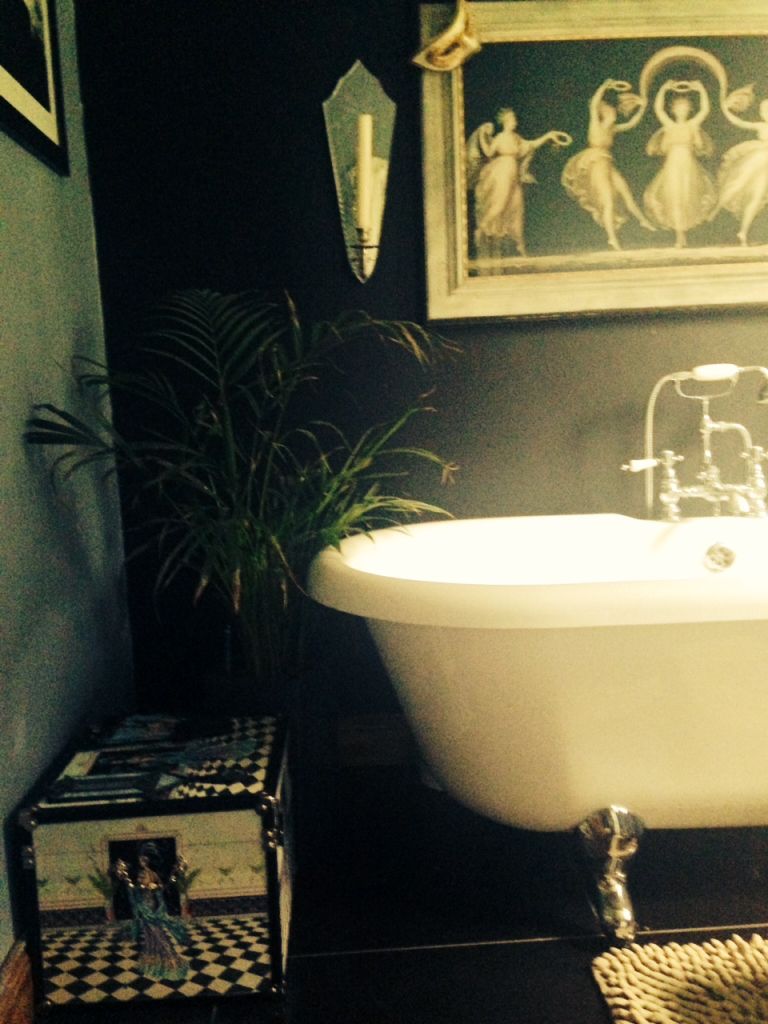 My next tip is on art and choosing colours for your room. Start with a painting, dress, cushion, tear sheet from a magazine, something you love, already in the room perhaps. Go with those colours and you can't go wrong.
The painting in situ of the dancing girls was my initial inspiration and then I came across 'Wanderer Above the Sea of Fog' by William David Friedrich. I fell head over heels in love with it and lo and behold when I looked it up on posters.ie there it was in large scale size for a mere €12
The colours of this painting sealed the deal for me and so our bathroom's in shades of grey, black, yellow and touches of gold. The yellow press is Universal 'paint and primer in one' in 'Canary Yellow'. I'm afraid I can't find the strip for the grey and the black but soon as I do I'll add it.
The one thing I've left to do here is get a mount for the poster to give it a more expensive look than just a poster but it still looks great.
With regards to art my tip is if you want it to look great you need to think large scale. The larger the better in fact. It just looks fantastic. Add instant character to any room by adding art. Just choose what you love, go large, hang it low and BOOM, amazing room…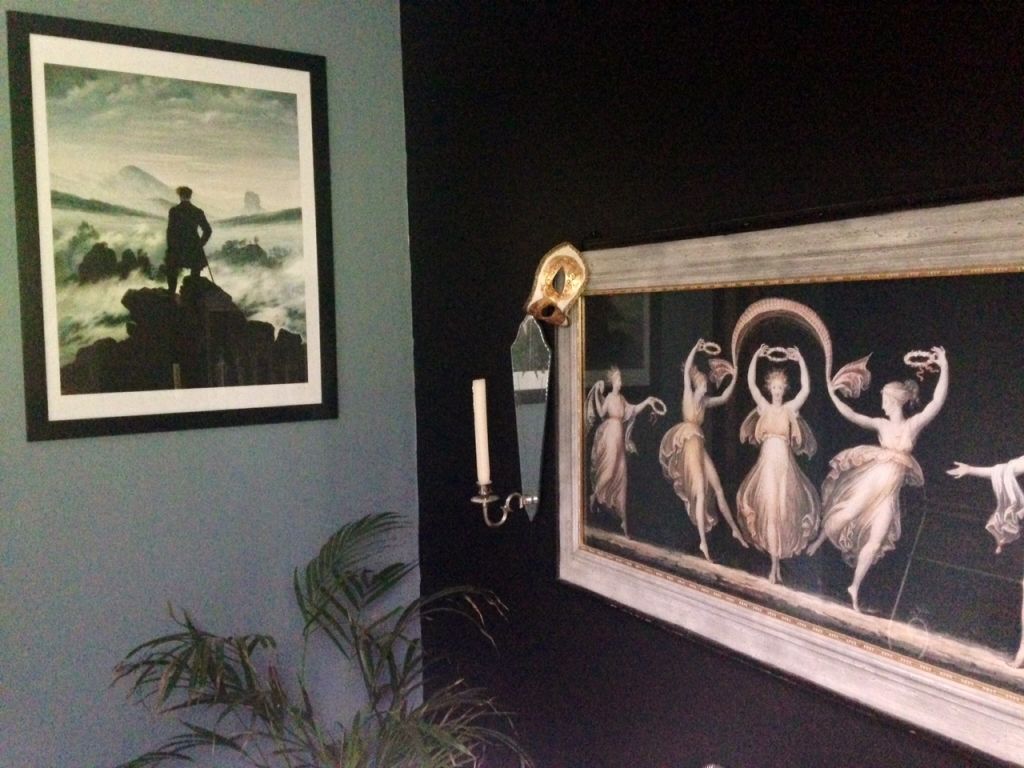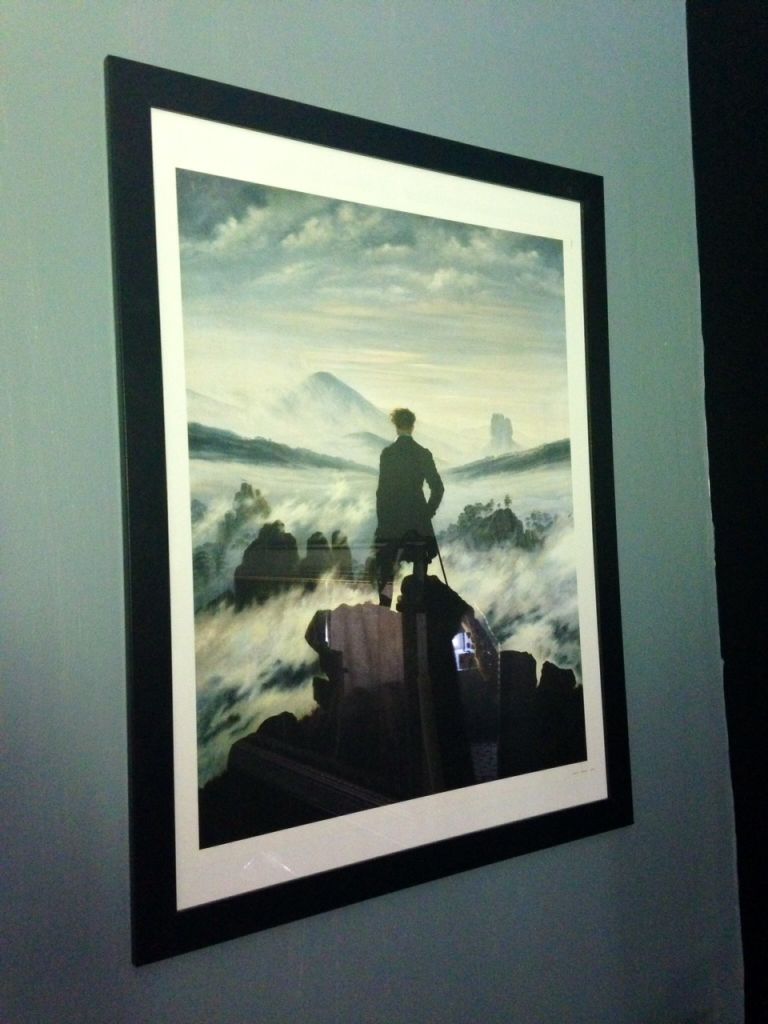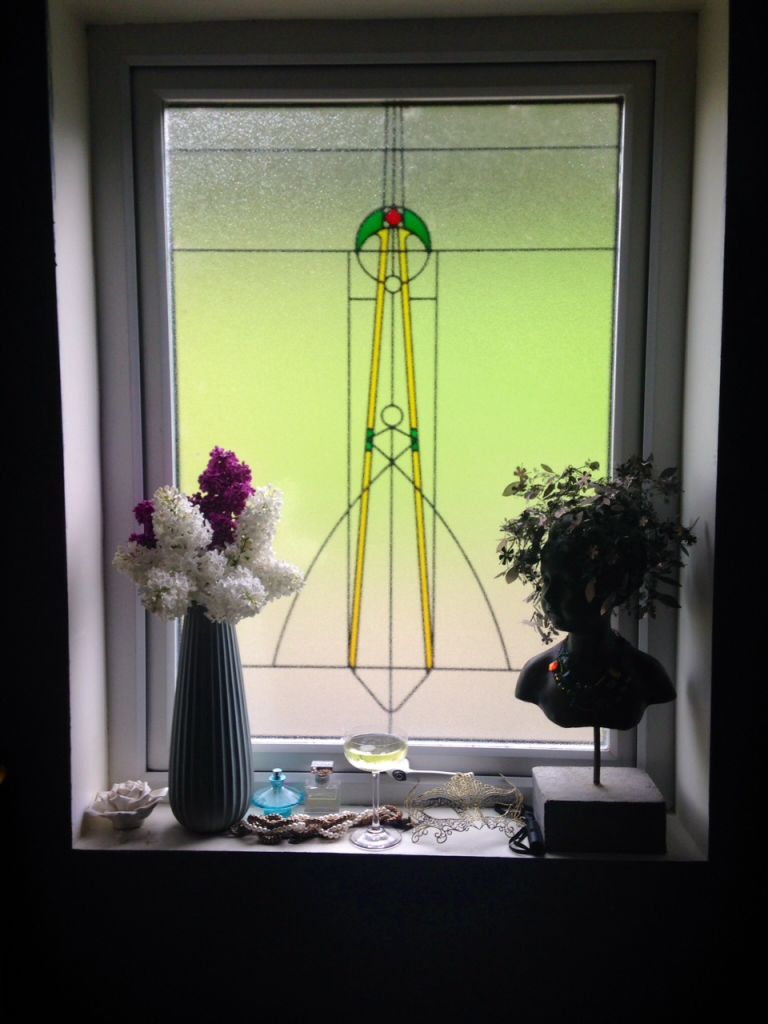 We bought this garden table a few years ago. It spends more time in the house than anywhere and has lived by times in the sitting room, the hall and now here.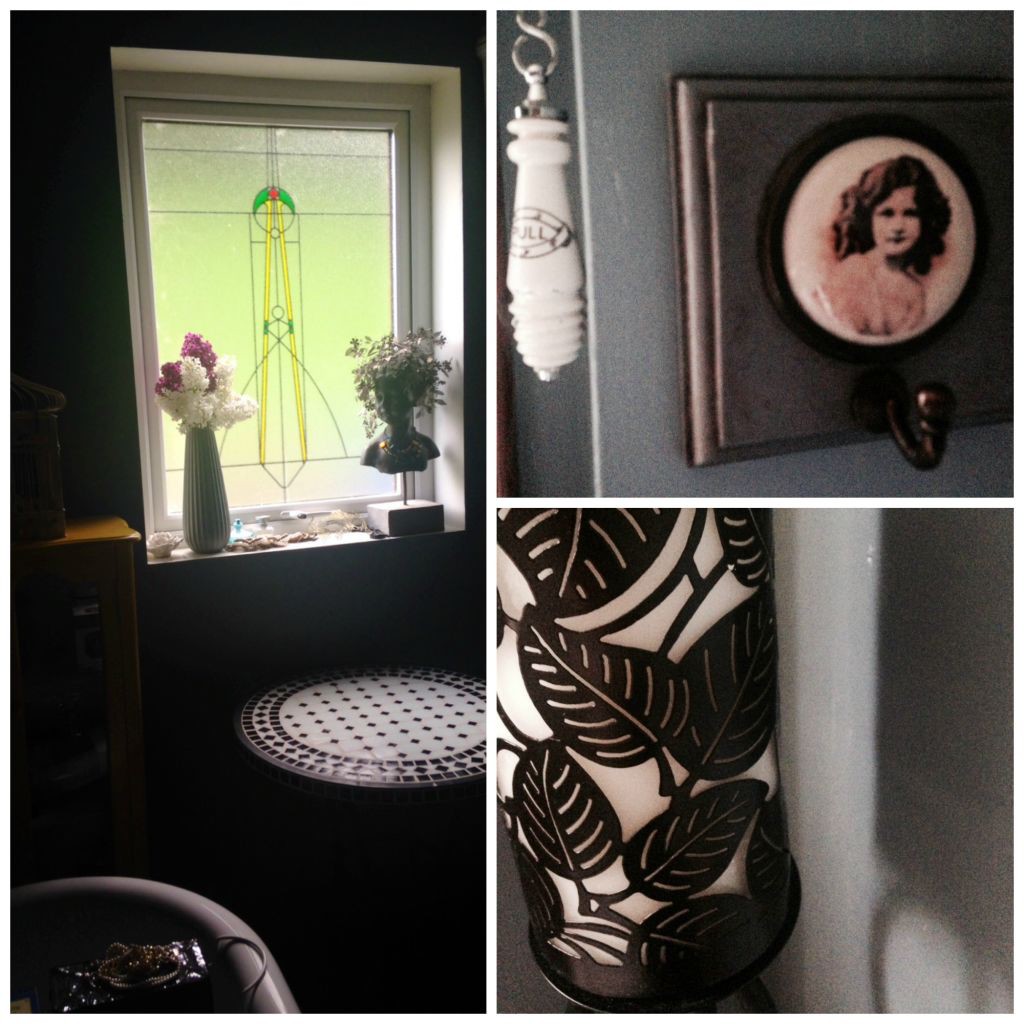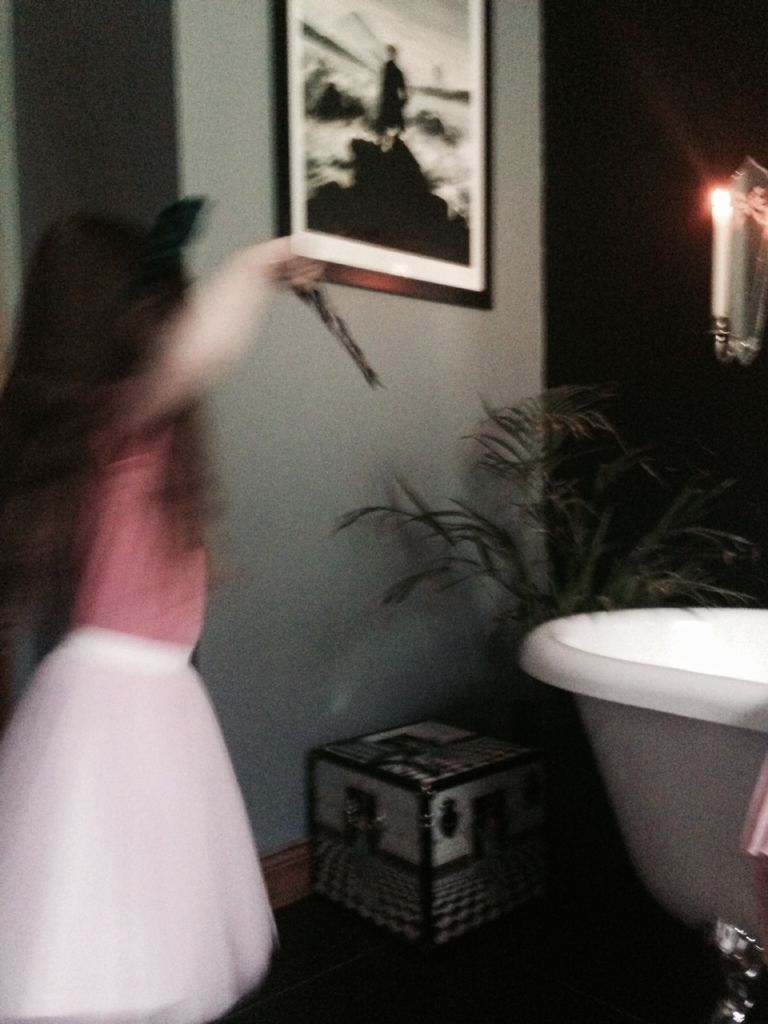 A tip about paint is have no fear. Listen, when I started to paint the black wall I had an omg this is intense moment, so what! That was good for me. Then when I started on the grey I thought, this is way too dark, I'm not sure this is working, oh crikey! Again, so what, it's only paint. You can paint over it, even the dark stuff. Turns out when they dried they were great. The black is rich and dramatic and the grey is warm and cosy, perfect.
Paint is your best friend, especially on a budget.
Our sitting room is very dark blue, almost navy. We absolutely love it. I would definitely recommend going dark in one room at least. It's so cosy and dramatic you'll love it. The size of the room doesn't matter a bit. The best rooms to do this in are ones that are naturally dark already. That way you're going with flow and the nature of things.
I should add while my husband took a little convincing our now two dark rooms are his favourite's. When I say a little convincing I mean that on that dark and stormy winter day we went to buy paint for the sitting room he asked me what colour I was thinking of and I said 'navy' to which he replied, 'NAVY!'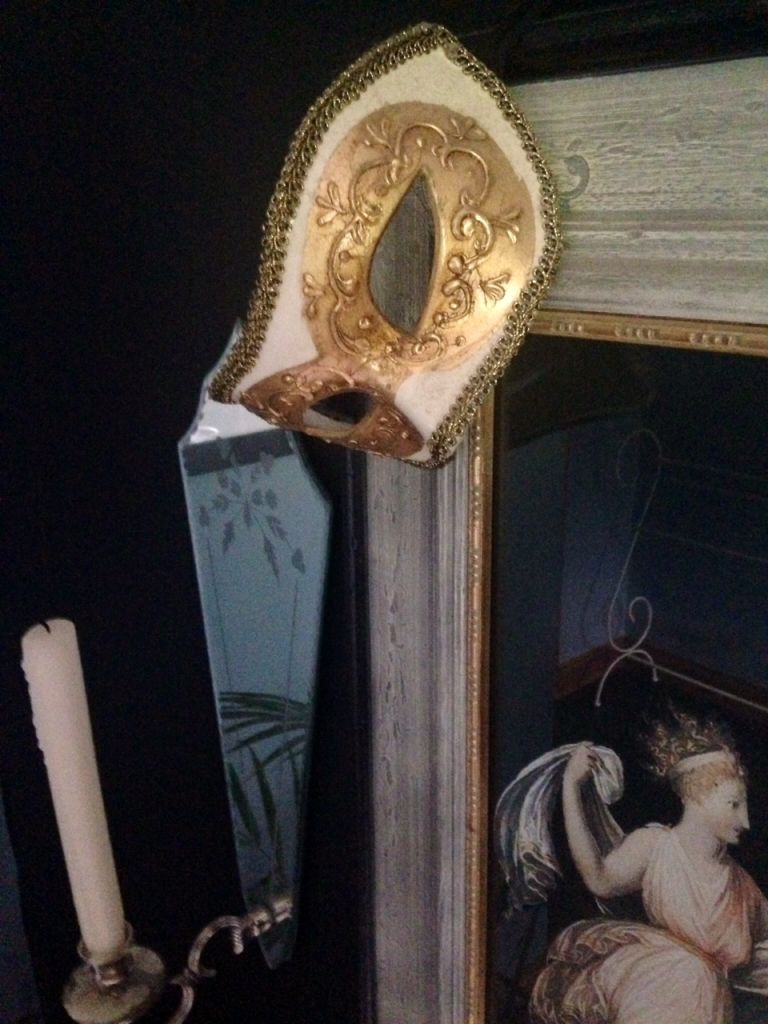 If you have a fitted bathroom suite/tiles etc then of course it's more difficult though not impossible to get a bespoke look.
Our house is a new build and we wanted to give it an 'old' feel but most of the things that would do that were way out of reach financially speaking so this was achieved by keeping things very simple, buying as little as possible off the shelf, opting for non fitted storage, a simple hand made paint-able kitchen, that sort of thing.
We bought a roll top bath but beyond that we've used paint, art, mirrors and other accessories to give our bathroom its luxe feeling and wow factor.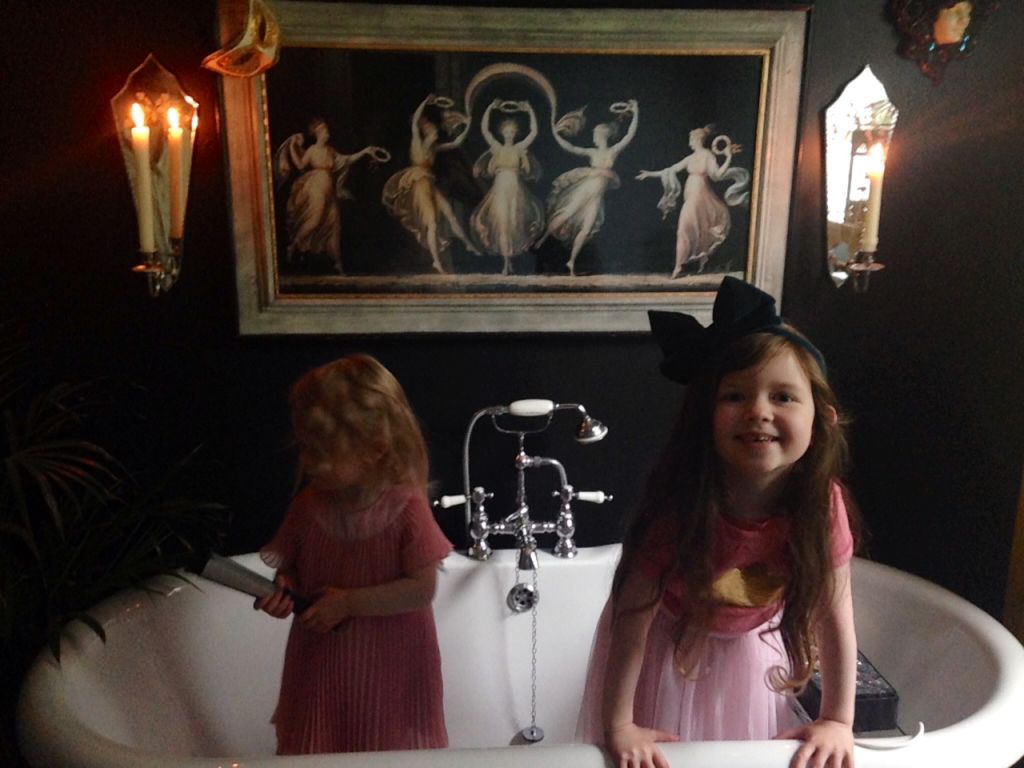 Changing subject a moment, my dress. I bought this dress to wear the day after our wedding, I wore it again on our honeymoon. It's very lovely in that it has an old world vintage style but alas, is also very unforgiving. I was happy to wear it again after two more babies and seven years. I never thought I'd wear it again so that was cool. It's the kind of dress you'd think would have a history, don't you think?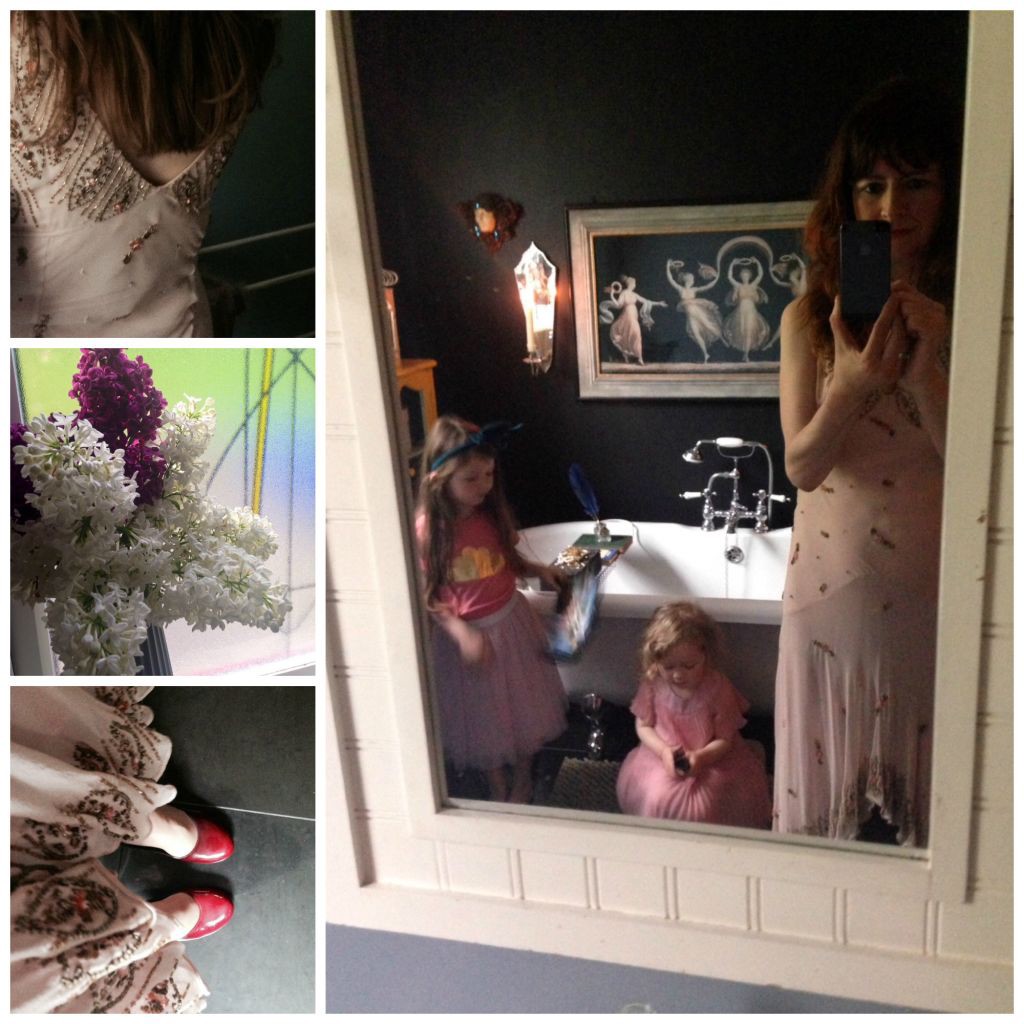 So, to sum up…
Paint, don't be shy, go for it!
Use a painting/poster/cushion/dress you love as inspiration for your colour scheme.
Art. You have to have art. It can be anything, your're favourite music act, an old movie poster, anything. Choose large scale pieces no matter what space you have. Add mounts to make them look more expensive (we have to bring ours to Keaney's in Carrick where they will cut it to suit the exact size we need). Hang them low. If your're hanging a few pieces together leave little space between them, looks better.
Mirrors, again go large and inexpensive.  Keep an eye on the sales. Bathroom mirrors are soulless, devoid of character and ugly, with a capital UGLY.
Mix it up. Forget 'bathroom' furniture unless you want an exclusively modern look. Go unfitted, bedroom, garden, sitting room pieces.
That's it from me folks. I hope I've offered you some food for thought and inspiration. Happy decorating. I hope you'll let me know your thoughts in comments.
Click HERE to browse for posters you like.
My only bathroom dilemma's now are whether to paint the skirting/ceiling/door and architrave? Black? Gold perhaps? Also which way to sit in the bath, both sides offer lovely views, first world problem or what! I'm going to miss my baths when these water charges start.
Have a great evening 🙂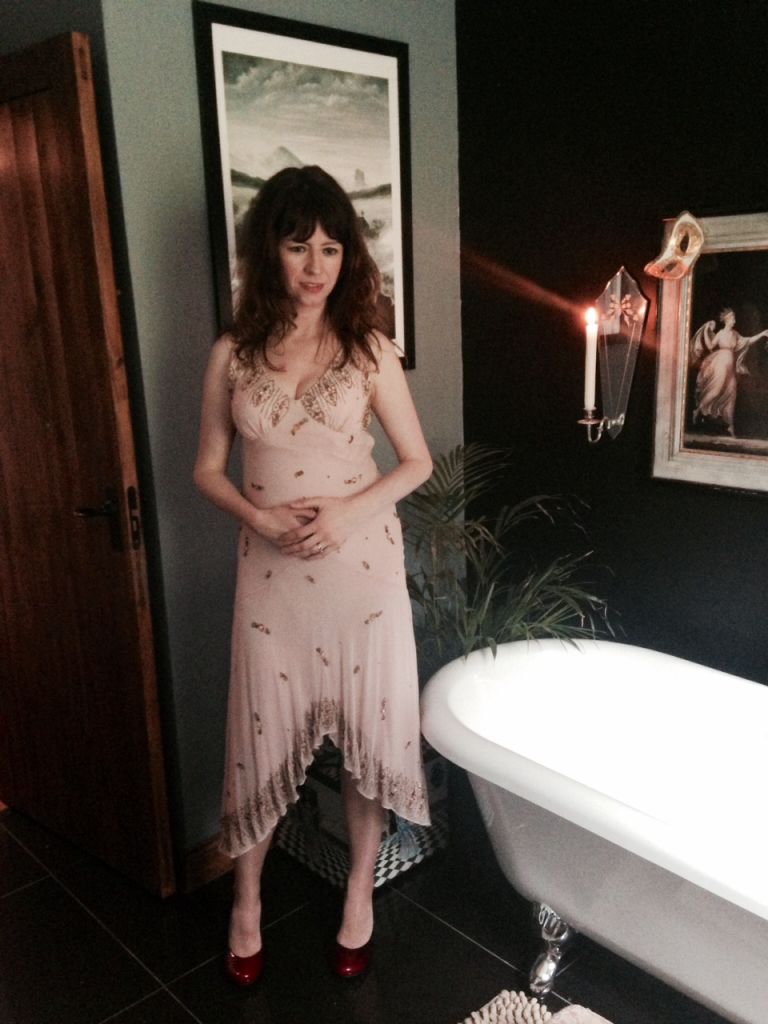 ---
---