A Cure for January Blues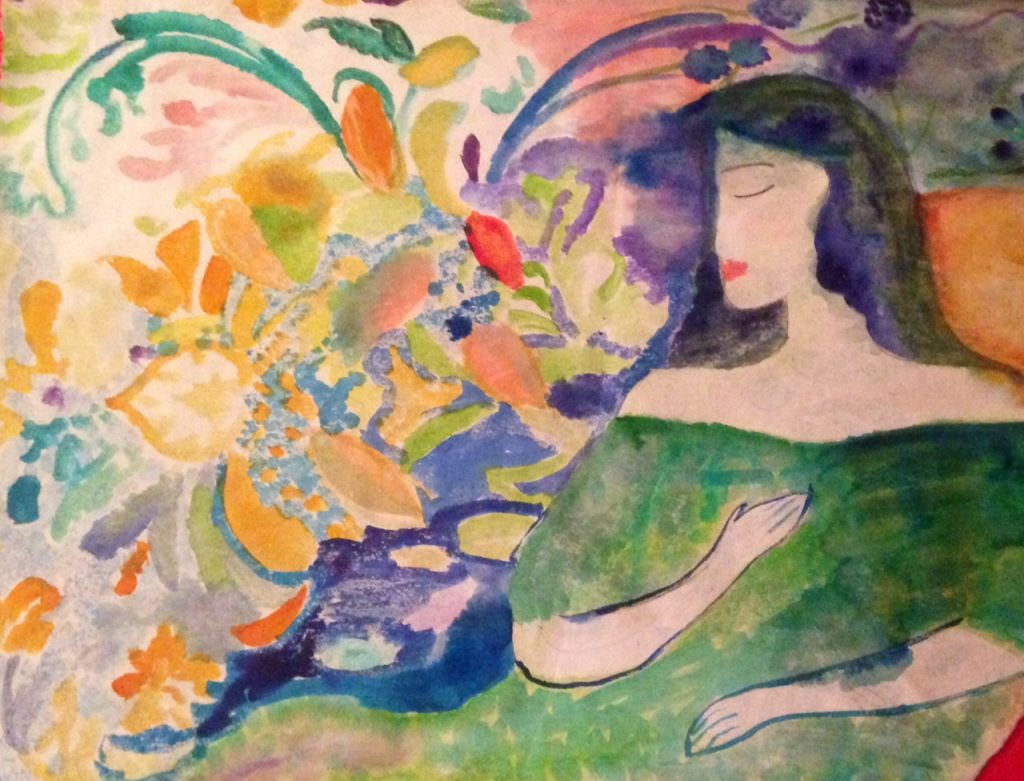 It's 4.40 pm so I'm struggling. It's the dark you see, when it closes in it closes me.
What to do about January? I love all weather, all seasons but the dark and me don't agree. Go to bed early? Cheat on living with housework? I'm not good at that, I like to breathe and I can't breathe with the dark on me, country air, specifically, is darker.
But last night, last night I went to bed happy.
This year an unfamiliar feature of Christmas was staying in bed of a morning, reading, writing, thinking, chatting, dreaming. It was bliss.
I'd say it's about twenty years since I did this. Maybe I never did this, I'm not sure.
We had people (under three foot of course) shouting at us for tv and biscuits.
'After coffee' we said, 'After coffee'…Just how many cups we didn't specify 🙂
We filled the bed with lego and castles (ouch!) and with books on food, war, mindfulness and 'Brave Intuitive Painting' by Flora Bowley. Click HERE for some brilliant inspiration from her!
Thank you Laura (my sister)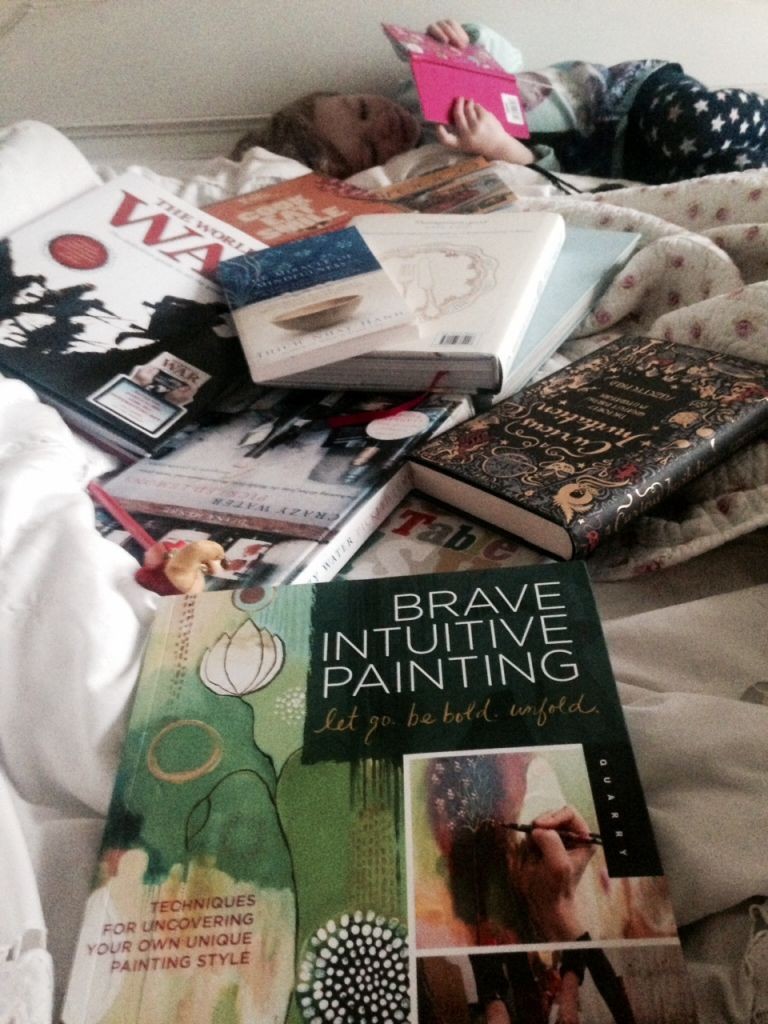 Since I started painting in June 2014 I have wanted to go LARGE SCALE and to 'Let go' I suppose. It's hard, I have no experience and I'm an oldest child!
Am I cheating on writing with art? Maybe, but I didn't get really brave until yesterday…
After months of thinking, I found a way, wallpaper, old wallpaper was my friend. Paper in general is scary but if I went wrong it would be ok right? Right? Why is a blank page so filled with fright?
I spent an hour just trying to find a pencil with everyone swinging out of me. Then with a lot of wrangling and rubbing out I managed a basic drawing, a figure, a woman of course, infinitely interesting are women.
And then the wallpaper said no to paint. By that I mean it just sat on it in globules – seems the right word. I hadn't high hopes if I'm honest.
I consulted the people who know, Emily from www.theNest.ie and her group I'm a member of 'The Nest's Weekday Art Challenge.'  'Put wash up liquid in the water', 'do an acrylic wash' they said,' who am I to argue? I did both and I did something else, something important, I moved the table to the window, to catch the last shreds of light.
I did it all but dammit – 4.40 o'clock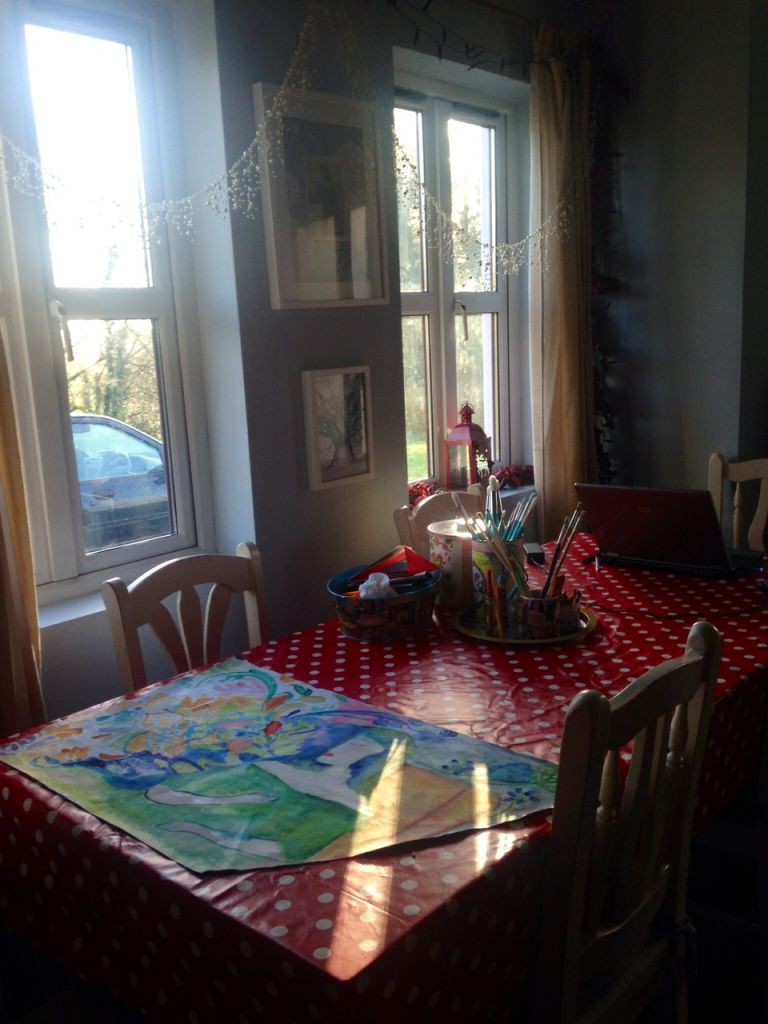 The frustration, the pressure but then it started to, emerge might be the word and I started to enjoy it. An instinct or something took over and…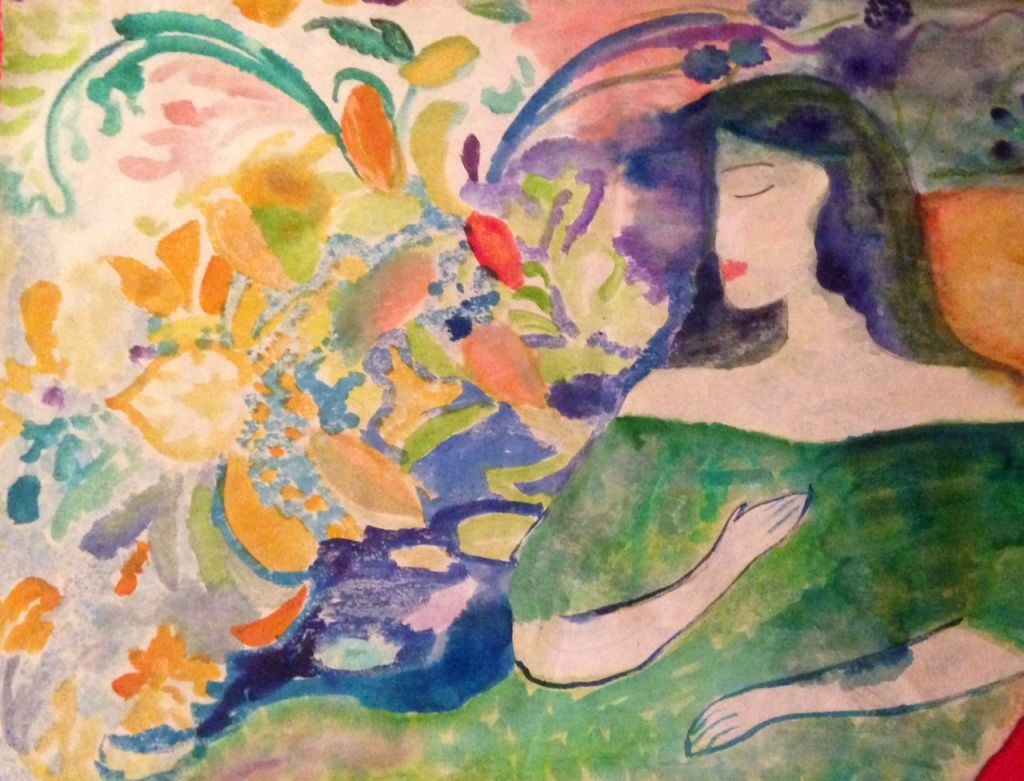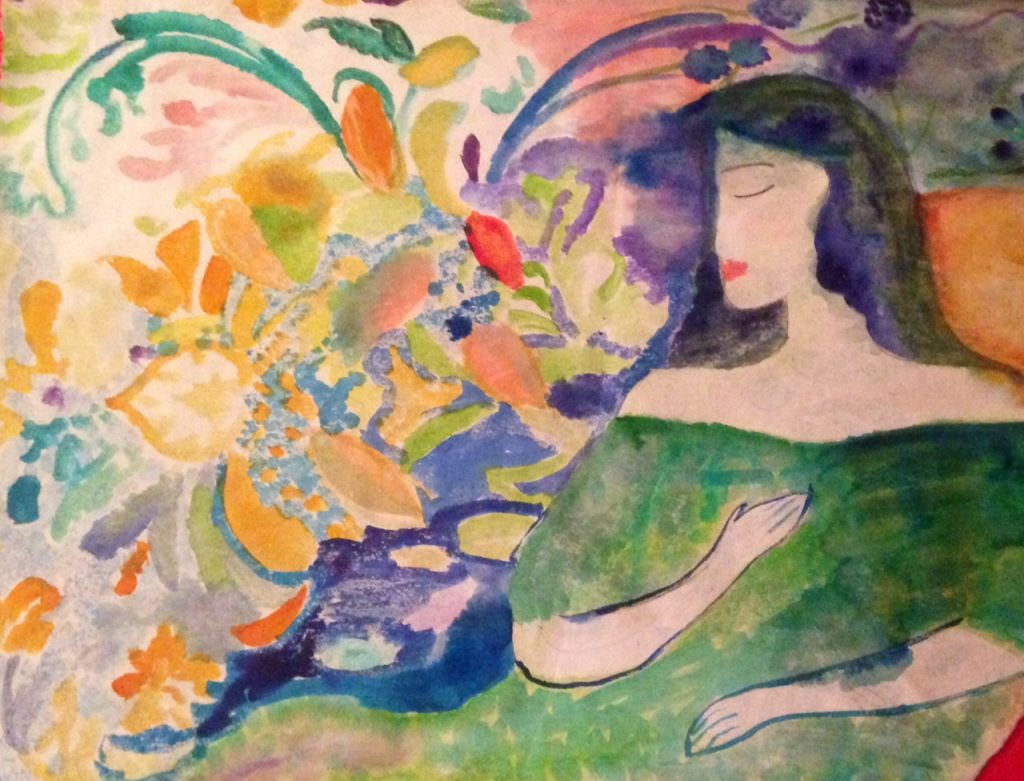 I know it's not perfect, it's not even finished, plus the paint started to 'bleed' into the woman, but all that's fine! #everydaycreativity remember? And, it's the largest painting I've done so far, about 3ft by 2ft, so a great start to the year.
My cure for January? Do something new…
"Just slap anything on when you see a blank canvas staring you in the face like some imbecile. You don't know how paralyzing that is, that stare of a blank canvas is, which says to the painter, 'You can't do a thing'. The canvas has an idiotic stare and mesmerizes some painters so much that they turn into idiots themselves. Many painters are afraid in front of the blank canvas, but the blank canvas is afraid of the real, passionate painter who dares and who has broken the spell of `you can't' once and for all."
Vincent van Gogh
---
---