June Art Challenge – Week 1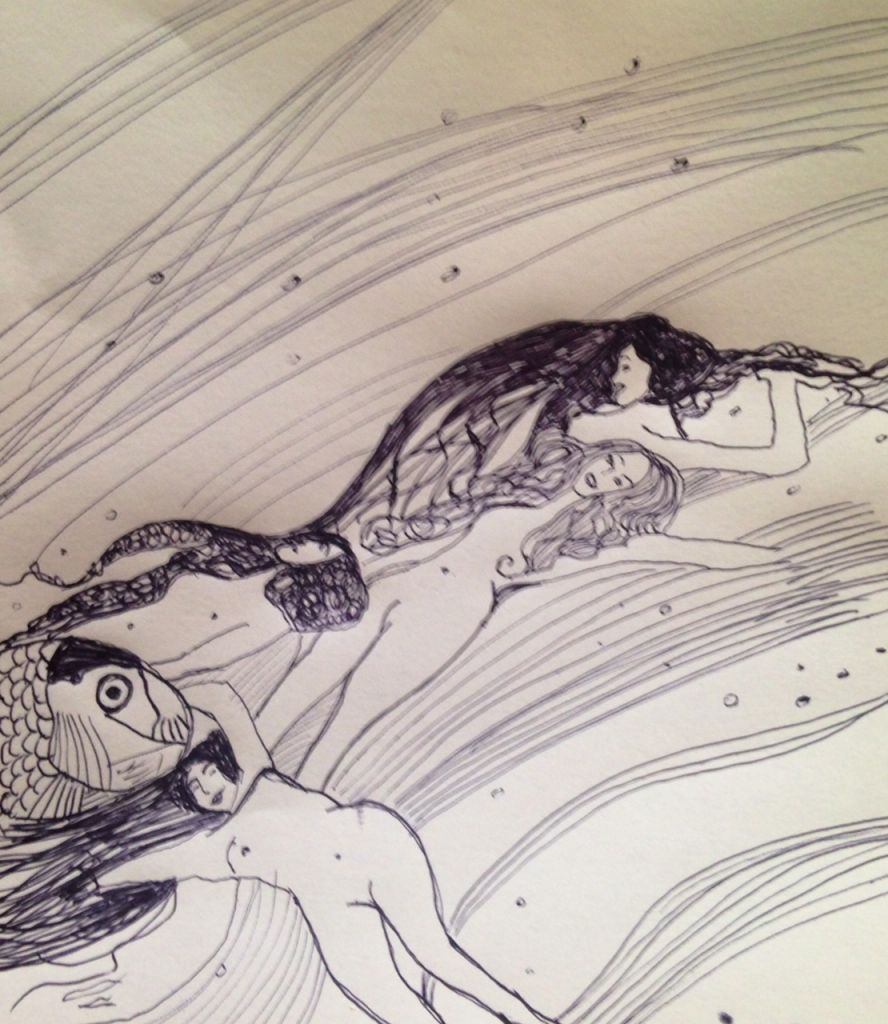 Good morning friends. Here's my first report from the front line of the June Art Challenge!
It's been one week since I made the commitment, one drawing or painting for every day in June then post publicly on facebook.
There was anxiety but also excitement. I couldn't wait to see where the challenge would take me. Not just what I'd produce and how but on a deeper level how it would engage my mind, challenge me, change me. From experience I knew dedication to the task would bring transformation which just one week in it already has.
I knew this would happen because when writing my novel I forced myself to write every day whether I felt like it or not and more often than not I was rewarded. Some days were of course better than others but I was always surprised and often delighted at what I could do when I really didn't want to or think I could.
Now when I look back through the book I couldn't tell you which parts I wrote while feeling inspired or which parts were borne of forced struggle…most of it probably.
It's funny but even though I wanted to write it, felt driven, compelled, could get up at dawn through the winter without fail I'd still be thinking, 'I have no idea what I'm going to write now, I've no idea what happens next, I'm really stuck, I'm really not feeling it, I don't want to do this today.' BUT with time I learned those feelings didn't matter, they meant nothing. What mattered was doing it anyway, time and again.
I learned the process not the finished product is what matters most. Writing 'The End' on my book was amazing but since finishing I miss the creating, the crazy doubt filled process! I can't wait to get back to it again.
So these feelings are part of the process, for everyone, even the best of the best. As shining example I remember an interview with Usain Bolt where he said about running;
'It hurts all the time, it hurts everyday'
I was stunned at the time but found that so inspiring, so liberating to hear.
For some reason it's hard to believe when you watch him run that it's anything other than natural, he makes it look easy while the truth is that even with all of the talent in the world it's the process, the dedication, the work that counts. It's hearing the voices that say I'm too tired, too busy, not good enough perhaps but doing it anyway.
We all talk of being 'stuck' or 'procrastinating' of not knowing what to do perhaps or how to start. But the answer really is as simple as to begin, begin and then keep going of course!
As writer Isabelle Allende said about the creative process, she talks about dragging her feet reluctantly down the path to her workshop to start a new book, well she famously said the secret is;
'Show up, show up, show up.'
Maybe it's not for everyone this kind of programme, maybe your're happy just as you are, fine. But if you're one of the many, many people, of which I used to be one who ever had that feeling or has that feeling, that grumbling under the surface feeling that just won't go away, the desire to create perhaps or just for something more…
If your're searching…
for more than the daily grind, the endless whirl of domestic chores, work and tv then I truly believe this kind of action is as good a place as any to effect that change you seek.
Carl Jung said 'Man cannot stand a meaningless life'. Do drawing, painting or writing give meaning you say? I think they do, for millions of people, for me.
Your thing might be different, that's ok, find it.
You've heard me talk here in recent months of wild and mysterious notions like 'unutterable fulfillment', 'peace and contentment like I've never known.' I'm in a state of bliss because I've satisfied the deepest yearnings of my soul…
And this is why even now, when I groan about this challenge, it's ok! I don't mind. I know to trust the process.
'Who looks outside dreams, Who looks inside awakens.' – Carl Jung
Day 1
Day one was hell. I had no clue what I was going to do and it was insanely busy here. I thought about it all day and then at dinner time I noticed Adrian and Sadhbh lying on the couch together. I threw the spinach on top of the potatoes and said RIGHT I have until Sadhbh moves or the spinach wilts, whichever happens first….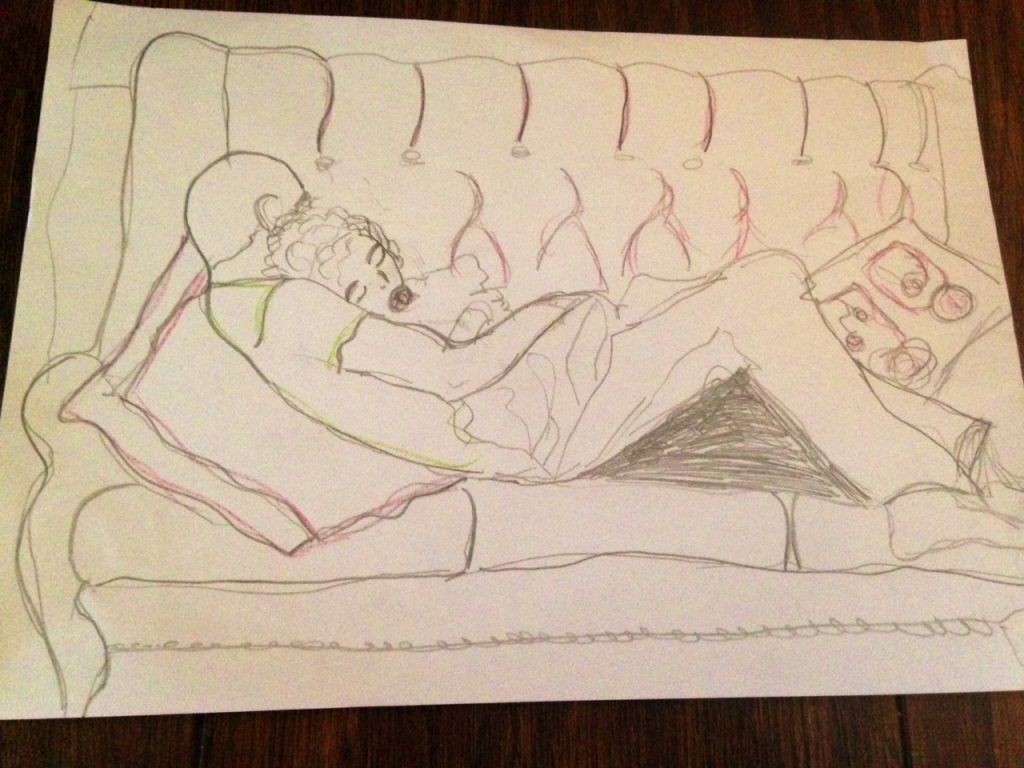 I was ok with it but I still had to post it, publicly. Up it went. First day DONE, phew.
Day 2
Because of the challenge I notice my head's working differently. I'm looking at everything in terms of drawing or painting it. On day two I looked out at my favourite view from our house, the back of my grandmothers house, this is the first thing I see everyday so I painted it.
I used water colour paint and pencil. I painted a light blue and green background first, let it dry, drew on top and then added more colour on top of that. The trees were impossible, really hard but the rest was fun. I became really absorbed in this one, like a trance. I added buttercups, rain and then foxes.
I was happy but more with the atmosphere and because I surprised myself, certainly not for the skill!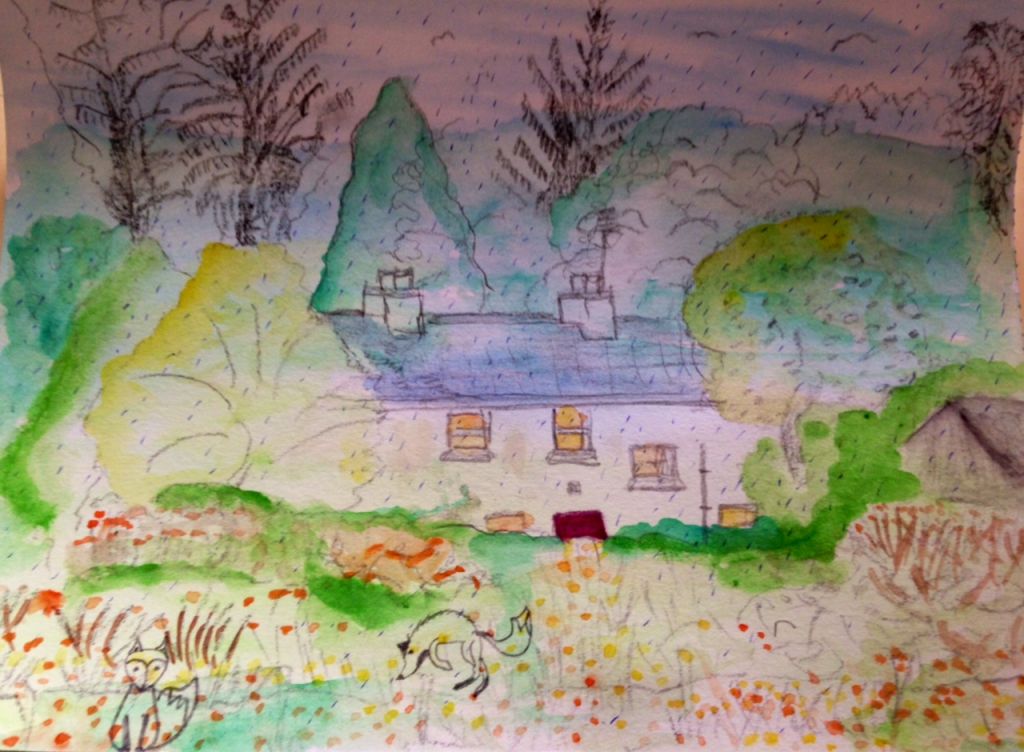 Day 3
Day three I decided to copy a painting I'd come across online of a mermaid. I was happy enough at the time but it may be my least favourite one now.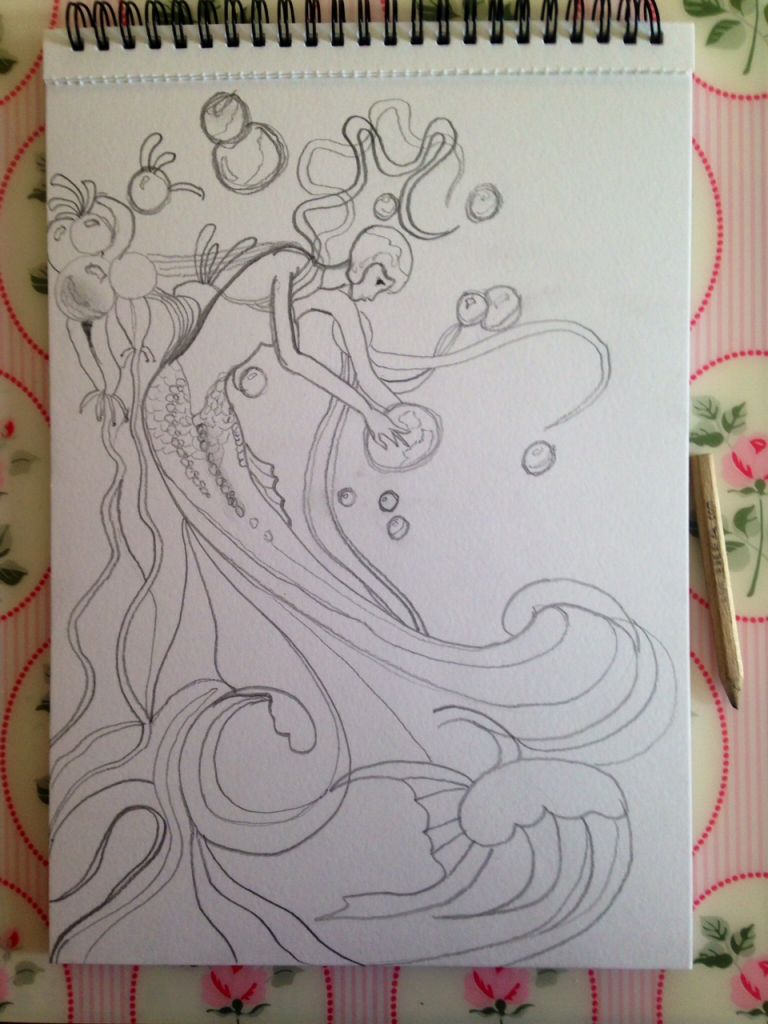 Day 4
By day four I wanted to up the ante, add some challenge to the challenge.
I decided to try chalk pastels which I've never used before. Over the years I have at times bought paints and pastels and pencils but never used them. I was too afraid, especially of colour. Looking at  the pristine paper and colours I felt intimidated but with an unusually quiet house I forced myself to go for it.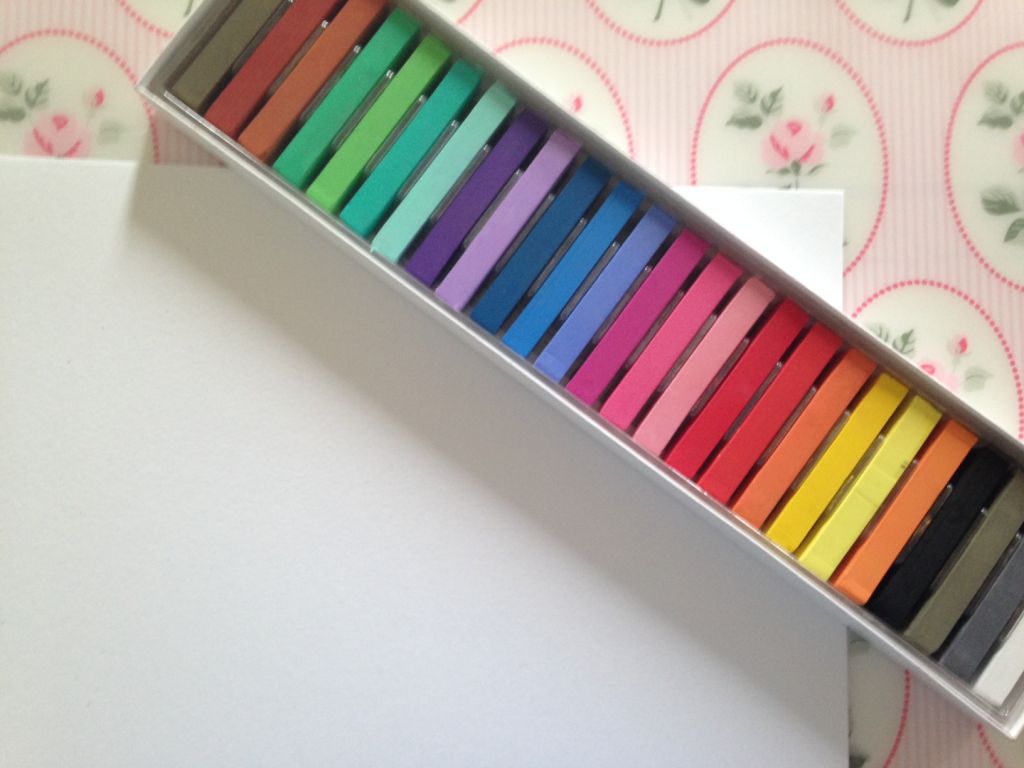 Well, from the minute I started I was in heaven. They were so much fun to use  and I was thrilled with the result, high as a kite for the evening, insulated from even the usual dinnertime mayhem. Rewarded for leaving my comfort zone.
I know I can draw passable fair but this was something new. Probably explains my ennui over yesterdays effort.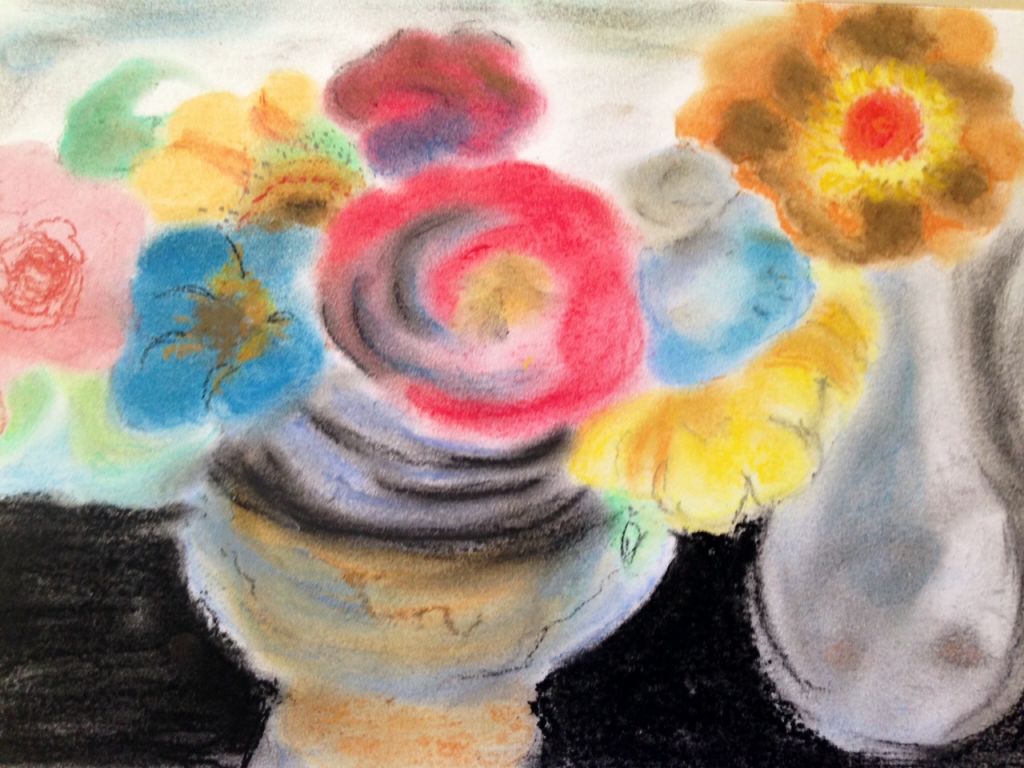 Day 4 
This day was the hardest for me. I was exhausted, had been up all night, leaving cert mode in full throttle and a million and one other things meant I was really not feeling it.
Not doing it however wasn't an option. I thought, I'll just do something simple, I'll do a lollipop man if I have to.
I looked up one of my favourite artists 'Kees van Dongen' for inspiration and ended up copying one of his paintings from the computer. I used the pastels again and pencil and ended up with what is my favourite this week…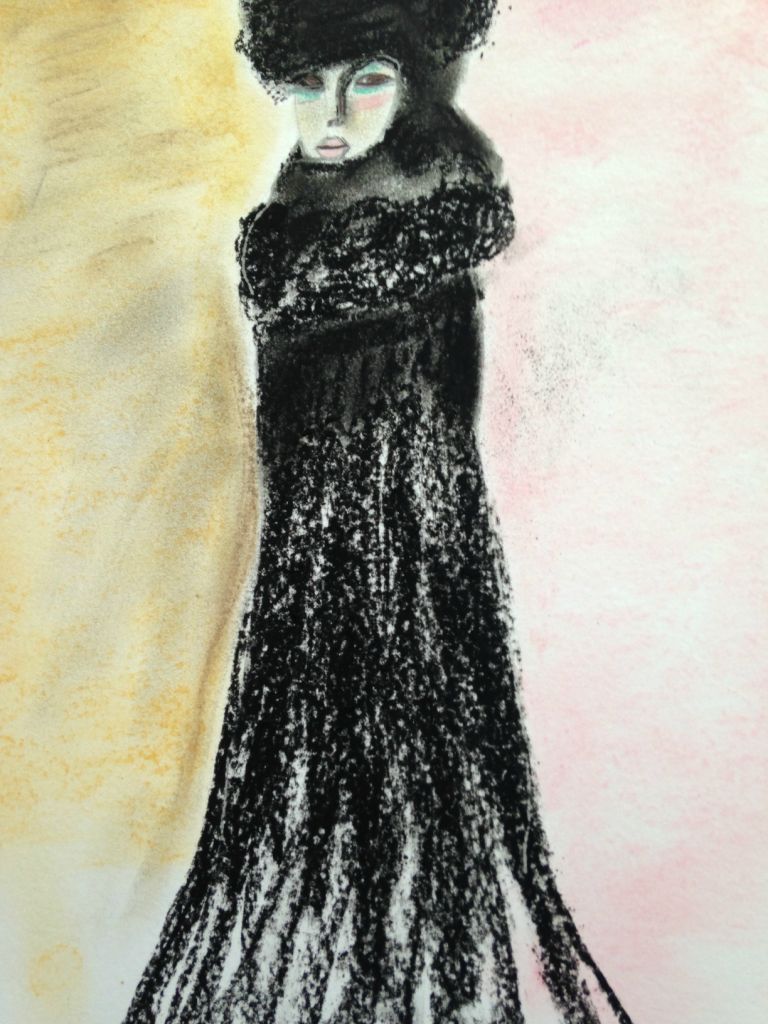 Day 6
Yesterday I turned to another favourite artist for inspiration, Gustav Klimt. I used black biro (how's that for flying by the seat of my pants) and must admit I do love the result. I feel bad now for rushing it towards the end, my bad patience working against me but still, I'm happy.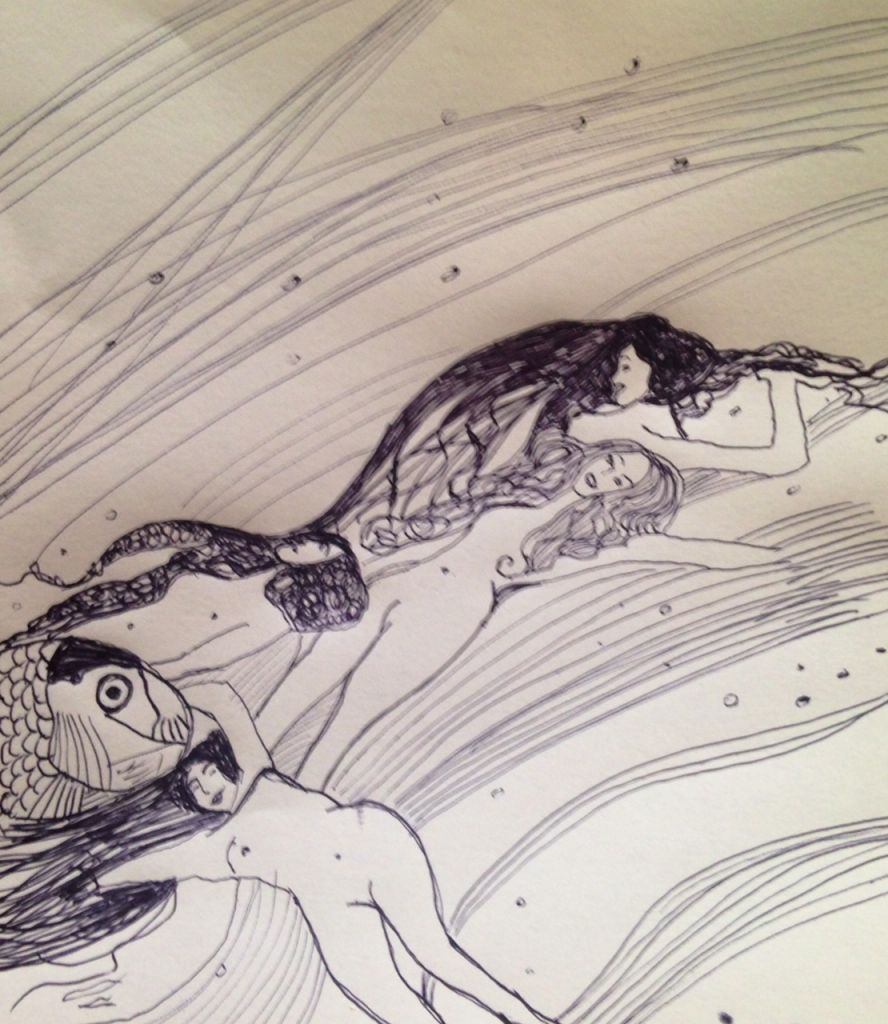 'It's supposed to be hard, if it were easy everybody would do it. The 'hard' is what makes it great.' Tom Hanks in 'A League of Their Own.'
The question now is, what will I draw or paint today?
Chat to you soon, I have a driving lesson now, my next challenge!
---
---