Makeover Challenge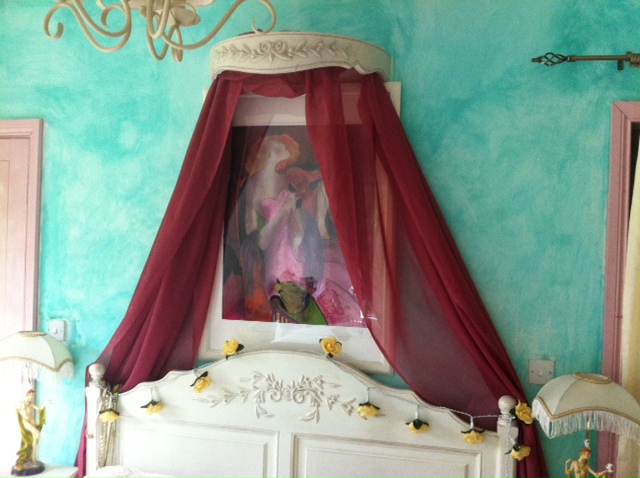 The people at MoneySupermarket gave me €60 to give a room in my home a makeover and then blog about it, explaining how I did it, how far I stretched the money and be in with a chance of winning £500 worth of B&Q vouchers! The idea of this 'Room for Improvement' challenge is to show that you don't need a lot of money to make a big difference in your home and I think it's safe to say I've managed to do that : )
In the beginning I had no idea what I was going to do but with my €60 in hand I headed out one weekend in search of inspiration taking in Carrick on Shannon and Sligo towns. I was completely confident that I had plenty of money I just needed something to spark an idea but I didn't find one single thing I could either use or to inspire me.
Back home and walking in the lane I noticed all the young trees growing on the verges under the great canopy of elders with no soil and no chance of survival only they don't know it of course. So after travelling fifty miles that's where inspiration struck.
I bought a green pot for €15, a young tree was selected and Adrian dug it up for me. I decided it would look good in the bedroom and that's how the bedroom became the makeover choice.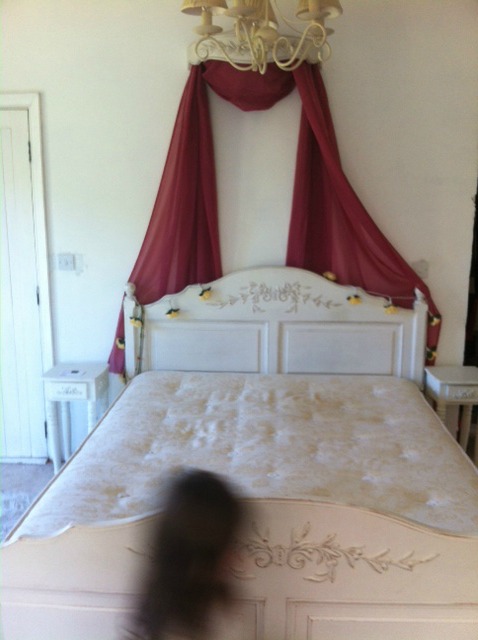 I already had my yellow flower lights and a nice swatch of dark pink material over the bed but the wardrobe door still had no architrave…or door, and for a long time I'd been imagining a kind of 'continuous colour' scheme for the house.
I had this gorgeous pink colour leftover from a chair painting project and I decided to paint the woodwork in that. All I needed now was the right green. You know it had to be green…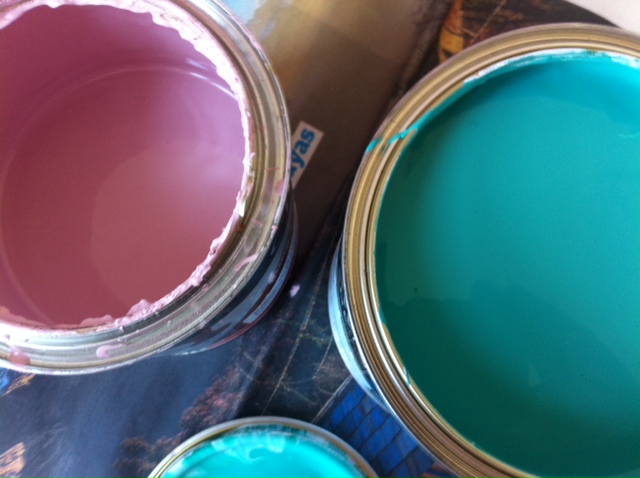 For the longest time I've been in love with this shade without knowing what it was. I'd discovered Farrow & Ball do a similar version called 'Arsenic' while this version is called 'Upbeat' and comes from 'Crown'. Thanks to Roisin Kenny in Ballinamore for mixing it for me, thanks Roisin : ) My green paint cost €13.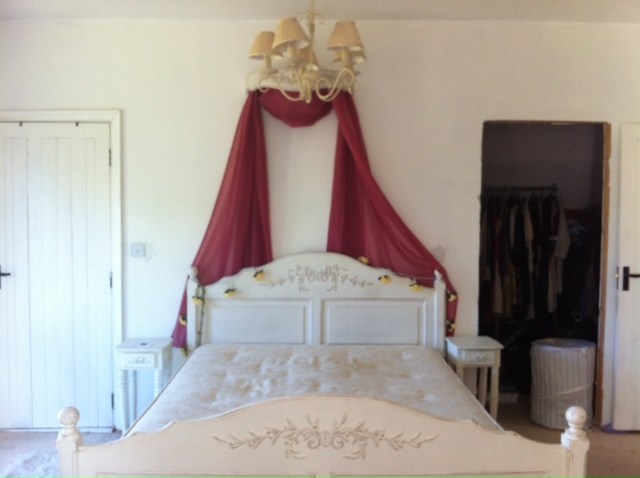 We'd had the wood for the door frame and a curtain pole for ages so while Adrian took care of those I painted the other door. I decided to paint the wall using a plastic bag. I scrunched up the bag dipped it in the paint and then in water before rolling and scrunching it at speed adding more water as I went. I used a dry bag to finish each section. This is the easiest, fastest and most fun way to paint ever! Everyone wanted to help and even Saoirse got in on the act painting the bit behind the bed : ) We had great fun at this because there are no rules and you can't make any mistakes.
I knew I wanted to hang something on the wall and considering the paintings/pictures I have I realised the perfect one would be this lithograph print by artist Linda Le Kniff, click HERE. It had been hanging in our hallway but now it's found a new place to live..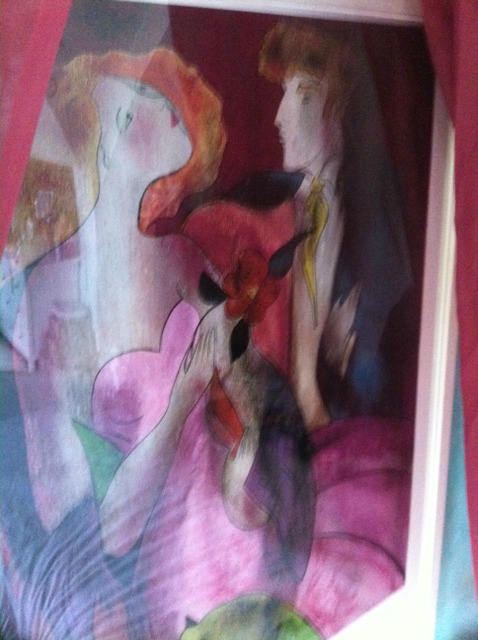 Finally I brought in two of my 'girl lamps' I call them. Beautiful lamps I bought in a junk shop a few years ago and that was it, we were done!
So to recap this is what we did..
Spent €15 on a plant pot
Spent €13 on paint
Hung a curtain role and made a door frame with materials we already had.
Hung a spare curtain we already had.
Dug up a tree on the verge of the lane and potted it.
Painted the woodwork pink
Painted the wall green with a plastic bag and water for a clouded effect.
Hung a painting we already had over the bed.
Brought in two lamps we already had for the bedside lockers.
Total cost of makeover… €28
And here is the final result, drum roll please…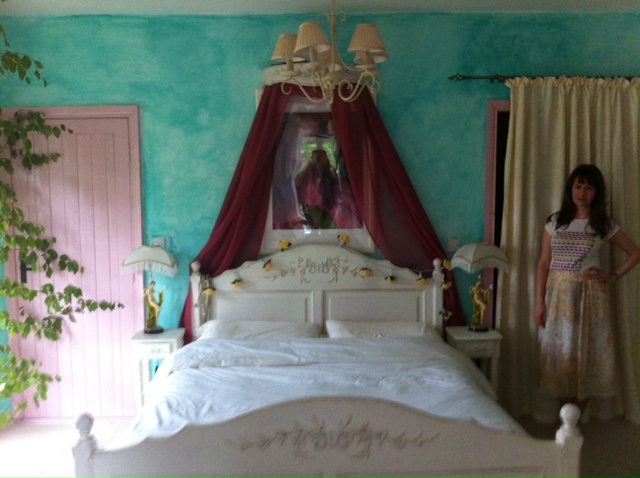 Not sure I can tell you just how much we love it. The colours are so restful and beautiful in every light.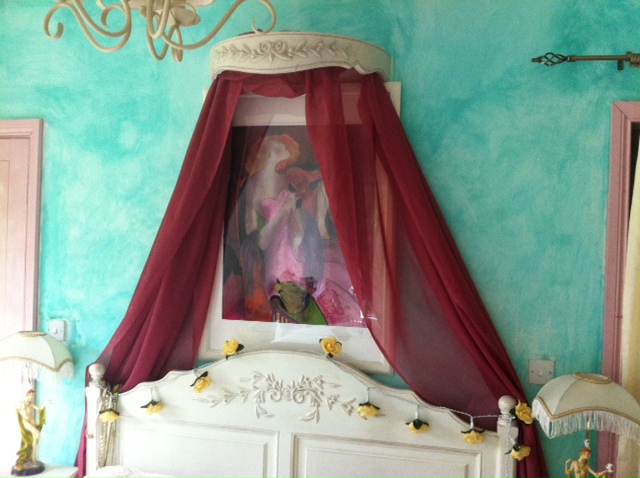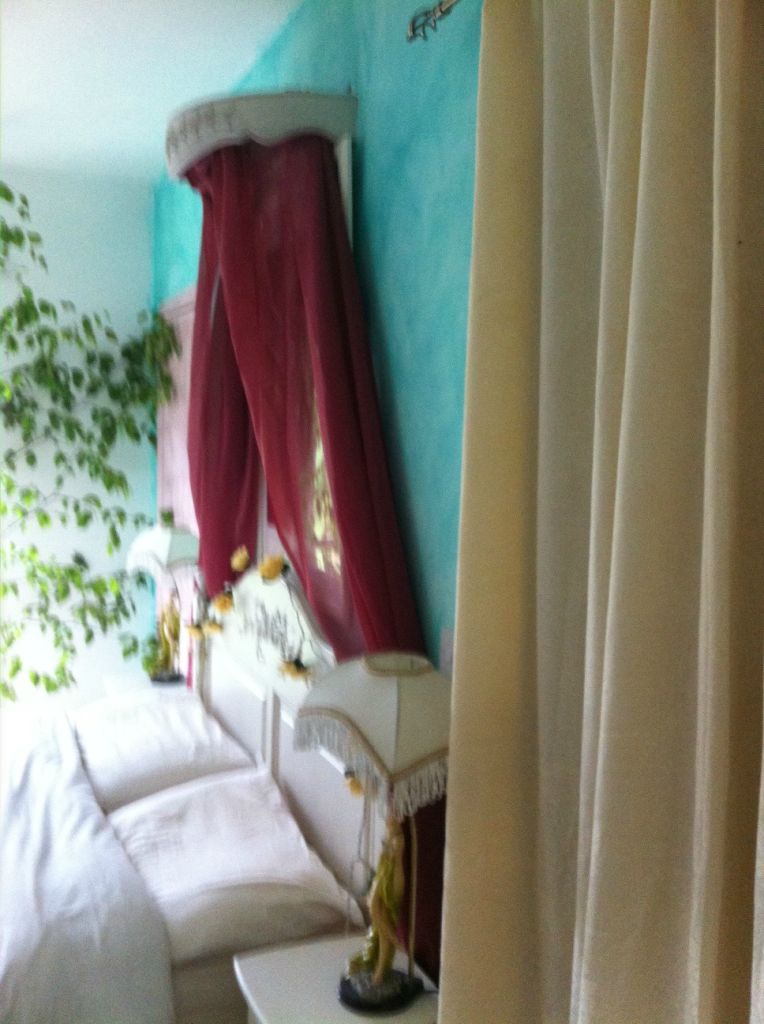 The problem with my tree is it's the wrong time of the year so after a while I'm going to re-plant it in a good spot in the garden where hopefully it will have a chance of growing. I'm still on for having real trees in the house though. I'm determined to somehow make that work without spending a fortune because I love the look.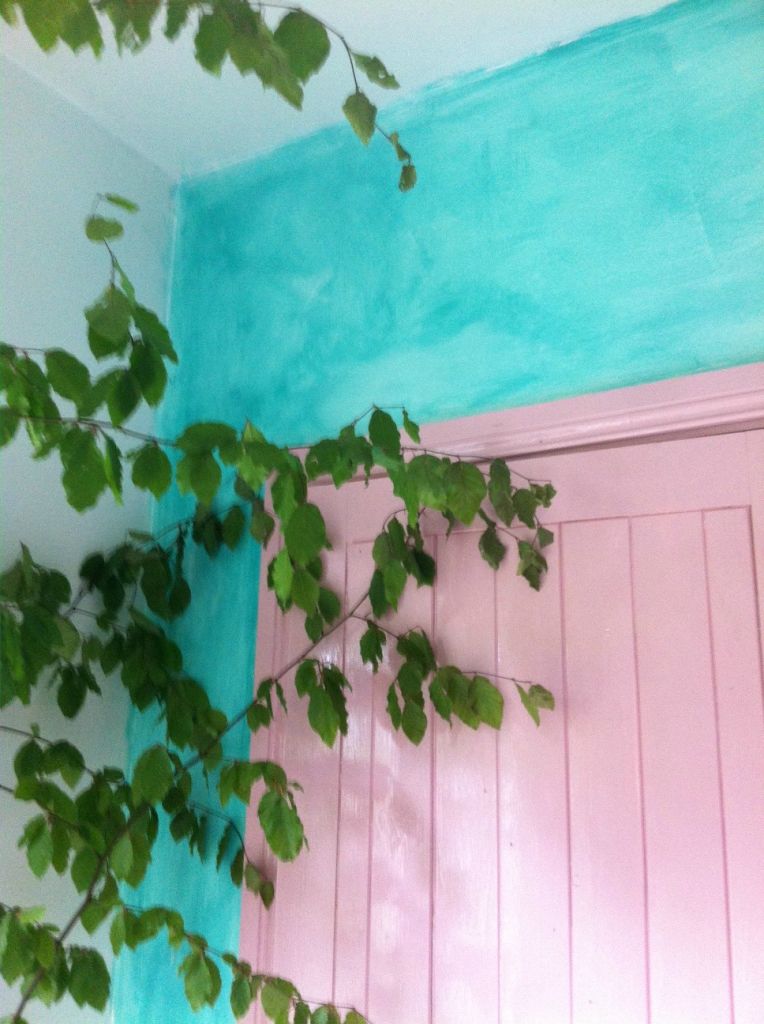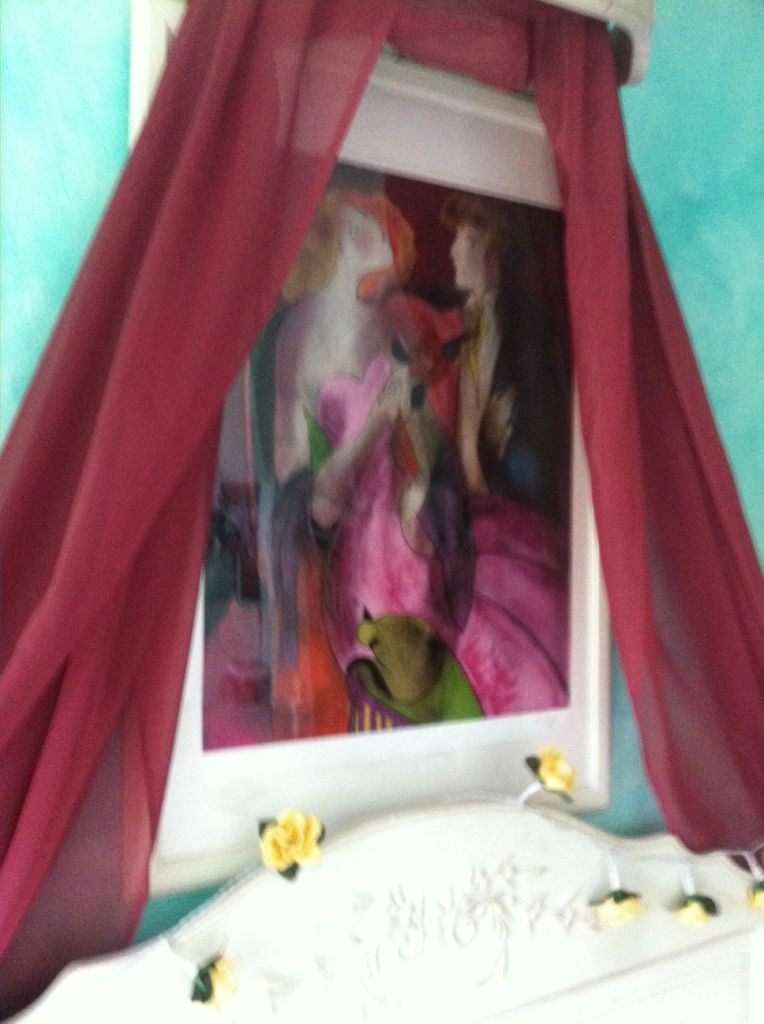 The colours in the painting complement the scheme beautifully appearing in the paint choices, the lamps, material and even in the flower lights.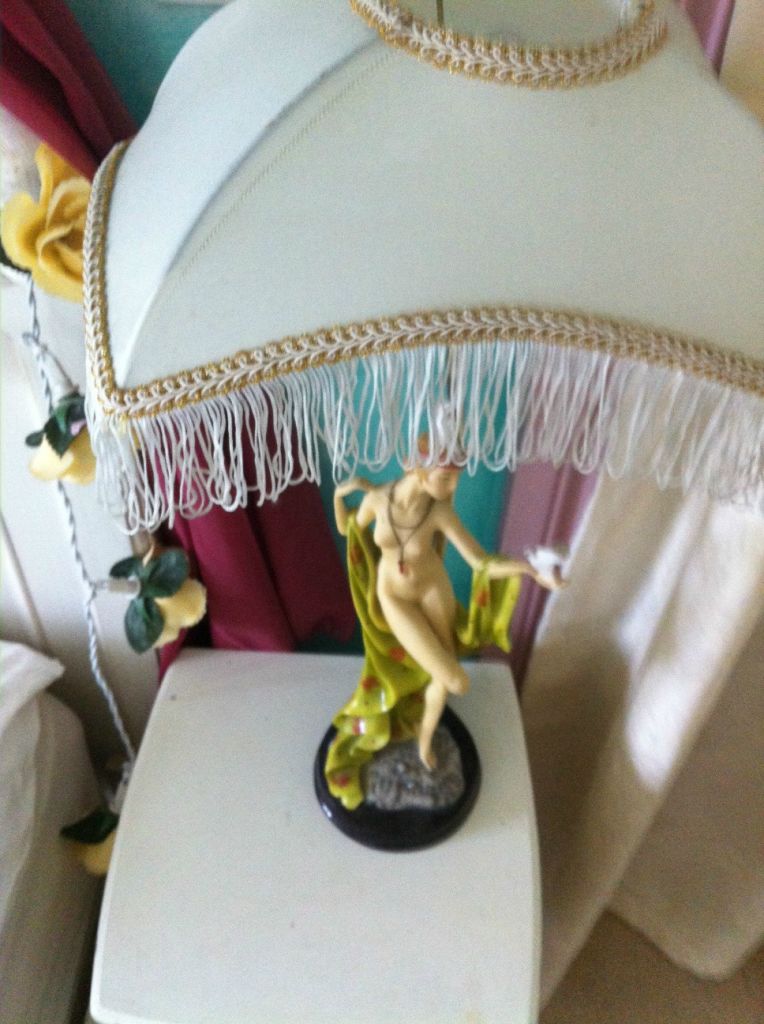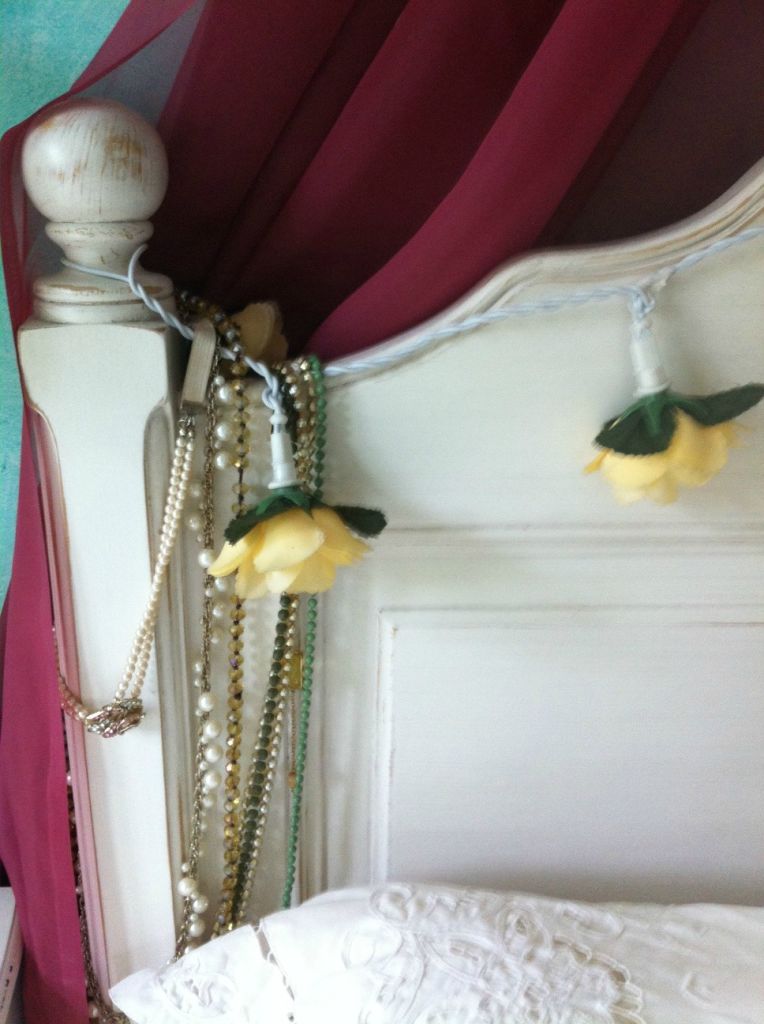 All that's left for me to say is a big thank you to Money Supermarket' for this inspiring 'Room for Improvement' challenge. I really enjoyed the focus it gave me and look what I got from it, a beautiful new bedroom! I just wanting to keep going now and let me tell you I do love this designing/decorating lark : )
---
---