My friend Caoilfhionn gave me this great present, a book called…
 '100 Artists' Manifestos' by Alex Danchev.
It's a treasure trove of revolutionary, incendiary and outrageous thought. I find it calming.
Here's an excerpt from Marinetti's Futurist Manifesto…
'I dictated our foremost desires to all men who are truly alive:
We want to sing about the love of danger, about the use of energy and recklessness as common, daily practice.
Courage, boldness and rebellion will be essential elements in our poetry.
There is no longer any beauty without struggle. Any work of art that lacks a sense of aggression can never be a masterpiece. Poetry  must be thought as a violent assault upon the forces of the unknown with the intention of making them prostrate themselves at the feet of mankind.'
And this…
'Futurists were unusual only in the sheer comprehensiveness of their condemnation: they were against the past.'
Be still my beating heart! I too am against the past! No Lot's wife! To live fully in the present and draw on the past only for art, and by that I mean writing, not the art of living which should be modern, that's my goal. I don't want to re-create things, to uphold traditions. I have this deep desire to be free of the past, to be surprised when it comes to mind, almost as if it never happened, or happened so long ago as not to matter. To me that is the art of living, change, forward motion, being open, not being attached to things, or ways, or even to people. I say to my eldest girl all the time, 'I just want to be modern.'
'There is something of the incorrigible optimist about the manifestoist. To make a manifesto is to imagine or hallucinate the Promised Land, wherever that might be. It is certainly not an undertaking for the faint-hearted. In this sense, perhaps, it is apt for the artist.'
'The artists' manifesto is a passport to modernity. To goddamed modernity.'
Further reading led me to this article… '11 Manifestos That Could Change Your Life' click HERE I recommend going into every link on this one, it's that good.
Taking inspiration from the book and from the article I thought I'd give it a go. I went with Dali's format, a list, complete with ahem, self portrait. But this is by no means the end of the exercise. Rather it's what my friend Marichit would call 'seeds' for something more, something I think I have started today with this post.
So how about that for a weekend challenge? To write your own personal or artist manifesto? It's fun, you should try it.  My list is below.
Have a great weekend, xo Jane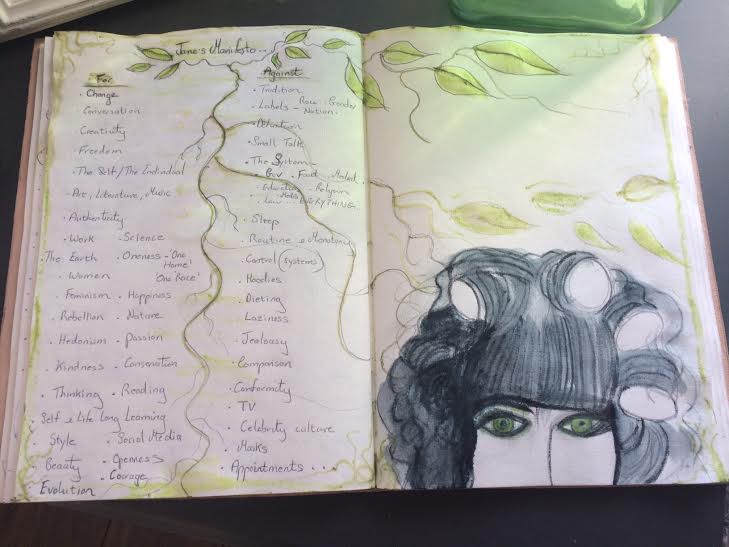 Jane's Manifesto
For: Change, conversation, creativity, freedom, the self, the individual, for aiming high, for art, literature, and music, for good posture and walking tall, for being early, for authenticity, for work, for science, and the earth, for the modern, for women, for oneness – one home, one race, for feminism, for happiness, for rebellion, for nature, for hedonism, for passion, for kindness, for reading, for thinking, for self education, for life long learning, for style, for social media, for beauty, for openness, for evolution, for speaking up, for courage, and compassion.
Against: Tradition, labels – race – gender – nation, against definition, small talk, against the system – government – food industry – law – education – media – religion, against sleep, against routine, and monotony, against the 8 hour work week, bullying, against hoodies, against slouching and laziness, against dieting, against comparison, against jealousy, against conformity, against conservatism, against tv, against masks, against celebrity culture, and appointments…