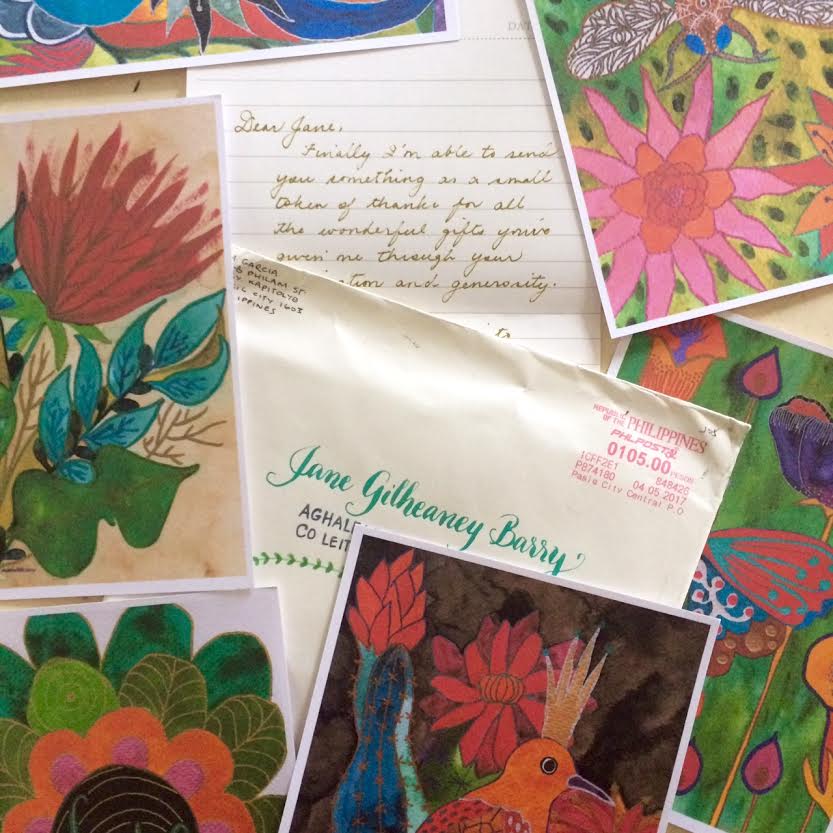 Making : Brunch for eight. Shaylyn's college friends travelled down yesterday to sample Leitrim life. Going well I think. I'm making french toast.
Cooking : Trout Meuniere for dinner. Trout fillets in burnt butter and almonds with lemon. Herby potatoes and broccoli on the side. Heaven.
Drinking : As I write this it's jasmine green tea.
Reading: The latest issue of Flow magazine.
Trawling: Through email/post/fb comments/messages, making up for lovely time spent in Dublin last week celebrating our ten year wedding anniversary. Did you know most of Dublin's galleries and museums are free? We visited Collins Barracks. I was particularly moved by the Asgard which is currently being restored.
Wanting: For nothing. Ok a book deal already.
Looking: At my calendar and seeing there's only four weeks left of school.
Deciding: What I'm going to do this week. Knuckling down with the creativity book is top of my list. My goal is to finish before the school closes.
Wishing: I could write faster.
Enjoying: Life. It's never been richer than it is at the moment.
Waiting: For an agent to beat down my door. So far I've had three rejections and one expression of interest that so far hasn't gone any further. But I believe in the book whatever way in the end it gets published. The rejections don't bother me.
Liking: My daughters friends. They inspired me.
Wondering: If I'll ever get over some things. I think no. I think it doesn't matter. If you survive things you end up better, stronger, happier. So just survive, that will be enough at first. Do that long enough and life will be richer for you and than you imagined.
Loving: The stand-up comedy gig we attended at The International Bar in Dublin.
Pondering: My next move.
Listening: To the Allman Brothers, The Midnight Rider Gregg Allman died this week. 'The highs were higher than the lows were low' he said. Something in that expression, I don't mean the words so much as the music in him, speaks to me. And to a brilliant documentary about Michael Collins, Hang Up Your Brightest Colours. A documentary every person with investment in the English or Irish question should listen to. Heartbreaking, funny too. A brilliant orator. Plus, whatever Shaylyn plays now that she's home for a few weeks.
Considering: Ideas for blog posts. Some do come in rush a but most are sparked by a thought or something I've heard, written, or read and need time to marinate.
Buying: Not a damn thing.
Watching: The Handmaid's Tale, utterly chilling.
Hoping: To have some friends over next weekend. it's the June Bank Holiday and the whole family (except me) will be working at the local Cowboy's & Hero's festival so I should really do something to break up the long weekend. Set it apart from the week. I think that's important when you don't work outside the home. You have to mark the difference.
Marvelling: At the garden.
Cringing: At commenters online. I tend to believe that people are good and that good will win out in the end, and then, I read comments. But I am resolute in my faith in humanity.
Needing: To eat something. Fed the troops, forgot myself.
Questioning: Always
Smelling: Golden syrup, coffee, rain
Wearing: The long red leafy dress.
Noticing: I endeavour to notice everything, I'm a noticer. It's a privilege, exhausting, impossible in the end. But you've got to try, or else, what are we living for?
Knowing: That my novel is finished and will find its readers shivers soon. I know it has already found some. Begin the journey HERE
Thinking: About all my creative projects, the novel, creativity book, home decor book, recipe book, the homes of my life book, percolating away. All that lovely work, some done, a lot more to do. What could be nicer than projects you set by yourself, for yourself? Around what you love to DO! Without goals life happens to you, more than usual. With goals we make things happen.
Admiring: Shaylyn's friends. Young people these days are amazing. They loved the house and I loved it in their eyes.
Getting: Braver every day. Dangerous woman territory.
Bookmarking: Zillions of things
Opening: Gorgeous post from the Philippines and my friend, artist and writer Marichit. Check out her beautiful page here. Marichit designed my gorgeous new blog logo btw.
Closing: The novel. I'm going to miss that world, those women. I know I'll have more editing work to do before it's published but nothing to compare with the years of work, surprise, intensity. It changed me, they changed me. I love them. If you're new here you can read my first chapter HERE and get a link to another excerpt from there.
Feeling: Fulfilled, inspired, challenged, AWAKE…
Hearing: The birds are king this time of year, I guess because we have so many trees.
Celebrating: Shaylyn finished college and doing great, the book of course, ten years of happy marriage, no more babies, woohoo! Creating my own world/work, creativity, family, health, freedom, survival.
Pretending: I never pretend
Embracing: No
This post format was brought to you via my good friend Janine at Shambolic Living. Thank you Janine, just right for a Monday morning writing fling.