Mike & Jo's Supper Club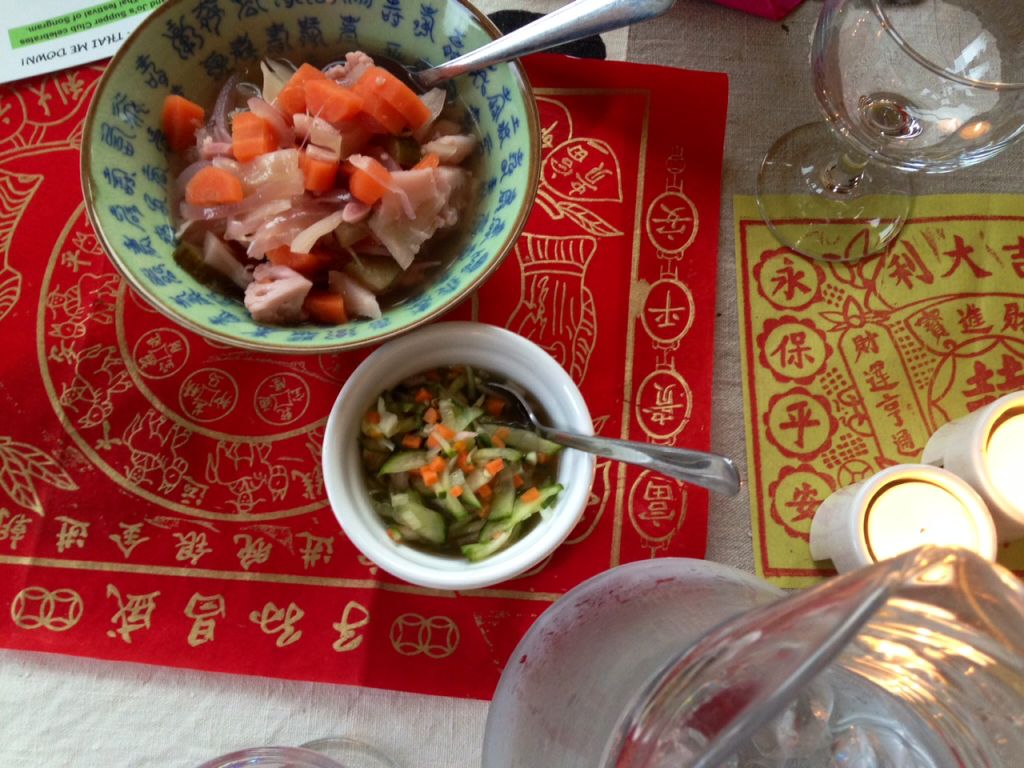 My love affair with the north of the county, that's north Leitrim for those who don't know, continued in style last weekend with yet another intrepid trip that direction. Last time was for a course at the Organic Centre, this time was for my first experience of a supper club, Mike & Jo's to be precise.
Supper clubs, pop up or underground restaurants as they're also known have been taking the food world by storm for some years now. Typically they take place in someones home but in theory any venue is possible. Skilled amateur chefs and passionate foodies, friends and strangers alike, come together on a fixed occasion for a surprise or at least fixed menu that turns all eating and certainly restaurant convention on its head.
Mike and Jo, restaurateurs in a previous life host a club at their home with a different theme every month and it was while thinking of hosting a 'one off' event of this kind myself that I came across them on facebook.
Delighted to have found one so close I requested a few places and set out with my fellow adventurers, Caoilfhionn, Kerry and Lorraine, not knowing what to expect but of course that's part of the fun of it.
We knew to expect a 'Thai theme in the Songkran tradition (Thai New Year)' and had enjoyed a glimpse of their preparations on facebook…
'Busy making the Kanum for this weekend's Thai Supper Club. A lot of chopping and grating of cassava and then steaming little packets of sweet mixture. The verdict in this house is that they are delicious, so well worth it!!'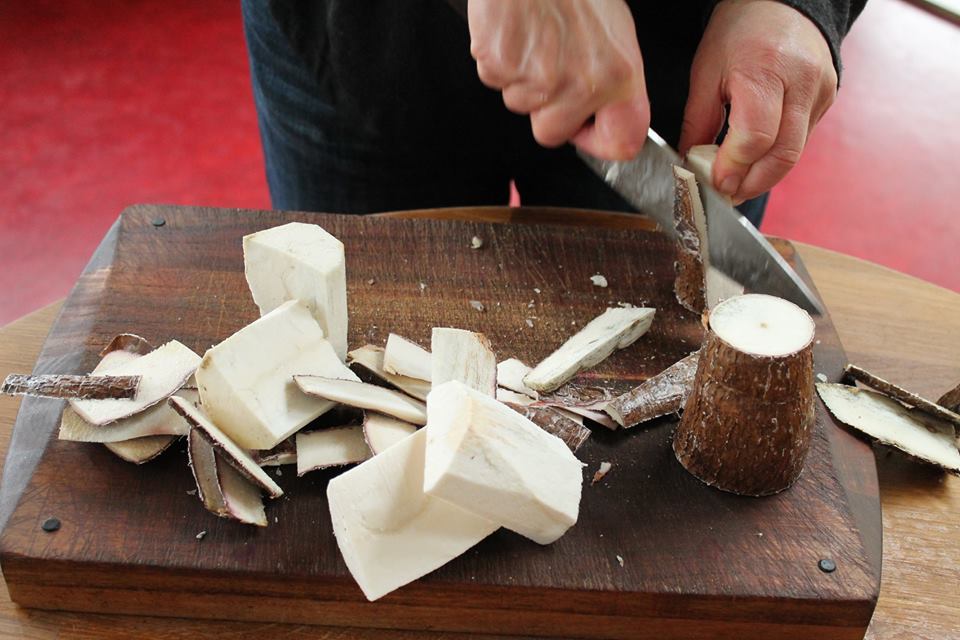 Driving up the long, winding and kind of treacherous lane we passed three boys and then a sign that read…
Keep Left… Or Else
Hahaha, can you imagine the hilarity that caused! Of course if we'd put the three boys and the sign together we'd have gotten our answer. Jo later told Kerry she'd asked them to make a sign for the guests, they'd simply embellished a little without her knowledge.
Arriving at the house the only outward sign of something happening was all the cars so abandoning ours with the rest, bottles of wine in our fists, it's bring your own, we knocked on the door and went in…
First impressions…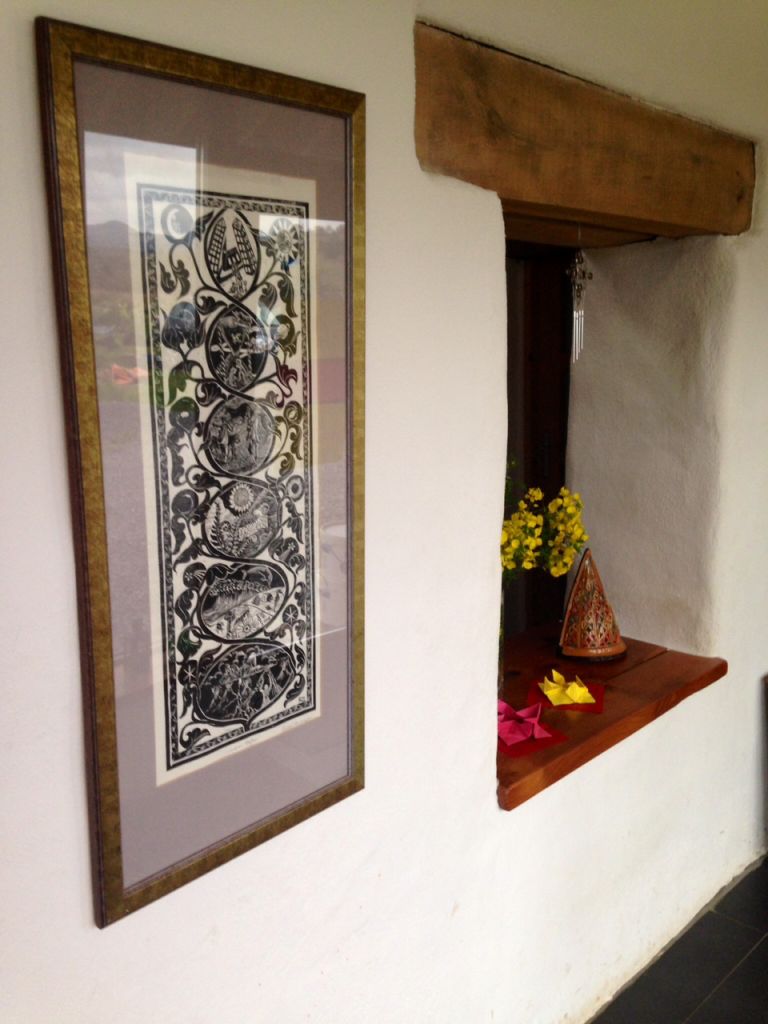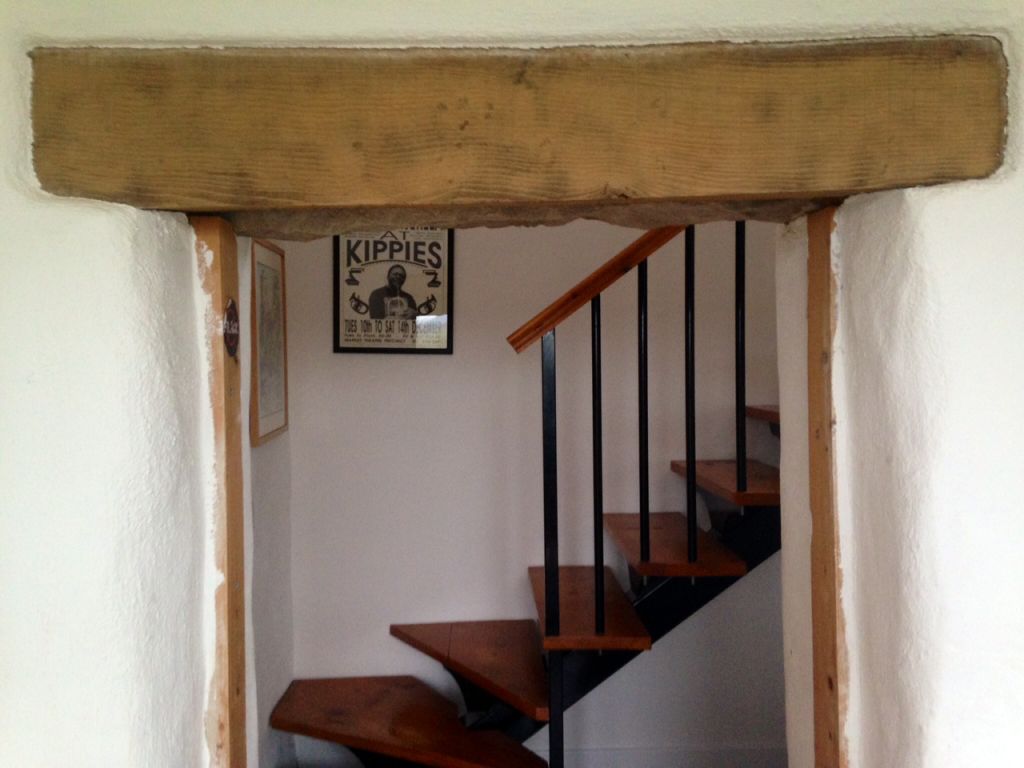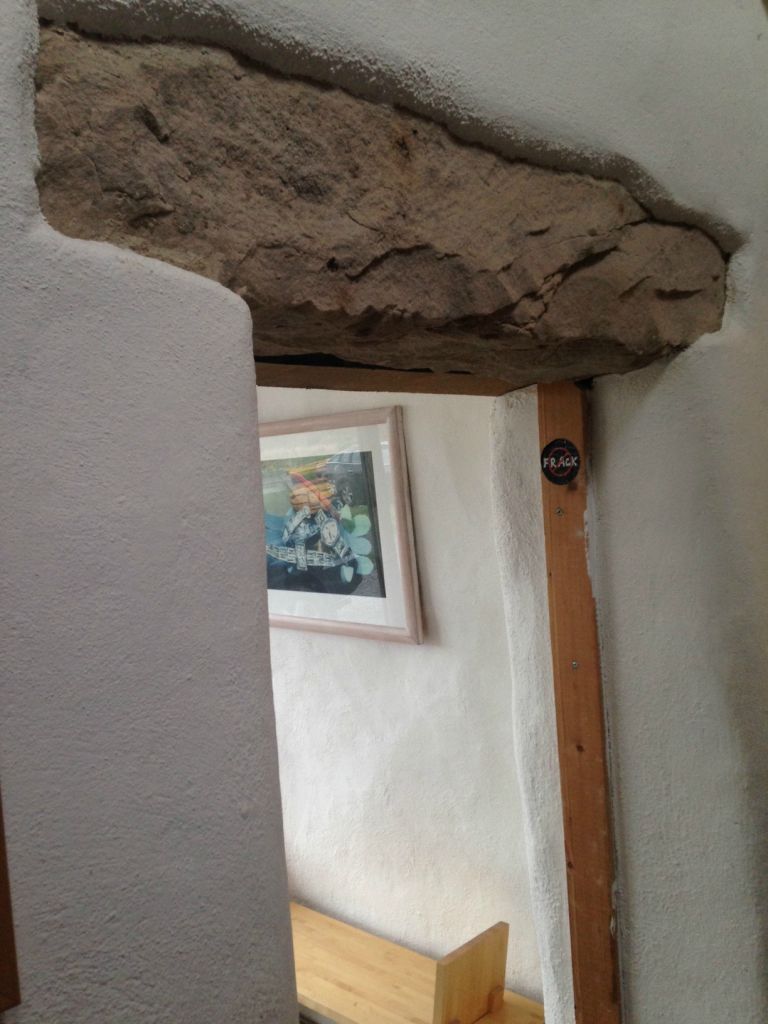 And then…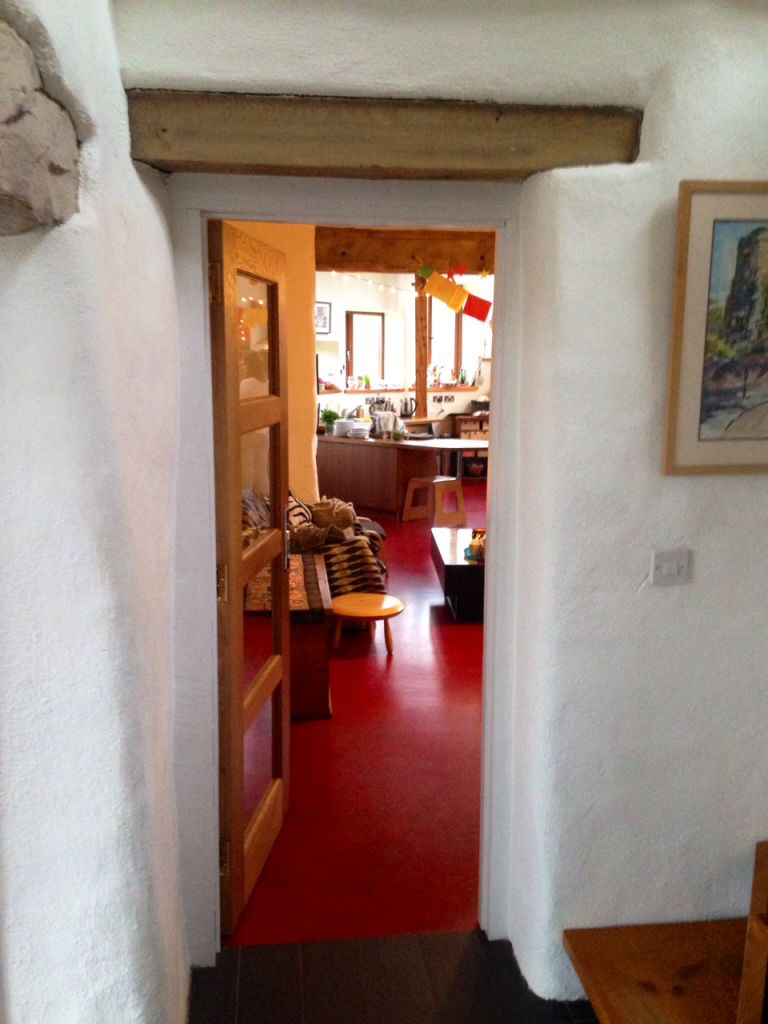 From the cool quiet of the old part of the house we were drawn like moths to the inner sanctum with it's flame red floor, warm atmosphere and warm welcome from Jo to a stunning glass room, framed in tree like beams and lined from one end to the other with an impossibly long table already filling up with guests for the evening.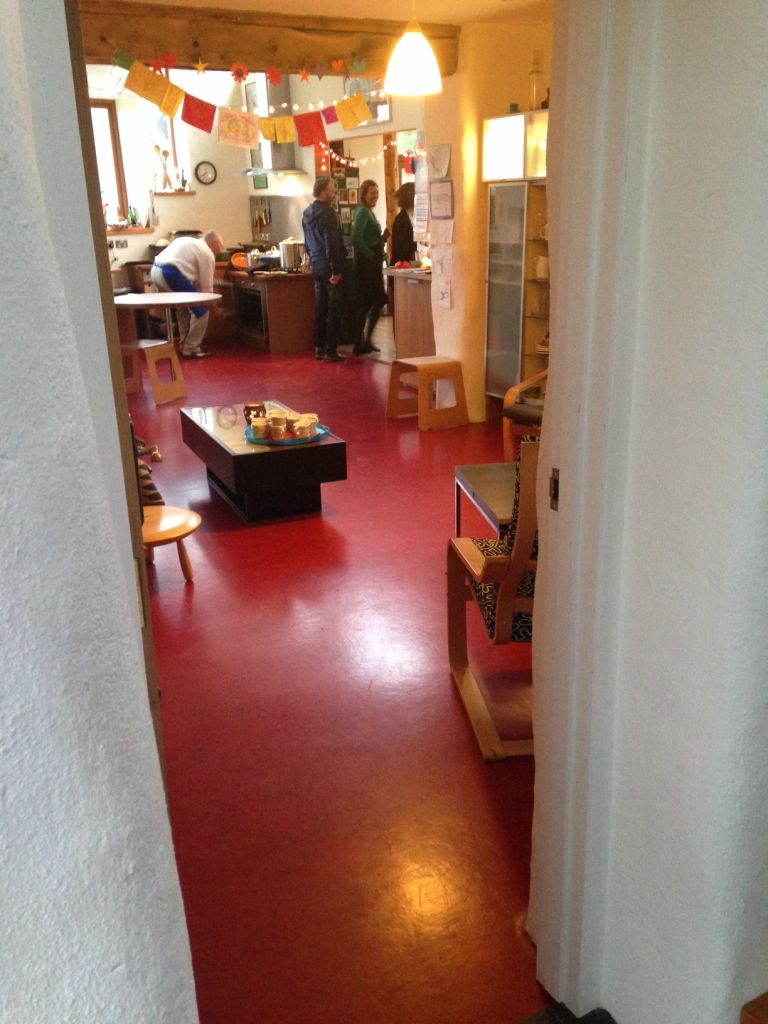 Taking our places we all agreed the best word to describe all of this was exciting. It was so exciting and we hadn't sampled the food yet. The blend of new experience, not knowing what to expect, beautiful characterful surroundings and lively atmosphere boded well.
Chatting to people left and right we discovered a mix of regulars and newbies like ourselves. Chatting to Jo, I learned the pair did much of the work on the house, a converted and extended old cottage, a real labour of love. Chatting to Mike you can't help but marvel at how cool as a breeze he is. I asked him what his secret was and he said 'days of preparation.'
Going to the loo brought more surprise, bear with me. Ever use a compost toilet? Another first for the evening. Even after realising the fact, reading the sign to explain it (no 'or else' this time) I still looked for a handle!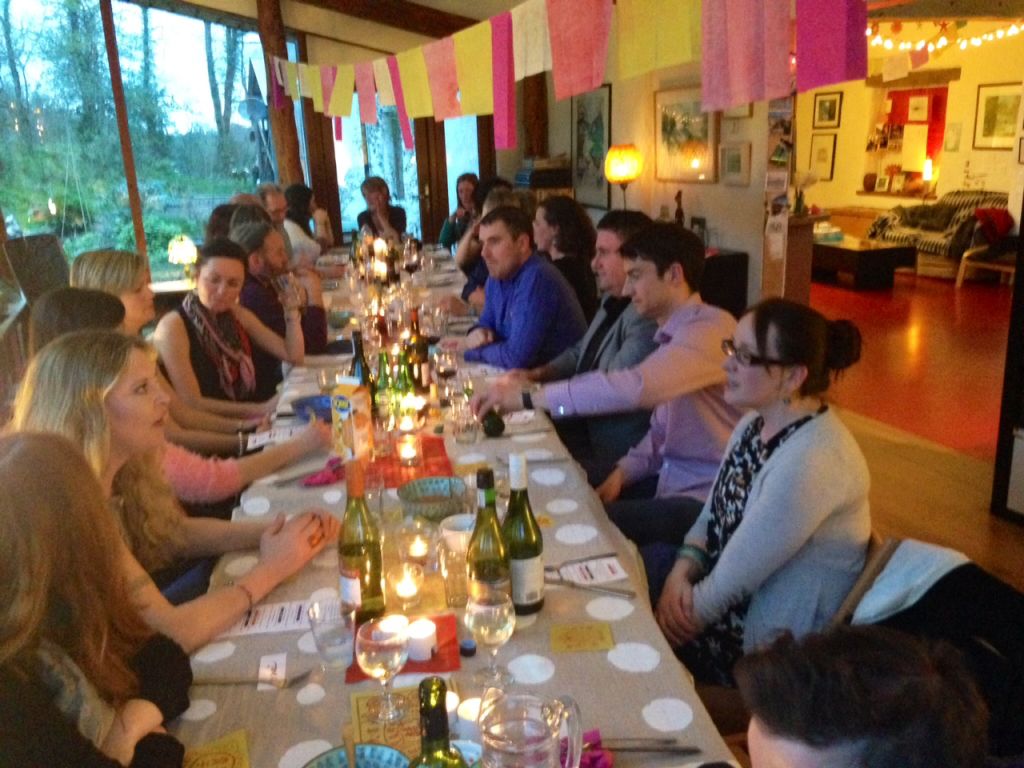 There's Mike working away in the background. Being in this house made me want to redecorate…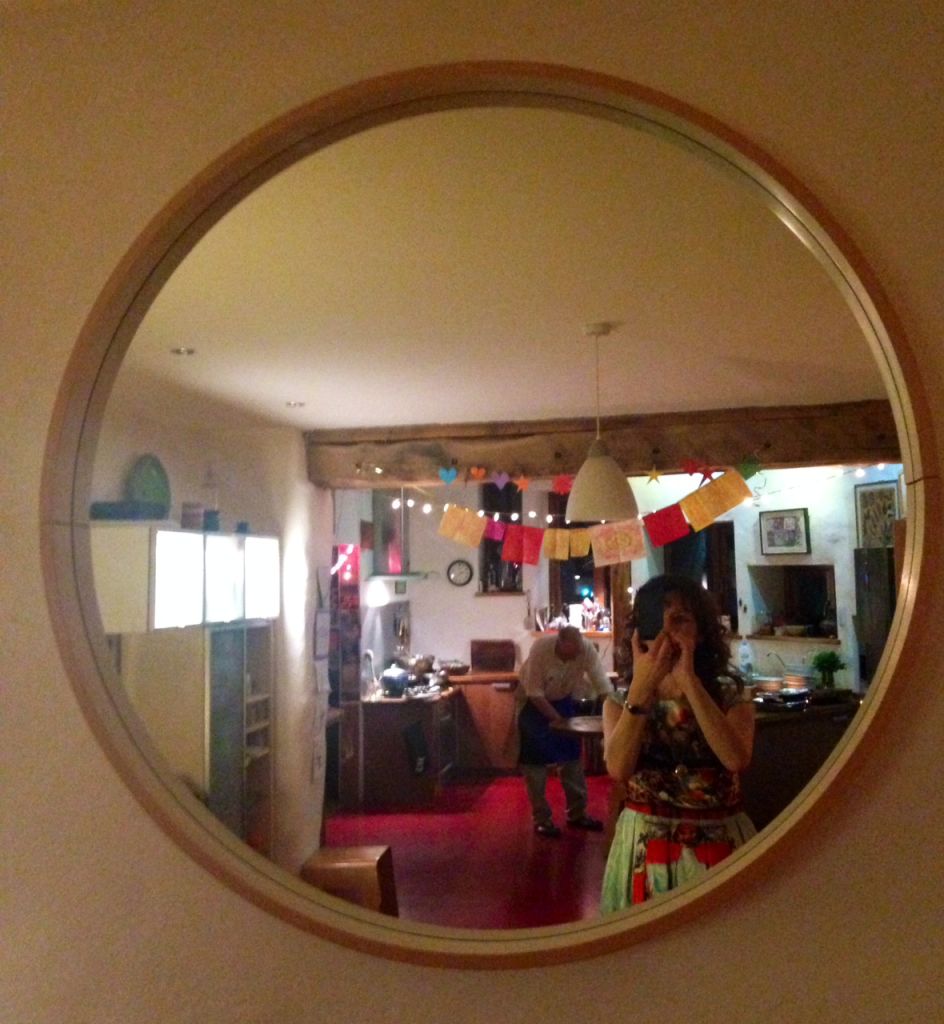 And then the food started coming, drum roll for the menu please…
The Menu:
Soup
Tom Jill – Basil scented potato and shallot soup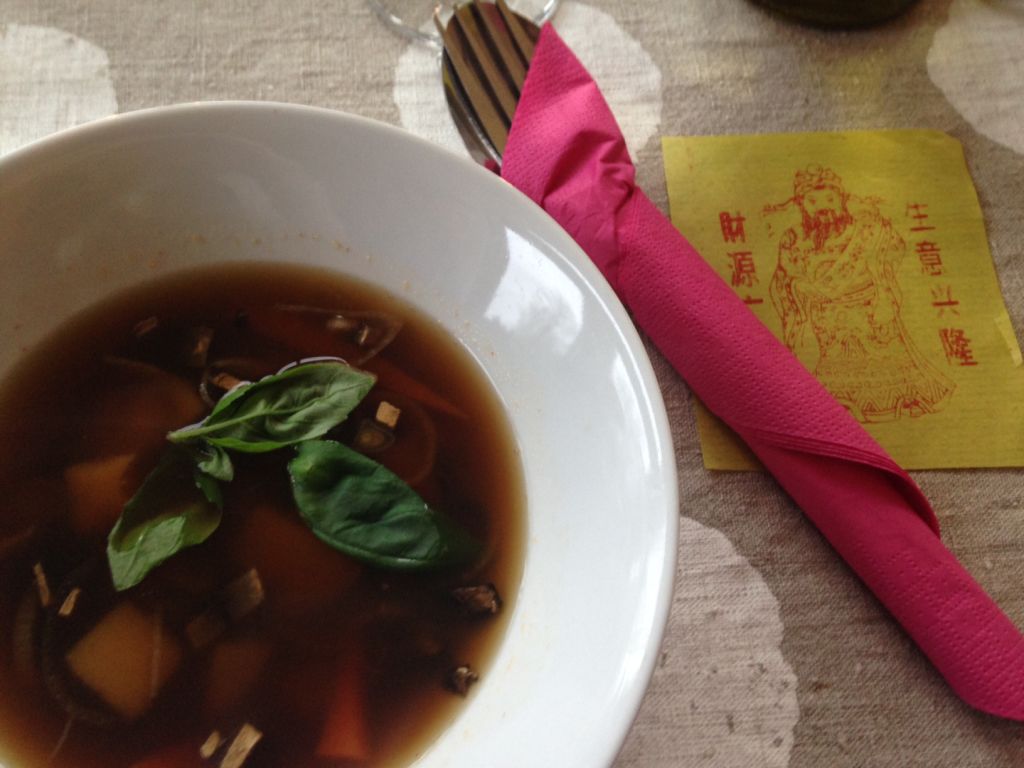 Assorted starters
Satay Het Hom – Marinated grilled mushrooms with spicy peanut sauce
Sa Mo Sa – sweet potato and sweetcorn samosa
Tod Man Khao Pohd – Fried sweetcorn cake
Served with fresh cucumber pickle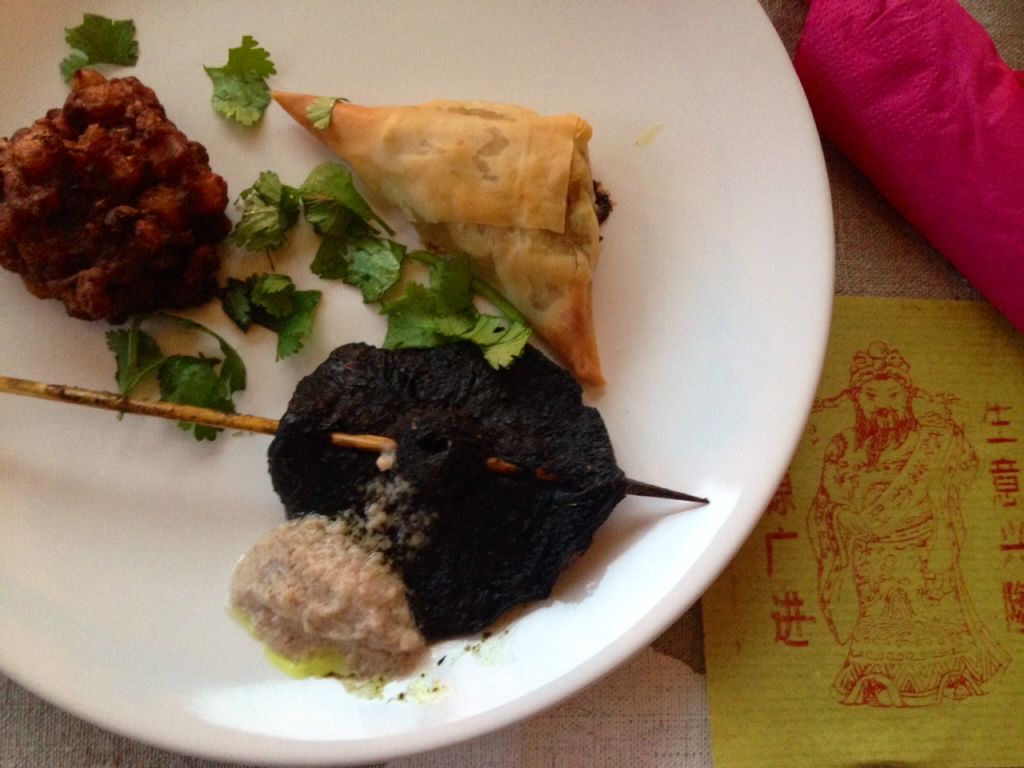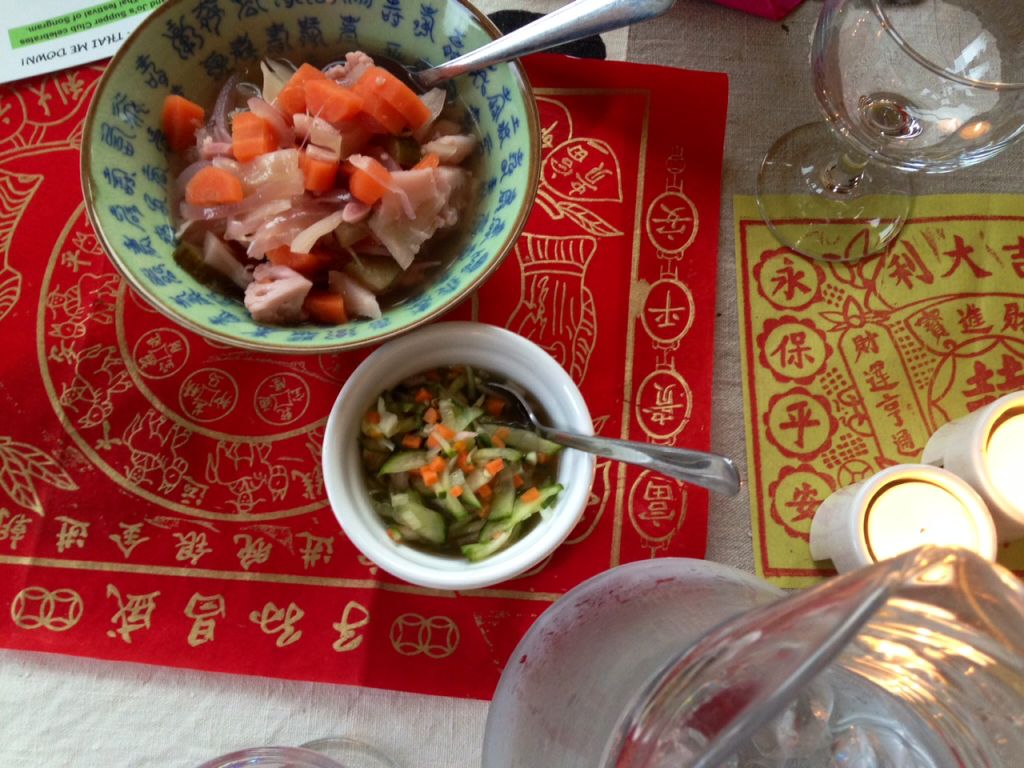 Staples
Khao Pad Krapow – Fried rice with basil
Kow Soi – Chiang Mai curry noodles
Hot Curries
Gaeng Kari Tua – Chickpea and coconut curry
Pat Pet Fat Tong – Chilli pumpkin with lime leaves and basil
Salads
Yam Kanar – Raw broccoli, carrot and cabbage salad
Yam Yai – Many vegetables salad with tofu
Yam Tao Hou – Tofu salad with galangal and mint
On the table
Pak Dong – Vinegar pickled vegetables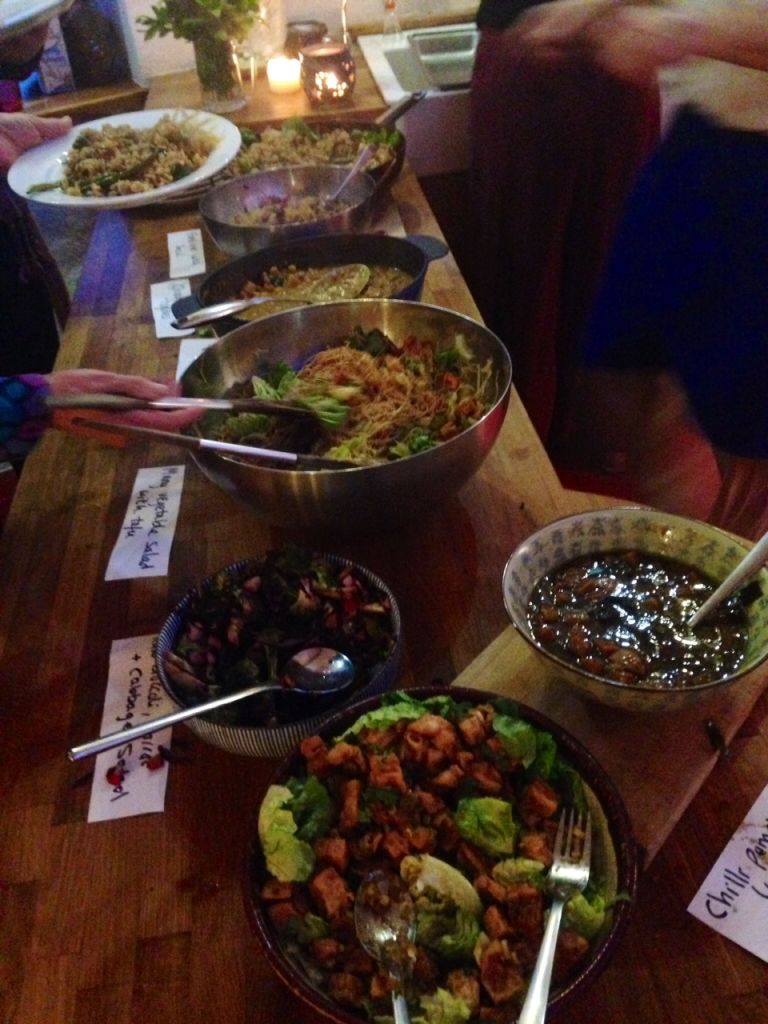 Dessert
Coconut rice pudding with caramel and ginger
Set Mango pudding
Kanom – Coconut and cassava delight
Kleeb Lamduan – Thai shortbread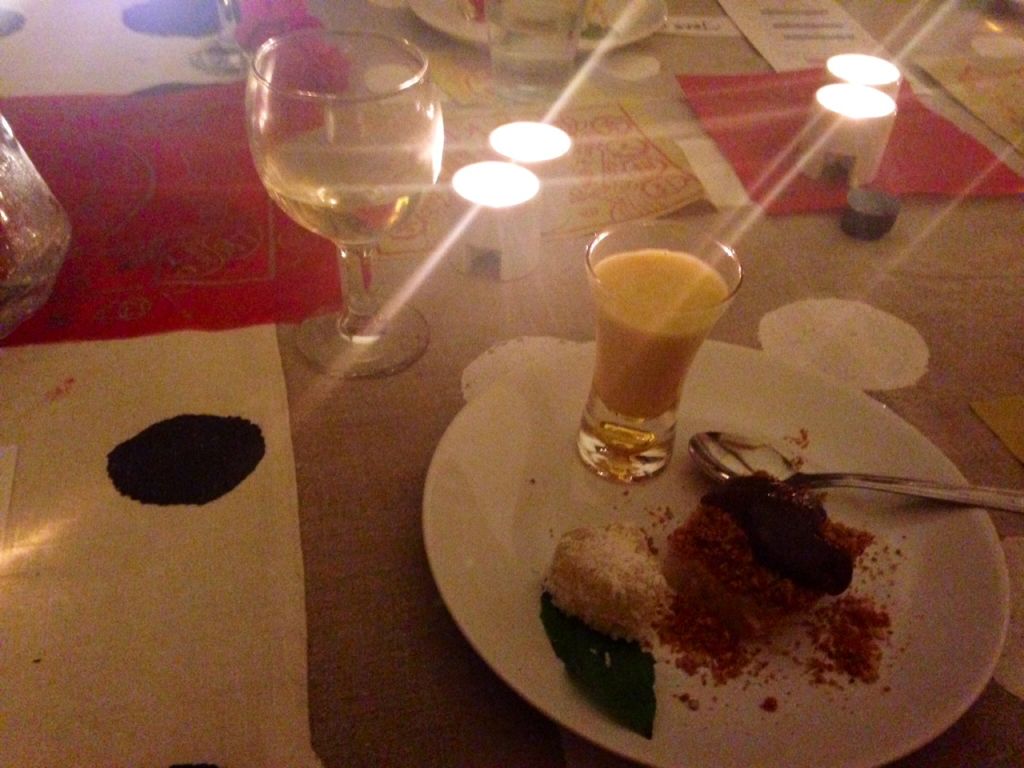 Tea and Coffee.
I'm afraid I can't do the food justice but truth to say I haven't eaten this well in some time and certainly not in a restaurant. Every little thing was so fresh and fragrant and delicious, portions perfectly judged, beautifully presented, second helpings anyone?
As the evening wound down and guests scattered out into the night we wound our way back to south Leitrim all agreeing this was a singularly fabulous evening. It was different, fun, exciting, inspiring and not forgetting delicious. Will we go back again? I think you know we will.
Visit, follow and keep up to date with Mike & Jo's Supper Club by clicking HERE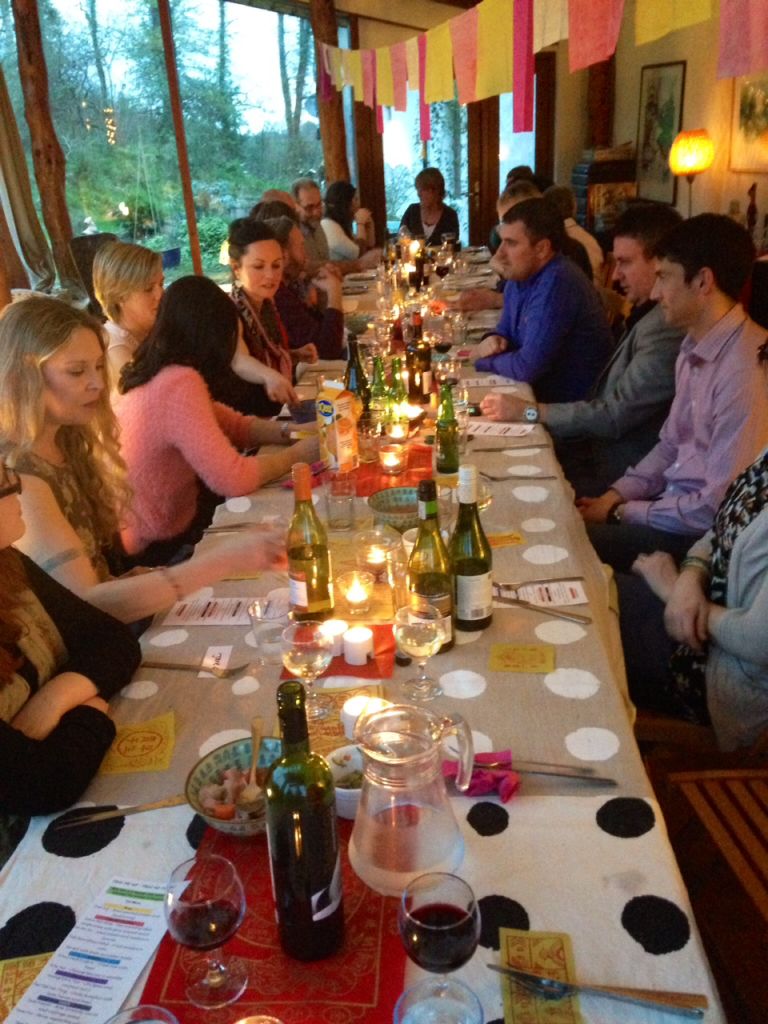 ---
---