My Gatsby Bathroom Dream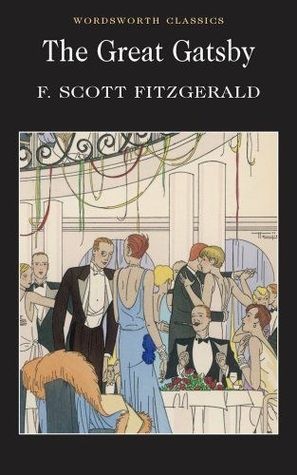 "In his blue gardens men and girls came and went like moths among the whisperings and the champagne and the stars." 
― F. Scott Fitzgerald, The Great Gatsby
I love glamour,literature and style and and few decades were more stylish than the 1920's, few books or writers more stylish than F. Scott Fitzgerald and The Great Gatsby.
While I wait impatiently for the new movie version this month that promises…'decadent, epicurean extravagance & debauchery' (The Guardian, 4/5/13) with man I love Leonardo di Caprio as Jay Gatsby, I've been dreaming up a dreamly scheme for my bathroom inspired by the 1920's and all things Gatsby…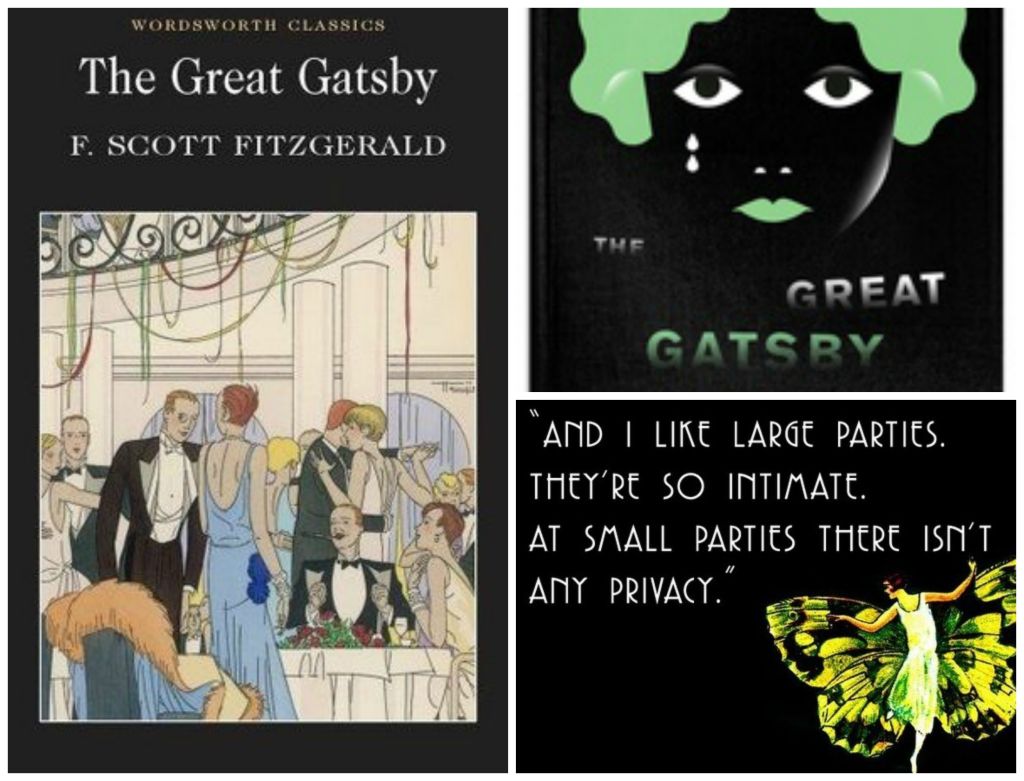 Their eyes met, and they stared together at each other, alone in space. With an effort she glanced down at the table.
You always look so cool," she said.
She had told him that she loved him, and Tom Buchanan saw."
― F. Scott Fitzgerald, The Great Gatsby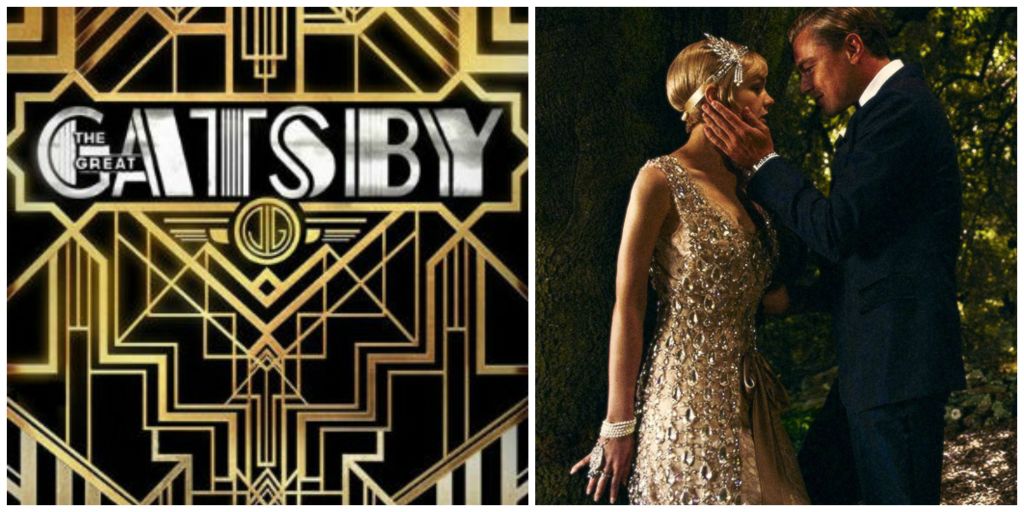 "And so with the sunshine and the great bursts of leaves growing on the trees, just as things grow in fast movies, I had that familiar conviction that life was beginning over again with the summer." 
― F. Scott Fitzgerald, The Great Gatsby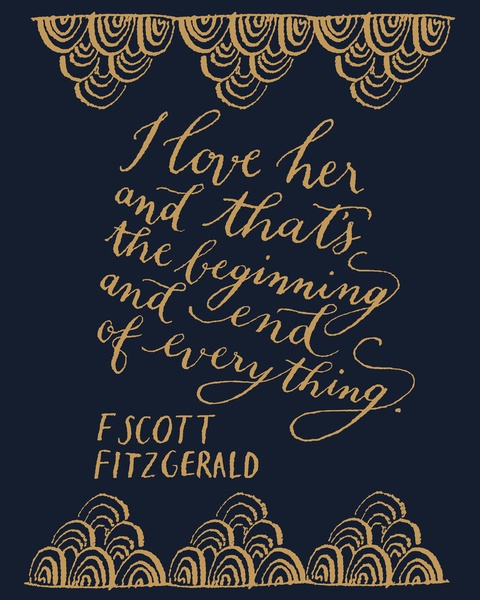 To set the scene for this dream my bathroom has a black tiled floor, a large window with an art deco insert and a free standing roll top bath, a bit slippery but still, lucky me. I've said to Adrian that when we get old and its too dangerous to bathe in we can use it exclusively as a drinks cooler for parties.
I would have art deco style panelling halfway up the walls…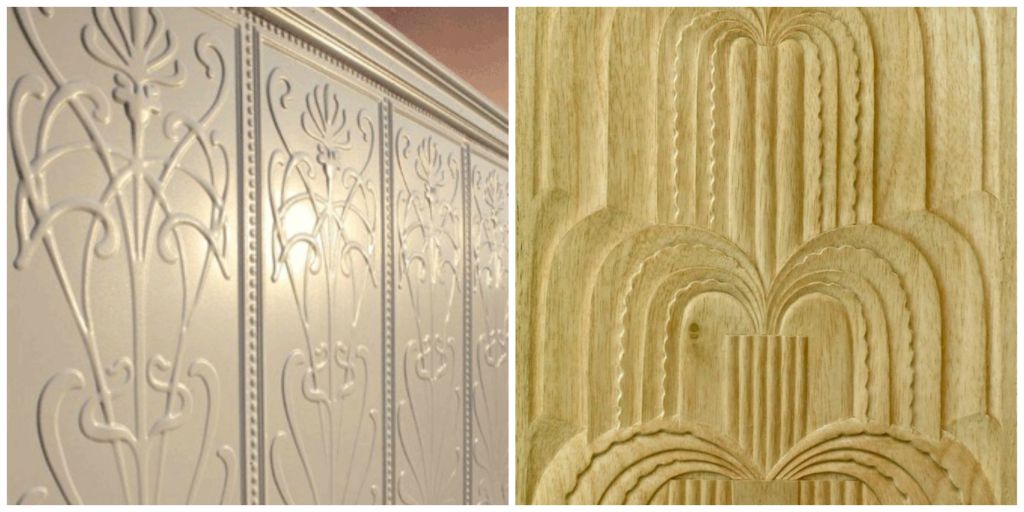 Three of these colours from Farrow & Ball…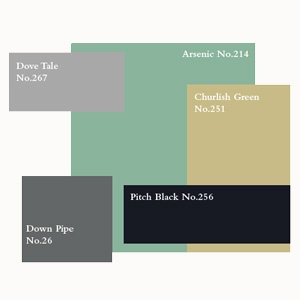 The wall with the window I'd paint in Pitch Black, all of it, the panelling too.
I'd have Dove Tale on the panelling around the rest of the room and also on the skirting, architraving and door.
Arsenic, a simply fabulous colour, I'd have on the remaining  three walls above the panelling.
Here's a beautiful example of arsenic with pink in a bedroom…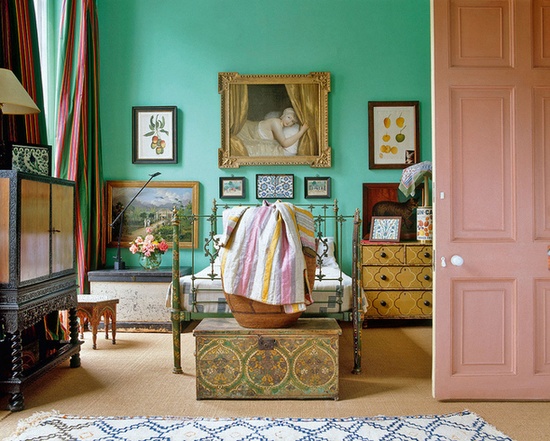 For the lighting I would go for the one of these. The one on the left is beautiful, vintage, art deco and more in keeping with the theme but I might go with the one on the right as I do like to mix my styles and the coloured drops would look stunning against the black and green…Click Here for the Vintage Chandelier Company and Here for the Art Deco version.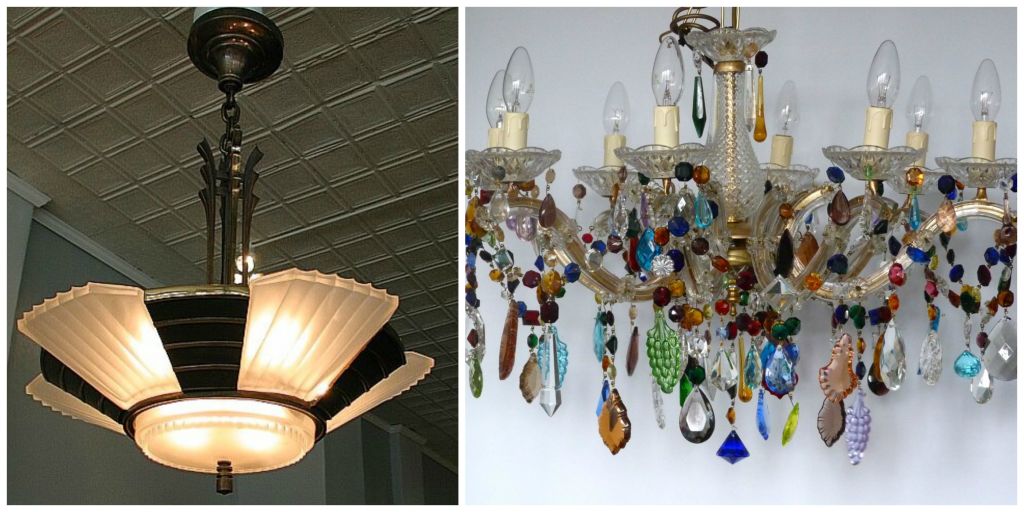 From a slightly earlier time I'd hang this painting by artist I love Kees van Dongen…'Woman with Frill' 1911…I love her pose, her expression and her colours are sublime…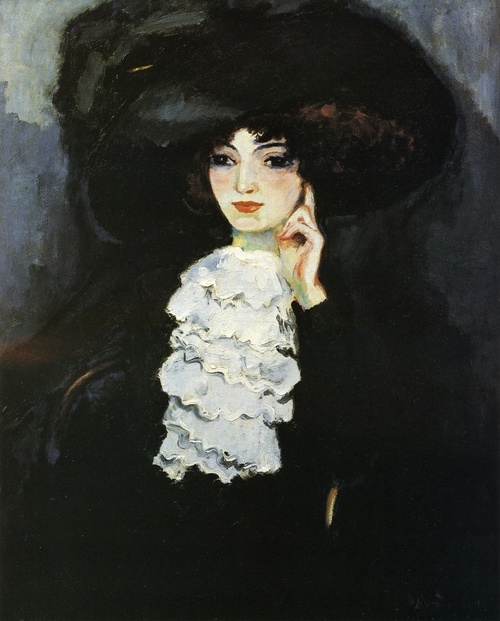 I'd have to have my long time favourite, 'A Challenge to Admiration' by Rolf Armstrong, 1926…along with at least one oversized mirror and one Great Gatsby printed quote but which one? So many gems to choose from…I'm in love with every one and I'm in love with this painting…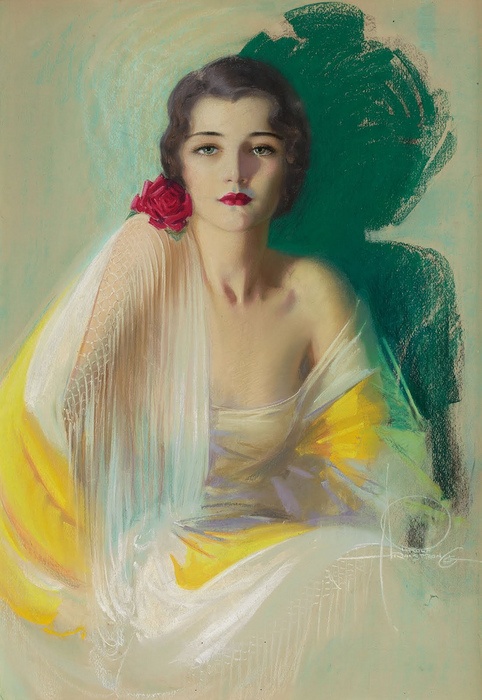 Life's just not glamourous enough but in a bathroom this glamourous we should have a party. I'm thinking eight to ten at a squeeze along with the champagne, the piano and a disco ball so who'd like to come? Not so intimate as a large party but still silly, stylish and fun…
"I'm not sentimental–I'm as romantic as you are. The idea, you know,
is that the sentimental person thinks things will last–the romantic
person has a desperate confidence that they won't." 
― F. Scott Fitzgerald, This Side of Paradise
Woman in Champagne Glass print by Howard S Redell 1930's click HERE
Disco Bubbles print click HERE
---
---