My Make Up & Beauty Products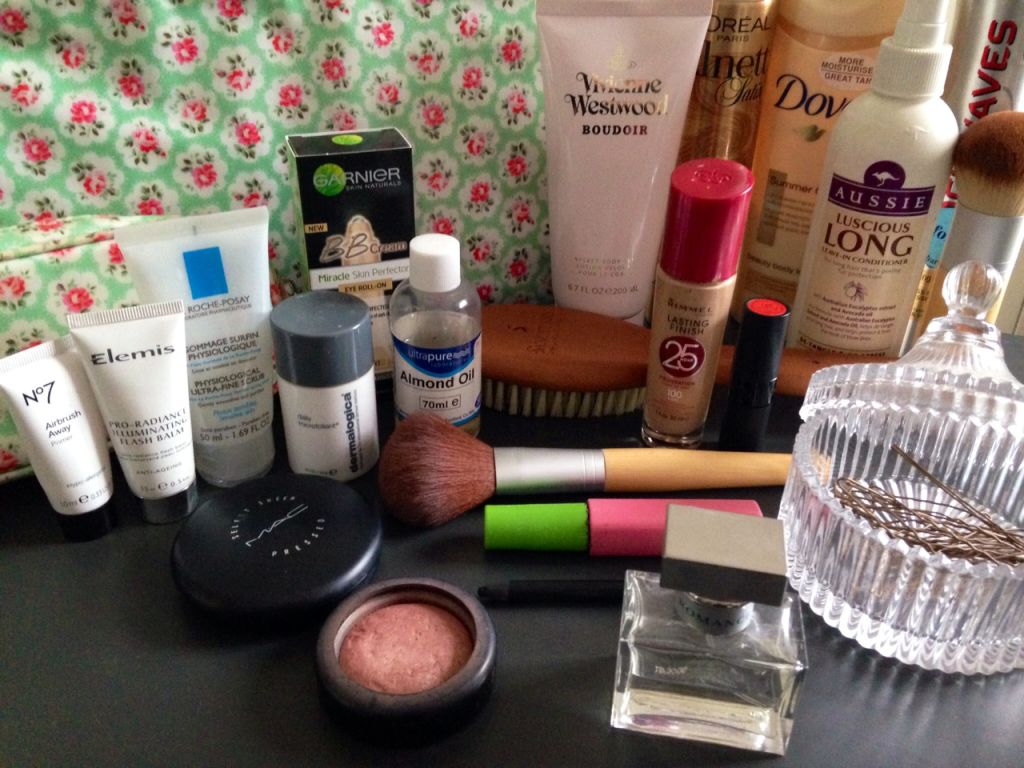 I thought I'd do a beauty post today. I took a notion. If your're anything like me you may have already stopped reading but if not let's compare.
All my life if I had money to spare I would spend it on clothes but when it comes to beauty products and news I've never had much interest. I find the beauty pages along with celebrity interviews in magazines wildly boring and never read them.
Having said that you don't get to forty without learning something and yes even I have some products I swear by and love though I feel without Martha (sister) and Shaylyn (daughter) I'd have virtually none. That as it may, without further ado it's my products laid bare…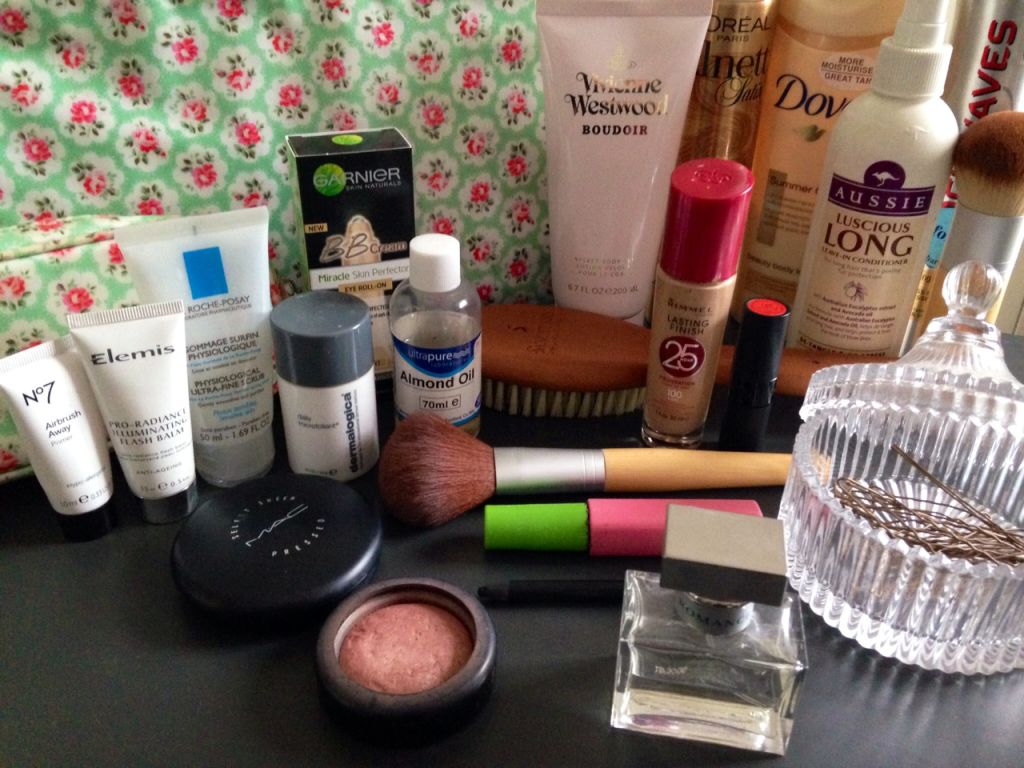 Hair
I can't live without my old style hair pins and buy stacks of them. They're so prolific in this house I even use them as handles for corn on the cob, works a treat. See how I veered from beauty to food there? Moving on…Oh btw I use the pins for my signature up-do. The one where I roll strands of my hair up and pin them down with wild abandon all over my head with no fixed pattern? You do know it, you do. I have tons of hair and haven't used a hairdryer in about fifteen years because to use one makes my arms fall off so this is what I do instead. I'm so used to it now I can do it in record time, in the dark if I have to. No mirror required. I can keep it like this for days, even sleep on it, it's great. 
I spray my do with Elnett hairspray.
When I take it down I have curls – I used to have curls without all this palaver but then, children happened.
I still use Mousse to scrunch my curls when they need a bit more oomph or definition. Good old mousse. It's an eighties tradition.
I will use any shampoo but have a preference for gel as I find cream ones make ny hair greasy. Do you find this? I only use spray on, leave in conditioner and only on the ends.
Face
I use plain, natural, nothing added Almond Oil to clean my face. I buy it in the chemist and it lasts for ages. I always feel that it's nourishing as well as gentle and cleansing.
About once a week (more if I'm good, less if I'm busy) I'll use a gentle scrub for sensitive skin. At the moment I'm using 'La Roche-Posay's, Ultra Fine Scrub' and before that I was using 'Dermalogica's, Daily Microfoliant'.
I will use any rich facial moisturiser with an spf and tend to buy whatever's on offer when I need it. I absolutely adore Dr. Hauschka's Rose Cream but I haven't had it for ages and ages, it's quite hard to find. I love how it makes my skin feel plus I love the smell but it may be too rich for some people.

By the way if you want an ad for taking make up off at night, it's not me. The only time I'm certain to do it is when I'm getting up at the crack of dawn to write and don't want anything to slow my pace i.e. eyes I can't open don't help much with writing. Who knew that writing would be good for my face.
Body
I use a body brush (unless I forget) before my bath or shower.

I will use any body moisturiser but right now I love this divine 'Boudoir by Vivienne Westwood' which I picked up for just €6 at TK Maxx.
When I want a hint of tan I use nothing more than Dove. I'm naturally quite sallow and find it's enough for me. I don't bother at all in winter and just stick with the perished look.
My favourite perfume is Ralph Lauren, Romance 
Make-Up
I've only started using a primer in the last few years (they go on after your moisturiser and before your foundation, in case your're as clueless as I am). I'd heard of them, but it wasn't until I got a free sample of Elemis Pro-Radiance Illuminating Flash Balm that I became a convert. I still have that sample plus a sample of No7 Airbrush Away Primer. I love both of these products and intend to keep using them from now on. The Elemis one definitely has that added glow or radiance to give you a boost on a tired day while the No7 one bonds your make up like glue, nice glue. Of course it could be my imagination but they both seem really good at filling pesky laughter lines.
For base I use Rimmel Lasting Finish 25 Hour Foundation in number 100 Ivory and I adore it. Great texture, cover and staying power and only costs €10 or €12 depending on where you buy it. You should definitely try this one.
Since the grand age of 35 I've been using a Mac pressed powder which I put on with a good brush for a less 'caked' finish (never a good look) It's expensive but I've never found the coverage so good with any other brand and I make it last a long, long time. Anyone have any other suggestions?
You may be shocked but I've only just started using concealer. Martha bought me Garnier's BB Cream, Eye Roll On Concealer and it's magical. I don't know how I've lived so long. I highly recommend it. (Btw, it goes on top of your other make up)
I like a little blusher on top of the face powder, again applied with a good brush. Since my last birthday I'm using Mac 'Warm Soul, Mineralize Blush' which I think is officially a bronzer. Anyway it's a browny pink.
I use black eyeliner or kohl. Any kind so long as it's black.
Sometimes I try other mascara's but I always end up going back to Maybelline's famous 'Great Lash' mascara in black of course. It doesn't clump or run and that's what you want right.
My lipstick of choice at the moment is a gorgeous bright reddy coral, 'Dangerous, by Gosh'. I absolutely adore this colour. It's not very expensive either though I can't think now how much.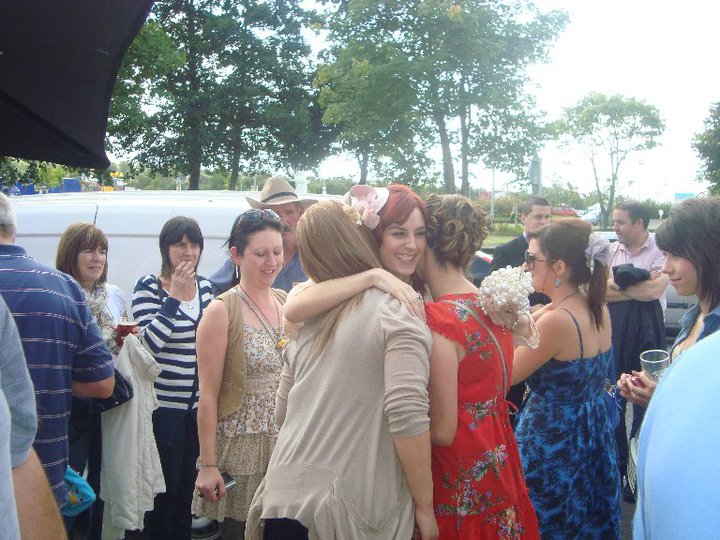 So that's my list. It's a list to make a modern day teenage girl cry with laughter. Aside from teenage dabbling of my own, I started using perfume in my late twenties, (some) more expensive make-up in my late thirties, primer and make up brushes about two years ago and concealer this year.
I've always been a bit of a late bloomer.
I suppose it comes down to a combination of generation (certainly the 'sparing' mentality) and if your're a products person or not? What do you think? What are your beauty swear-by's, bargain finds and can't live without's?
I have to thank my daughter Shaylyn and my sister Martha for dragging me somewhat to the 21st century in the make up department. Thanks you guys : )
---
---