My Novel 'CAILLEACH' To Be Published In September.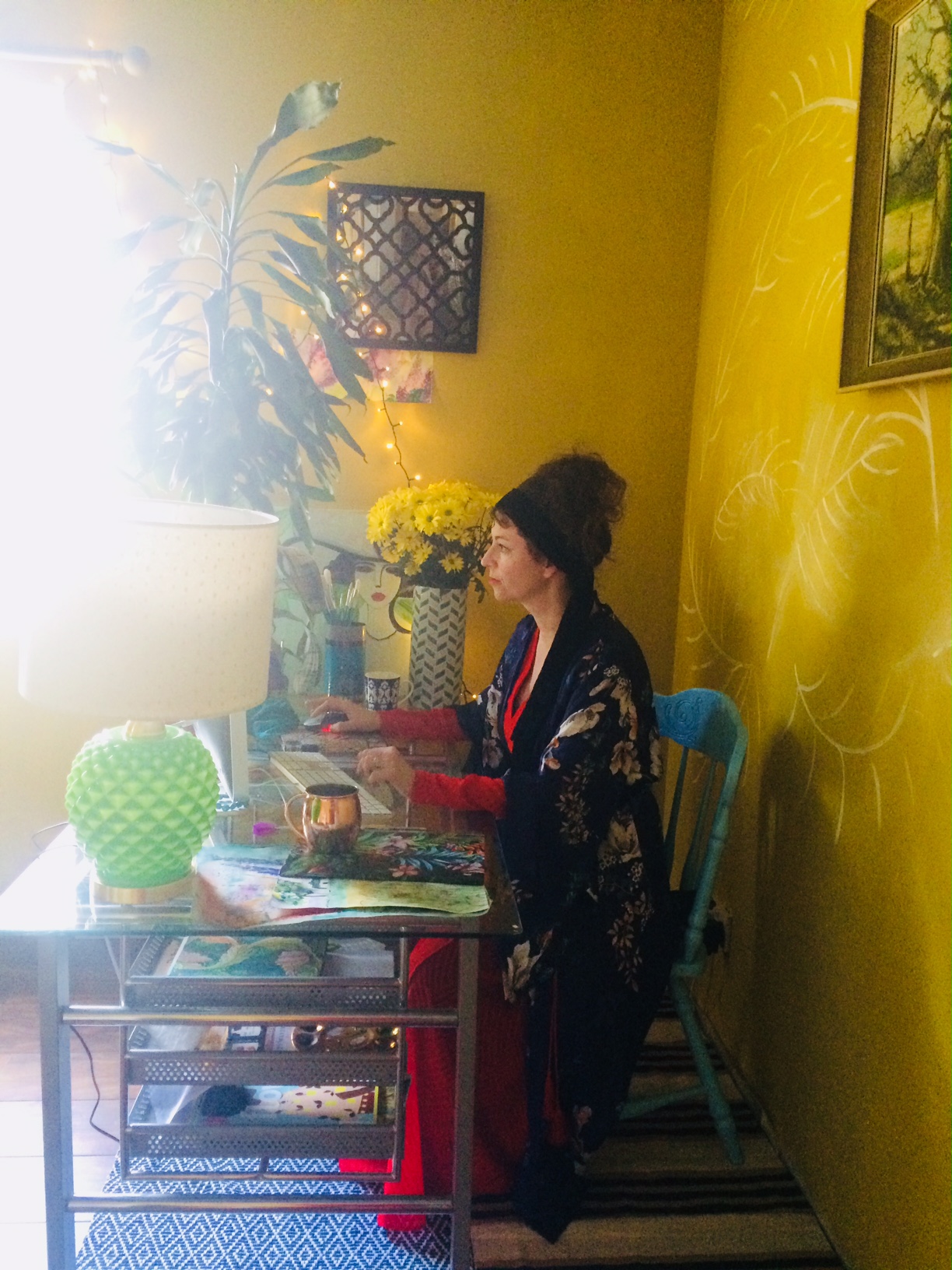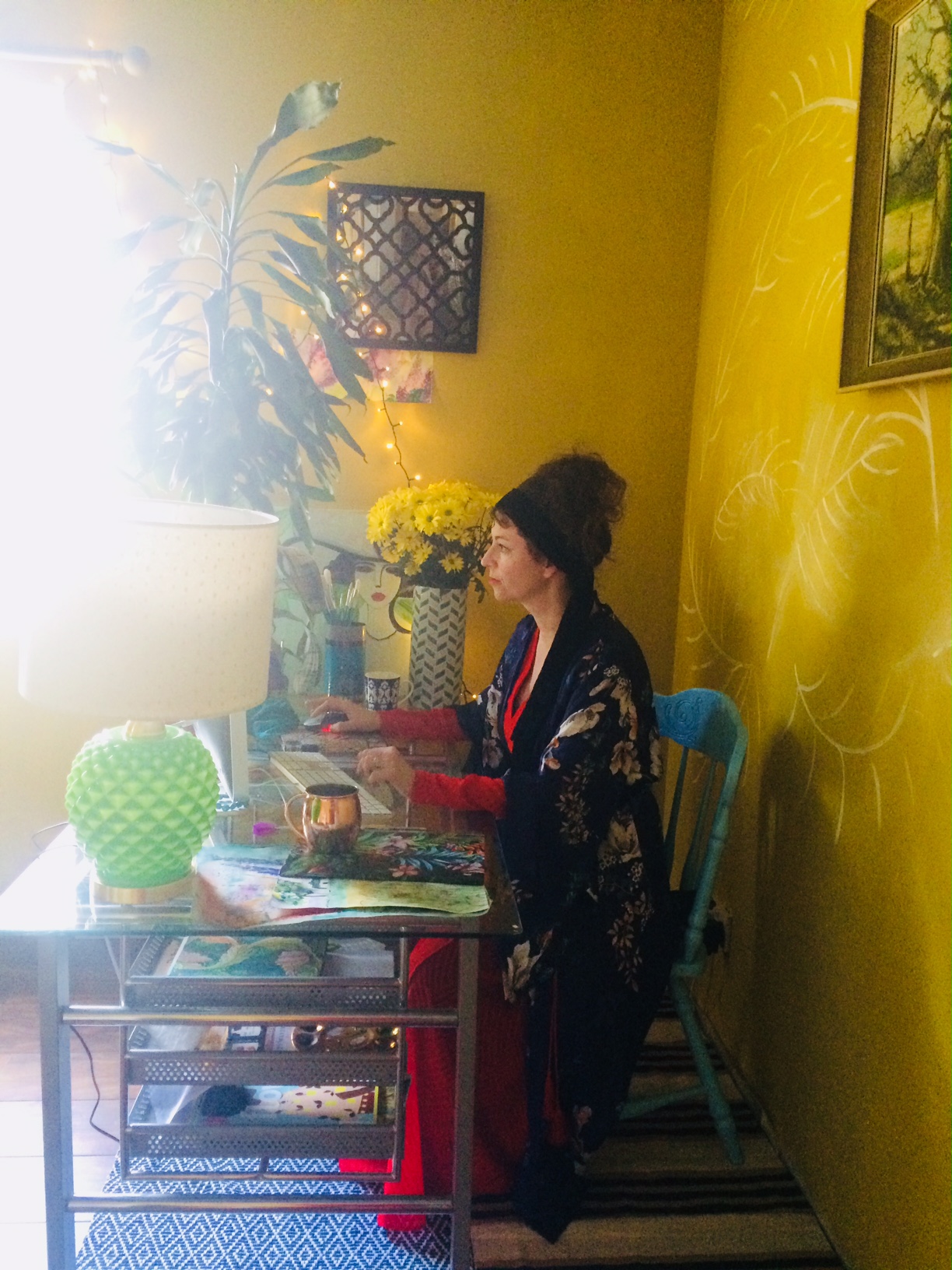 Three months into 2018 and already so much has happened. Here's my rundown of January, February, and March, with all the latest on the book.
Things got off to a flying start this year with the launch of my online Curiosity Shop, and a Vision Board Workshop here at the house. The perfect opportunity to set intentions for the year ahead with a group of creative, inspiring women. It created a sparkling energy in the house too that lingered through endless January.
Also in January my Creativity Coaching spots sold out in record time. You can read more about my Creativity Coaching by clicking HERE.
We finally decided to re-claim the downstairs bedroom/junk room into a new studio space. The decision once made sparked our biggest house de-clutter yet. This, magic of tidying up, is something I've come to appreciate more in recent years. Can a maximalist with children ever really de-clutter? Why of course she can! The fact is my surroundings have such an impact on my mood and energy levels that it's worth the effort.
I used the energy created in the move and by the new clear space to power through my Art Therapy course and exams. My first exams in sixteen years. Art Therapy for the design and implementation of Art Therapy workshops, using artistic activities for social, educational and personal development. Doesn't it sound lovely beyond belief? Still not a fan of exams though.
It was the perfect course, at the perfect time. A consolidation of the work and experience I've collated over the years. I enjoyed it and look forward to incorporating what I've learned into my creativity and writing workshops. But moving on now, times a flyin.
Always on my mind, the book.
I had a tentative plan to publish this year. I learned it could take years to find an agent, then more years to find a publisher. Years, was not something I could make peace with. In my heart the feeling grew stronger, that I should be an Independent Author. I have the enviable platform, the marketing background. I decided to work towards publishing this year. I still had some work to do on the book, and I needed to find an editor.
So I had a mini heart attack when I looked at dates and available days for the book.
With so many school holidays this time of year, along with other commitments, this was my first speed wobble. It looked like I'd have very little time for it. And in that moment I knew for certain that I wanted to publish it this year, now. I've been working on this project for six years. Not consistently but every chance I could get. And now it looked like I'd be lucky to get it out this year. No, wasn't having it. And it seems like the book itself agreed, or rather the Cailleach. Because we got snowed in.
It was the best thing ever happened me. My dream is always to work all day, until mind and body collapse. Just work, nothing else. And that's exactly what I did. The weather meant Adrian was stuck here too (insert evil laugh) He took care of things here and I took care of the book, doing more work than I thought I'd get done before May, in three days.
Clearly the Cailleach, the spirit of winter, was behind it. She must have decided she wasn't going to sleep this year until the fate of the book was decided.
And then something even better happened, and fast.
I found an editor. She came highly recommended and after seeing her work, and chatting over and back I decided to go with her. I'll be working with her on edits through the summer and the book will be AVAILABLE TO BUY ON AMAZON, AS A PAPERBACK OR DOWNLOAD FOR KINDLE ON THE 17TH OF SEPTEMBER. My birthday.
In the meantime I'll be looking into cover design and developing my marketing plan. It's all very exciting. And though I knew it was going to happen one day there is still an element of disbelief. I am thrilled to have a plan, a date, help now to bring it to publication. And yes even an end, to what has been an incredible journey, this process of writing a book.
And if you're a regular here you already know that this wasn't all that happened so far this year.
I told Adrian, after I finished the course, that I wasn't taking on anything else for a while. And what did I do? I dived headlong into a major life change by signing up to Joe Wicks, The Bodycoach, 90 Day Plan. As someone who hasn't exercised since her teen years and enjoys a glass of wine this is pretty extreme. I'm into my third week now and my legs are mostly too sore to stand on, and sick to death of cooking and cleaning, but I am still here. I'll share an update on how that's going at the end of week four. If you missed it you can read about my first two weeks on the plan plus my reasons, motivations etc by clicking HERE.
I almost forgot! I reached 13,000 followers of That Curious Love of Green on FB in early March. FB is not the nicest place to be these days but it's still my favourite place to post, and it's the space I have most engagement with readers. Still love my page! And my baby page, another platform to promote the book; www.facebook.com/cailleachnovel
I'm going to leave you now but two more things before I go. Last night I searched out my vision board of intentions for 2018, the one I created back on the 6th of January. And it was all there, all of it as I've described. Down to words like fitness, health, strength. How cool is that.
Secondly, I love the philosophy of Osho. I can confirm that I have lived these theories to the max. If you're reading this and wishing you could do these things you can. You're the only one will stop you. I for one will cheer you. I think everyone should take control of their lives and do whatever it is they want to do without excuse or delay. Once you start down this path you will become addicted, to the power of the self, the freedom, the joy, the exhilaration, of creating and living your own life.
xo Jane. You can rest a while now, Cailleach.
"To accept the challenge of the unknown in spite of all fears, is courage. The fears are there, but if you go on accepting the challenge again and again, slowly slowly those fears disappear. The experience of the joy that the unknown brings, the great ecstasy that starts happening with the unknown, makes you strong enough, gives you a certain integrity, makes your intelligence sharp. For the first time you start feeling that life is not just a boredom but an adventure. Then slowly slowly fears disappear; then you are always seeking and searching for some adventure. Courage is risking the known for the unknown, the familiar for the unfamiliar some unknown destination. One never knows whether one will be able to make it or not. It is gambling, but only the gamblers know what life is." 
---
---