New Adventures
It gives me great pleasure to say that I drove to Carrick on Shannon for the first time today since learning to drive in the autumn.
Carrick is a beautiful town, you guys would absolutely love it, it's about 30 minutes from here with a farmers market every Thursday from 10 to 2. I've never been able to go though I've always longed to.
My driving experience to date is the school run so I'm feeling pretty happy right now. As Anais Nin said;
"The day came when the risk to remain tight in a bud was more painful than the risk it took to blossom"
And off I went, with my little boo Sadhbh as co-pilot. No sooner were we out of town than she said, 'Mammy…I'm going to be sick.'
Thankfully she wasn't and before too long she was saying, 'I'm so proud of you, you can do it,' and do you know friends, I thought the same myself.
As I've never been through a roundabout I parked on the edge of town, rang my mum, my dad, my husband and messaged all my siblings and eldest child before strolling through the town. Once at market we bought a coffee and a 7up and sat soaking up the atmosphere, admiring everything.
I was lucky to chat with a few women I greatly admire, my dear friend and artist Sandra Vernon plus my neighbour and friend, health guru Marie Bradley Health Concepts and, on the way back to the car, entrepreneur Deirdre O'Connell at Lena's Tea Room.
And guess what? I made it home!
And guess what else? Not one thing did I buy in that beautiful market.
Though I was surrounded by dizzy scent of baked bread, fresh organic veg, sustainable fish, meat, eggs and so many beautiful flowers I was just TOO excited, too distracted. My own sense of freedom was more intoxicating, more heady by far. Next week…next week…for I'll be back, dear market.
Brace yourselves folks, this may be the start of roving reports…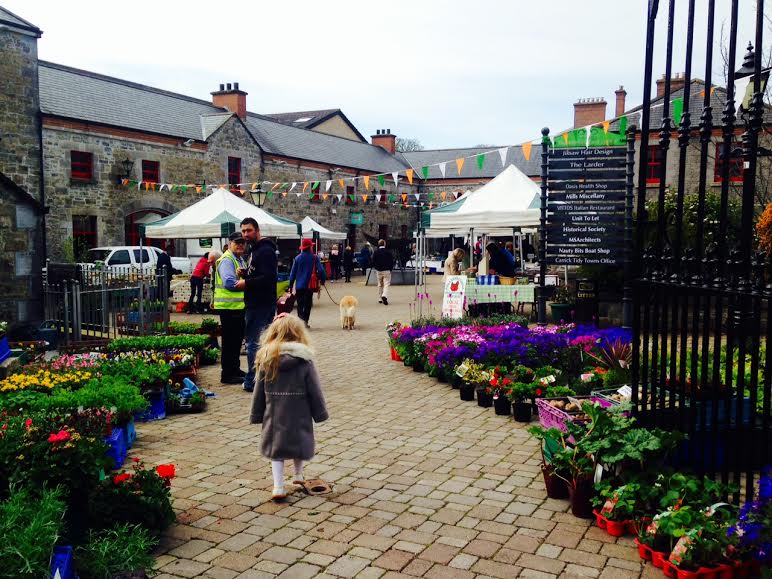 ---
---