My New Year goal: To reach 60,000 words in the first draft of my novel by Easter Sunday, April 20th 2014.
12th – 24th January – 10,000 words. Total word count 40k
25th-30th January – 10,000 words. Total word count 50k
1st – 7th Februray – Took a break
7th-16th February – 3,000 words. Started well but hit a wall.
Week starting the 17th of February -Had to go away for the rest of the week at short notice.
21st of February – Announced 'I'm going for the 60k this weekend.'
22nd of February – 2,000 words. Total word count 52,000 
23rd of February – 5,017 words. Total word count 60,017


Days left to Easter – 55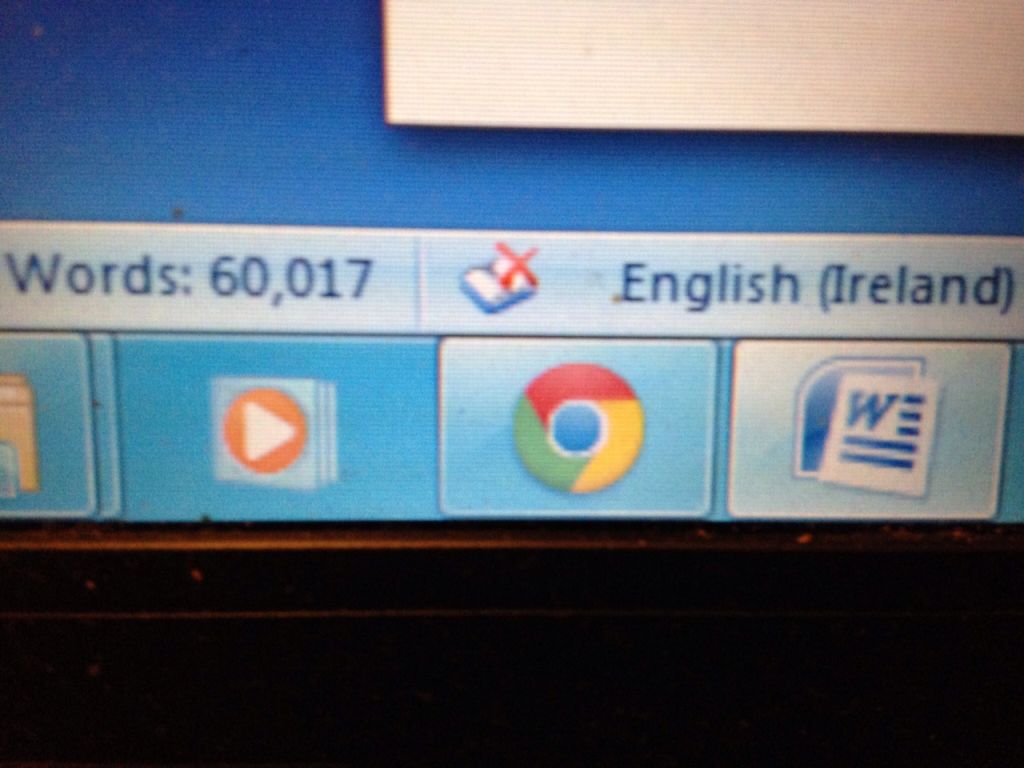 Looking at the list above I can hardly believe it myself. I know it's great and I so want to savour it but I find I can't do that for long. Now if I had failed at my goal or not written at all I could beat myself over it endlessly. Aren't we awful the way we do that? The way we're so hard on ourselves.
In no particular order, here's my latest musings from the frontline of writing a book…
I have to write in the morning only I hate the dark mornings so I never dreamed I'd write so much as I have through January and February. 
The last 20k was much tougher to write than the previous 20, I think it's what is called 'hitting the wall'. There were a number of reasons for this…
First my internal editor wanted to go to work and it's not time for editing so I had to resist the temptation and keep saying, 'not yet, not yet, not yet.'

Second I had left a number of difficult parts to one side and now had to actually write them which was bloody hard.

Thirdly, while before I wrote very freely I now felt the need to consciously link things up more and became a bit bogged down wading backwards and forwards plus that takes a lot more time. I considered printing the whole thing off but decided against it just yet as I feel that's going to plunge me into editing and I'm not finished writing yet. Any thoughts on that if you've done this already?

Fourth, I had some trouble with names. As you know I felt the characters with names that felt right were faring much better. 
Fifth, I have a habit of choosing the most difficult road possible for everything I do and the book is no different. Instead of writing from the point of view of one character I have several point of view characters across generations and have to go back and forwards in time. As if that wasn't bad enough two of my characters may be about to switch places as the one I thought was the main one may no longer be. If this sounds confusing you should see it from my side, honestly.
In spite of this I feel the book could be read now and make sense…well practically. At one point I considered changing the entire format to make it easier but have decided to keep winging it for the moment, God I hope the format doesn't need to change!
Right now this is what I do. I have a number of scenes I know I have to write so I'll find their location or as close as possible and without looking forward or back I'll just write it. If I'm finding it difficult I'll write as if telling someone about it, I'll say 'so what happens here is'…and go on like that. Sometimes that's all I need to trigger the proper writing as I call it.
Sometimes I go from the start and pick up places that I hadn't written enough on or properly and go with those or edit parts already done (naughty)
More and more I find that something I write requires a change or adjustment in an earlier part or even better I find that things unfold as if I knew they would happen, had planned them from when I wrote the first chapters and it all makes sense now, which is mad.
Every now and again I feel a bit oppressed by all I have to do yet and the complexities of it but then I look at how far I've come or I just go on the attack like I did this weekend.
Next up is to just keep going until I know every bit of it is written, I'm so close now. By Easter my first draft will be done and the mornings just keep getting brighter….
Coming next on the blog this week, a belated entertaining post with food and photos. Have a great week and chat soon, take care of yourselves…