Pneumonia
Seems I have pneumonia. Not confirmed but my doctor says he's pretty certain. I've been in the wars for a while and let it go on too long. I just didn't take it seriously until I had to.
So a long running cold turned into a chest infection, compounded by the return of my middle back pain, a legacy of pregnancy, means I've had a ring of fire slowing me down, I'm coughing and wheezing, my breathing is woeful. I soldiered on but finally conceded when normal life became a problem, going upstairs, any exertion, feeling tired, which I hate more than anything and went to the doctor a few weeks back.
He gave me antibiotics which unfortunately didn't work. Now he's sending me for a chest x-ray plus I'm on more antibiotics, plus steroids, and I have to go back in a week. I'm waiting to be called back to physio for my back also.
Anyhoo! In the meantime I'm going to try take it easy. What are you laughing at?
Well I'm thinking more writing, more reading, more painting, less housework.
I'm giving myself permission to just do more of what I like to DO. Every cloud…no pun on lungs and clouds intended. Thankfully pneumonia is not serious as it used to be and I should be back to myself in a few weeks please universe.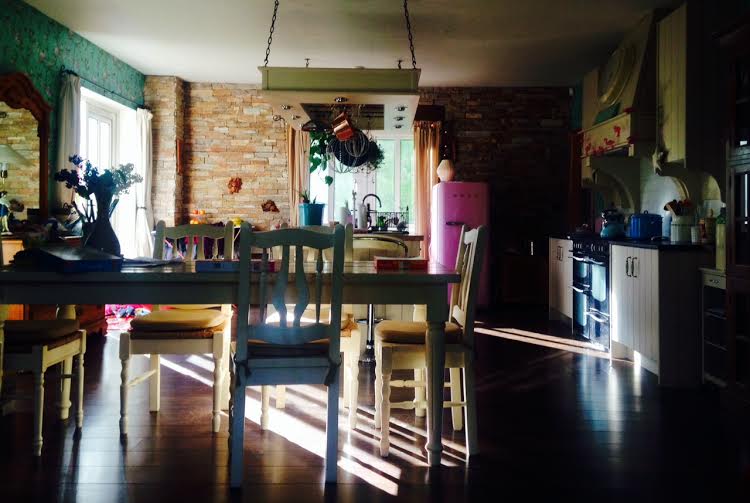 In a nod to pneumonia I took a break from editing my book this morning, though it's going well, for research. I realise that doesn't sound like a break but I am enjoying it.
In my experience of writing 'one' book, it's been a case of write first, research, last.  And in my case at least, I'm surprised how much I knew without consciously knowing. How is that you might wonder?
Well I believe it's that my themes are simply human themes from the feminine perspective. Themes we share and feel through our uniquely human superpower, consciousness, imagination without limit. We are modern humans i.e. consumers, the opposite to most people who ever lived, who depended on and were intimately close with landscape but that is still what we are, and it speaks to us on a very deep level.
Stories of the wise-woman healer and the cailleach, supernatural female landscape figure, so imbued with a sense of power and the mysterious are at the heart of my book and I think, at the heart of us. In my research I'm exploring what has loomed radiant in my story, our love affair with mystery, magic, symbols, and hope for meaning.
There is a universal fascination with other world concepts, realms beyond understanding. We don't have to believe anything, but we still can't resist it. This is of course why we accept fantasy stories without question. We're hardwired not to analyze but to experience, to wonder, to dream. We are adults, we believe in magic.
While my story is set in Ireland and not full fantasy more magic realism, it seems the landscape and climate of Ireland's north west has been one of the things that has captured my beta readers hearts most and that I believe is a kind of magic, our intimate bond with the wild place of our birth. But it is still I think a universal story as the themes are universal, mystery, the feminine, the natural world, love, friendship, seeking, loss, landscape, desire, meaning.
And so the (re)search continues…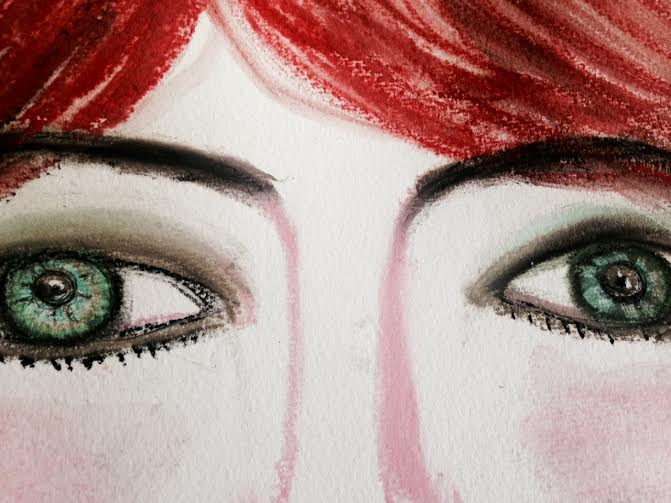 Also today I'm meditating, for me that means painting. I always find it difficult to start but lose myself once I do, in the nicest way possible which is I am no longer an embodied creature with back pain, angst or pneumonia. I believe creativity too is magic and best of all free. These days I'm working on faces, a signature face for my paintings based I think on my own and Shaylyn's, my eldest daughter. It is difficult and peaceful, it is not at all cerebral or hard as writing though, I love it.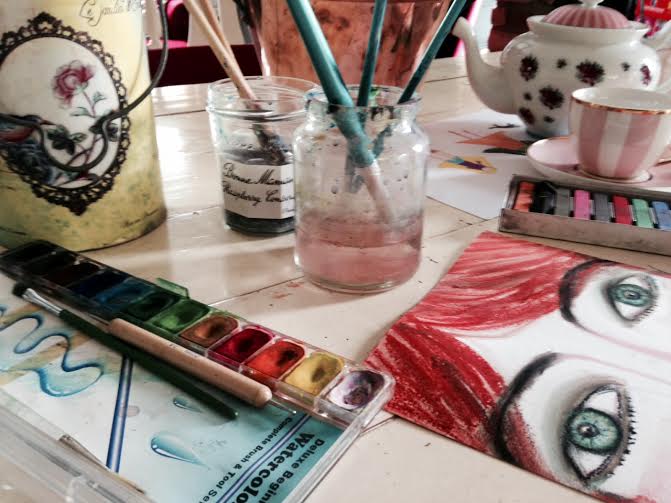 I'm reading May Sarton's 'The House By The Sea'. I almost finished in the doctors waiting room. I adore that wonderful woman but having read three of her journals my favourite still has to be 'Journal of a Solitude'. Her observations, her mind, so beautiful, inspiring, relatable.
Next on my reading list…Susan Sontag, Annie Dillard's 'Pilgrim at Tinder Creek', philosopher Bertrand Russell, Joyce Carol Oates, the Anais Nin diaries, more of Doris Lessing, the novel 'Mistress of Spices' and in poetry I really want to get my hands on volumes by Mary Oliver, Edna St. Vincent Millay and Sara Teasdale. Oh they are too wonderful, all these people, radiant, painfully brilliant and luminous. I'm hoping their 'sheen' will rub off 🙂 And you know I found them all through running the fb page for the blog because I'm always hunting quotes and poems to go with the paintings I share over there 🙂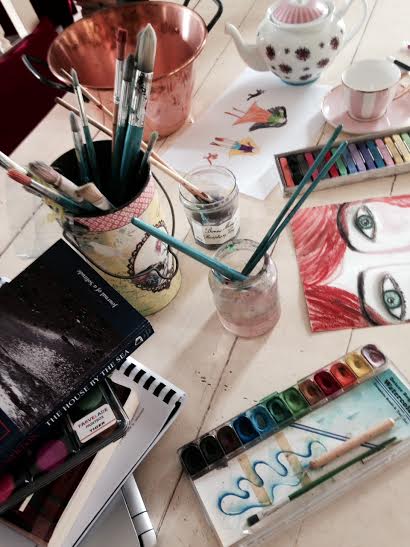 Now I'm tired, I'm going to make soup, onion I think, or sweet potato, or parsnip? I have little energy and too many vegetables so soup is the answer, and a simple prawn and vegetable curry for dinner methinks.
Self care, self care, take care of yourselves out there. Send me good vibes, expect mine and I'll talk to you x
---
---