Eating, Writing, Dreaming…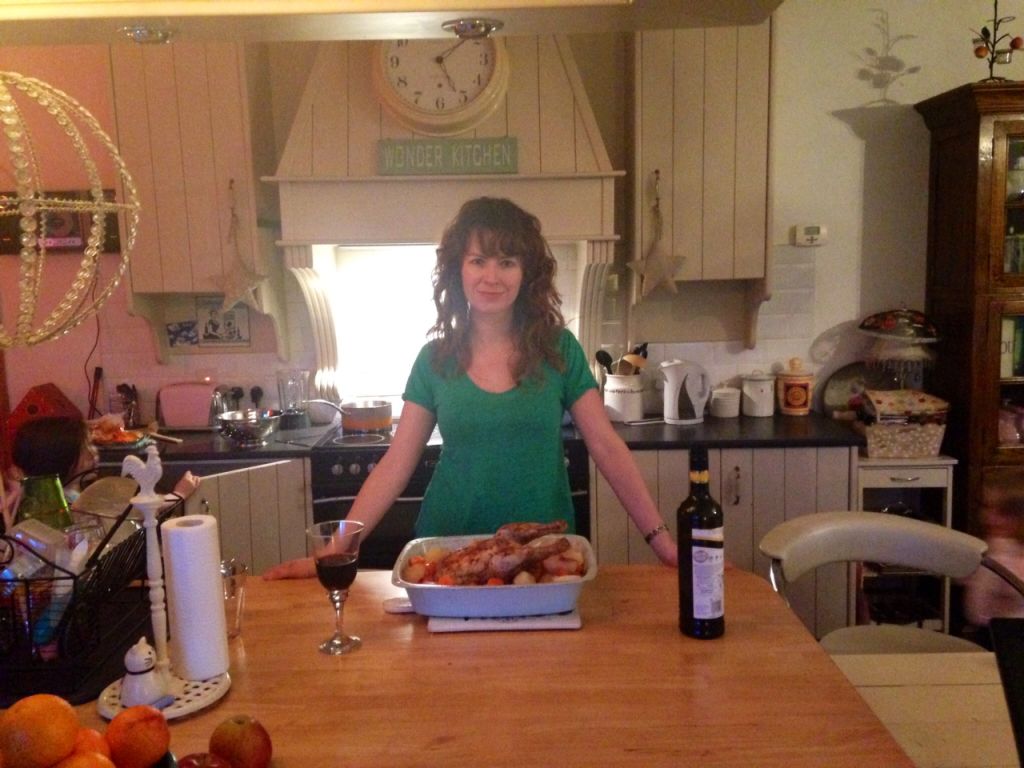 After hitting the 50k mark in my novel, 20k of that in the last two weeks of January, woohoo! I felt in need of a break.
Since Thursday last I've been trying not to think about it all which is hard. Thankfully the lucid dreaming's stopped, that was weird. I'm sleeping better and beginning to feel more myself again. Less tired (at least my eye sockets aren't aching) and a good deal lighter. Now as I recharge the batteries all I want is food. Lots of good mood comfort food, and wine, and books, and poetry.
Pork chops and blueberries were both on offer in Lidl. They reminded me of a dish I'd had at Caoilfhionns house from 'The Silver Spoon' Cookbook. Do you have it? It's a well known Italian one, very heavy. Very hard to read in bed.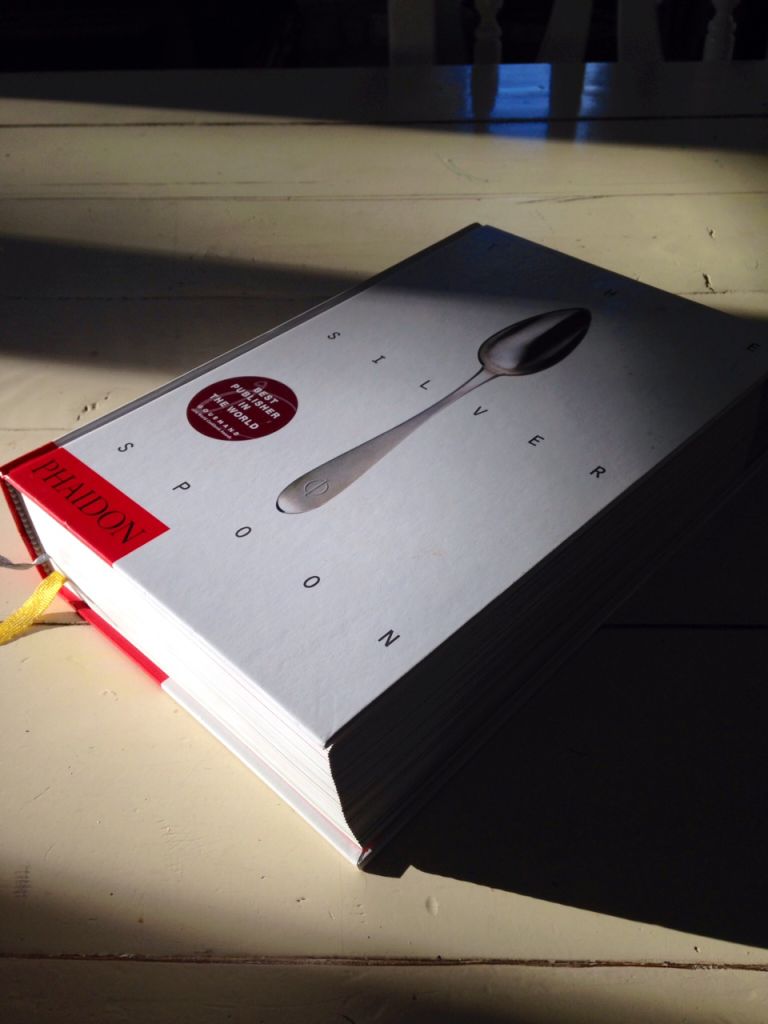 Pork Chops with Blueberries
4 pork chops

Plain flour for dusting

25g butter

3 tablespoons of olive oil

175 ml/6 fl oz red wine

300g/11oz of blueberries

100g/3.5 oz clear honey

salt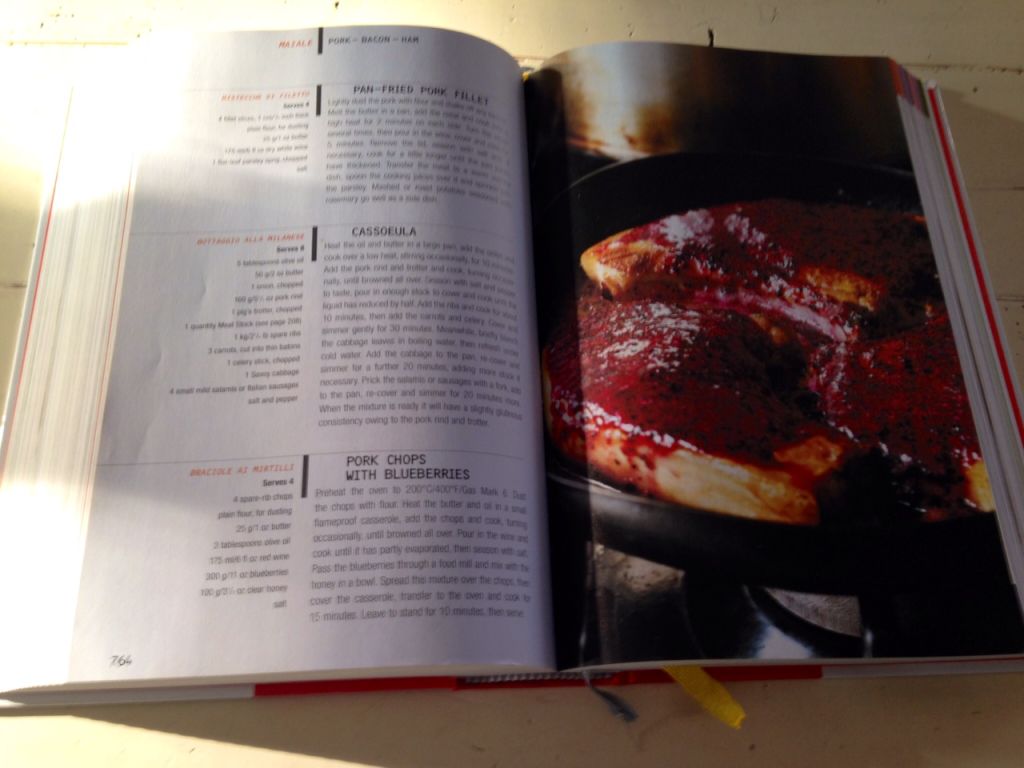 Preheat the oven to 200 c/400 F/Gas Mark 6

Dust the chops with flour

Heat the butter and oil in a flameproof casserole if you have one, I don't so I started on the pan and transferred the chops to the casserole later.

Add the chops and cook turning occasionally until browned all over.

Pour in the wine and cook until partly evaporated then season with salt

Pass the blueberries through a food mill and mix with the honey in a bowl. Note: I didn't do this, I just mashed and mixed the berries with the honey.

Spread this mix over the chops, cover the casserole, transfer to the oven and cook for 15 minutes. Leave to stand for 10 minutes, then serve.
I served the pork along with an oven baked risotto and par boiled broccoli…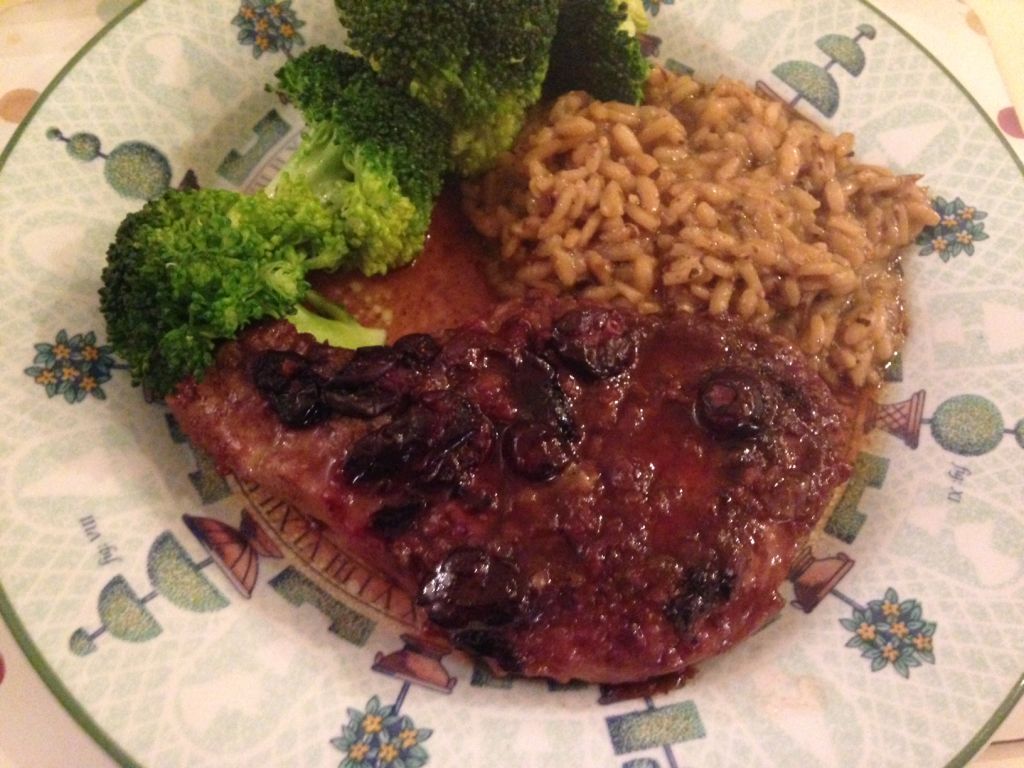 I keep threatening the family with fish fingers but at the end of the day I can't help myself. I want to eat food like this…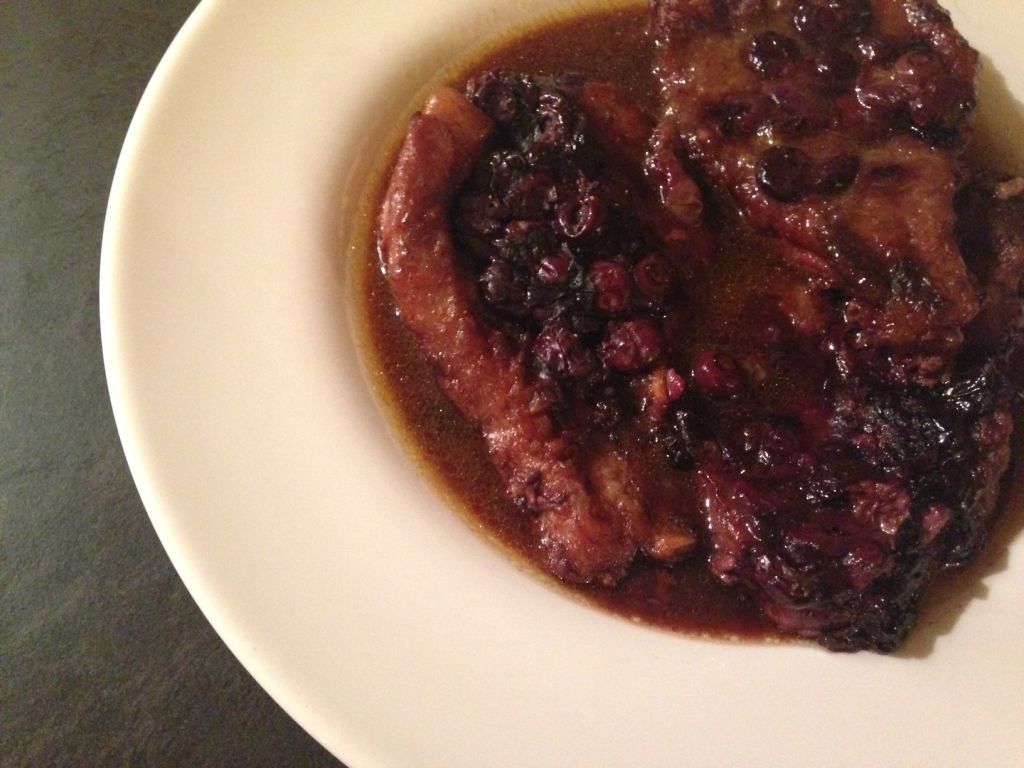 On Saturday night I marinated an Irish free range chicken from Lidl, man how times change. Just mix and smash a good glug of extra virgin olive oil with chopped rosemary and thyme and/or oregano, fennel seeds, smashed garlic, a little cayenne pepper, plus sea salt and pepper, and rub it all over the chicken inside and out before wrapping it in brown paper and placing in the fridge for the night. OR… you could skip all this and simply add the paste to the chicken in the dish pre-roasting. 
Sunday morning out walking, Adrian talked about plans, and I said something like 'I'm not sure I can make plans today, I think mercury's in retrograde or something.' I wasn't being serious…well not consciously!

Lo and behold later that day I read…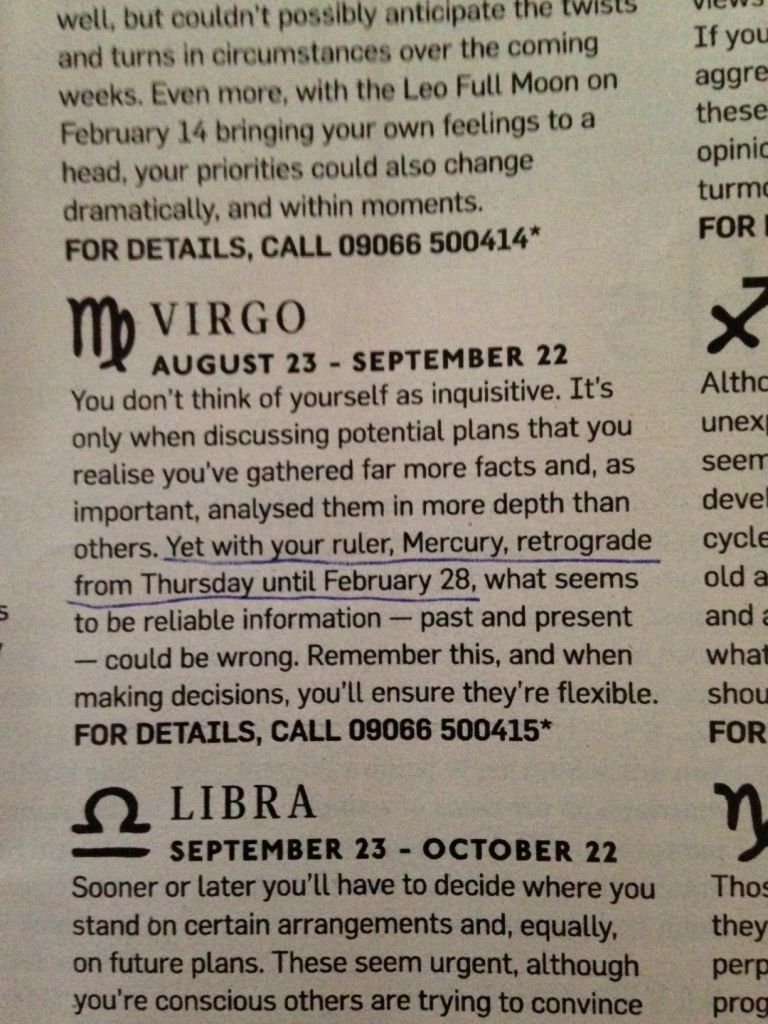 I swear I didn't know this when I said it. How cool and funny is that? 
But back to the chicken…
You should take it out of the fridge and let it sit at room temperature while you chop up some veg, I use a mix of potato, carrot, parsnip, beetroot, onion, and garlic.

Place the chicken breast side down – good luck working that one out! But as it cooks you see, all the juices run into the breast and really tenderise it. Smear the chicken with your oily herb mix ifyou haven't already, douse the veg in oil too and place in a preheated oven (230 c/400 f) for 30 minutes.

After 30 minutes take it out and turn the chicken the other way, breast side up this time.

Pour over a glass to a glass and a half of red or white wine. If you're adding a ton of veg you may want an additional drizzling of oil over that. If you're using a civilised amount of veg there's probably no need.

Place back in the oven for 40 minutes on a lower heat, 180- 200, and that's it. A beautifully fragrant, comforting, and delicious dish.
As part of this calm, food filled, non-writing, recharging break I'll be back with my own recipe, my absolute favourite way to cook lamb chops. However with mercury in retrograde from Thursday to the end of the month I'd better not make solid promises. Wonder what this means for the big push to my writing 'The End' on my book?
Wait…I decided to go look it up. Here's an article on how mercury in retrograde from this Thursday to the end of month is going to effect us all. If your're into that sort of thing click HERE 
Seems my break has occurred at exactly the right time…pass the food, pass the books, pass the wine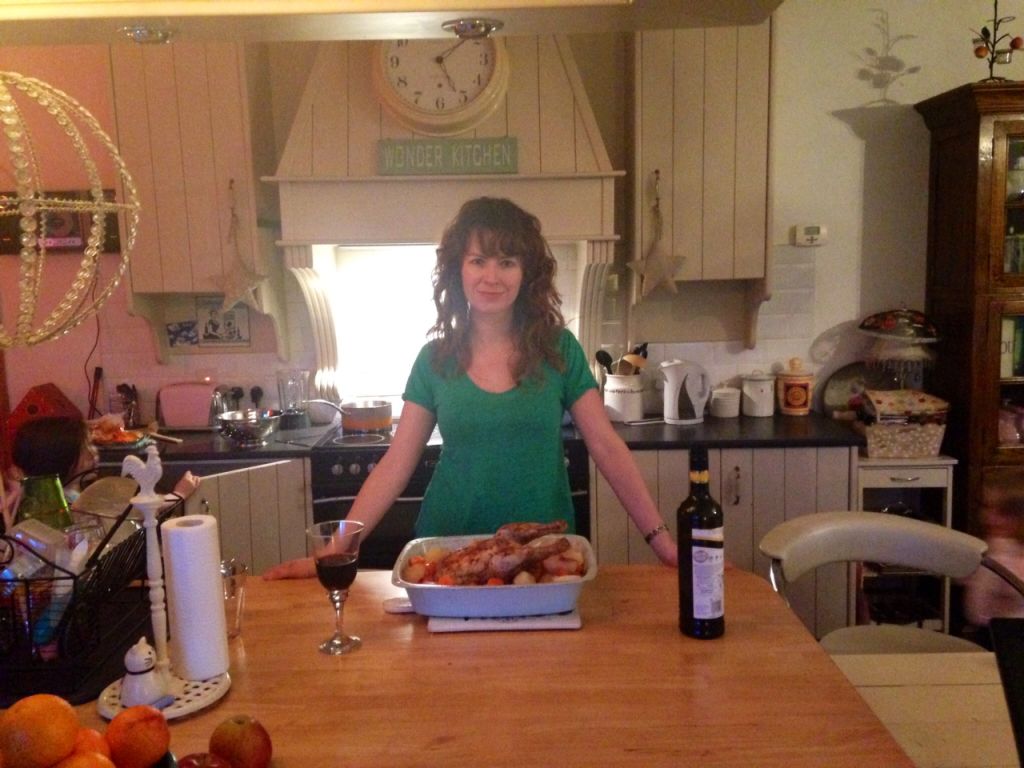 ---
---