Pre-Order & Release Dates for My Novel #CailleachWitch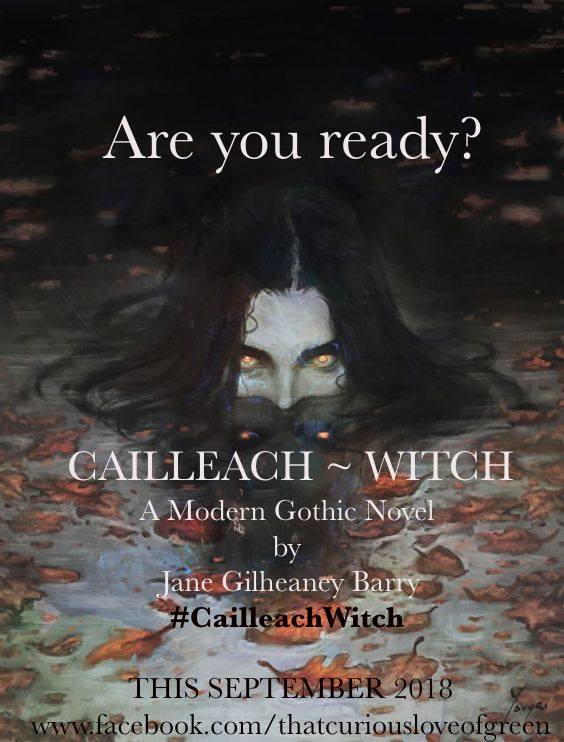 Hello friends. It's almost here… You can PRE-ORDER your copy of my novel CAILLEACH ~ WITCH in paperback or ebook from Amazon on the 3RD OF SEPTEMBER 2018.  Your copy will be despatched to you on the RELEASE DATE, Monday the 17th of September. That's my birthday. 🙂 I've created an event page on FB, you can find that by clicking HERE. This is where I'll be sharing exclusive details and giveaways, including a chance to win a signed paperback copy. Check it out now and be sure to check 'Interested.' This way you can help me spread the word to as many interested readers as possible.
Meanwhile I've been working on blurbs…
Cailleach ~ Witch is the much anticipated debut novel by writer #JaneGilheaneyBarry, curator of #ThatCuriousLoveofGreen This is a beautifully lyrical, and moving tale, with powerful women, touches of magic, and a strong sense of place. Inspired by the landscape and stories of Ireland it has everything you'd expect from a modern gothic tale, except a damsel in distress.
Jane drives her cast of quirky characters at lightning pace through the landscape and climate of Ireland's wild west. A quest narrative with a difference, it has love, it has murder, it has revenge. You will not be able to put this book down till the end. And you will never forget these women…
Blurbs are hard.
Think 'Charmed' meets 'Practical Magic' but set in 90's and 70's Ireland.
You will like this book if you like the Bronte's, Kate Morton, Daphne du Maurier, or Alice Hoffman.
'It's 1995 and the sisters are returning to their mother's home in the west of Ireland, where the aunts still live. They have a troubled history with the town, and are bound to the Cailleach, a paranormal landscape witch…'
THE BOOK IN THREE WORDS… MYSTERIOUS, MOVING, EERIE…
THEMES ~ Home, Relationships, Family, Belonging, Identity, Wild Nature, and Freedom…
For Interviews/Press
janebarry17@gmail.com
Talking about the book online? Use the hashtag #CailleachWitch
Spread the word, new Irish witches in town…
---
---