Rain
It was one of those dark as night days with heavy rain. Mum and Dad got me early and unexpectedly from school. I think I was about six at the time. I don't remember why they came then but I remember the exhilaration of the rescue. I remember being in the back of the car going up the town of street lights twinkling, their voices and the warm feeling of just being with them. From that day on I think I always loved the rain.
So many evenings in my mothers house watching trees wave about while rain leathered windows, water and ground. The lights of town at the top of our lane and the glow of the fire and canal waters growing higher. Like all Irish teens getting soaked to the skin was the order of the day. For almost forty years my mothers watched them coming over the bridge first in green and then navy with wet heads and feet and hunched shoulders and laughing faces and barely a jacket or brolly between them in all the forty years or before then or ever more.
I remember once a foreigner remarking on the youthfulness of Irish skin and deciding it was from all the moisture because even when it's not raining it's mostly wet still. It's in the earth and in the air and in the breath. They say people are affected by the moon because we are water and the moon affects the tides and if that's true then Irish people must be wired to the moon as much or more than anything.
I'd say the best soaking I ever got was in Dublin. I was with Martha. We were too wet to go in anywhere, too soaked and too giddy to care. It was a hot day and a storm came so getting caught in it was kind of pleasure.
Summer rain growing up, we did the seaside without fail. We'd be out in the waves at Bundoran with Dad. Wet and cold and grey above us, wet and grey and cold below, coming up and coming down and dad was like a rock or lighthouse.
Then at the festival you'd never take note of the rain only laugh in the face of it and everything should go on as if it was a perfect summer and they were. Every night has live street music and just last year Martha with mine and another sister Brenda's children danced their shoes into slippers in the heavy rain at the platform with all the other people laughing and dancing and our mother and I stood under a useless umbrella and we nearly died laughing at them, at the joy and the spirit that makes people dance in the rain.
In rain walking is pure pleasure. It's being out in the world but with peace and your own invisibility cloak to wear. I used to walk a long way to college when I lived in Dublin. I'd never get a bus. I'd be happy enough to see it raining and the way it made everything smell but it's also nice for thinking and for sleeping. Sleeping to the rain is best. When you lie in bed and it's raining the bed feels better and you'd like to listen longer, sleep comes quicker than you want it to. No weathers so uniquely comforting or closeting or good to listen to.
I love all types of weather truth be told it's just the dark and grey depress me. My favourite weathers blustery with heat or rain and rain is spirit, scent and warmth and pleasure and memories that last forever.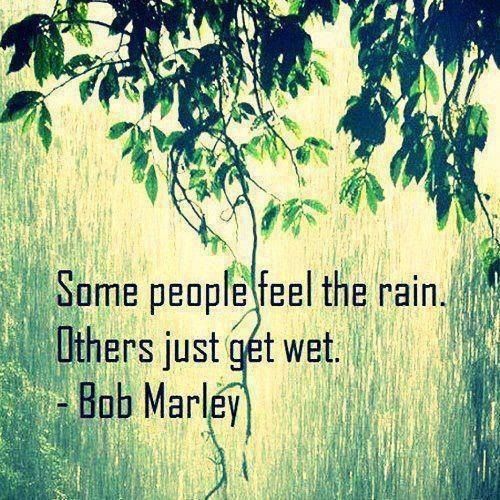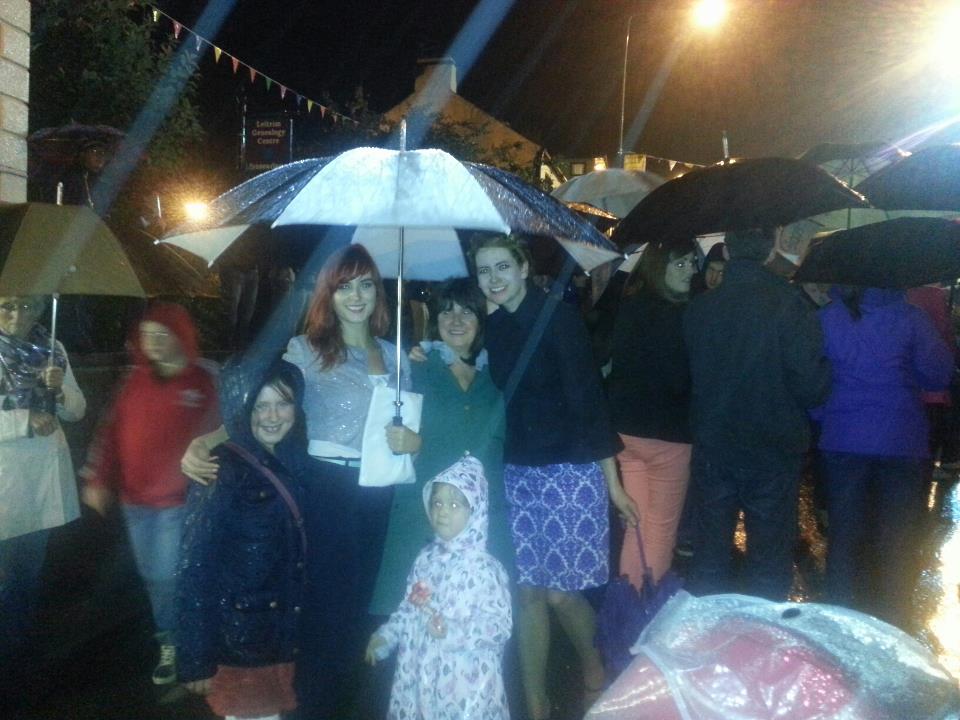 ---
---