Pan Fried Chicken, Fennel & Rosemary with a Toasted Bread Salad
Could have been the 80's rock or certainty that autumns fled and winters at our door, but yesterdays dinner was unique pleasure, orgasmic, seismic, more.
There's something about a sizzling pan fried dish and especially pan fried chicken. Add heavenly scents of fennel and rosemary and the effect is simply dizzying.
I love that time just before it gets dark when the lamps and the fire are lit but I don't need to close curtains yet, it's a lovely time for cooking. I hope you will fall under the spell of this delicious one pan dish even half as much as I did. The fragrant scent and flavourful taste is sensory oblivion…Enjoy : )
Sautéed Chicken with Fennel and Rosemary
You will need:
4 tablespoons olive oil
1 or 2 fennel bulbs, chopped
2 tbsp dried rosemary
200ml stock
2 to 4 chicken fillets
2 crushed cloves of garlic
Salt and black pepper
To make:
Fry the fennel in 2 tbsp of the oil, 1 tsp of the rosemary and a little salt until softening golden.
Add the stock and bring to a boil. Cover, reduce the heat and simmer until the fennel is tender then remove along with the juices to a bowl.
Return the pan to the flame and heat the remaining two tbsp of oil. Add the chicken with the remaining tsp of rosemary, salt and pepper and cook until browned on both sides, about 10 minutes in total. I split mine on the diagonal so do that too if you want to.
Add the garlic and stir in. Return the fennel/stock mix to the pan and simmer, covered until the chickens cooked through.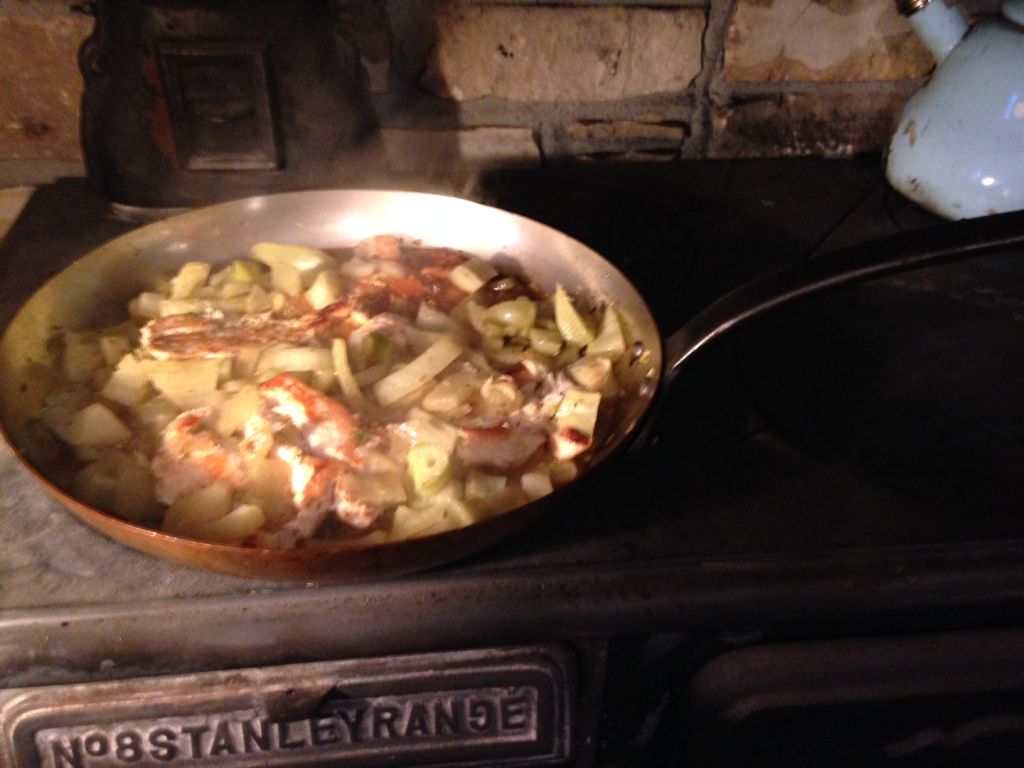 You could serve this with potatoes, pasta or rice but I had some leftover ciabatta bread rolls so I made an impromptu toasted bread salad.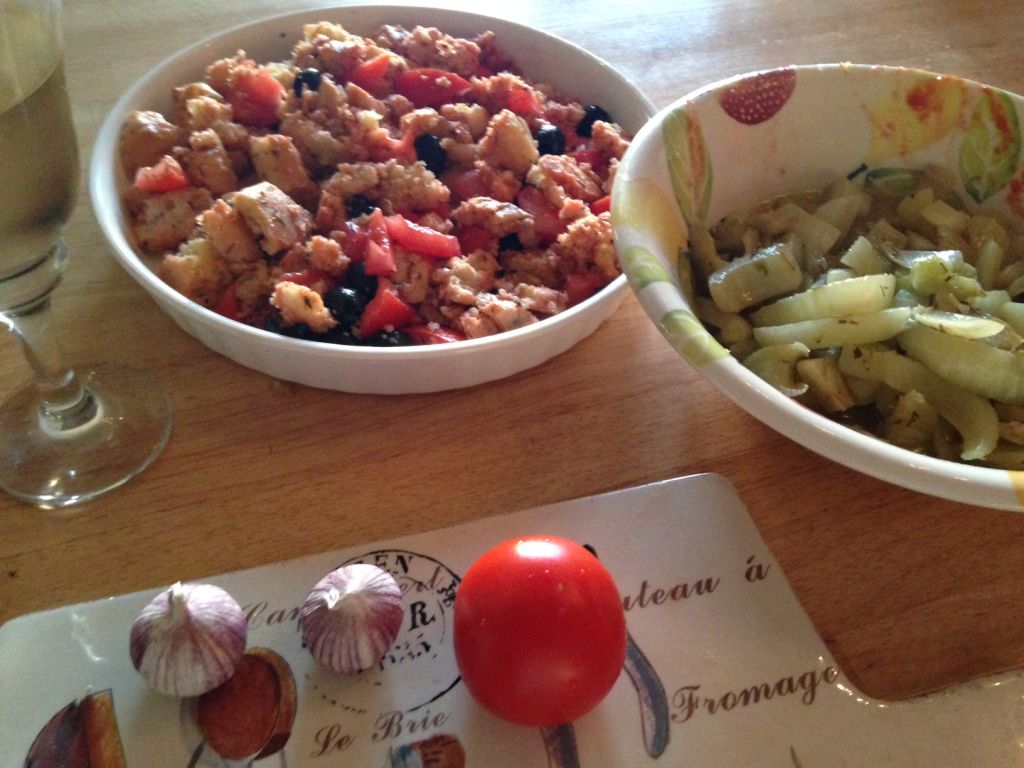 Toasted Bread Salad
You will need:
Two small rolls of no longer fresh crusty bread torn up (you can easily make this with bigger quantities)
3 tomatoes chopped
A splash of tomato juice, from a tin is fine
Half a clove of garlic crushed
Olives (optional)
Half a tsp of fennel seeds (optional)
A good splash of olive oil, about 6 tablespoons
Salt and pepper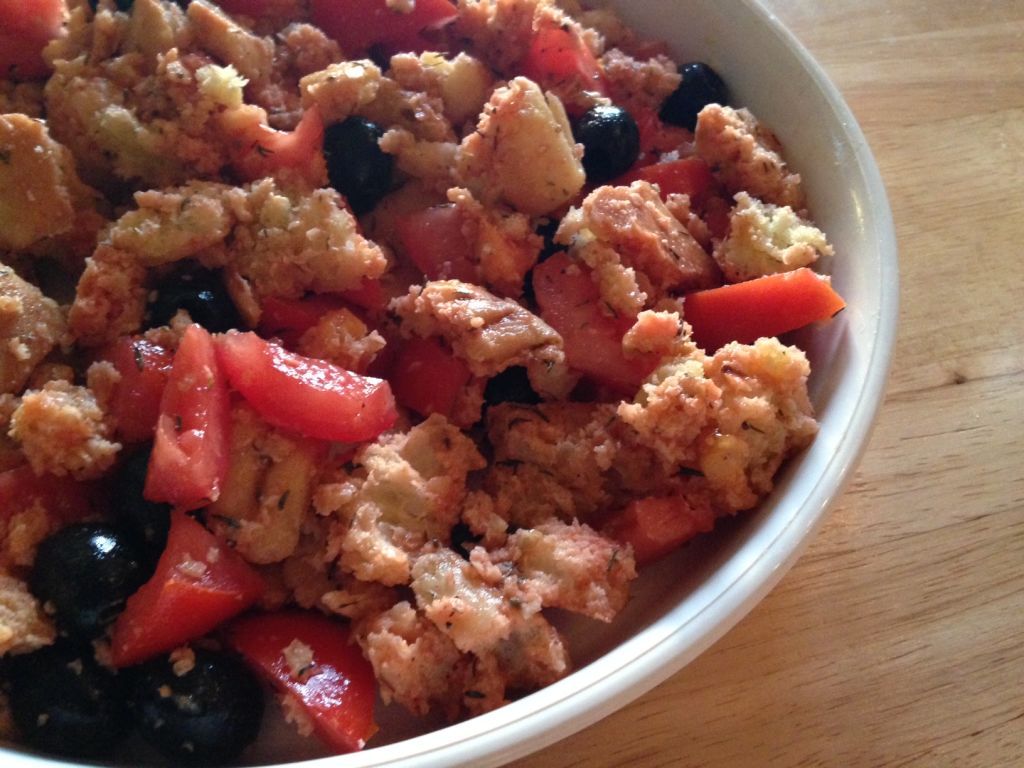 To make:
Put all the ingredients in a bowl and mix well. Add more oil if you need to
Place on a baking tray or in a shallow baking dish and roast at 200 for 20 minutes.
Serve and enjoy : )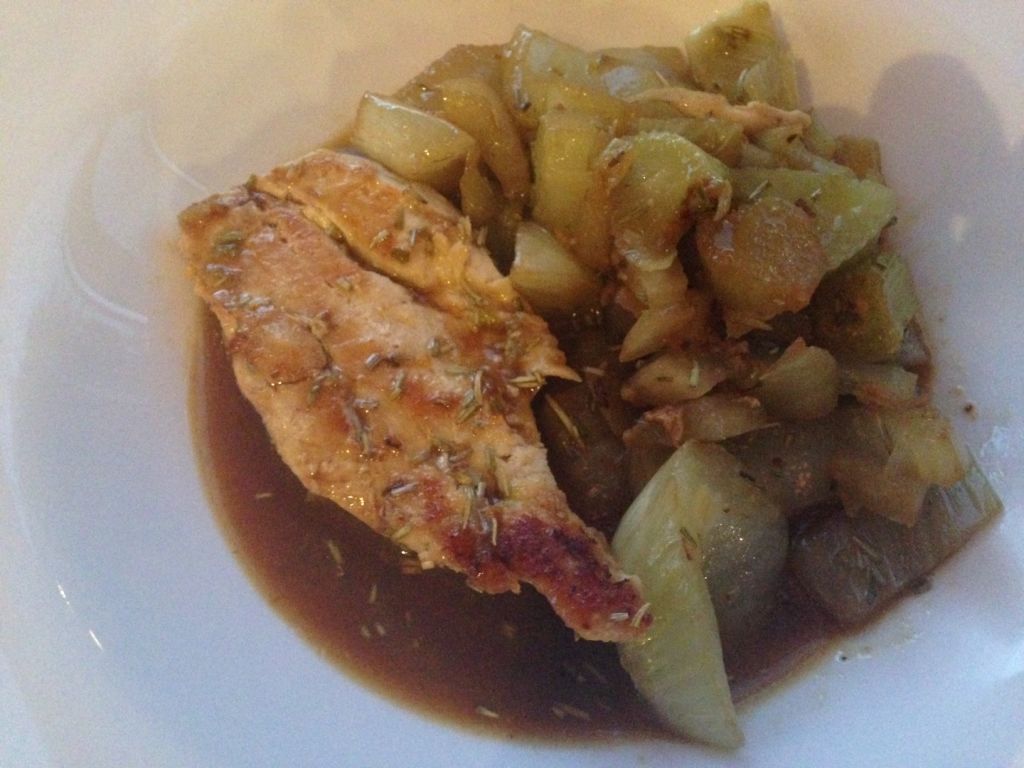 Do please let me know if you try it! This is the first of two blog posts today so drop by again later…see you then.
Jane
---
---