That Curious Love of Green – A New Global Creative Community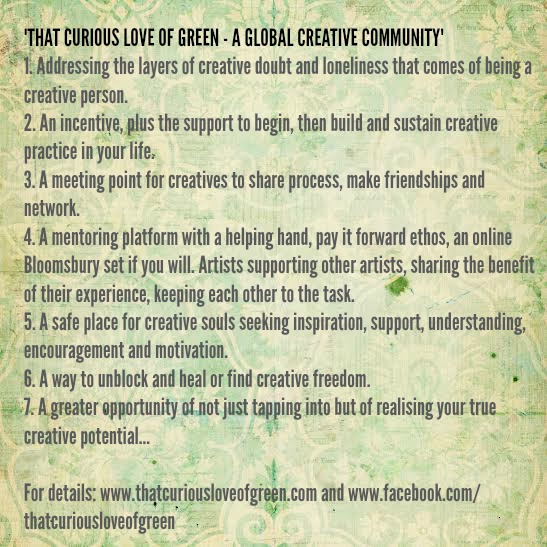 I didn't know, when I decided to host a month long creativity bootcamp, what I was doing, not consciously anyway.
I did it because I wanted to immerse myself more intensely in creative work and because of the longing, not just my own, but the need I felt came to me through the blog, emails, letters, and messages.
I felt I could help people find what they were looking for, what I'd found through my creativity. Things like daily creative practice, creative freedom, tribe, my books, a writing life, healing, unutterable fulfilment, growth, happiness, transformation, awakening…
Do you want these things too?
Read on…
While this way of life is available to everyone it's difficult to achieve and sustain without support and encouragement, without understanding and tribe.
Your response to bootcamp was incredible, 100 people from every corner of the world, all with the same interest, to create.
Out of bootcamp you started books, blogs and fb pages, you started writing poetry and painting for the first time, or after a long break, you shared your work for the first time, found permission, positive encouragement, practical and emotional support, and friendship. You found your tribe and started to call yourself poet, writer, artist, these few weeks had 'changed your life' you said.
I have to thank you, everyone who took the leap with me enriched the process for us all. The decision to host and to take part in bootcamp was a leap for us all. Of course deep down we knew it was right for us. We just had to listen to our deeper selves…
I didn't achieve half the personal goals I had set for myself.  I did four paintings, one on canvas, four poems, daily journal, one leaf face, and that's about it. Clearly I had the wrong goals, for what I did achieve and what I will take away has been much greater, way beyond even my imagining.
These include…
A new book started!!! I really didn't expect that and can't wait to get into it.

Editing for my current book, re-ignited, after a mostly silent summer.  

The thrill of hearing my own experience of transformation by openness and creativity, echoed back at me. 

Bootcamp itself as a creation, I hadn't though of that.

And now a new online community is being born from its success, the members of bootcamp are coming over, and already more people are asking to join it…

Perhaps most of all I have gained courage and strength from this experience and from you who took part.
You're really going to fly now, and so am I…
Ladies & Gentlemen, it gives me great pleasure to invite you to join with us in a brand new global community, dedicated to our creativity…
'THAT CURIOUS LOVE OF GREEN – A CREATIVE COMMUNITY'
1. Addressing the layers of creative doubt and loneliness that comes of being a creative person.
2. An incentive, plus the support to begin, then build and sustain creative practice in your life.
3. A meeting point for creatives to share process, make friendships and network.
4. A mentoring platform with a helping hand, pay it forward ethos, an online Bloomsbury set if you will. Artists supporting other artists, sharing the benefit of their experience and keeping each other to the task.
5. A safe place for creative souls seeking inspiration, support, understanding, encouragement and motivation.
6. A way to unblock and heal or find creative freedom.
7. A greater opportunity of not just tapping into but of realising your true creative potential…
The new community will be opening sometime this month. It will be easy to navigate and on a different platform to FB so even if you are not on FB you will still be able to join. There will be a small yearly membership fee that will serve as a deterrant for anyone not genuinely interested while allowing me to commit the necessary time and investment. As a special offer and for a limited time that fee will be just €20 for one years membership…
If that sounds like something you'd like to be a part of then stay tuned to the blog and FB page for details and please feel free to ask me any questions.
So what do you think? What does your deeper self say to YOU? Will you find the courage to join us? Is it also your time to leap, to fly? And if not now, when?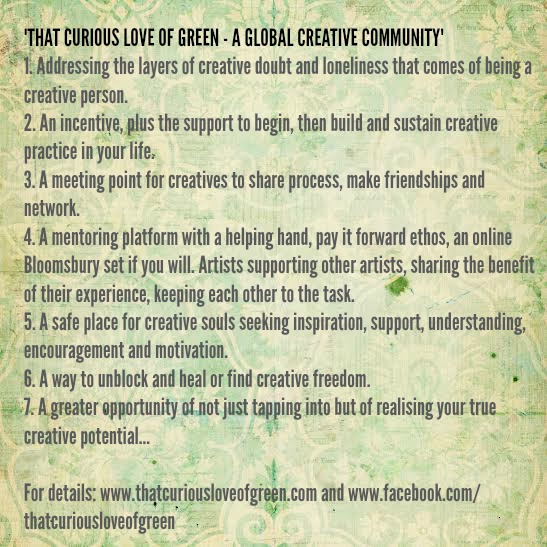 It's the 2nd of November today, the second day of winter. Like most Irish people I go by the Gaelic calendar, not by choice but by nature, and I feel wonderful, happy, peaceful. Winter is my favourite time for writing and I'm happily back editing my book, but I'll be back soon to officially launch the new community and welcome new members. I hope to see more of you there. In the meantime have a great week and take care.
xo Jane
---
---