#ThatCuriousLoveofGreen New Year Workshops For 2019 #Writing #Creativity #Vision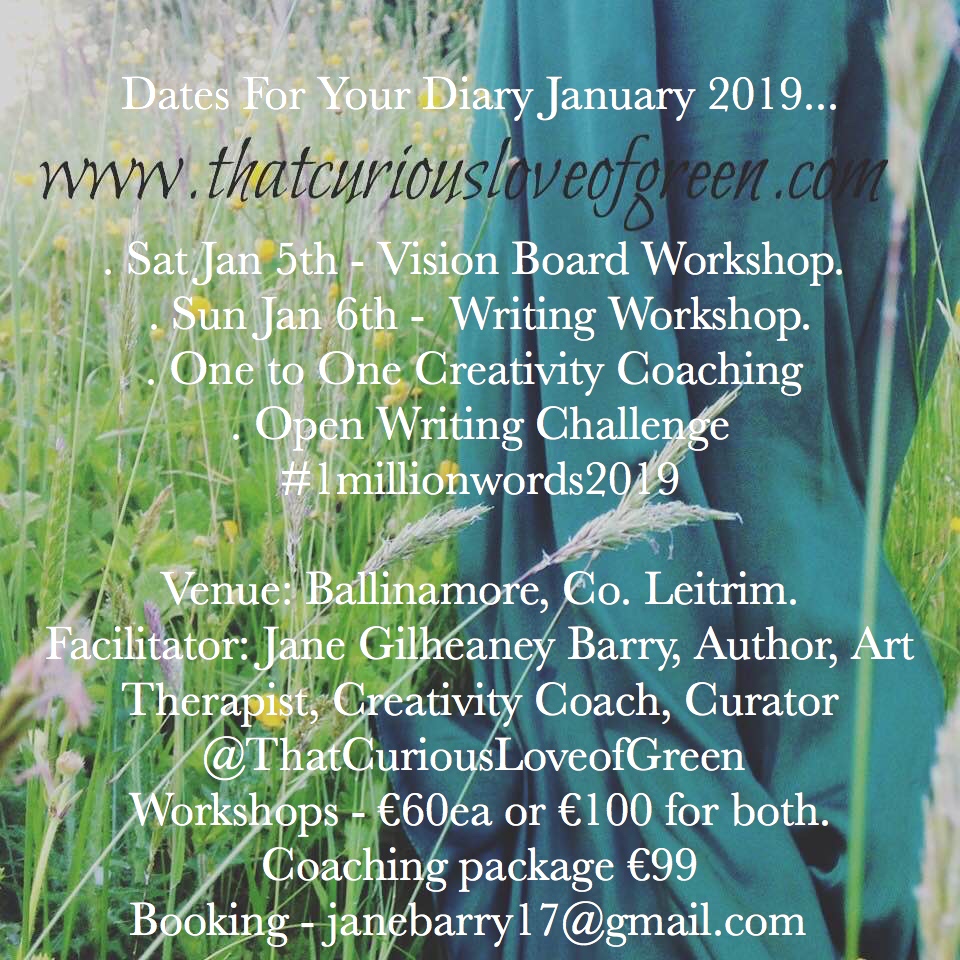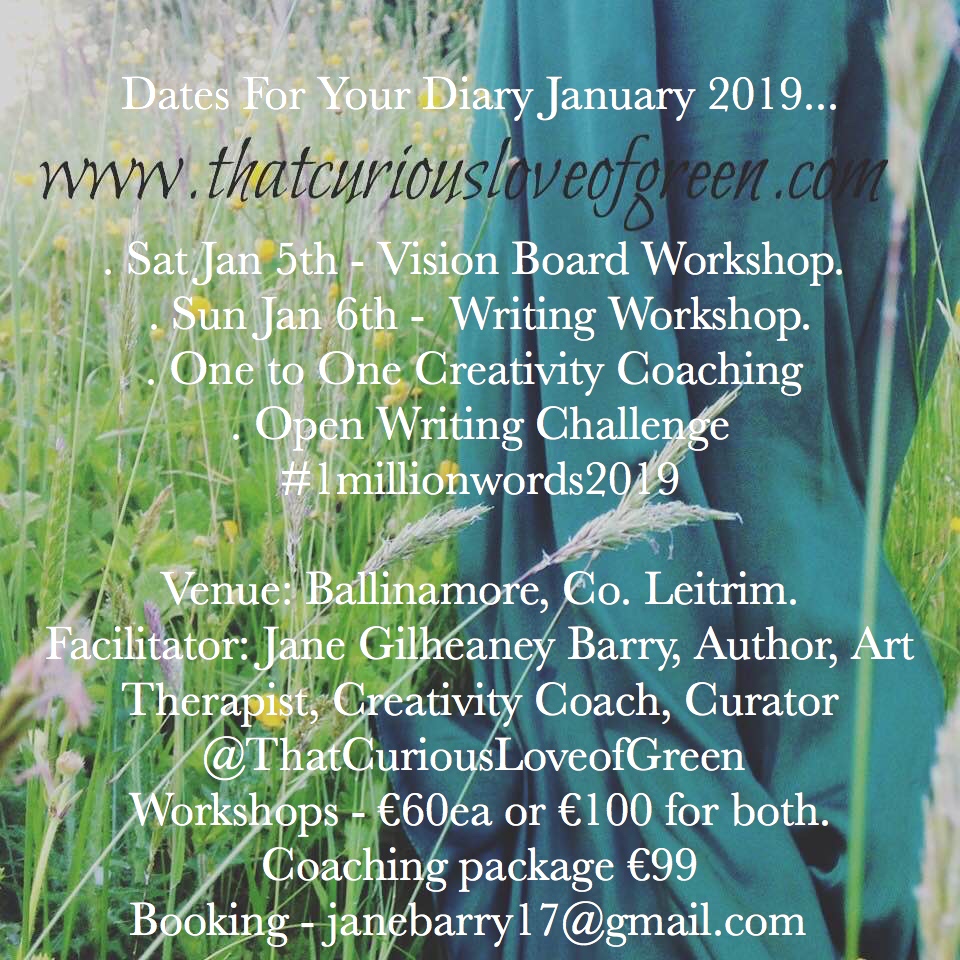 VISION BOARD WORKSHOP – JAN 5TH 2019 – Turning fantasy into vision, that's what this is about. It's what I'm about too. Part workshop, part group coaching, part magic spell. And it's all happening right here in my kitchen on January 5th, with Prosecco, creativity chat, and nibbles. What better way to start the year? It's going to be relaxing, fun, and transformative, that I can promise. But hurry, I have only 10 places…
WRITING/CREATIVITY WORKSHOP – JAN 6TH 2019 – Want to write but unsure of how? Want to create a regular writing habit? Trying to write but find it's not going well for you? Want to begin or move on with a creative project, like a blog, or a book? In need of motivation and encouragement or simply want to explore your creative side through writing? Perhaps you've always wanted to write but never got around to it? Or used to write and want to get back there? Already writing but struggling with time, motivation, ideas, blocks, fear? Or maybe you just like the idea of focused time and guidance to write and expand your practice, with like minded creatives, in a pleasant supportive environment. Then this event is for you… Only 10 spots available.
PLEASE NOTE – Workshops will be weather and numbers dependent. Pre-booking is essential. Booking is NOW OPEN until the 31st of December. To secure your place email janebarry17@gmail.com
Cost: €60 per workshop payable on the day. Or make a weekend of it and pay only €100 for two workshops! Book for you and a friend and pay €55 each for your choice of workshop.
CREATIVITY COACHING – Special Offer – €99 Only available for bookings made before the 1st January 2019 and only ten spots available so don't delay. Email janebarry17@gmail.com to request a place. Payment via PayPal by arrangement.
1. Email introduction/assessment
2. Choose between one in-person coaching session (60 mins) at either my home outside Ballinamore, Co Leitrim OR two (30 min) video/phone sessions to anywhere in the world.
3. Plus email access to me for one month.
This is for anyone who has decided that 2019 is going to be their most creative, fulfilled, and productive year yet. And is ready to take action.
'If there is a difference between a creativity coach and for example a sports coach, it's that the athlete will find it easier to find people who understand, support, and can help them in what they do. A Creativity Coach is someone who is deeply creatively expressed, experienced, and fulfilled.' Read more about creativity coaching on this post from last year HERE
FINALLY… I've decided that I'm going to write at least one million words in 2019. Would you like to join me? Every Friday I'll invite participants to share their progress and weekly word count on That Curious Love of Green fb page. The aim of this open challenge is to simply write more in 2019 than you already do. And to create a regular writing habit if you don't already have one. Choose your own daily/weekly word count. Mine is roughly 3,000 words a day. My suggestion to you is choose one of 500, 1000, or more words a day. Are you with me?
Any one or combination of these events/practices has the power to radically change your life for the better in 2019. You won't find a better price anywhere. And all you have to do is decide!
Feel free to ask me any questions. Also, I'd really appreciate likes, comments, and shares of this post if you don't mind.
Lets make the world a more creative place.
Why do we do this?
Because survival isn't enough.
Because this is who we are.
Much Love, Jane.
Ps – Read some of the wonderful testimonials of my work in my About Me section HERE
---
---