The Great Gatsby – Language, Style, Emotion…
Sometimes when I go to see a movie I wonder what's wrong with people because if I listened to reviews what would I be watching? Would it be, as seems the case with awards ceremonies that the movies deemed to deal with the 'big' subjects would win out? Industry 'cool' movies deal with politics, crime, history (and ok I do love history and I don't mind politics) but gritty dirty 'realism' generally. Not much style about. You know I'm not talking about clothes I hope!
Maybe it's because I never was a 'cool' one or maybe like Jay Gatsby I'm just 'the most hopeful person in the world' because when I go to a movie I want to be inspired or have my heart broke. I'm funny like that. I want, like in the golden days of cinema, an escape, if only to inside myself. I want to forget the perceived 'big' subjects and focus on the real big subjects, on the things that move us like courage, friendship, thought, tragedy, meaning, love and loss and all the complexities of the human world.
If there's going to be an extra helping of anything please god make it glamour, style, exhilaration or enchantment. If I want just gritty realism I'll watch a documentary, turn on my computer, open a newspaper, or my eyes. I don't go to the movies for that! And yet for all my railing on behalf of 'The Great Gatsby' it's the story that delivers it all. There's gritty reality and escape here, ugliness and beauty, simplicity and complexity.
So if you're looking for something for the weekend clearly I'm recommending Gatsby. I promise it won't matter a fig if you haven't read the book though it might make you want to. I haven't read it since I was in school but I knew from the quotes I would love it and how I loved it.
This is the futility of the American dream and the flawed nature of capitalism through the story of Jay Gatsby a self made man who has dedicated himself to winning back the girl of his youth now married to another. So at its core we have a devastating love story and there's nothing better than that. In fact it's still the most popular movie theme of them all cool or not.  Add a sensory feast of glamour, decadence and more style than any of us could imagine in our wildest dreams, brilliant sound track, beautiful effects and cinematography (I loved Luhrmanns treatment of everything), great acting and a world of tragedy well I was in my element!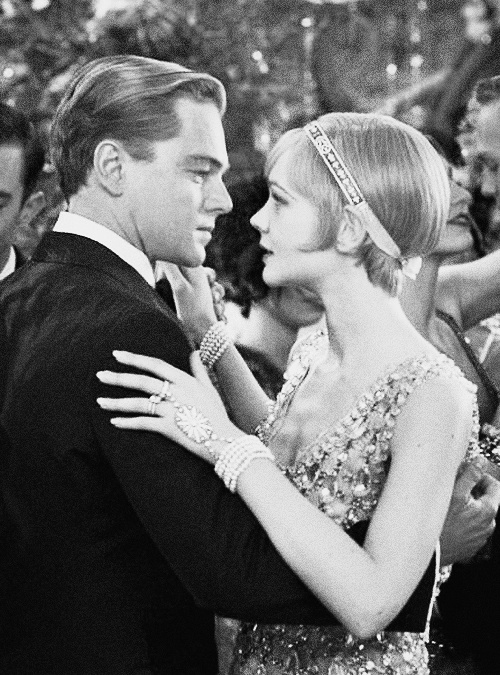 After the initial heady scenes I was suffering badly as the author intended. Fitzgeralds beautiful language eliciting the maximum desired emotional response. My heart was full with the tragedy conveyed so beautifully by Leo's moving delivery of meaning with words that seem so simple but in fact are not.
Some critics say this movie like others before has also failed to capture the book when even the book defies capture on many levels. I believed all the actors delivered in the roles they got exactly as the author intended. No mean feat. To me the most important elements are here and chief among these Fitzgerald's prose so beautiful, skilled and deeply stirring. To hear this kind of language in a movie, spoken out loud by those who can, instead of just on faded pages or in my mind was a rare treat.
I think Fitzgerald would be pleased with me for feeling that emotion he wanted people to feel. I also think he would have loved this adaptation. Critics are saying the opening scenes are an assault, vulgar. I don't agree at all but I could argue that there was an intended gaudiness and vulgarity to the story anyway. Fitzgerald showed the flaws and futility of the time, of excess and money but he was at the heart of that world himself and the highest paid writer of the day, only 28 when he wrote the novel and I do believe he would have loved this movie. I believe, allowing for the indefinable or arguable traits of this character and that, it captured the time, his intention and his vision. It's a beautiful film. I want to see it again.
So what do  you think? Have you seen it or do you plan to?
---
---