The Weekend – Parties, Protest & Prohibition Era (Part 1)
Everything often happens at once and so it did for the weekend.  The wheels set in motion last week watching Michel Roux Jnr on Master Chef UK make a stunning looking dish 'Epigrams de Sole' and deciding we should make it at the weekend, well if Lidl still had those five euro lobsters and thinking we could probably use a different fish if we couldn't get sole and prawns for the stuffing and sauce if need be…
Caoilfhionn and the children were supposed to come on Friday but I had stumbled across plans for a 'Film Fatale' event in the Model Niland Gallery and somehow it worked out that we could go so it made sense to have Caoilfhionn, Sean and the children for the 'Epigrams de Sole' on Sunday instead!
So far so lively and fun but then tragedy struck for us all with the death of Savita and because I don't think health care is what it should be and know for a fact that it's not what it should be for pregnant women, because it could have been me plus I have three sisters…and three daughters and because I actually physically could when there were times I most certainly physically could not, well I felt I had to be in Dublin on Saturday for the vigil/protest.
So there I was looking forward all week to getting away and to something different on Friday and staying overnight!!!  Well the exotic prospect at first so exciting started to weigh more heavily than it should and in the process of getting everything ready for my parents (staying over) and thinking of what I would need to tell them and organising what I needed to leave for the children, food, clothes and so on it occurred to me that I had started to feel a bit reckless and worse, guilty.  I was acting as if we were going to do something like a bungee jump with a motorbike, a high trapeze act without a net and the whole affair started to feel more like hassle than anything else.  Mothers out there, does this happen you too?
It helped a lot that the hours of exit went smoothly, no tears or tantrums, a quick dance in the hallway and the dress…it fits again, hurray, it felt good, we were away…
'Film Fatale is a boutique film event that transports the audience to the golden age of cinema through film, fashion and music.
The audience are treated to a classic film screening coupled with live performances and a themed after party hosted by Film Fatale's resident DJs The Andrews Sisters'Brothers playing music from the films era and a classic signature cocktail is prepared especially for each event.'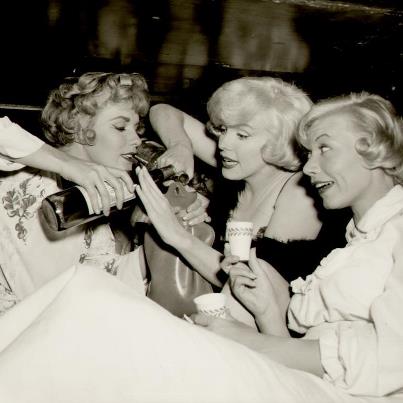 On this particular night the movie was one we both love 'Some Like It Hot' with Marilyn Monroe and the theme, 1920's prohibition era!  Even though we've seen it a hundred times, seeing it on the big screen with lots of other people was a lovely experience.  I noticed lots of brilliant little details I hadn't before.  The dress code of the era meant something interesting to see at every turn, the men looked good enough, the women looked wonderful!  Don't you love seeing people dressed up!  The cocktails and music under a swirling glitter ball weren't bad either.  All in all we had a great night…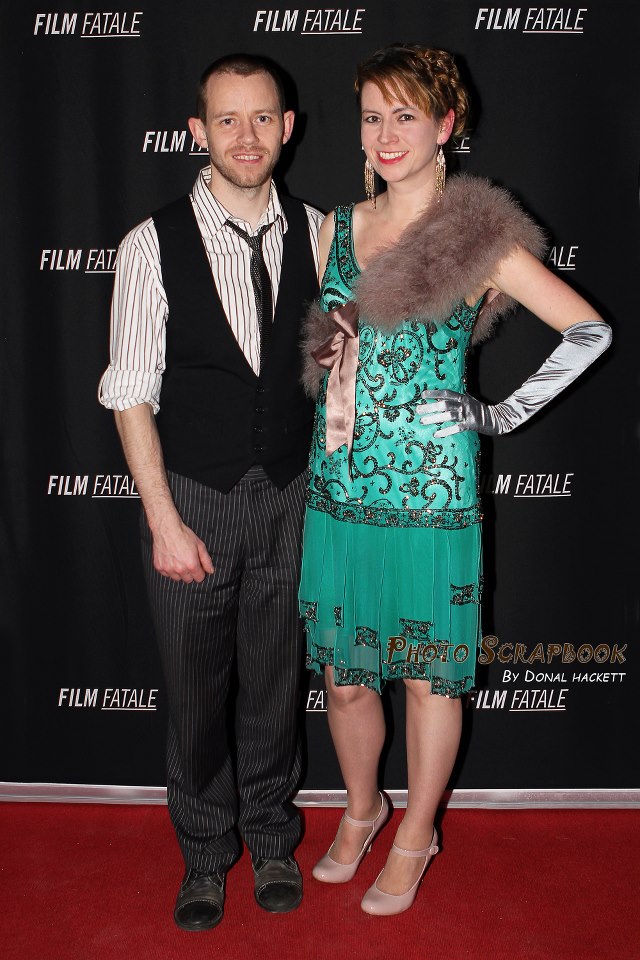 Saturday morning was beautiful as we made our way to Carrick and that more familiar haunt, Lidl, for the lobster!
Adrian dropped me to the station before going to buy our fish from 'Pisces Repens' fishmonger in Carrick.   The station was bitterly cold.  Several people stood silently on the platform rocking from side to side, from heel to toe.  Before I realised what I was doing I actually hummed a few notes! (not sure how that happened!) it was as good as shouting out for effect!  I walked off in the general direction of Dublin and was saved by the train.
Dublin was wet!  That always surprises me. I forget it rains there too.  I met Laura (my sister) at the spire and we joined the throngs of people, all ages, moving to the Dail.  The atmosphere was electric, emotionally charged with a great sense of caring but angry too.  The speakers were wonderful, articulate, and passionate.  The crowd chanted 'never again' and 'shame' many stood crying.  There was a real sense of 'the straw having broke the camel's back'; would this tragedy be the start of wider societal and political change in Ireland? Can we hope?  We can try at least.
Tired I was looking forward to reading my head off on the train but it was packed to the rafters with teenagers f***ing and blinding, laughing and milling about and with women, keening, or so it sounded in that slow, sad, sing song way about saints and what this one and that one died from, 'he had a terrible death' and so on and on.  I stuck my fingers in my ears, pretended they were gone.  Home at last to tea and toast by the fire with a head full of Marilyn & 1920's style, Savita, Dublin, half read articles and Epigrams de Sole for tomorrow on my mind…
I'll be back to you later with 'part 2' of the weekend, that's right, there's more… 🙂
In the meantime… for the links to all the places and companies mentioned in this post just click on the highlighted names throughout…One more, on Friday night we stayed at the Best Western Sligo Southern Hotel  We'd never stayed here before.  It was great value, cosy, comfortable, clean with decent food (we pre-ordered dinner, the steak sandwich & the salmon) and excellent service, at reception in particular.  The location beside the train station and walking distance from the shopping centre is very convenient too.
---
---