Thyme, Oregano & Citrus Roasted Chicken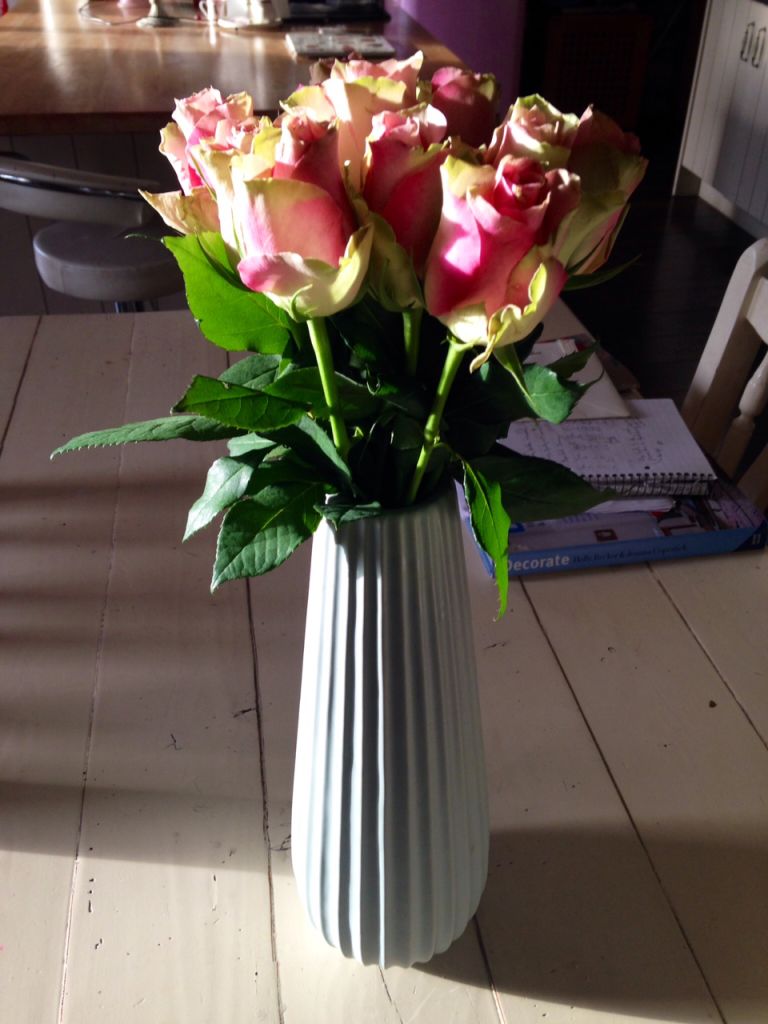 Just in time for your weekend here's a sumptious chicken recipe that will have you mmmmmmming or my names not Jane.

'Thyme, Oregano & Citrus Roasted Chicken'
Inspired and adapted from one of my favourite cookbooks of all time 'Crazy Water, Pickled Lemons' by Diana Henry this is what you need for four lovely people…
4 chicken breasts/fillets

4 oranges cut into large wedges

olive

oil
For the marinade…
rind of 1 orange & 1 lime

juice of 4 oranges & 1 lime

125 ml/4fl oz olive oil

About 6 tbsp of Balsamic Vinegar

6 garlic cloves crushed

thyme & oregano

s&p
Mix the marinade ingredients, add the chicken, cover and leave in the fridge overnight.

Lift the chicken into a roasting tin, spoon some of the marinade over. Add the orange wedges, season and drizzle a little extra oil on top.

Roast in a preheated oven, 200 c for 35 minutes spooning the juices over every  now and then.

Serve with the orange wedges and fragrant juices.
To serve I made…
Roasted cauliflower and simple 'Pitta Bread Wedges' by brushing with oil before sprinkling with sea salt & rosemary (use any herbs really) Roast at 200 c for 7 minutes.
Speaking of joy, I finally started painting yesterday. Something I've been meaning to do since my school days.
As I mentioned on fb this could be the most elaborate procrastination plan in history, after all I have a book to finish but it felt really good. The Louvre have yet to call but I'm happy, the children are happy, it's all good.
Expect anything from here on out if you don't already…
In other news the universe just keeps giving me what I ask for, it does that you know. About a week ago I nearly lost the plot for glamour. I NEED a bit of glamour in my life I said, throwing my champagne up.
If you missed the first part of this story you can read it HERE
Since then my sister Martha won four tickets to Beyonce in Dublin this Sunday PLUS a champagne dinner and cocktail masterclass at a top Dublin restaurant Koh and limo transfers to and from the concert! 
Cool thing she has three sisters : )
Have a great weekend. I'll be back soon with reports from Koh Restaurant, Beyonce and goodness knows what else x
 By the way, I'm planning to turn the house into an underground/pop up restaurant for one night only this summer. Is that something you'd be interested in attending? Let me know in comments : )
Finally, tomorrow, Saturday the 8th of March, is International Women's Day and a lovely way to celebrate would be to take some time (especially if your're a creative soul) to watch the 'Lost in Living' documentary, free for one day only, for the day that's in it…
'The documentary 'Lost in Living' will be available to stream for free on-line for 24 hours on March 8, 2014 to coincide with International Women's Day. This will be a Global Web Screening Event and an opportunity to share Lost In Living with women around the world. Women's stories need to be accessible and this will be a unique and exciting moment for everyone to take part in the conversation about balancing family, work and creative passion.'
For information on how to livestream 'Lost in Living' click HERE
To watch a trailer click HERE
---
---