Tour our Home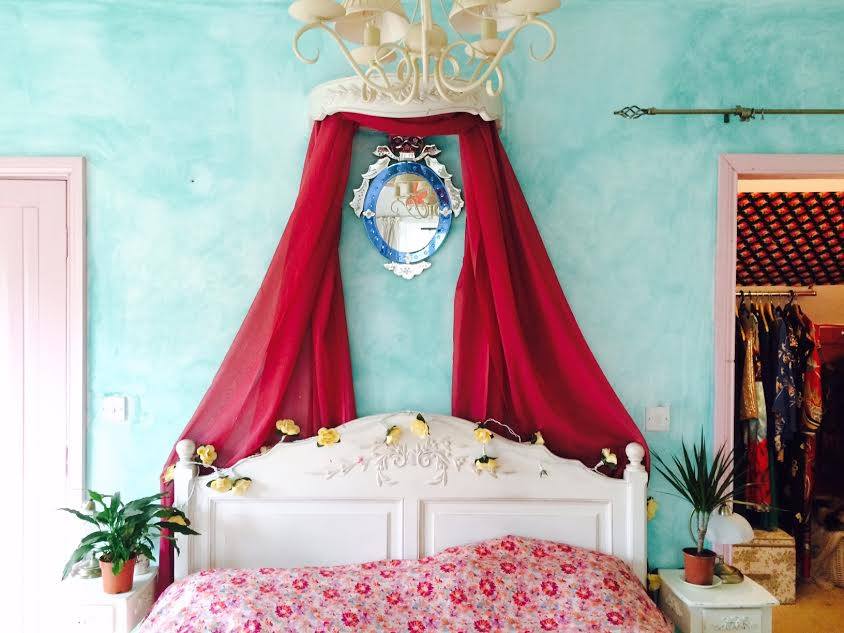 The house is new, built a few years ago, but the way it writes poems you'd never know. The house is a ship, it carries dreams, today it captured shimmering things…
I blinked and the hill turned lush with flowers. I'd only opened the door for an hour. In rushed the green air,
light for the corners,
scent of roses and clover,
and the house wrote, 
I am a summer house…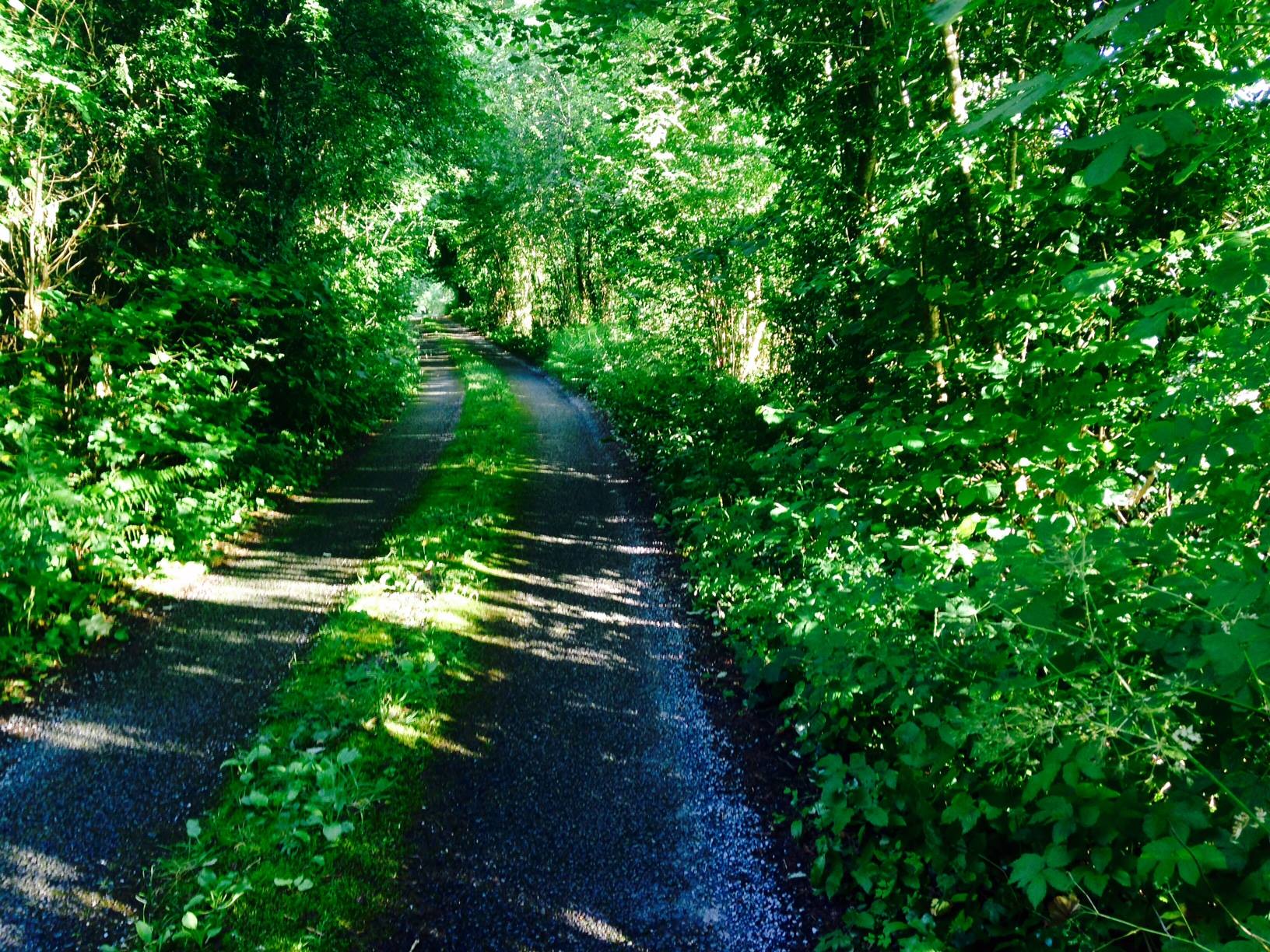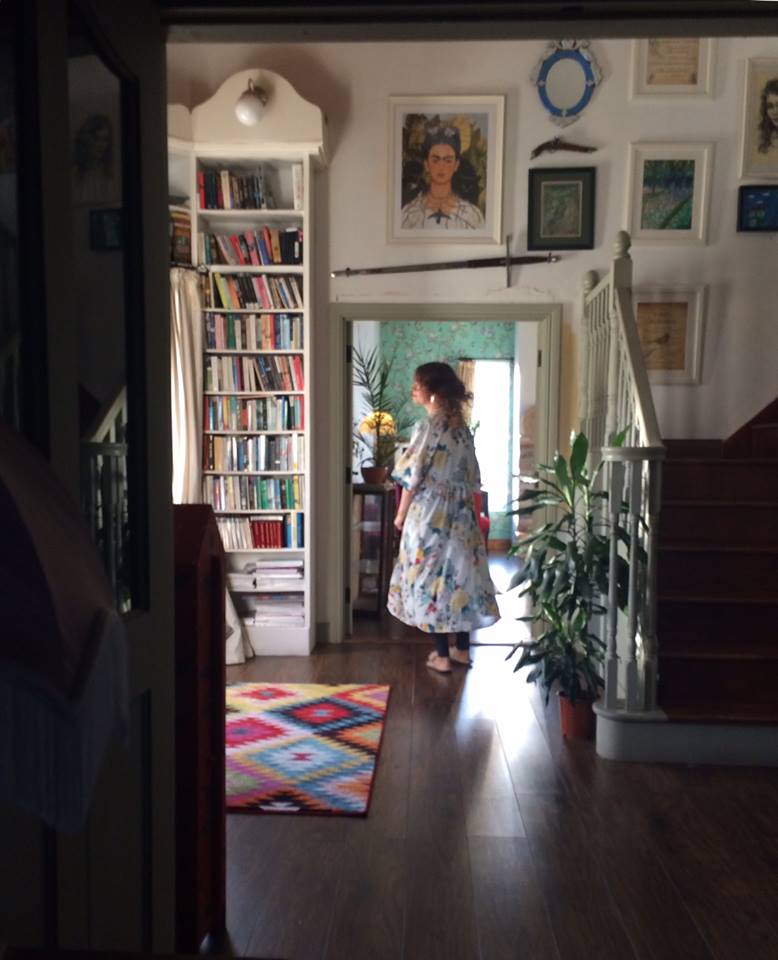 Who would join me here, in the firelight, with rain and smoke, on the edge of night. With wine to drink and tales to spill, and fairy folk drifting over the hill…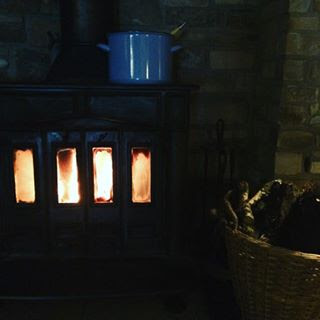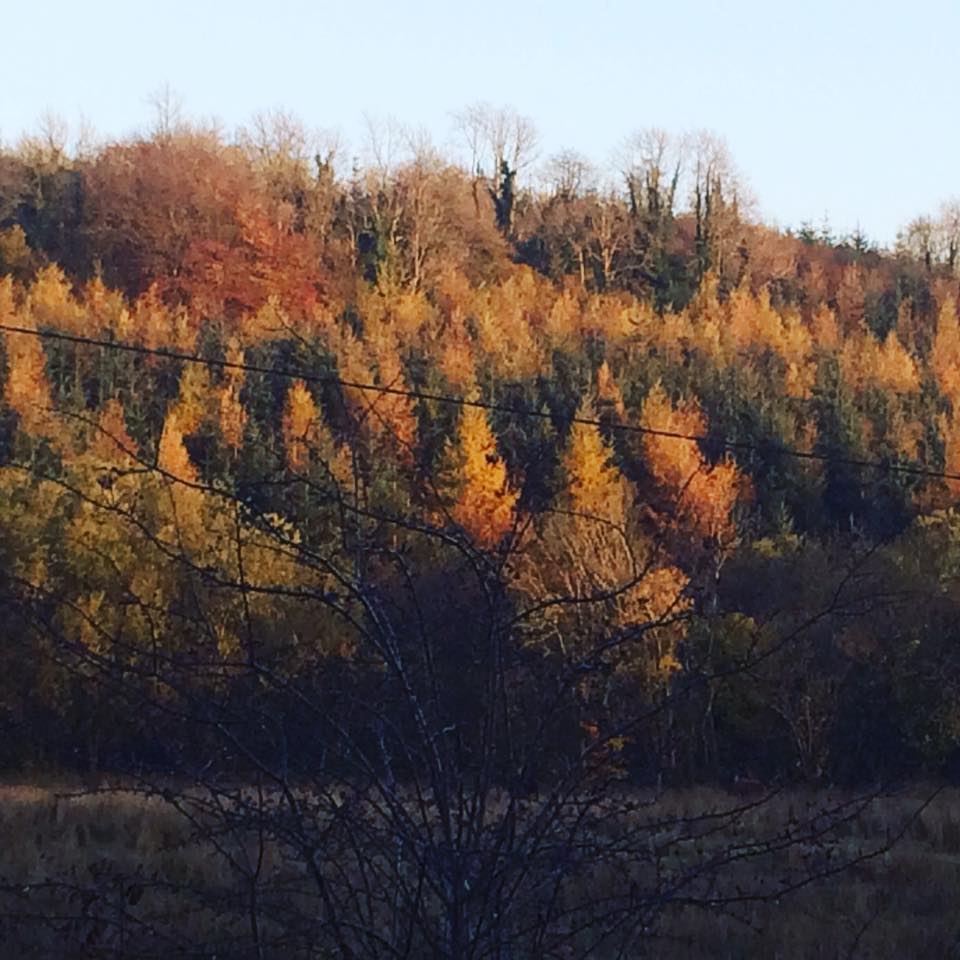 The house is new built a few years ago, but the way it writes poems you'd never know. The house is a ship it captures dreams, today it captured Halloween. I blinked and the trees on the hill turned russet. I only opened the door for a moment. In rushed the thin air, dark for the corners, the scent of rain and turf smoke, and the house wrote, I am a winter house…
But in truth it's a house for all seasons. Christmas for example. We have 16+ guests and tables running the full length of the kitchen. With the way things are going we may have to turn into the hall to fit everyone.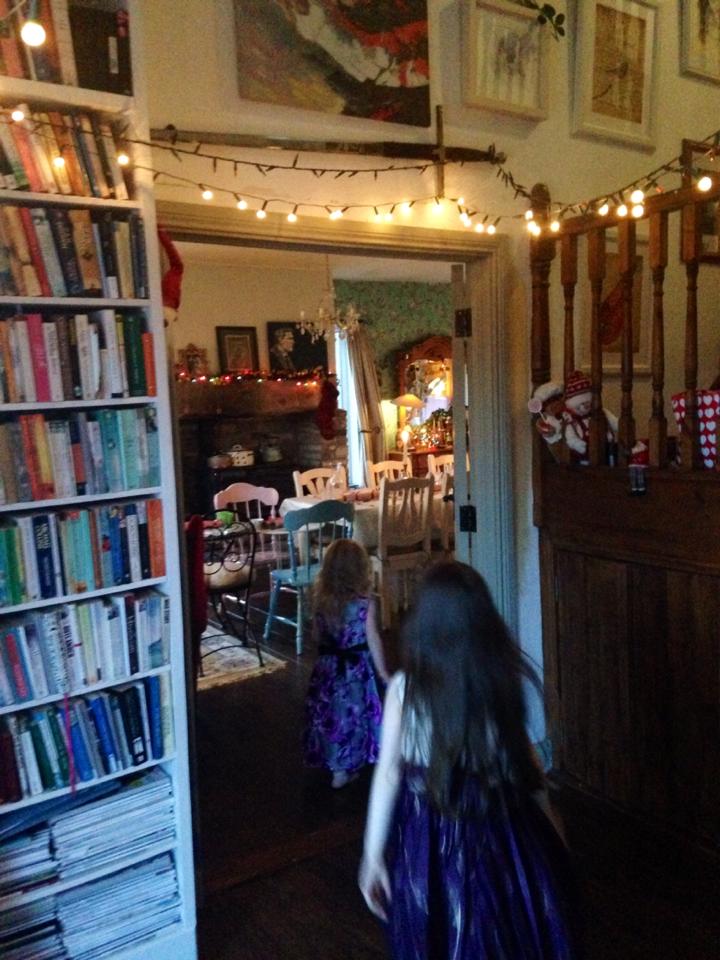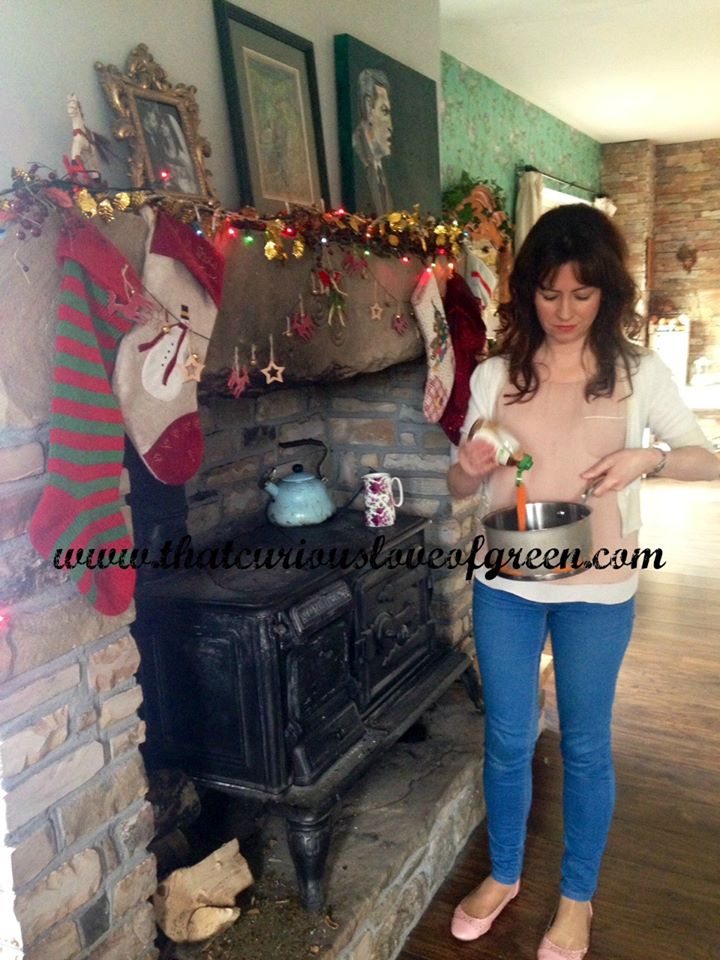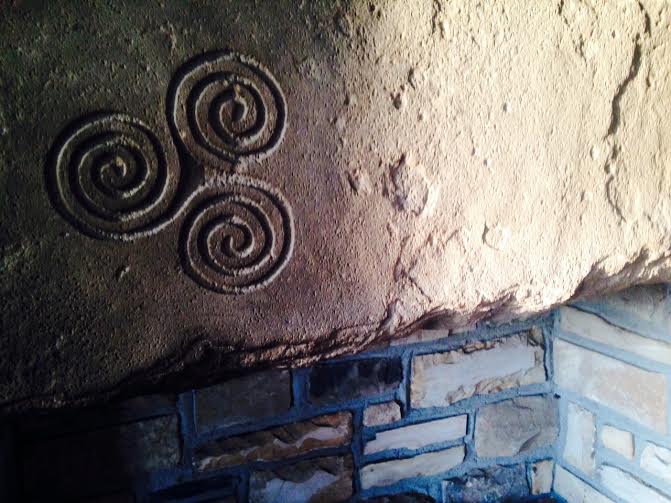 My favourite view from our house is my grandparents old house, home now to my brother and his family. Together we're surrounded on all sides by trees alive with birds and whistling winds. To visit we just cross the field. At night the field is brighter than the lane. It's an idyllic way of life for the children, and for the grown ups.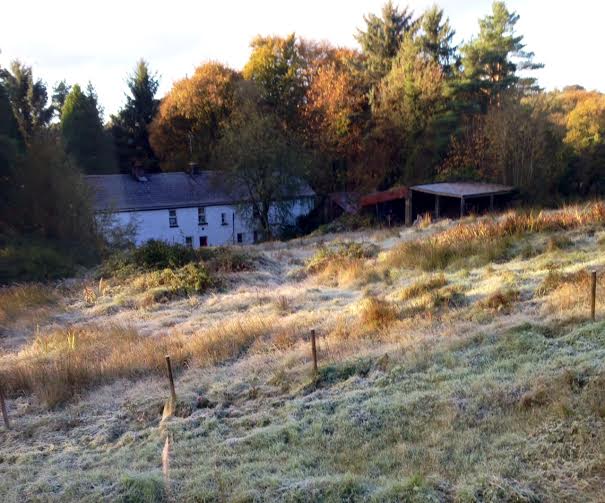 A lot has gone down around this table…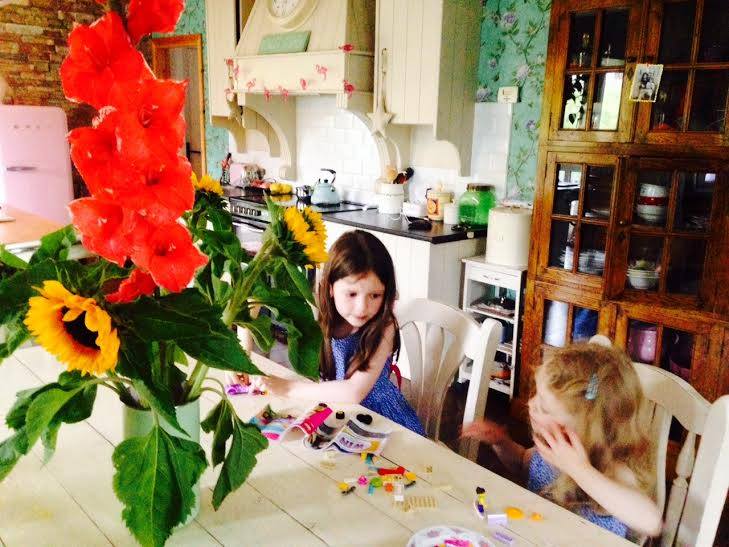 It gets moved around and decorated too…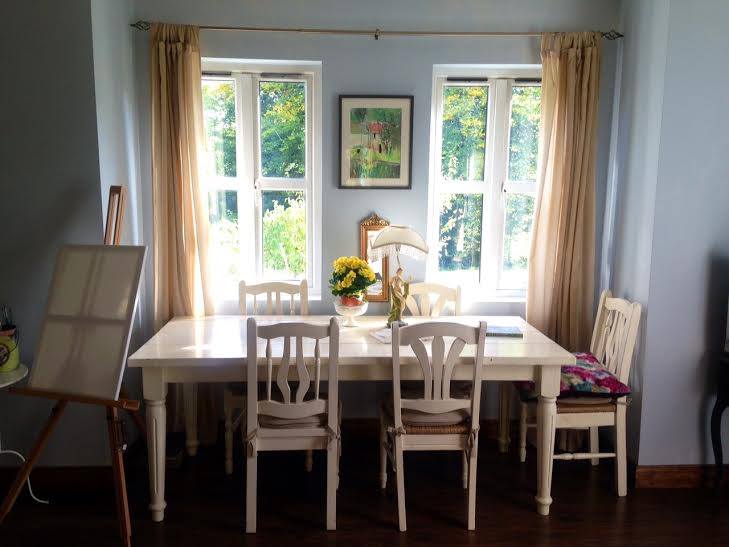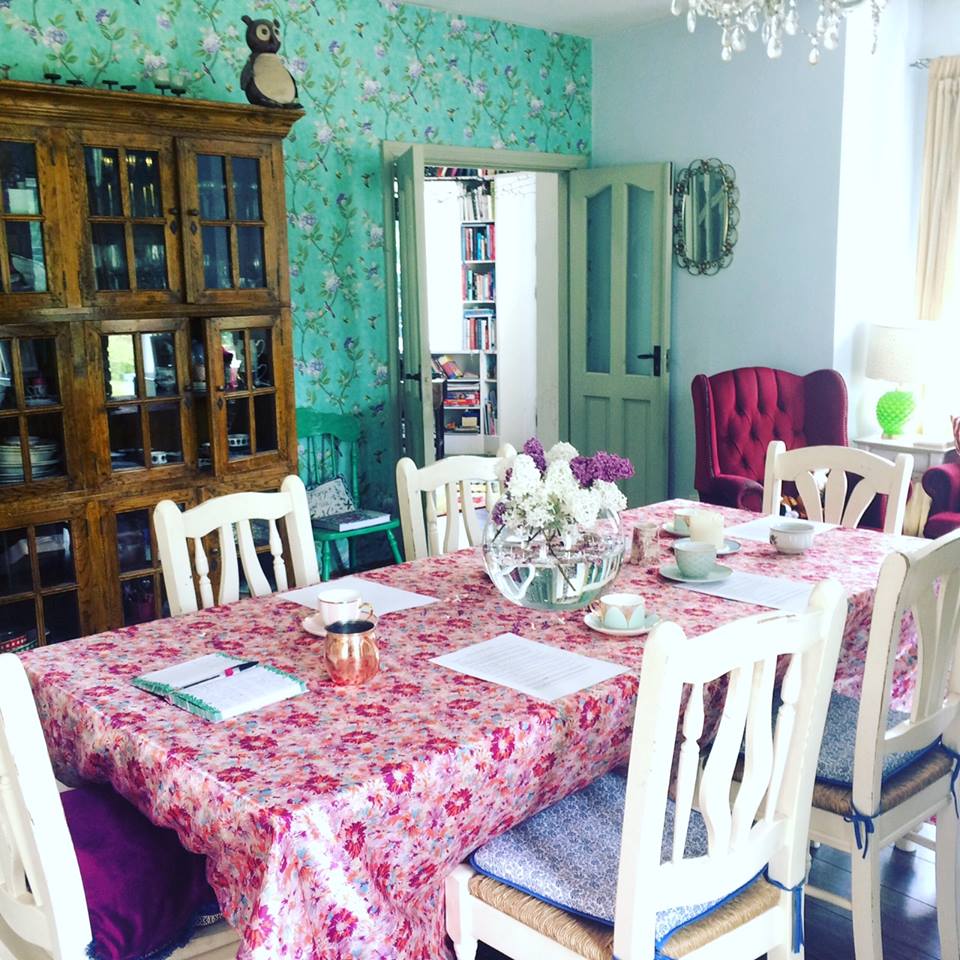 This art work by Linda le Kniff is one of a number of prints we brought home from our honeymoon.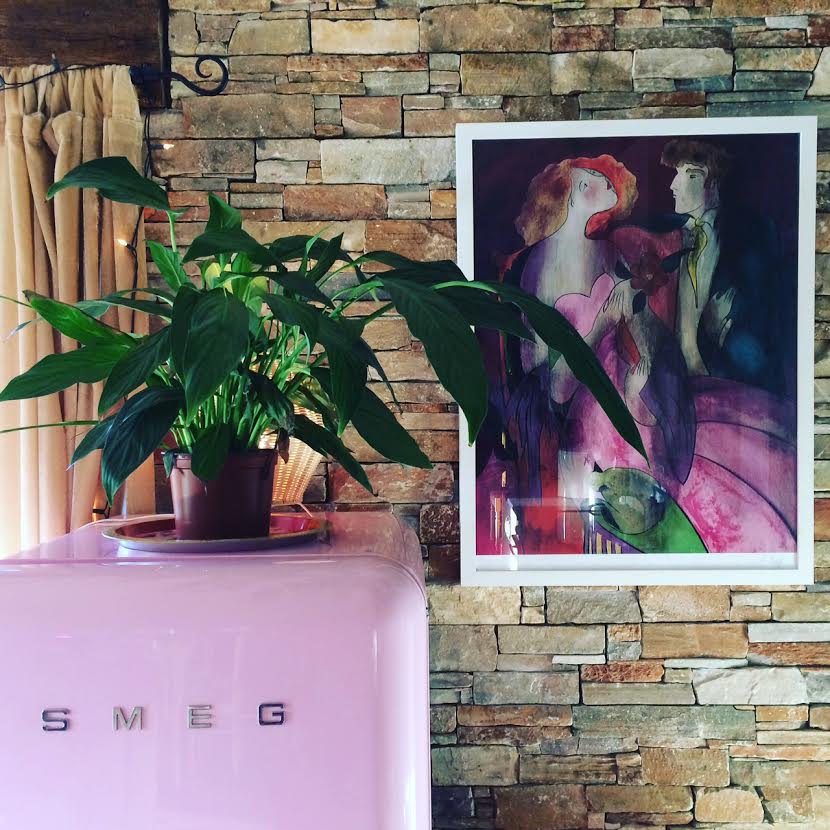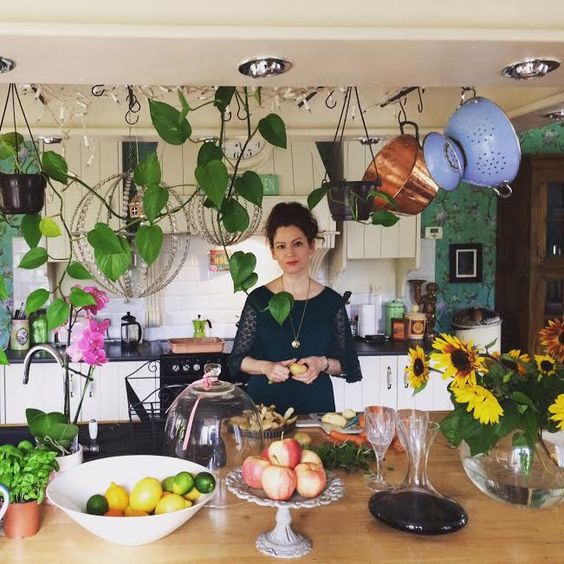 My goal here is to always be creating. A place of freedom and free expression. A sanctuary, and continuous colour…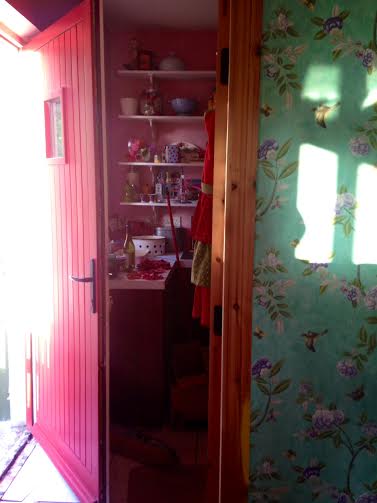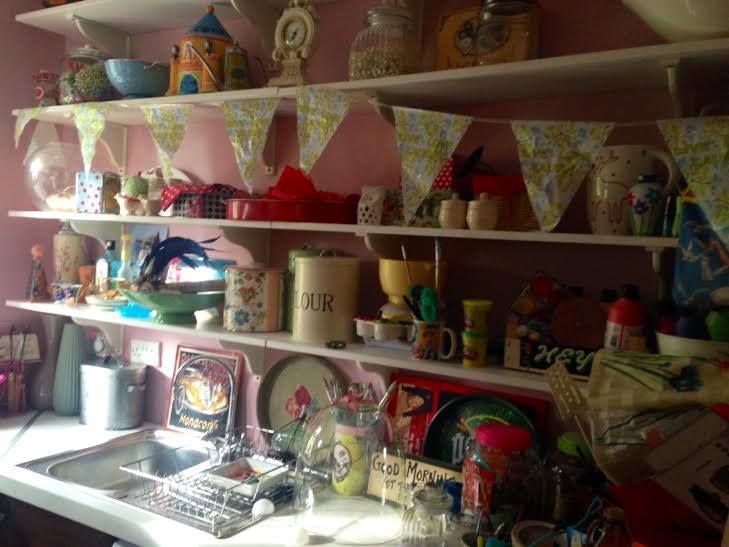 My surroundings reflect who I am…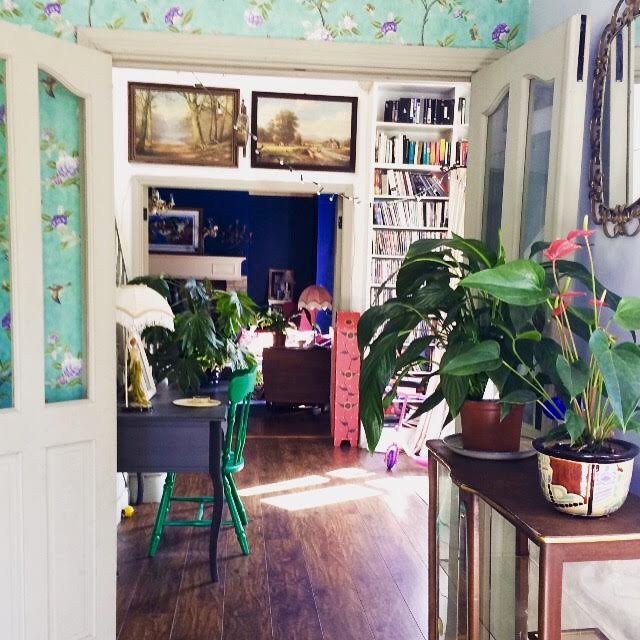 The green couch, and matching chairs, were a local market fine. And what a find, at €120 for the set. #meanttobe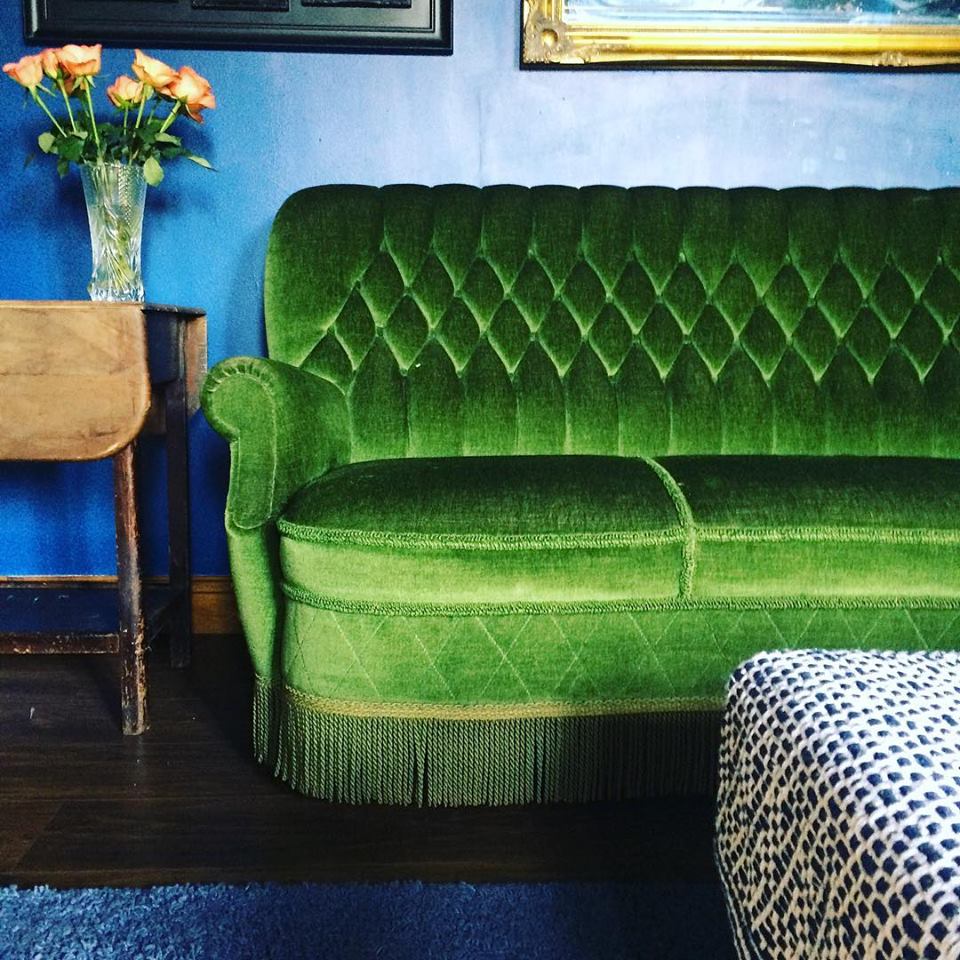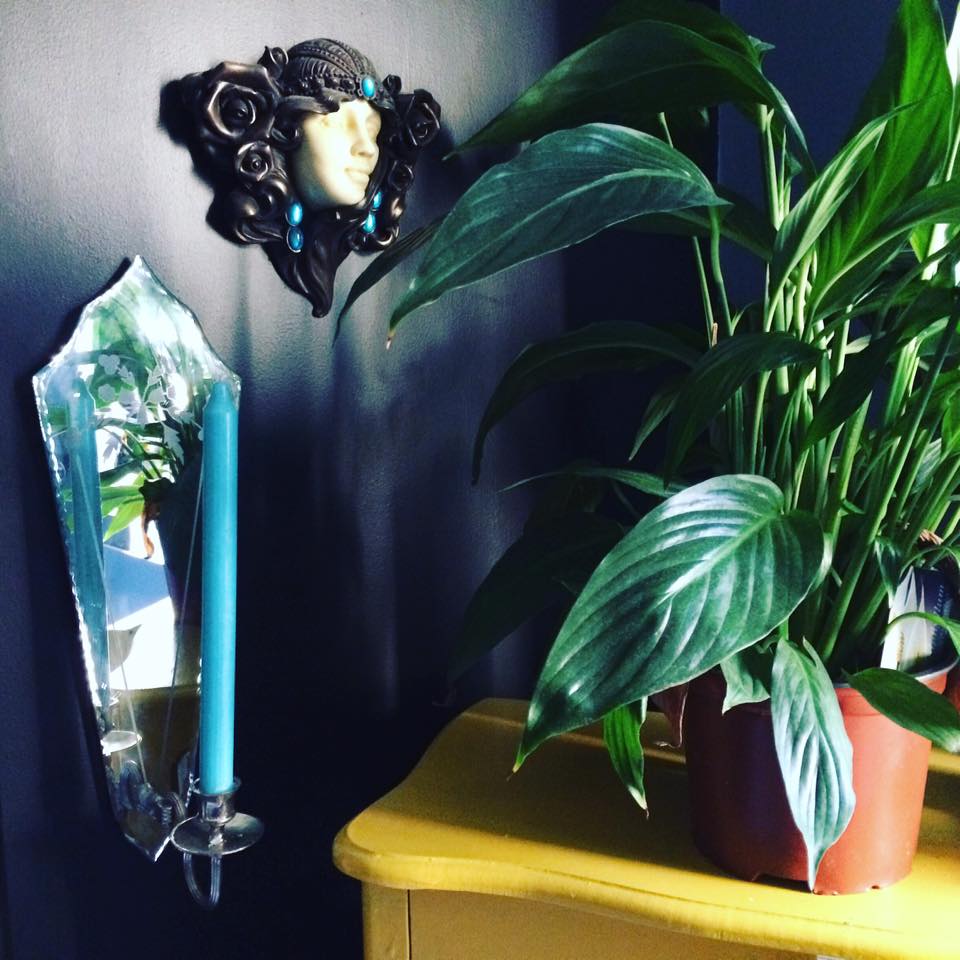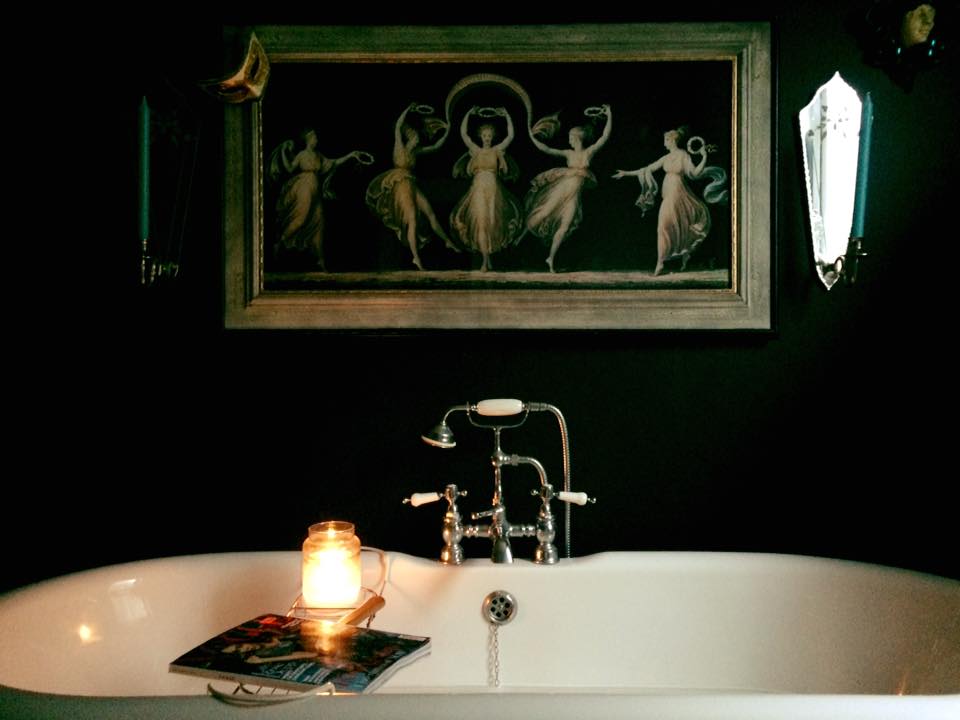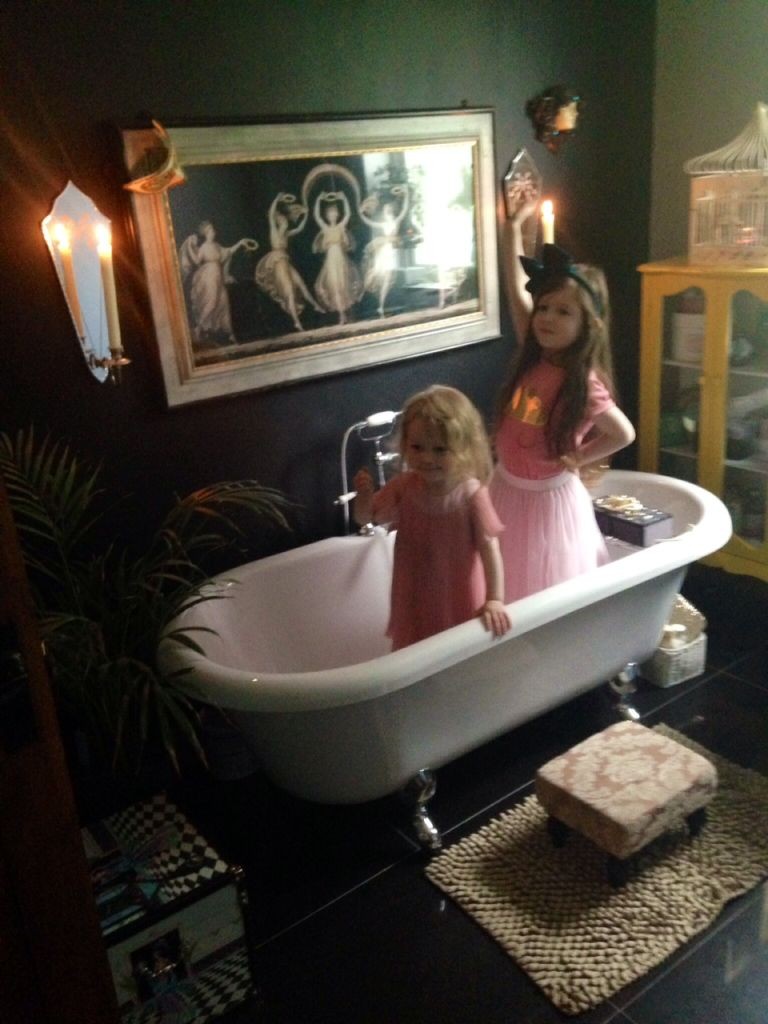 I thought about making a stencil, we gathered leaves for inspiration, did we make a stencil? No. We just went for it, freehand.
I'm always creating, and my approach is whole life and bold. Writing is hard, life is harder. Your house should be a playground, and not just for the kids.
It's good for them to see us have ideas and act on them. To learn, if they can, not to be scared to try things, or of how they might turn out.
You can always paint over them but, you might decide to keep their joyful messiness, a record of some fun you had. Why not?  
P.s. we painted the ceiling too, sky blue.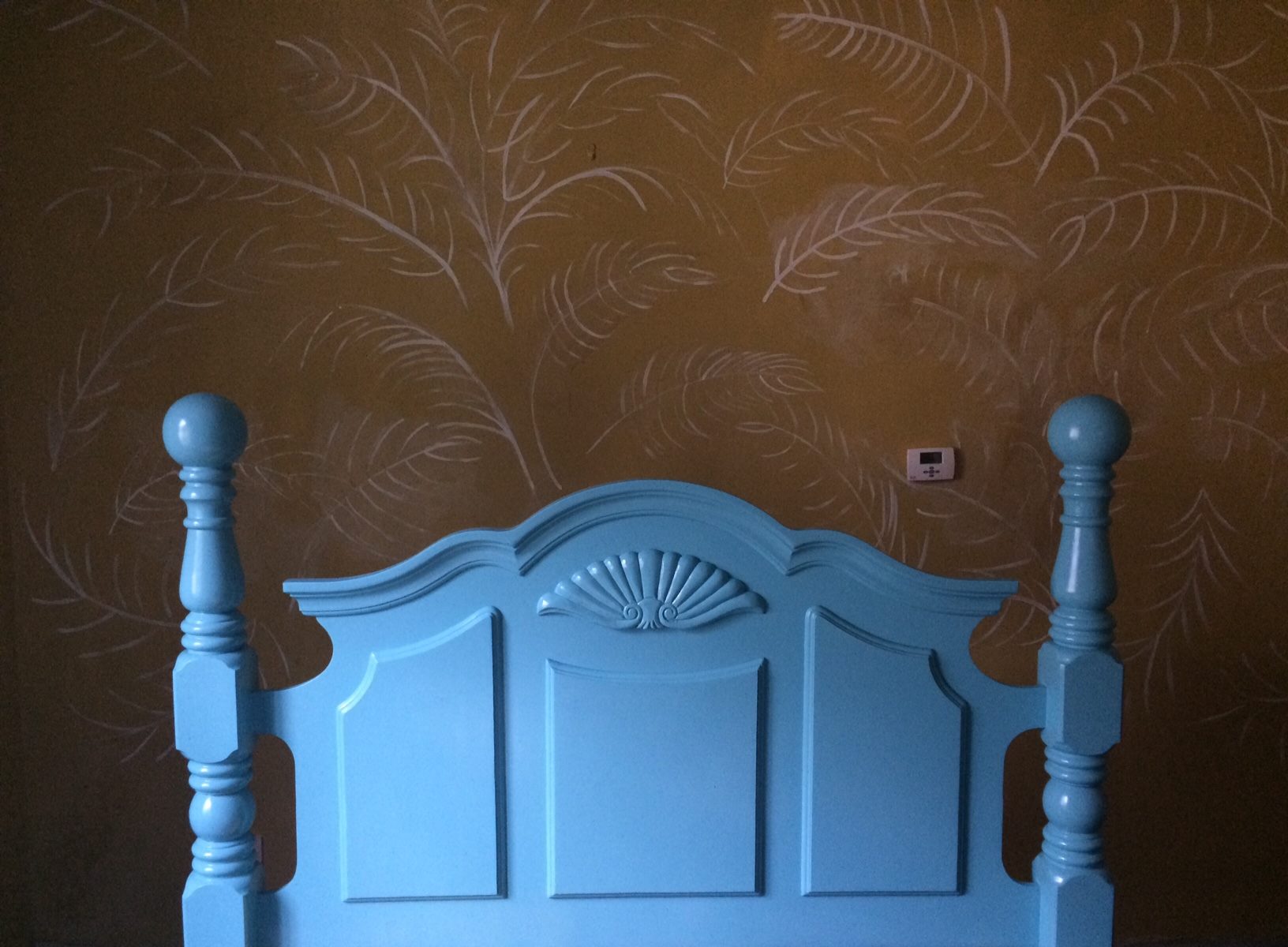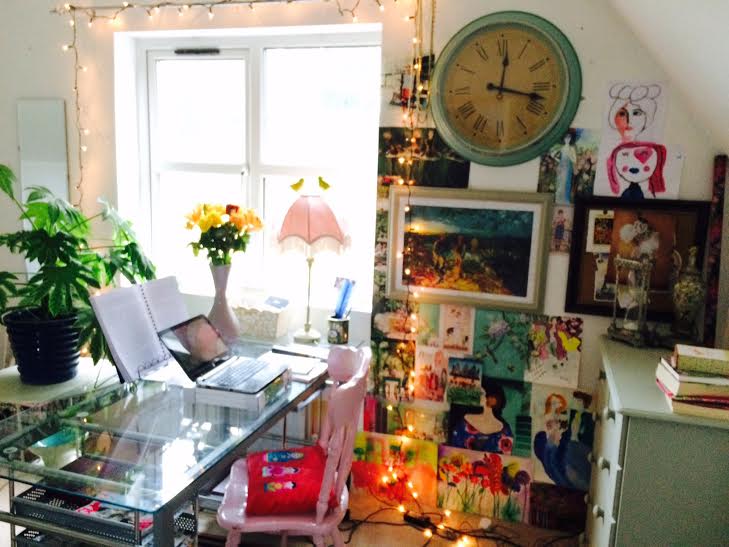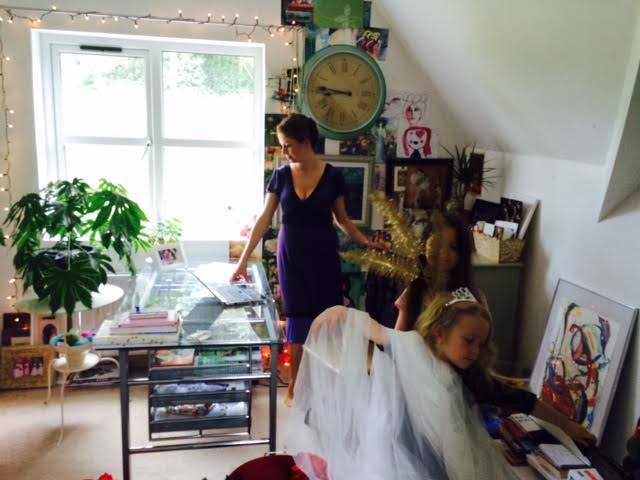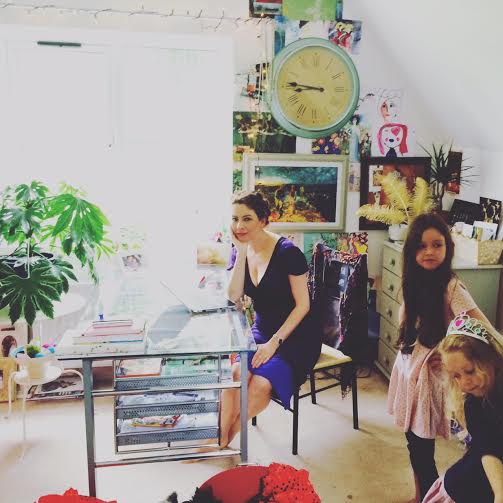 My new at home studio…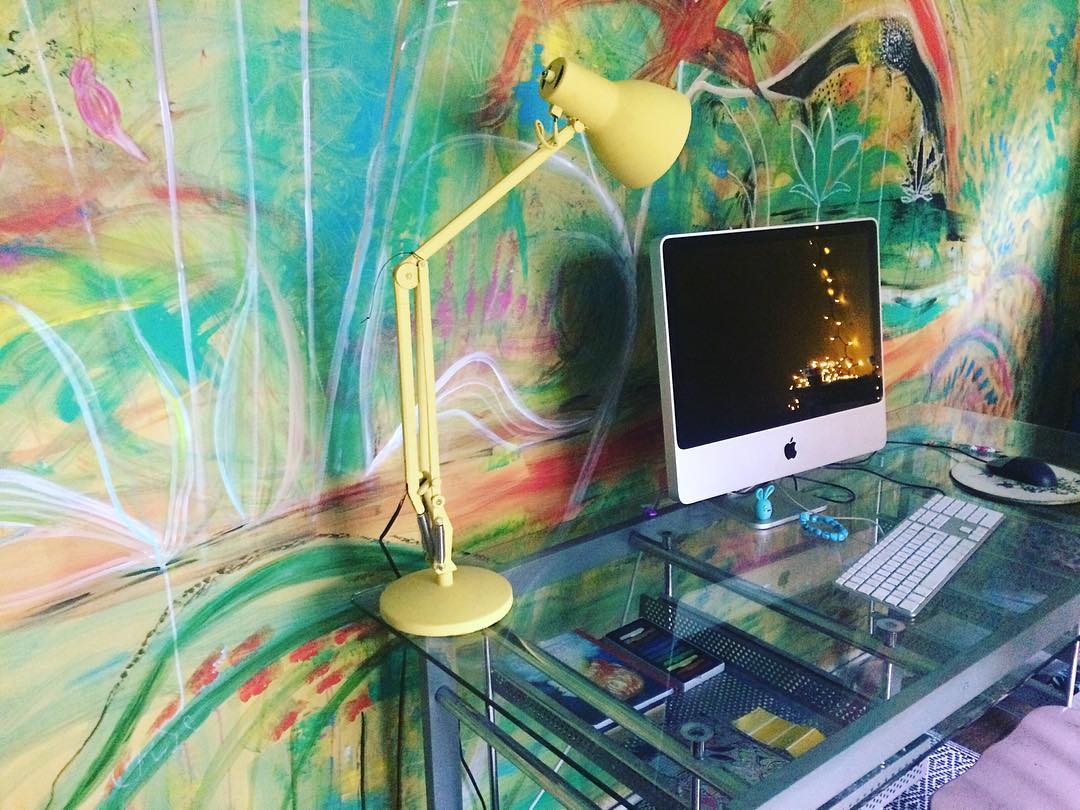 And by night…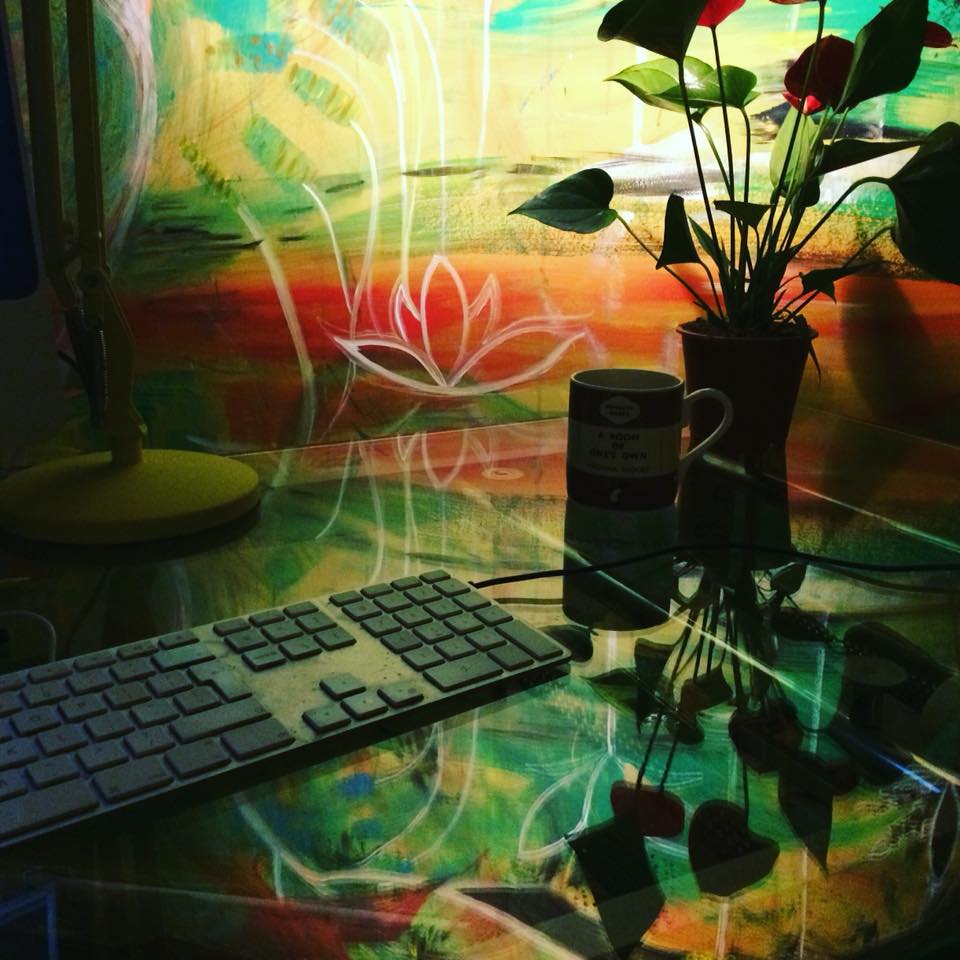 Upstairs Hallway…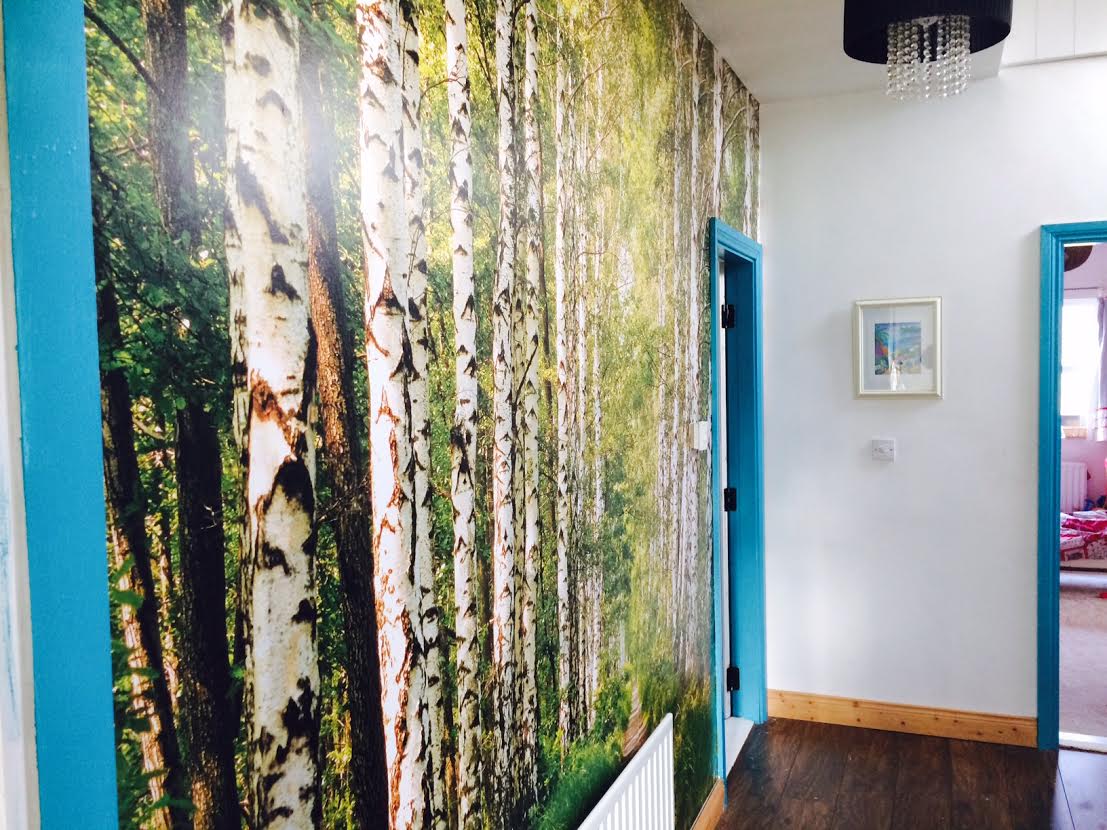 Our bedroom…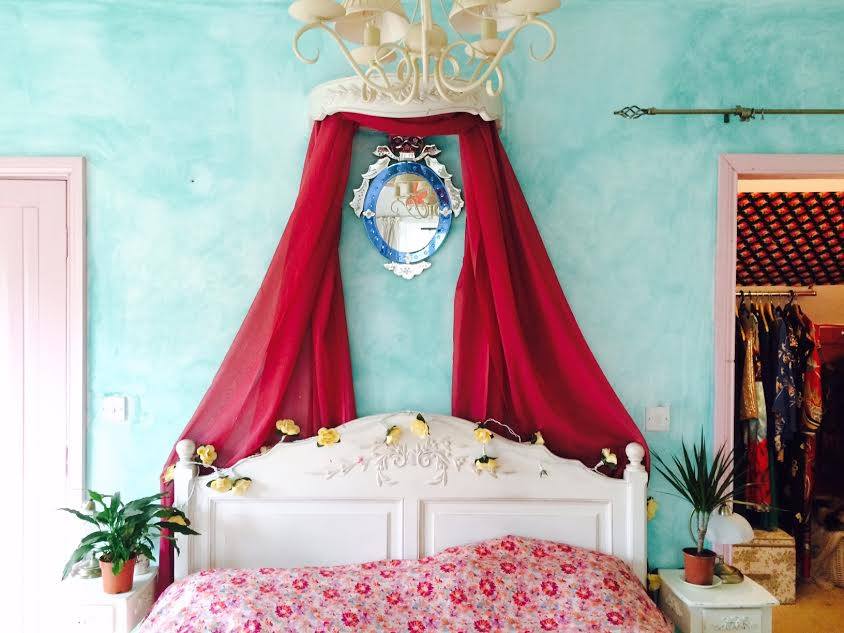 That's all for now folks… I will keep updating and tweaking, until then…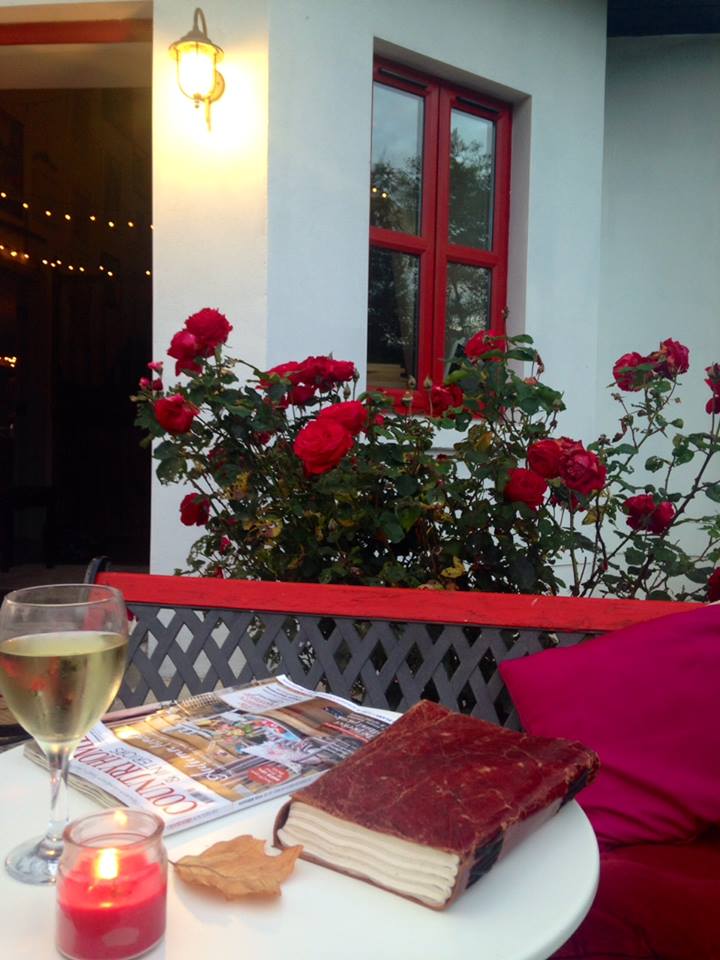 And my view from that bench by the roses and door is…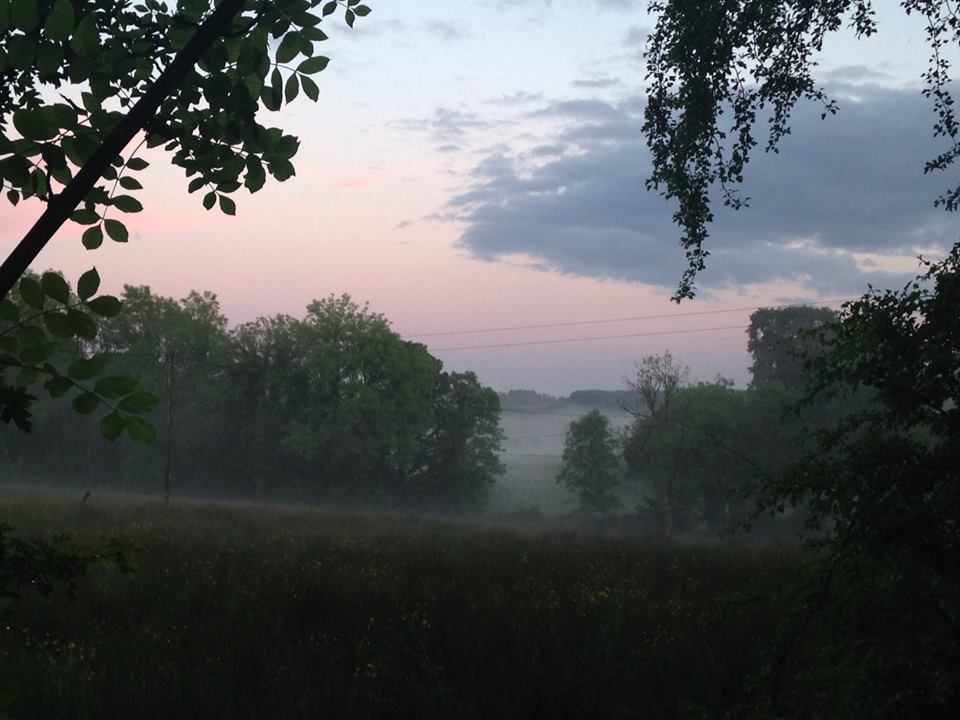 Thanks for dropping by for my house tour. I hope you enjoyed it, if you have any questions feel free to ask,  xo Jane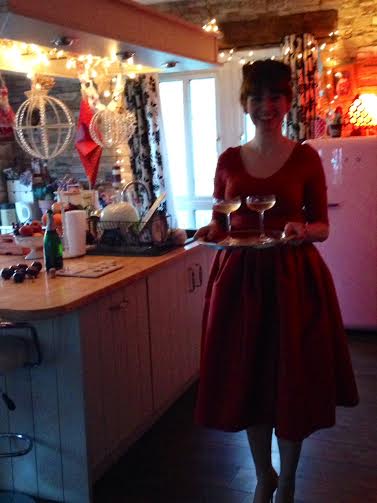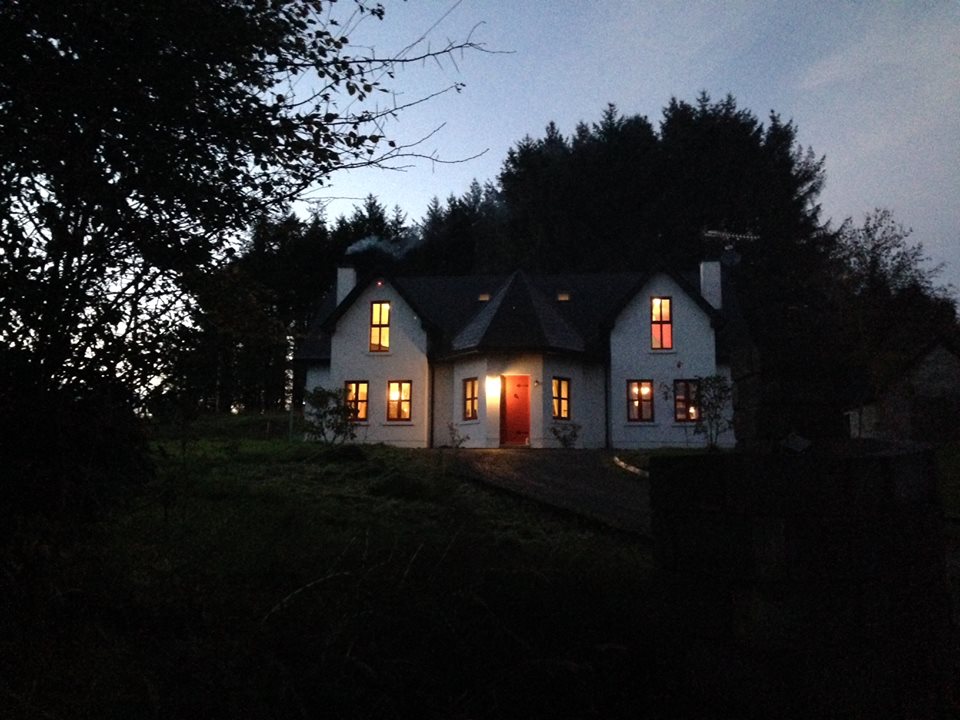 Cailleach~Witch is Debut Novel for Writer & Curator of That Curious Love of Green, Jane Gilheaney Barry.
Cailleach~Witch is set for release on Monday the 17th of September and will be available to pre-order from Amazon from Monday the 3rd of September. The much anticipated debut is a modern gothic, mystery novel, with a strong sense of atmosphere and place. It will appeal to fans of the Bronte's, Daphne du Maurier, Alice Hoffman, and Kate Morton. It tells the story of the mysterious Cleary women. A family of Bean Feasa, wise women, witches, who live on the local mountain. Think 'Charmed' meets 'Practical Magic' but set in 60's to 90's Ireland.
Cailleach~Witch is a contemporary novel inspired by the landscape and ancient myths of Ireland, like that of the Cailleach, the spirit of winter. Jane has been working on Cailleach~Witch for five years while rearing a young family and building a successful lifestyle and creativity blog, That Curious Love of Green, with over 25,000 followers worldwide.
'I've always wanted to write a novel for as long as I can remember. I started writing with the blog, six years ago. That helped me create a regular writing habit and within a year I started writing Cailleach~Witch. I always knew I'd write a book about women, sisters, and a house. I'm over the moon to be launching my first book. I've dedicated it to my wonderful parents, John and Nora Gilheaney.' – Jane Gilheaney Barry.
'I think it's an excellent book. It's got a genuineness to it that resonates. You can feel the place and imagine it, and you have three dimensional characters, strong women who have flaws and imperfections. Readers who like a strong female protagonist and to feel connected to a more magical time will love this book.' – Sheryl Lee, Editor.
Cailleach~Witch will be available exclusively from Amazon, in paperback and as an eBook for kindle from September 3rd.
For more information you can follow Jane at That Curious Love of Green on facebook and/or sign up to her mailing list at www.thatcuriousloveofgreen.com For writing and creativity workshops, and press, email janebarry17@gmail.com For the second year running Jane will be hosting a writing workshop and taking part in an author panel at Ardagh Fright Fest, 27th – 31st of October. See Ardagh Fright Fest for booking details.
ENDS
A LITTLE SPOOKY, A LITTLE QUIRKY, A WHOLE LOT OF ATMOSPHERE AND MYSTERY…
Dara Cleary and her sisters are returning to their childhood home in the west of Ireland, where the aunts still live. Dara is seeking revenge for an incident that happened ten years earlier and was the reason for their leaving.
But when they arrive they find a far bigger story waiting for them. They are Bean Feasa, witches, bound to the Cailleach, a paranormal landscape witch. Now is the time of reckoning, and Dara and her sisters must face formidable odds to complete their family's quest for freedom.
A beautifully lyrical and eerie tale, with touches of magic and an abiding sense of atmosphere and place.
Jane Gilheaney Barry drives her cast of memorable women at lightning pace through the landscape and climate of Ireland's wild west.
Wild, lyrical, eerie, and beautiful. To read Cailleach~Witch is to be swept to the west of Ireland.
About the Author
Jane Gilheaney Barry is an author, and founder of That Curious Love of Green. A creative lifestyle blog and brand that embodies her life, home, and philosophy of creativity as a way of life. This is where she shares daily inspirations with an online following of 25,000 and growing.With a passion for writing, creativity, freedom, and the creative path, Jane and That Curious Love of Green are becoming a go-to source for creativity inspiration. When she's not writing, Jane is in demand as a workshop facilitator and retreat host. Jane will be appearing and hosting workshops at Ardagh Fright Fest, literary festival, at Ardagh Heritage & Creativity Centre from the 27th to the 31st of October.
Jane lives in Ballinamore, Co. Leitrim, in the north west of Ireland, with her family; husband Adrian, and children, stylist Shaylyn Gilheaney, Saoirse, ten, and Sadhbh, seven. A keen photographer, nature lover, stylist, and artist, Jane's professional background is PR, Arts Management, Art Therapy, and Project Design
Keep up to date with Janes book news, events, and special offers by sign up to her mailing list at www.thatcuriousloveofgreen.com 
Follow Jane at That Curious Love of Green on Facebook: www.facebook.com/thatcuriousloveofgreenand on Instagram @janegilheaneybarryFor workshops and press emailjanebarry17@gmail.com 
---
---