We Can Do It – Part 1. Paint, with Joanna O'Sullivan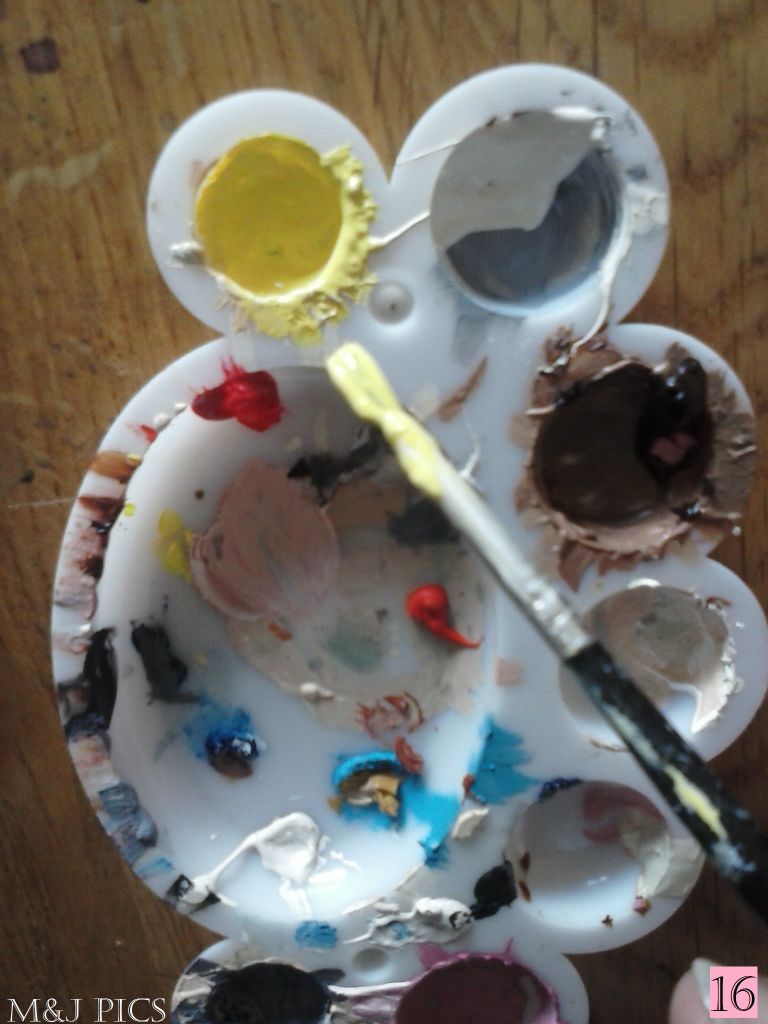 To get your week off to a flying start here's the first in my new 'We Can Do It' series, designed to inspire your creative interests by sharing the know how for everything you ever wanted to do but didn't know where to begin. The plan is to cut through the jargon, lift spirits and excite action, to get us doing, creating and playing like never before.
In the coming weeks I'll be inviting a mix of people to share the secrets of their creative pursuits as well as top tips to get you started. Some of the people I'll be talking to work professionally in creative industries while others have managed to remain creative as adults no matter what life's thrown at them.
As someone who believes creating is air to good living I'm fascinated by these stories and the secrets they hold for myself, my children and for all of you who feel the same.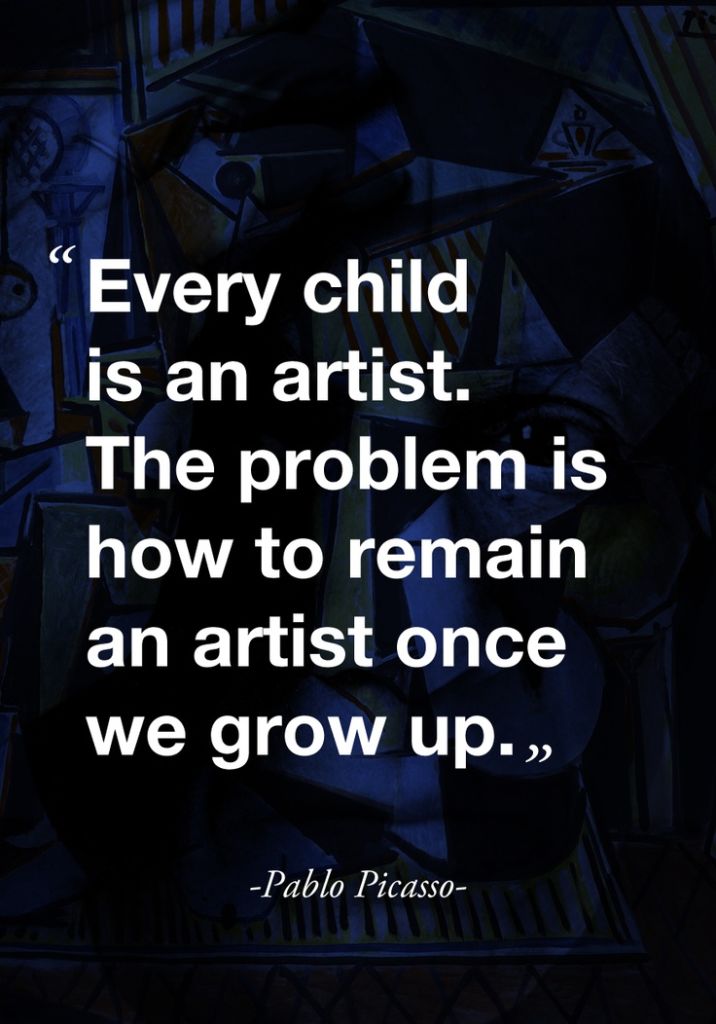 So what do you want to do? Paint a picture, Throw a Party, Start a Blog, Play Music, Redecorate a Room to reflect your Character, Bake Bread or Cake, Sing, Change Your Look, Make a Cocktail, Knit, Plant a Garden, Revamp your Wardrobe, Live Glamorous, Make Boxty, Take Better Photographs, Write a Book, Make Crafts, Cook, something else?
Creative living is broad ranging, it's simply the art of making and that is why I include things like cooking and decorating a home that reflects your character. It's not confined to art or drama. Everyday life can be highly creative. The higher the better for our overall happiness and health.
Next week published author Carmel Harrington will be sharing her tips for writing a novel but today the theme is painting and the subject is writer/blogger, educator, wit and friend, Joanna O'Sullivan. Visit her blog 'Musings of a Hostage Mother' by clicking HERE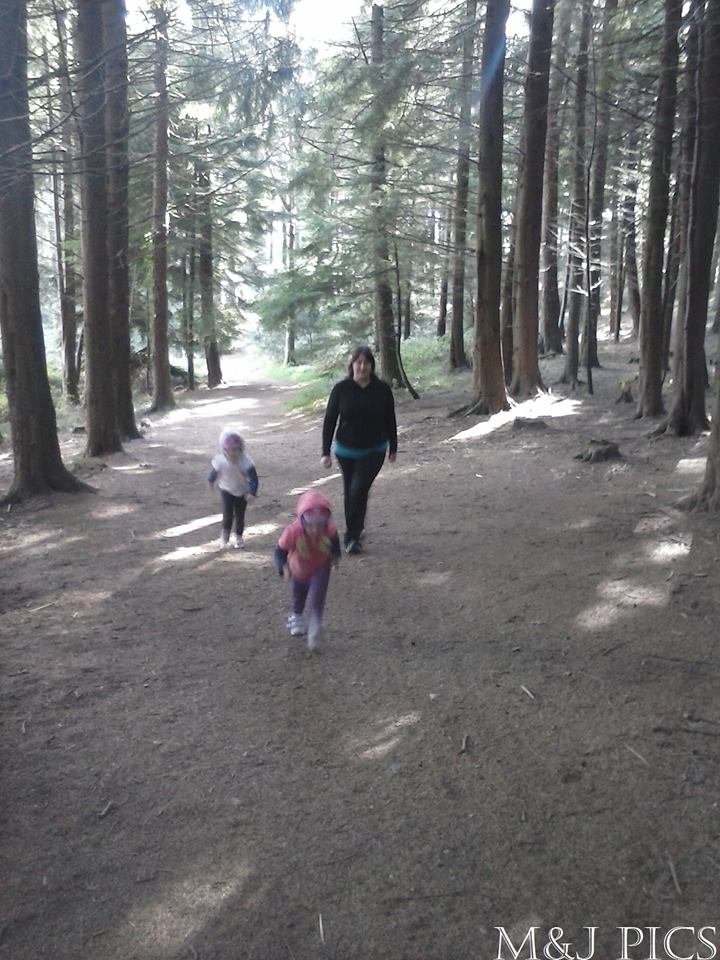 1. Hi Joanna, tell us a bit about yourself, your interests and what makes you tick?
I am married to Martin and we have two daughters. I am a writer, painter and educator. I dabble in reading tarot cards and family tree making. At this time of the year I am to be found either in the garden or daydreaming about what it will be (if you could see our garden now you'd know there's a lot of daydreaming going on). I am a strong believer in the value of doing things one small step at a time and only taking on what you are able for.
2. How did you get into painting and what do you credit with the fact you still paint now as an adult?
I'm not sure how I originally got into painting. No matter what we were interested in as children we were encouraged by our parents. I used to draw a lot with oil pastels, roughly from the ages of 15 to 20. I took art for the Leaving Cert and found it a very good course. I got a present of a set of acrylic paints in my early 20s, possibly for my 21st birthday. I really liked them and painted a lot with them. I painted on and off from then until I was pregnant with my first child at age 33. It was a very difficult pregnancy with a lot of hospitalisation. I had severe oedema which led to carpel tunnel in my wrists so I had to wear splints for most of the pregnancy which made it impossible to paint.
A few months after my daughter was born in 2009 it was Christmas and my mam gave me a present of a pad of acrylic paper and a new set of paints but it wasn't until the start of this year, 2013, that I took up painting again. I read one of your posts about choosing a word for the year ahead and that led me to decide to paint again. Another of your contributors to this series, Emily Rainsford Ryan, gave me great advice and encouragement and sent me those watercolours that you see in the tutorial. I had never used watercolours before and I really love them.
3.  As you know this series is aimed at people who would like to try something creative, like painting, but aren't sure where to start. Lots of people, myself included, were good at and enjoyed art at school for example but haven't managed to sustain that to adulthood. Can you help us by sharing some tips and practical pointers to get us started and debunk the mysteries of painting?
I don't think there's any real mystery but there might be constraints like time or the fear that comes with maturity! I hold a number of qualifications and I have also taken other just-for-fun courses; I could fill a room with the files, notes, books and photocopies that I've accumulated from study. Some of it made a big difference to me but more of it didn't. I could write on one small page the pieces of advice or inspirational quotes that have struck a chord with me and given me insight and encouragement and have spurred me on to do something or helped me to learn something.
Following on from that I would re-iterate my belief in effecting change one small step at a time. If you want to get back into something or learn something for the first time I think the only way to do it is bit by bit. We all accept due process for the mundane things we do every day: We prepare dinner, put it in the oven, cook it, take it out of the oven; we put dirty clothes into the washing machine, wash them, take them out of the washing machine…You get the picture! So, I would say accept that there is a process to get from start to finish and take it step by step……and enjoy it!
4. On an unrelated note, you're having a dinner party and can invite anyone living or dead. Who would you ask?
You, of course, Jane! You'd have to do the cooking or settle for takeaway though, I'm not a great cook.
Joanna might not be a great cook but as you can see, she is a woman of many talents and great taste in dinner party company : ) Here's her step by step guide to a painting.
I intend to paint a background of leaves and flowers on which I hope to paint a butterfly. I recently saw a photo HERE on 'Awfully Chipper'. I'm using water,  a very thin brush with a point, another thin brush with a flat head, watercolour paints, a pencil, a piece of paper, a paint tray and acrylic paints.
Blank page: I'm using A4 acrylic paper.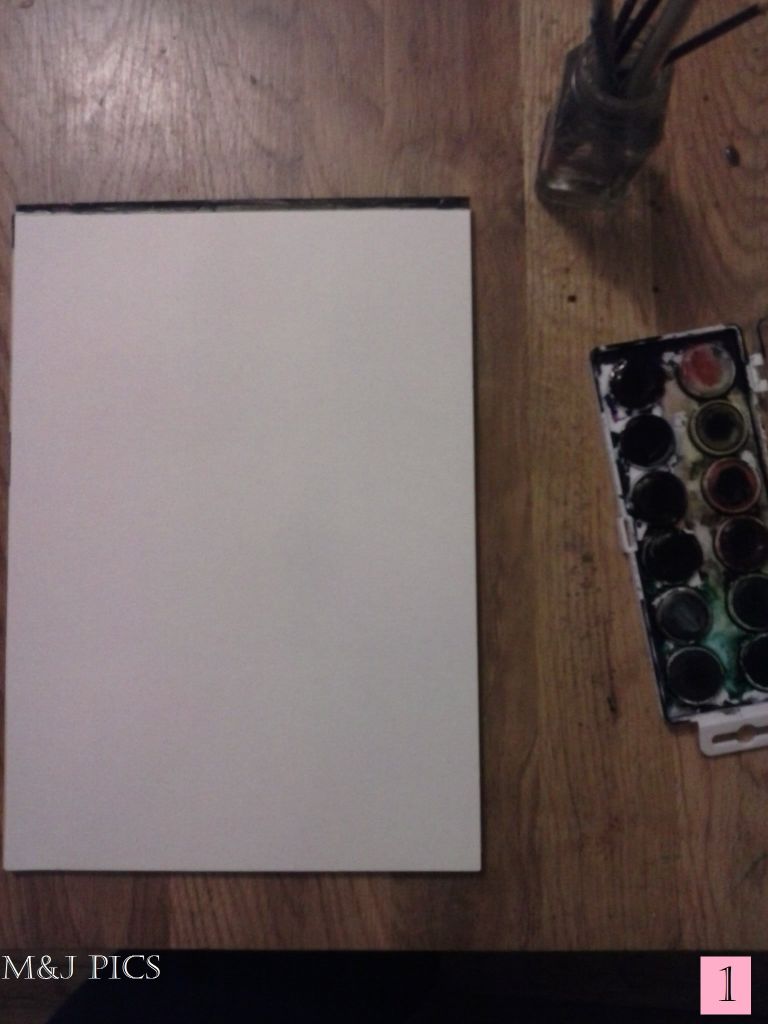 2. I brush 4 individual blobs of water on the page.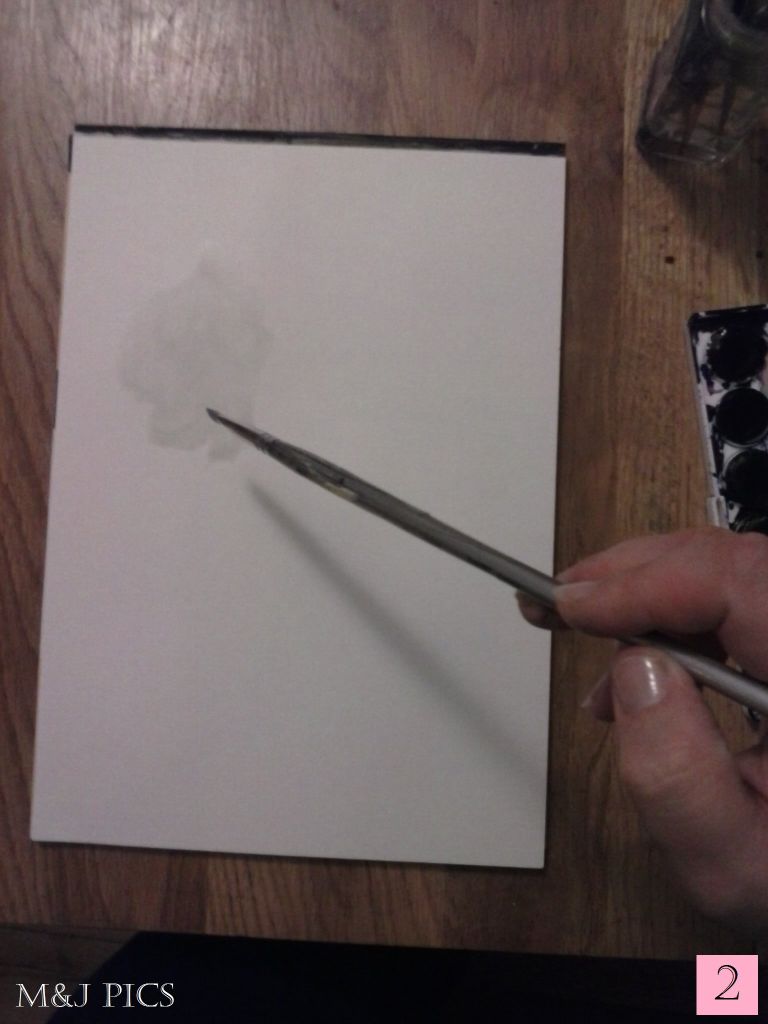 3. I dab a small amount of a watercolour in one of the blobs of water (choose whatever colours you like).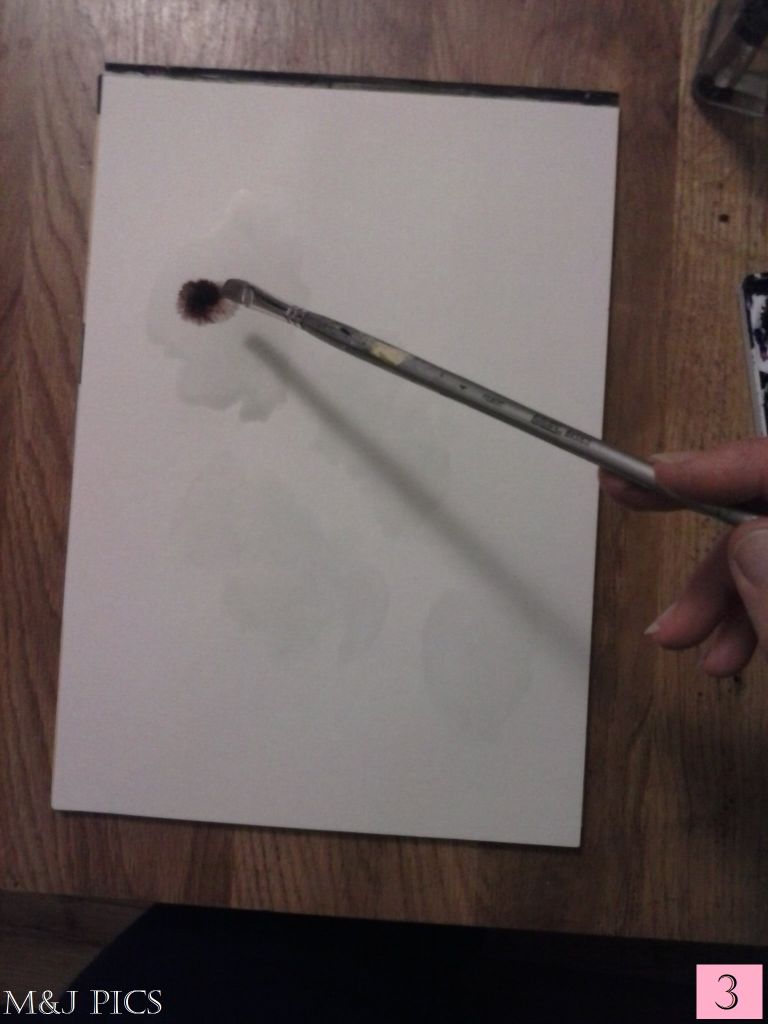 4. I dab a few other watercolours in each of the blobs of water.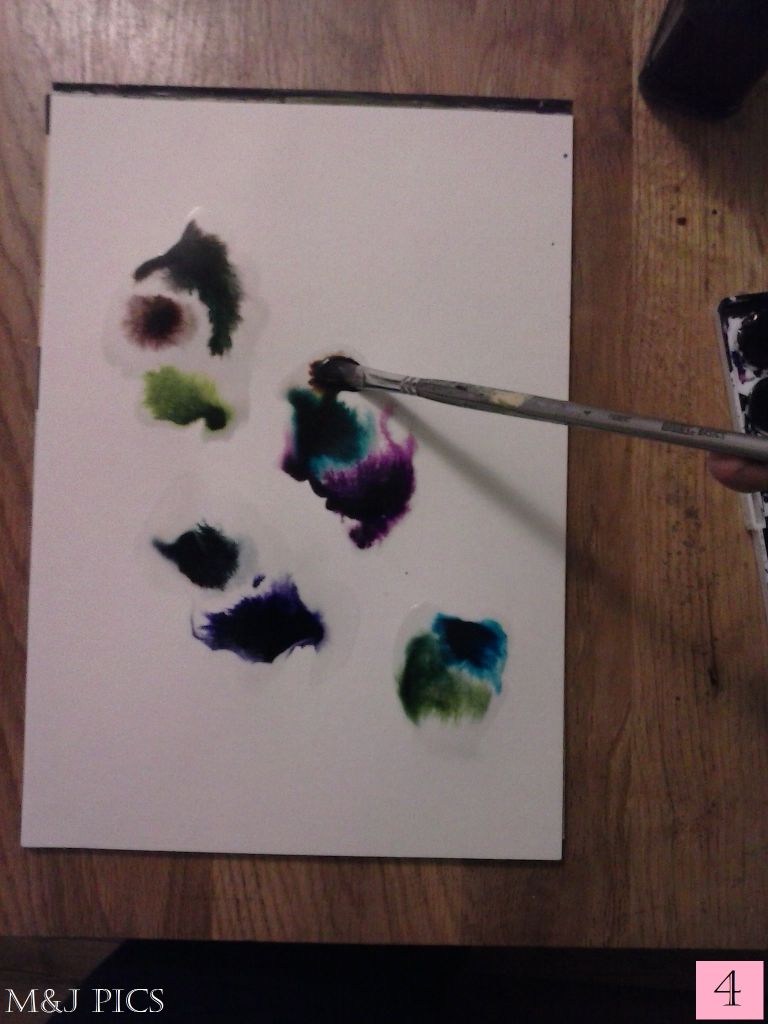 5. The colours run into each other within the blobs of water.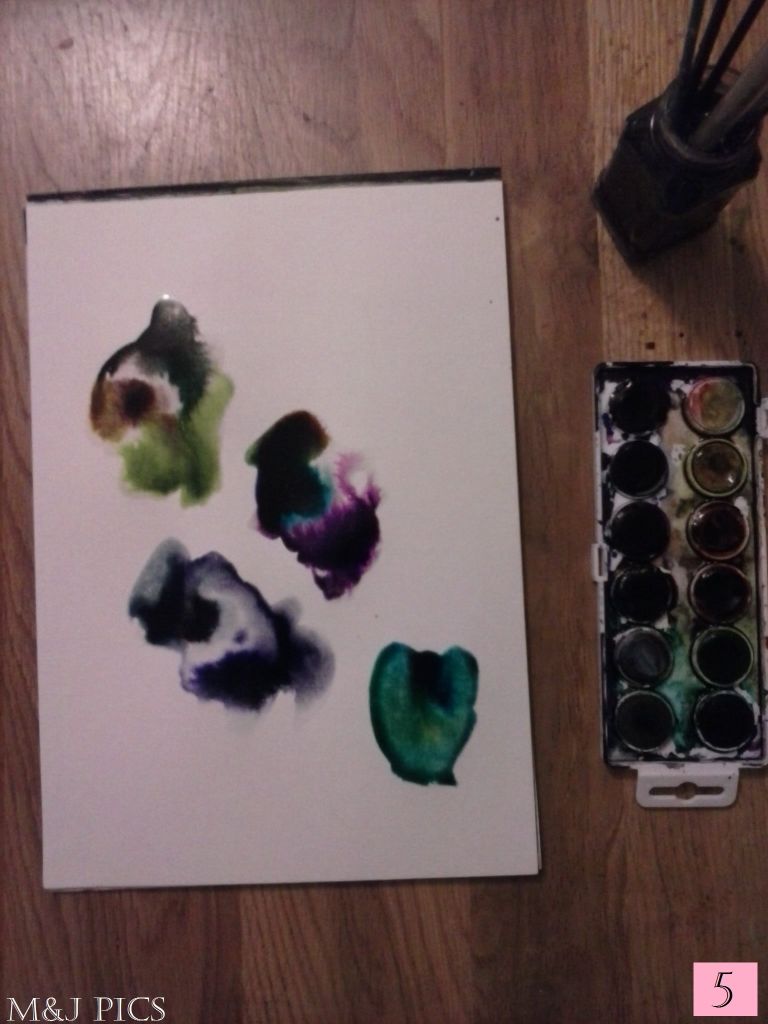 6. I use a thin brush to pull a line out of one blob and into the others.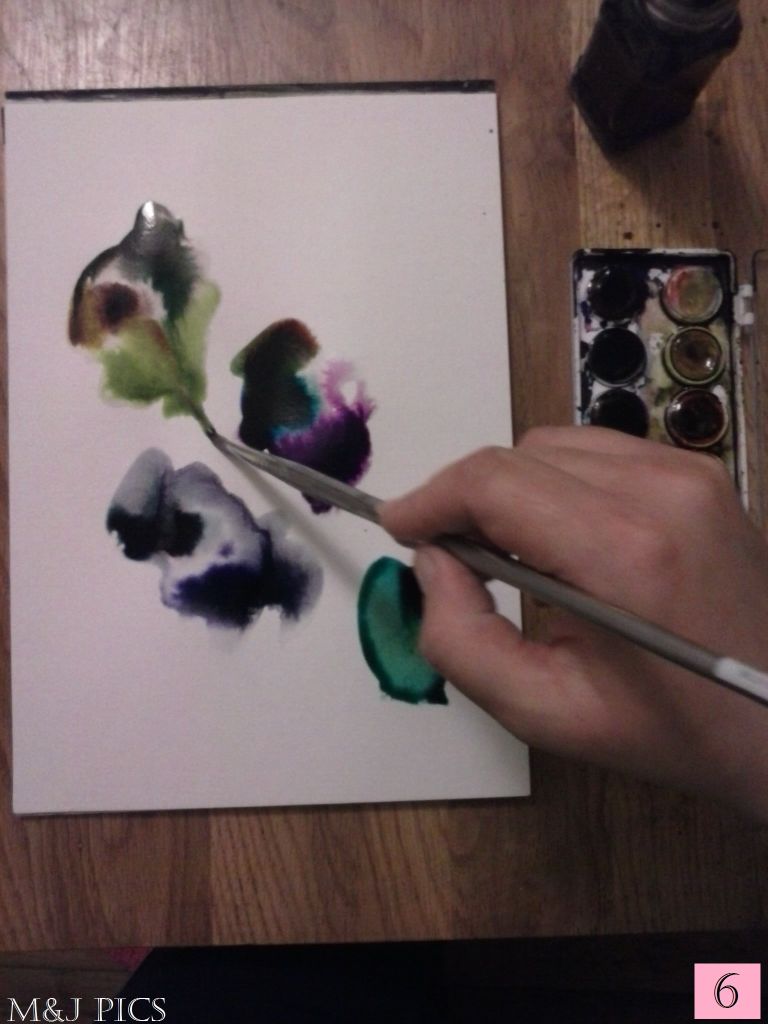 7. I am happy with the look but I think the stem is too straight.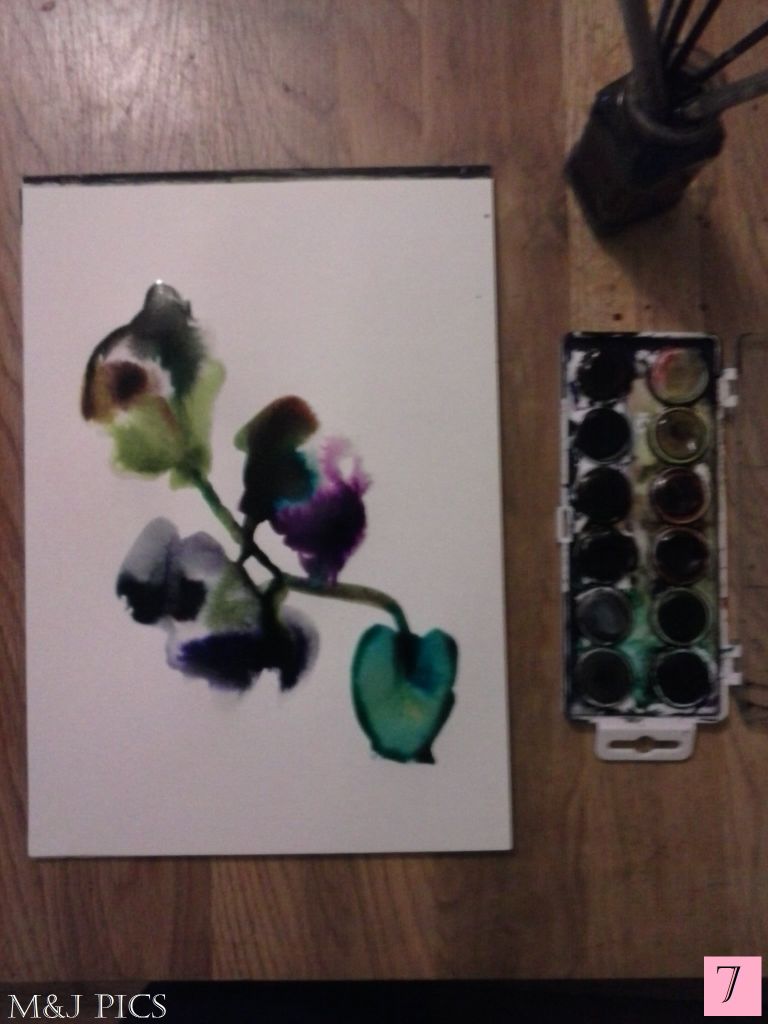 8. I use a thin brush with a flat head on its side to make little knots in the stem.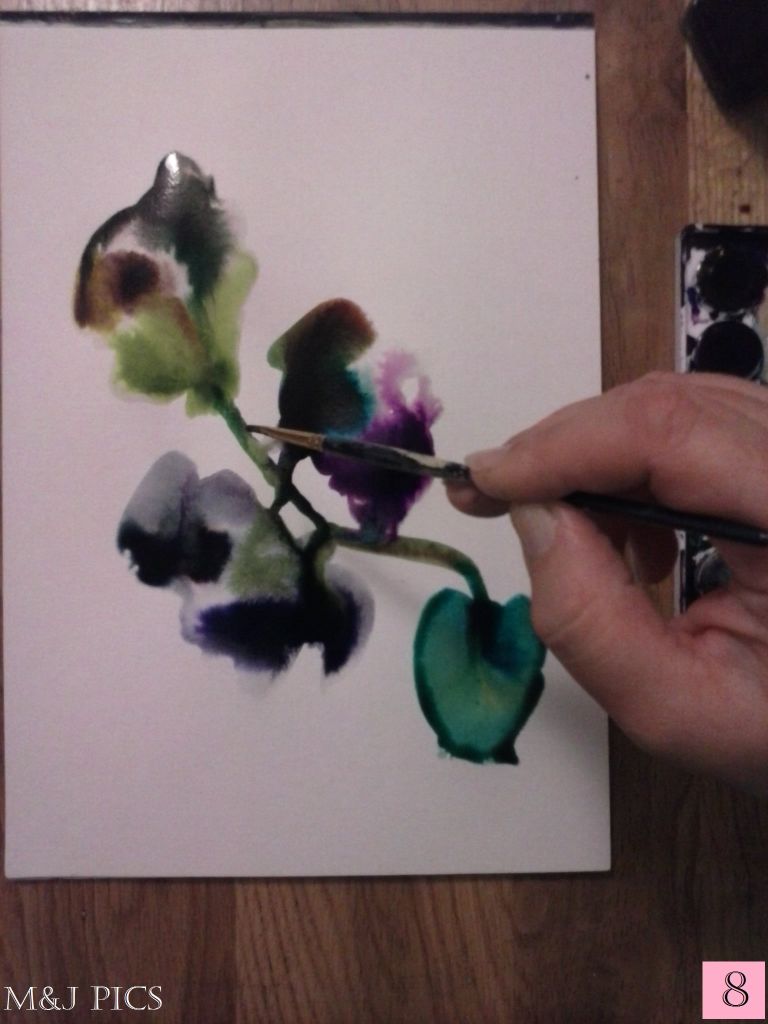 9. The background is complete. I leave it to dry overnight (it won't take that long to dry, it's just a personal preference).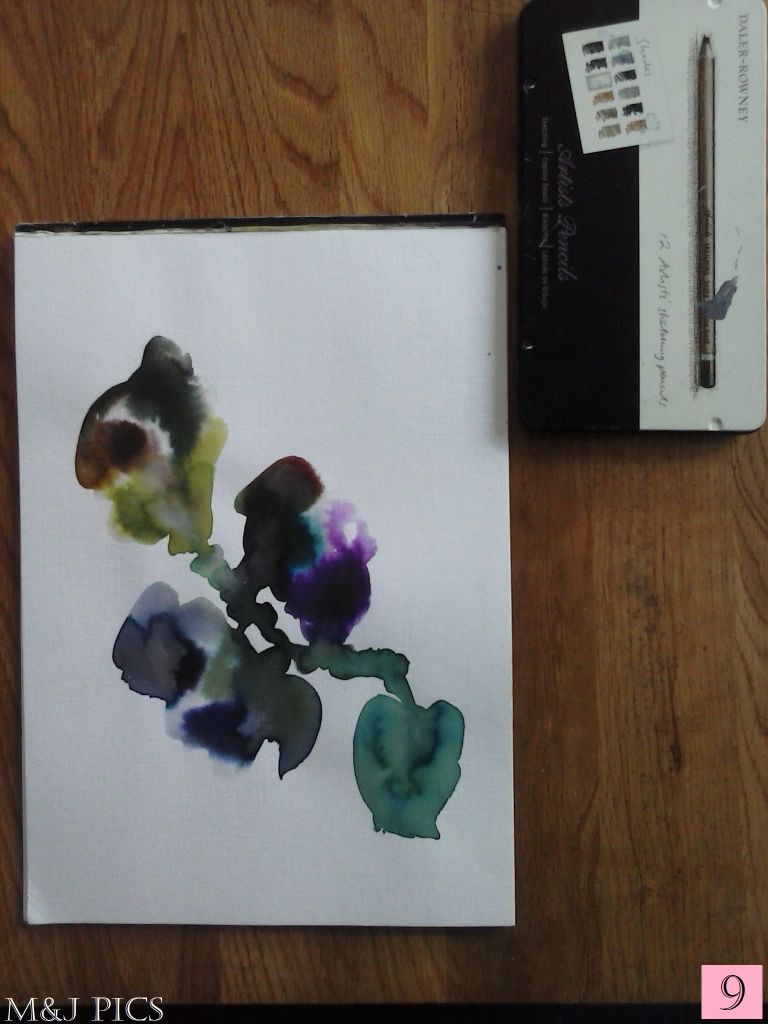 10. I choose a graphite pencil ( because I like the weight and point of it but any pencil with a sharp point will do, a normal 2B would be perfect).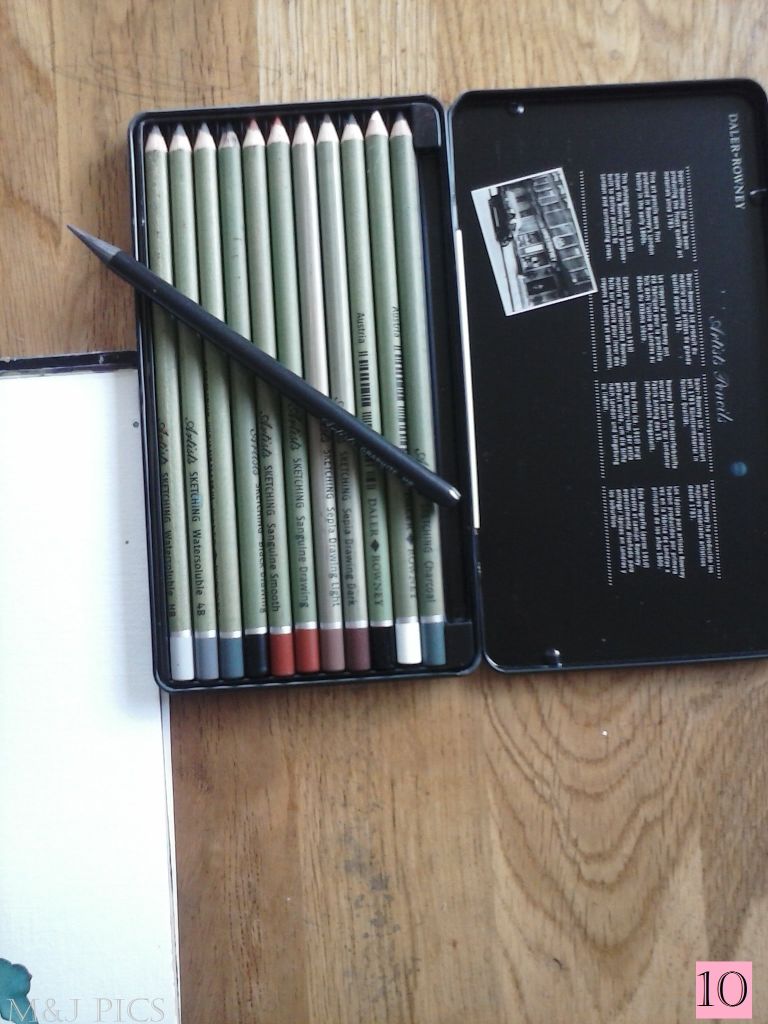 11. My printer is broken so I can't print out the butterfly image from Awfully Chipper's post. The writer gave me permission to copy her photo. I'm quite good at drawing to scale so I look at the screen and draw a rough outline of the butterfly on a blank piece of printing paper. If you are using a photo you have taken you could just print it on normal printing paper, that is what I would have done if my printer was working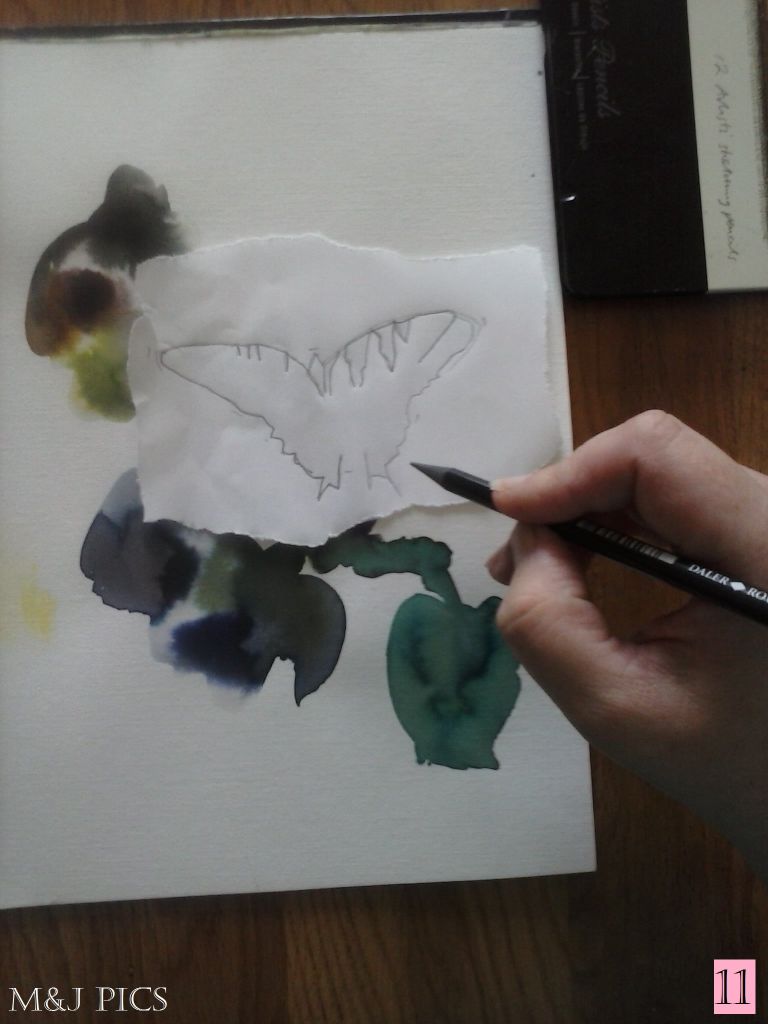 12. I tear around the butterfly outline so that I have less paper to deal with and place my outline where I want it to go on the background I painted the night before. Then I draw over it again while leaning on the pencil. If I had printed the image I would tear around and draw over that.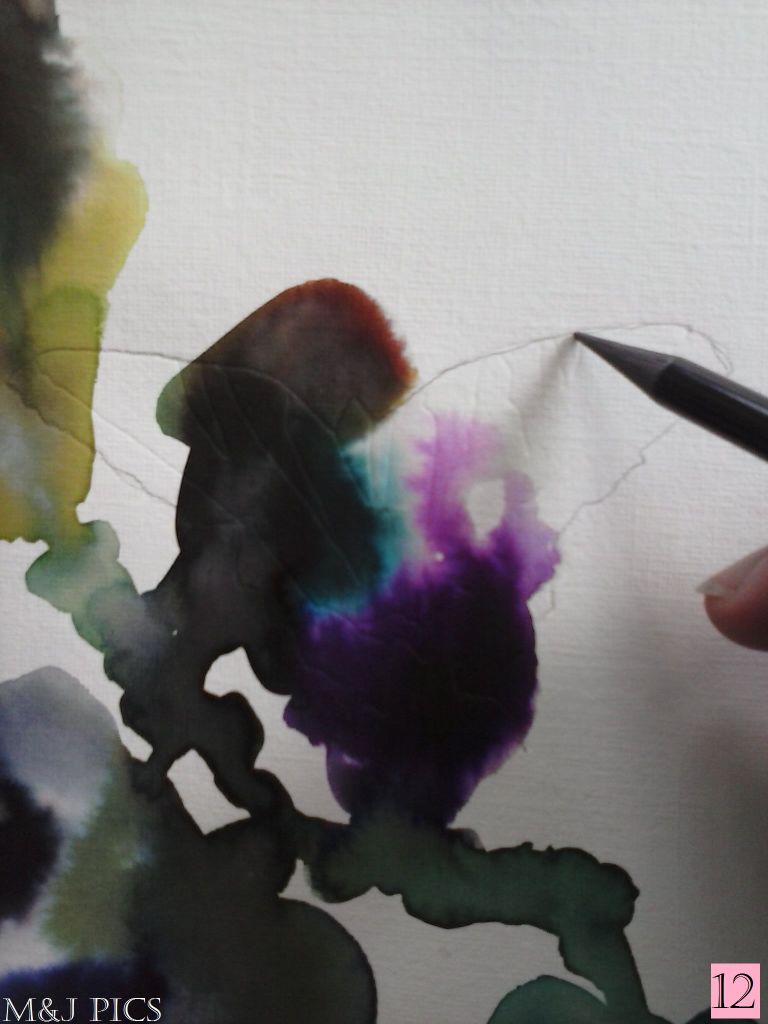 13. I take away the piece of paper and draw over the lines that have come through.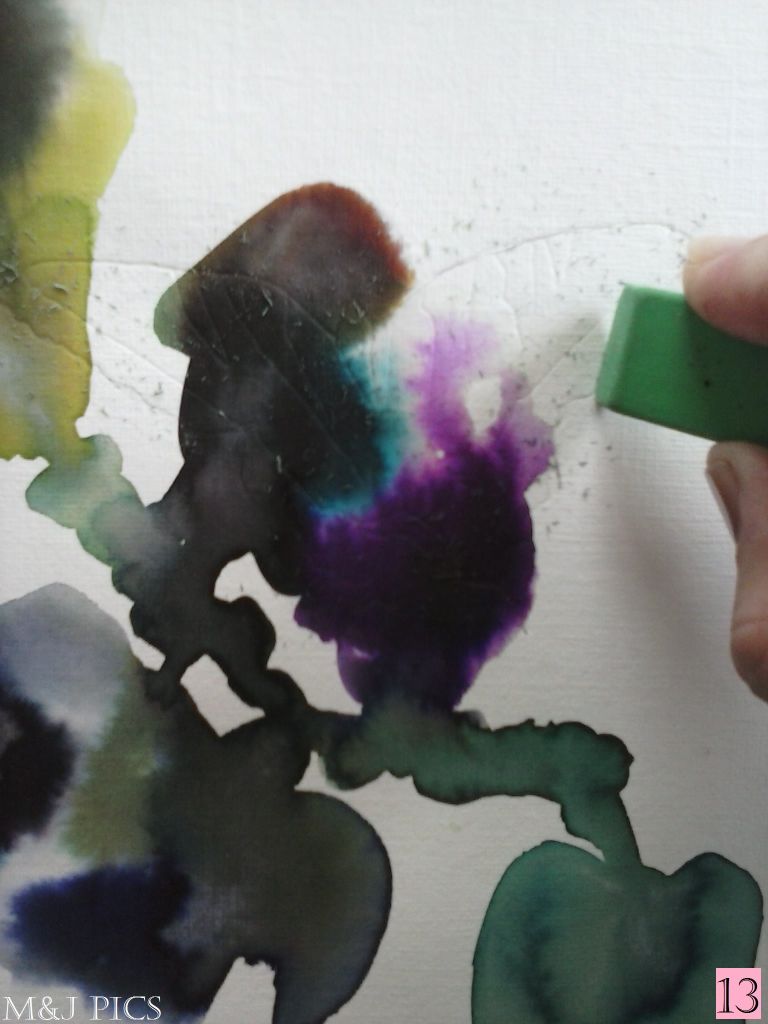 14. I rub lightly over what I have just drawn so that the outline is very faint (this is not necessary but, because I may have not drawn the butterfly shape exactly right I don't want any extra lines showing up when the painting is finished).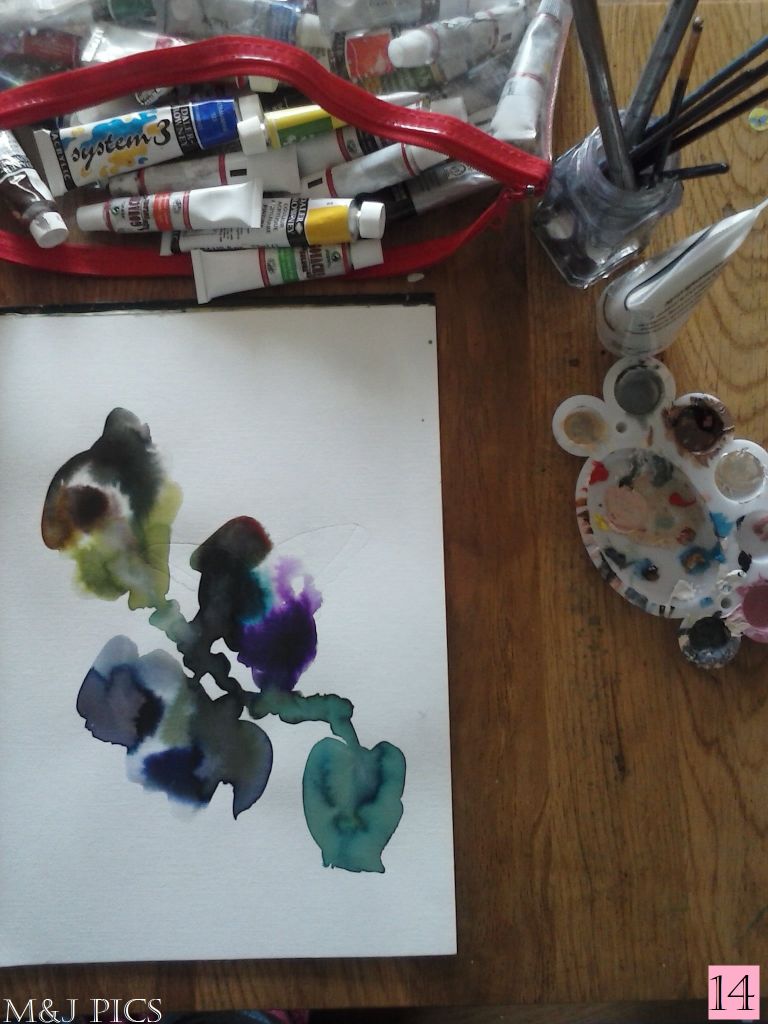 15. I look at the photo of the butterfly on the screen and then line up my different yellow acrylics to see which one is most suitable.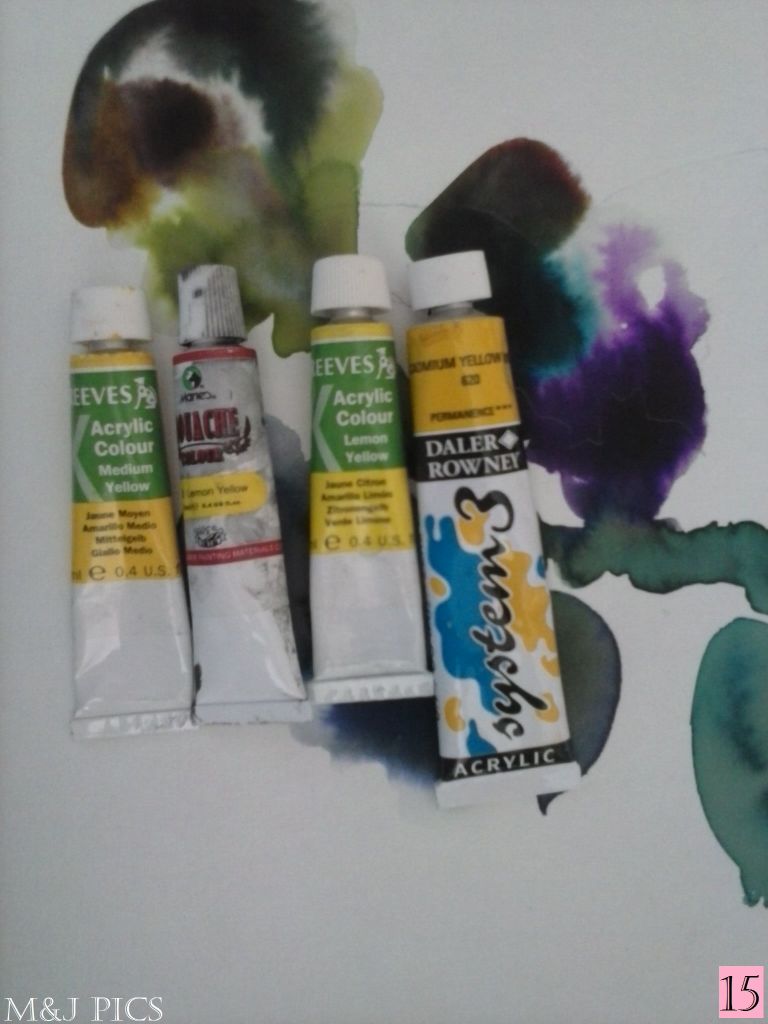 16. I choose medium yellow and mix it with some white. It seems very thick so I add some water to it.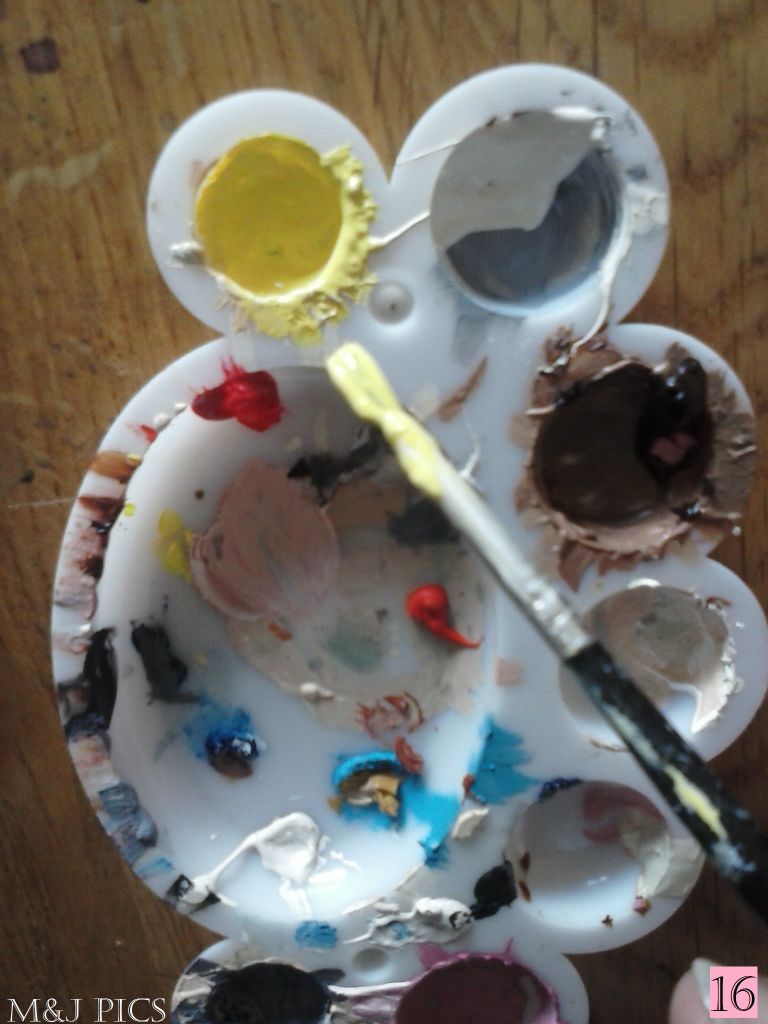 17. I use a thin flat head brush to paint the yellow in where I see it in the photo. Immediately I notice that I have used too much water because the green of the background is bleeding into the yellow I have just brushed on.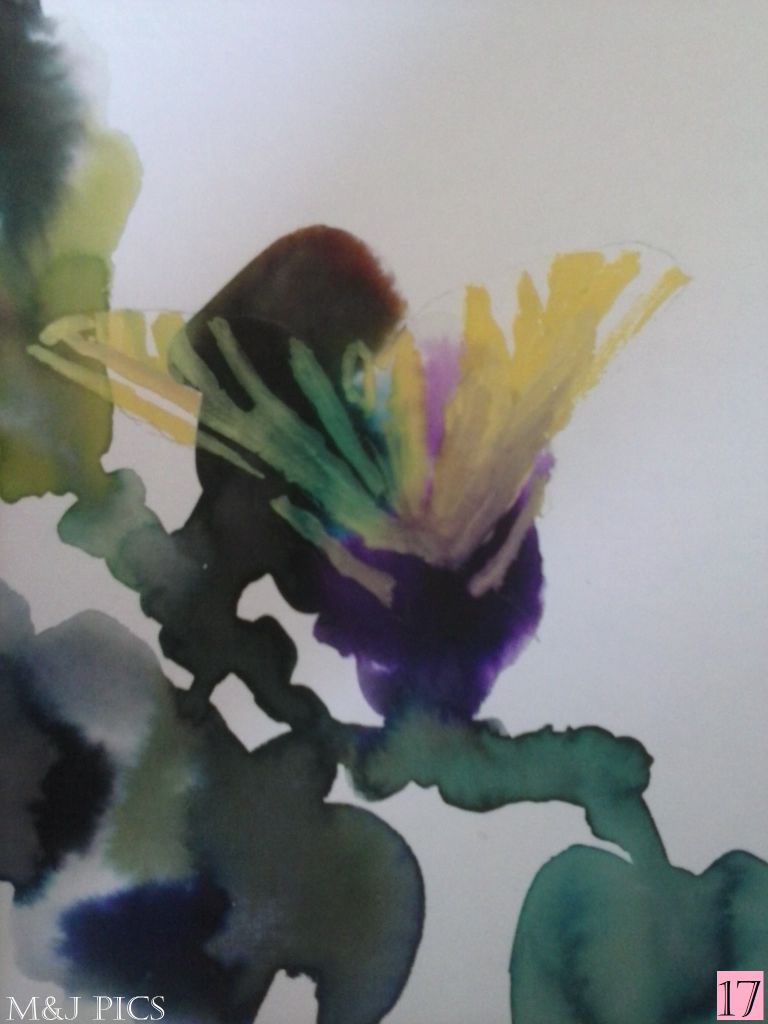 18. I use a thin brush with a point to paint some of the black lines in.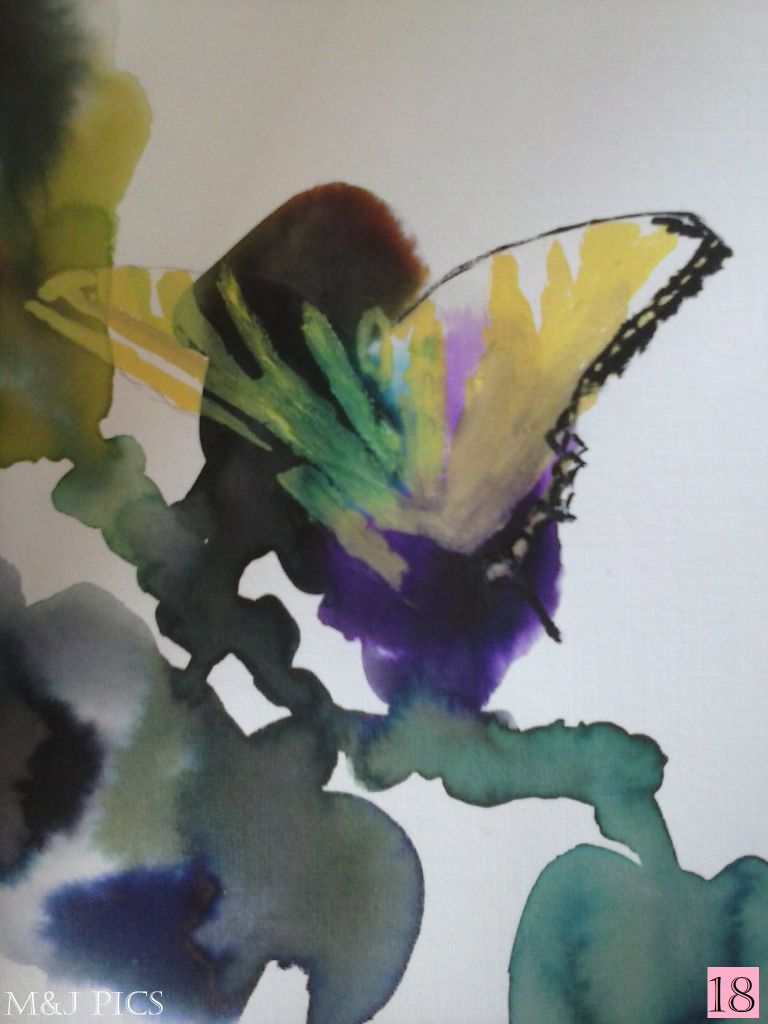 19. I fill in more of the black and notice that some of my yellow areas are slightly off.
20. I continue to paint the black areas, I know if I line them up properly I'll be able to fill in the yellow correctly.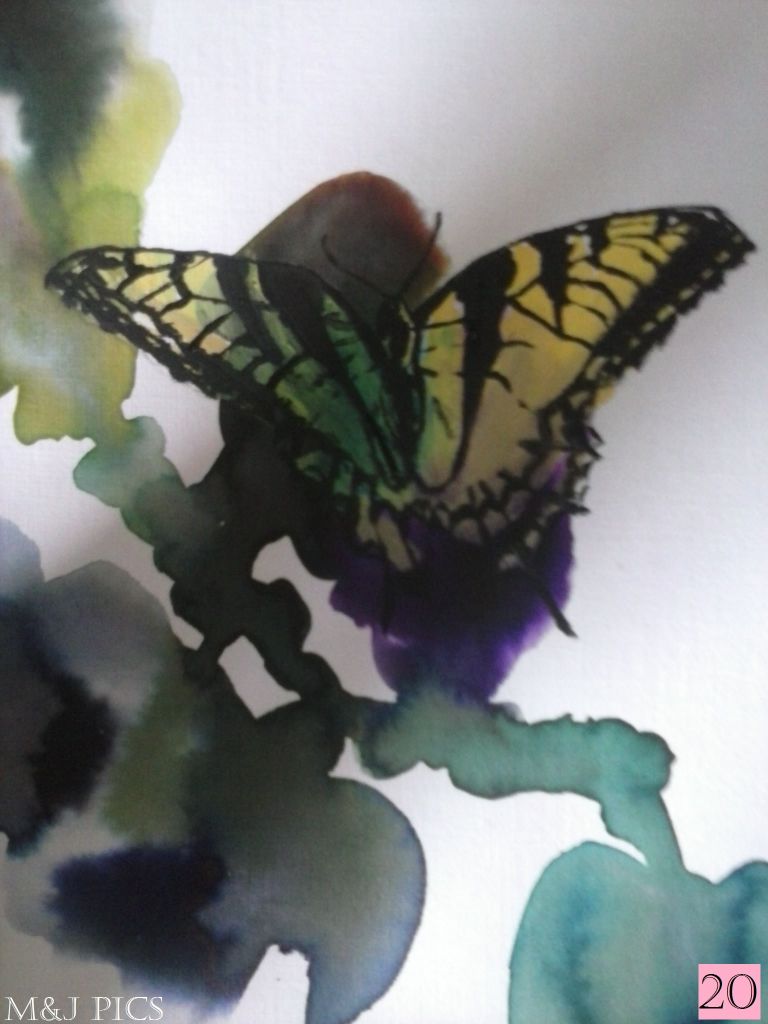 21. I add yellow to the areas I originally missed. I add white to the yellow that I placed outside of where the butterfly should be.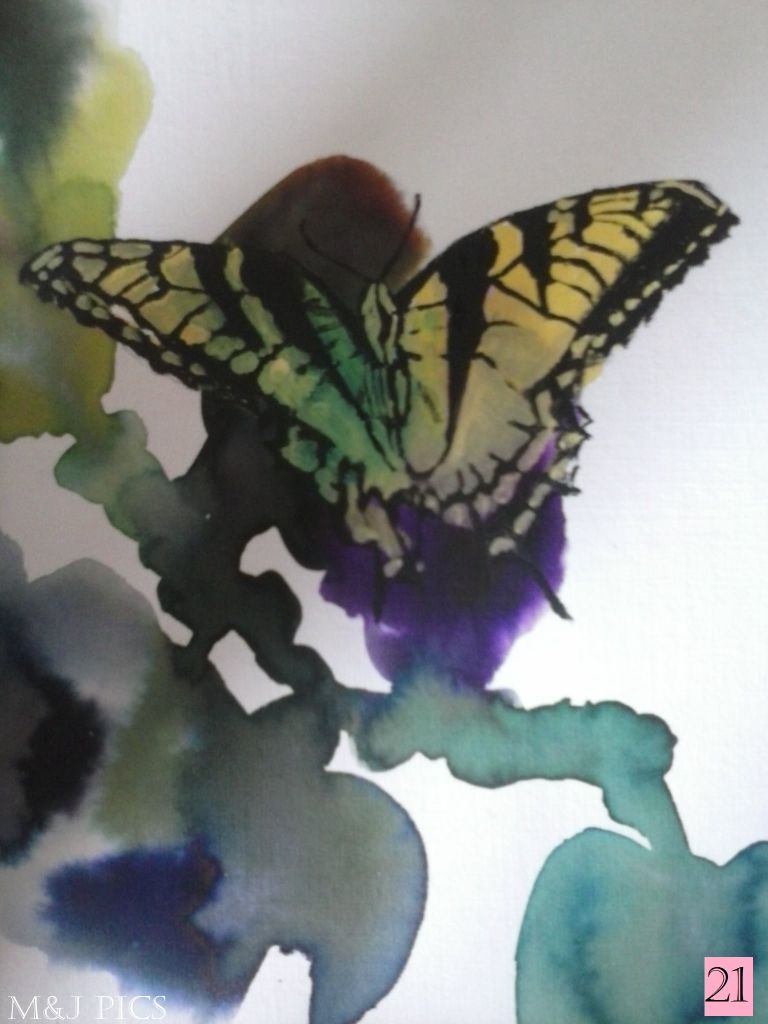 22. I have the photo of the butterfly on the screen in front of me the whole time. Now it is time to line up my different blue acrylics to see which one is most suitable.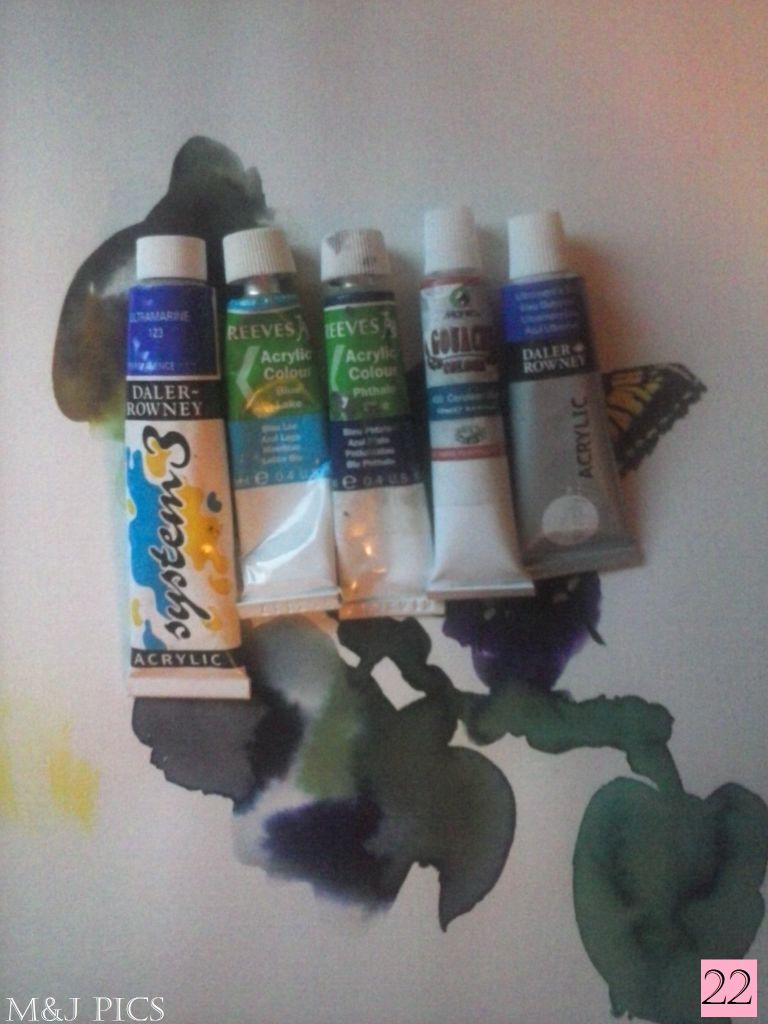 23. I choose lake blue. It is very thick so I add water but very little.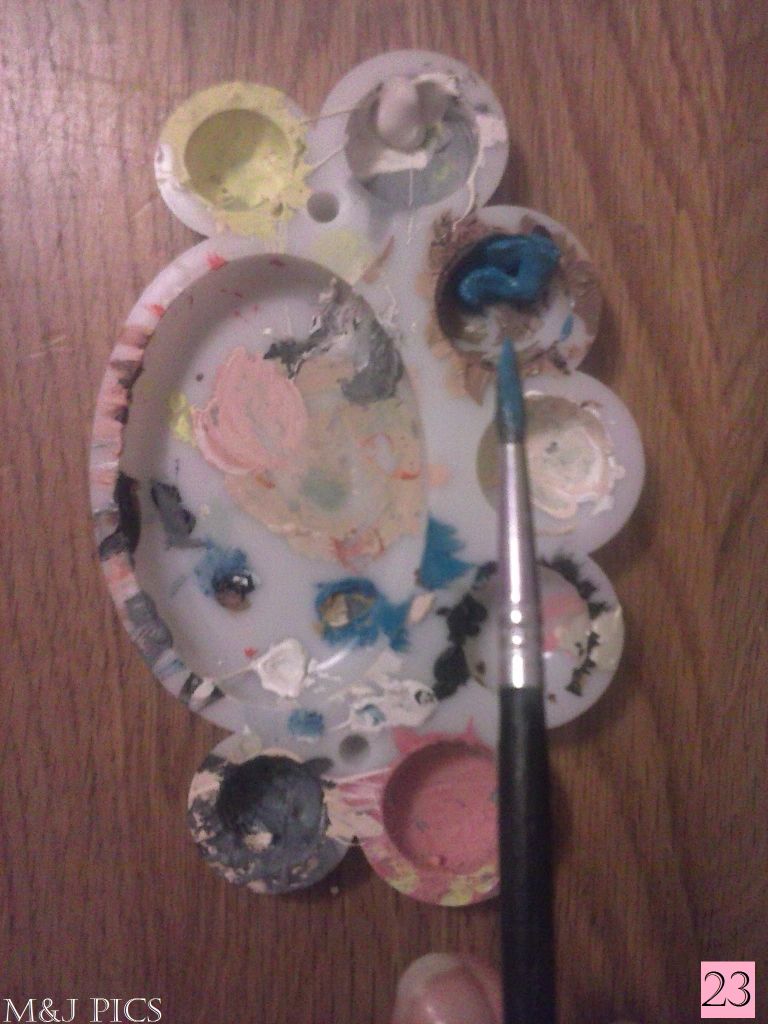 24. I use a thin brush with a point to fill in the blue areas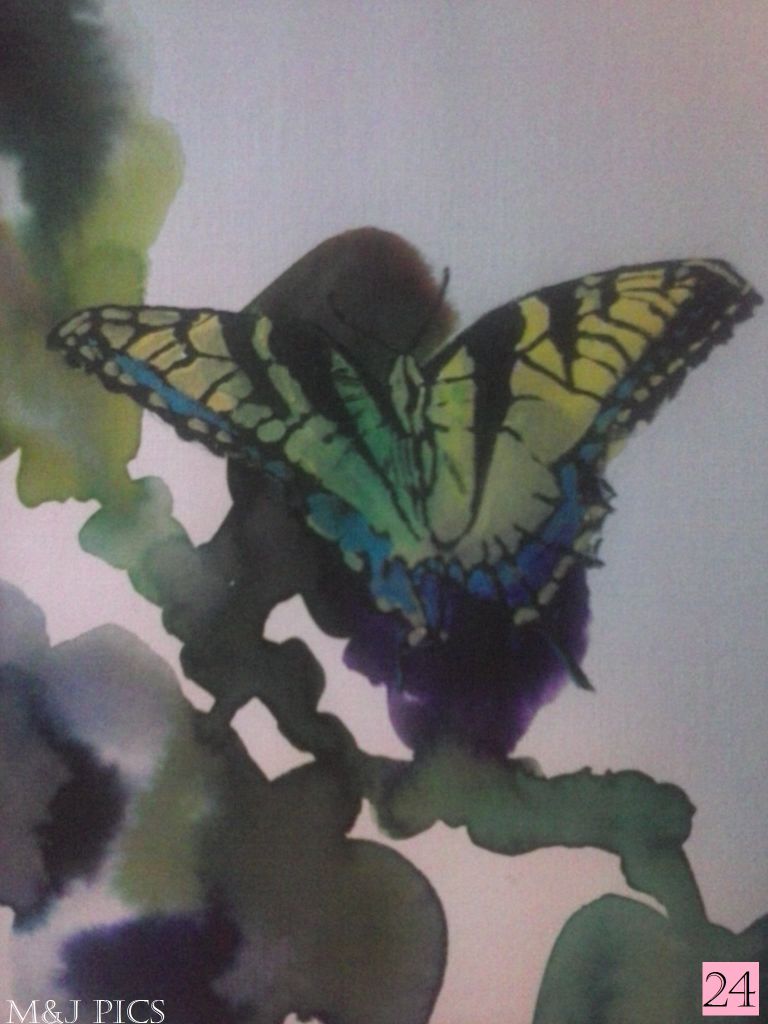 25. I use a thin brush with a point to add white along the tops of the blue areas. I use the same brush to put two little dots of vermilion acrylic onto the butterfly, one dot on each wing. I go over the yellow area where the green bled in. I don't want to go over it too much and quite like the jewel-effect the green gives so I leave it alone.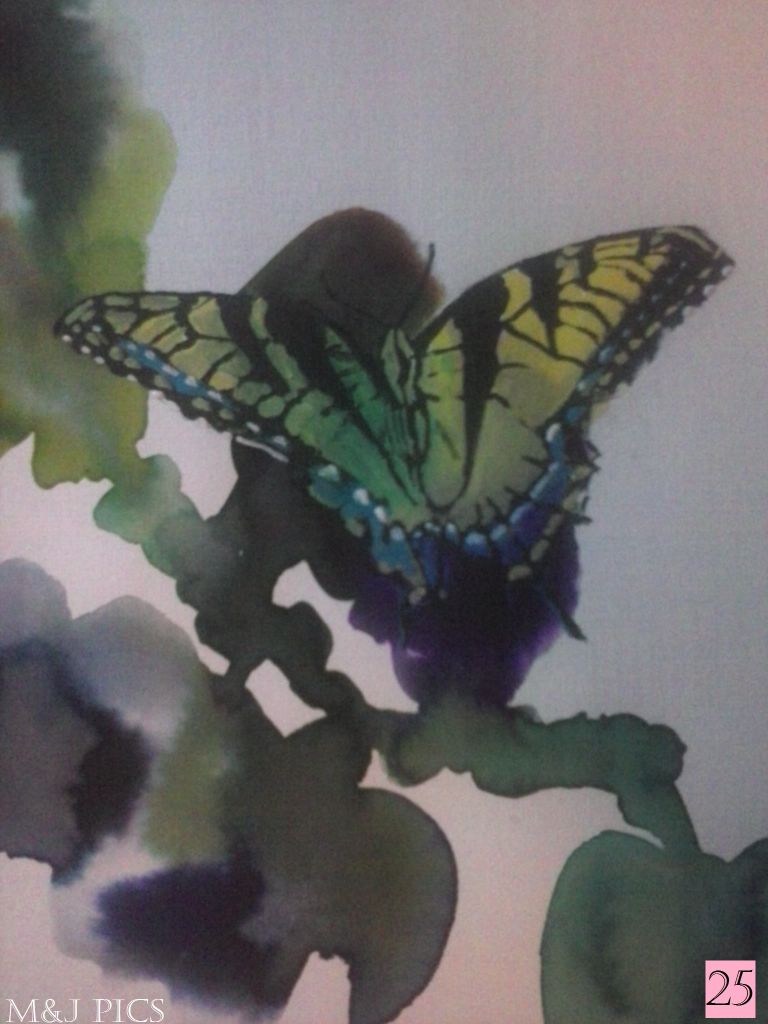 26. I ignore the photo on the screen and examine my painting. I notice that the butterfly's antennae are barely visible because of the dark background behind them. I brush a very thin line of white along them and on different parts of the butterfly so that the shape is clear against the background.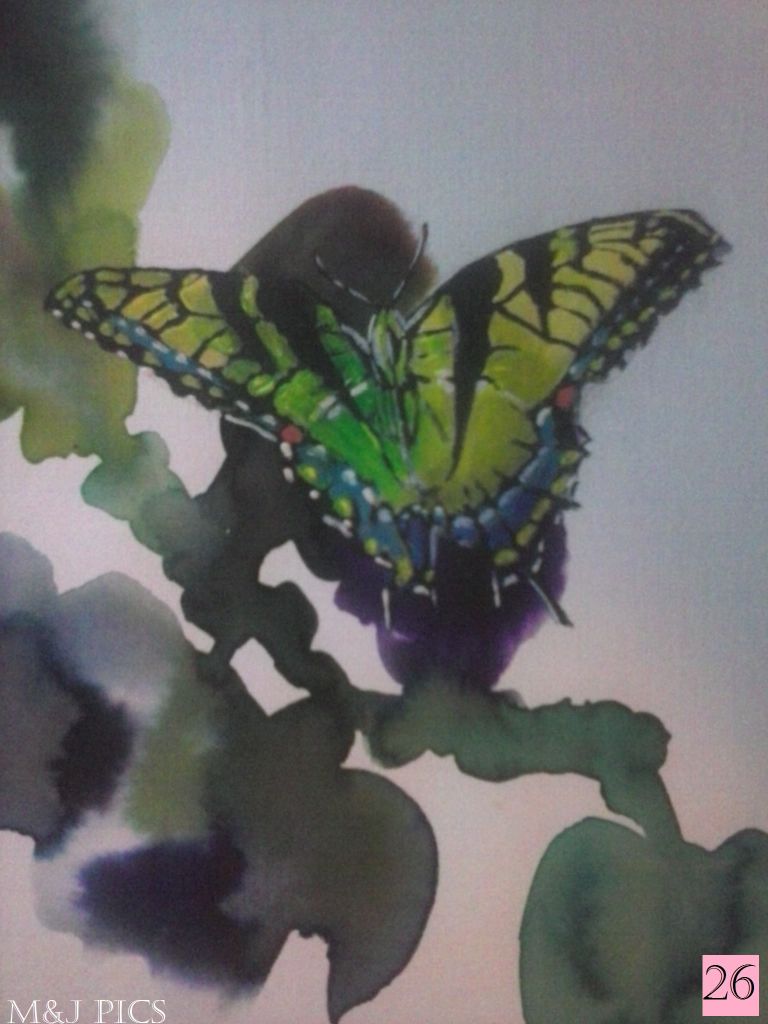 27. I go over the black lines again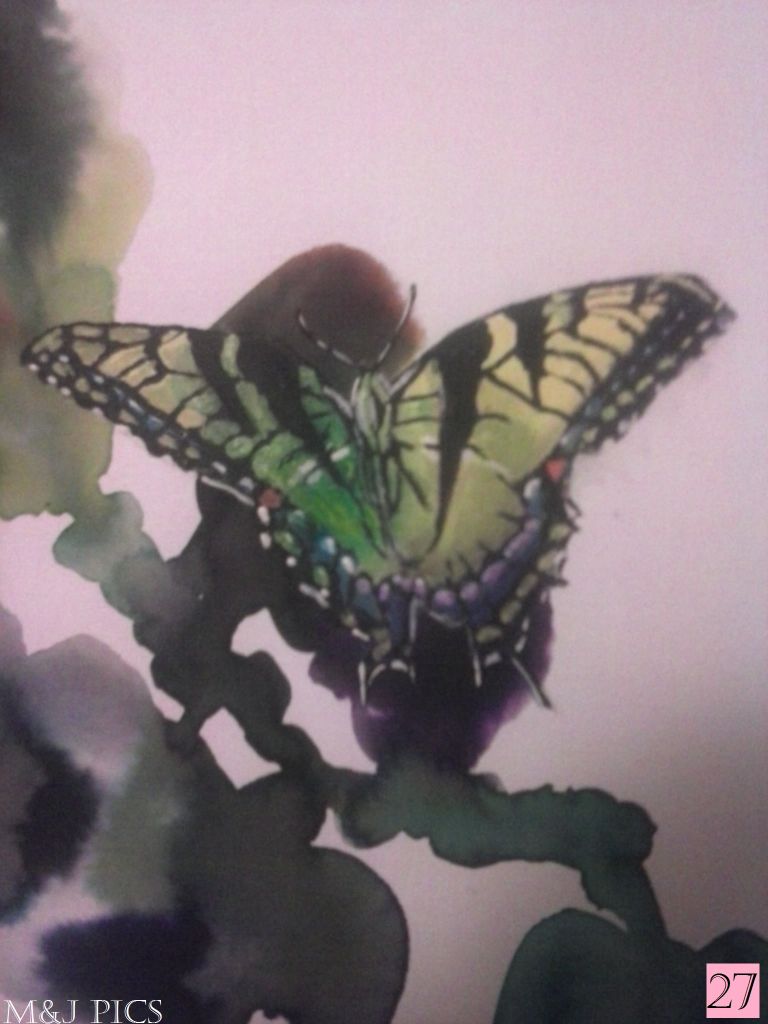 28. Aaagh, just before I finish I catch some paint on my elbow and smear the page when I lean over it for something!! A bit of white paint there and finished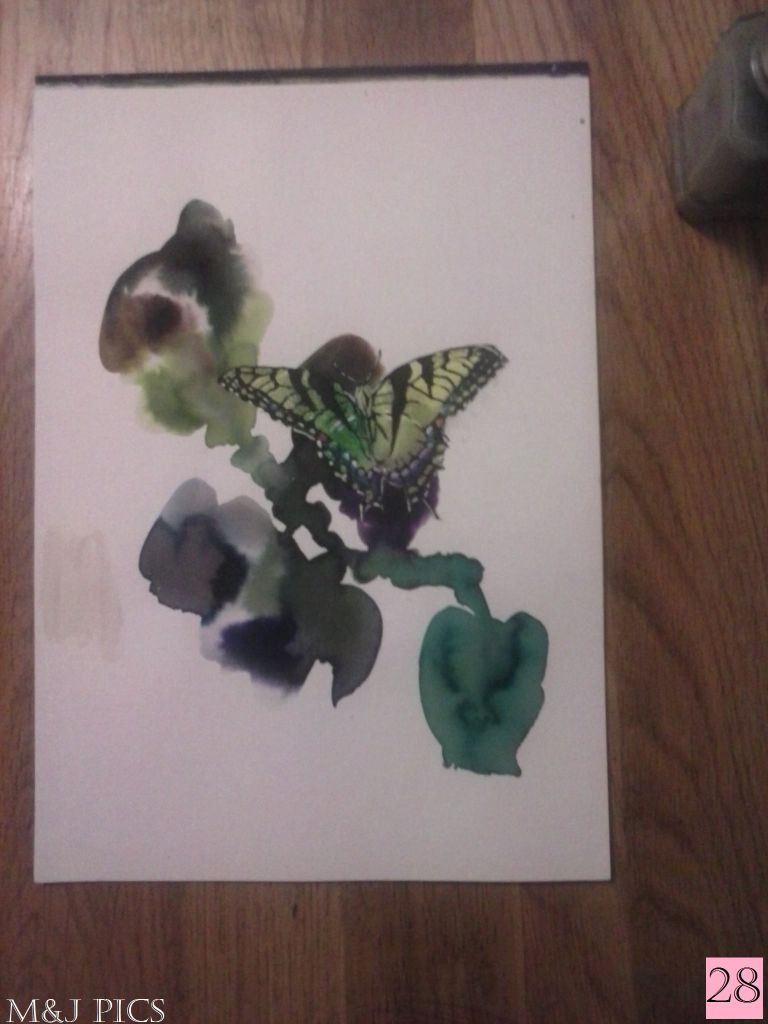 THE END!
So what do you think folks? I found the whole process here fascinating to follow. I was saying to Joanna and another artist/blog friend Emily recently that I can make a reasonable stab at drawing but have always thought of painting as much harder. Emily's advice (and we'll be hearing more from her right here in a few weeks) was to 'not try to draw anything in particular but just play around with colours'. I thought this was very 'freeing' advice.
Thanks to Joanna for sharing her tips with us. Next week is the turn of author Carmel Harrington. Please share your thoughts and your own experiences in comments below. Chat to you soon : )
---
---