We Can Do It Part 3. Emily Rainsford Ryan, Artist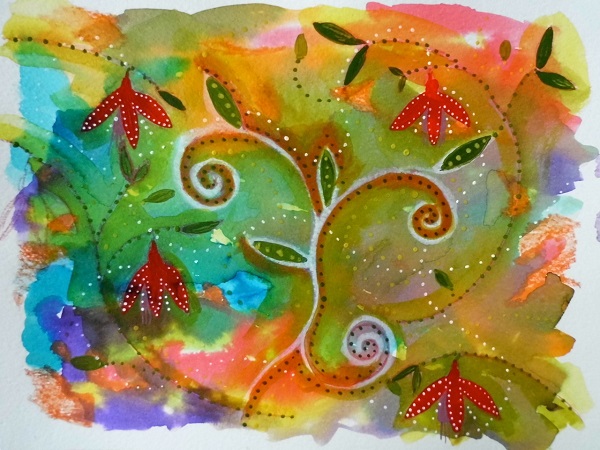 Good morning out there, I hope you're feeling well and happy. If you're in Ireland you're probably looking forward to the institution that is the Toy Show this Friday night and the start of the holiday season, eek! I know I am.
Well today I have another instalment  in my 'We Can Do It' series about creative living for adults. This time I've interviewed a friend I met through blogging, Emily Rainsford Ryan. Emily was raised in an active artistic household and it's interesting to see how that has impacted on her and her children's lives where art and living are easily intertwined, just part of the fabric of every day life.
Enjoy this glimpse of Emily's creative, nurturing world, be inspired by her thoughtful and practical tips to get painting, enter the competition to win her beautiful painting and then pop over to her aptly named blog 'The Nest' by clicking here. I've linked her tutorials page so you can see and learn how to make a range of beautiful things from gift boxes and cakes to dolls.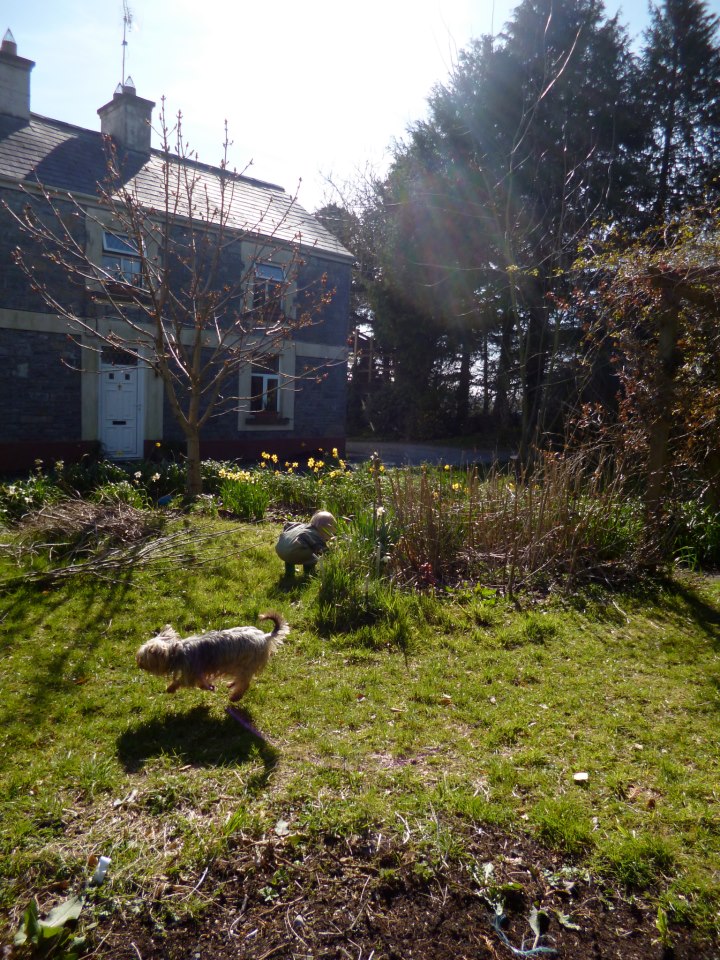 1. Hi Emily, tell us a bit about yourself and your interests and what makes you tick?
I am a stay at home mother of five, soon to be six children, whom we (my husband Fergal and
I) home educate. I have always been an artist: I feel as though it is ingrained into Who I
Am!
I paint, crochet, make dolls, collage, sculpt, sew, bake… Usually at the kitchen table with
children milling around and chaos everywhere (housekeeping is NOT one of my skills,
sadly) Our home is reasonably calm, which is always surprising, but we try to "play by ear"
in regards to everything, have few rigid schedules, and few "must-dos". This works
perfectly with me and any creative endeavor I'm in the middle of (usually a few at a time)
as I can pick up, starting and stopping throughout the day, taking minutes here and there.
Often what I am doing feeds what the children will do: If I paint, they will paint; when I sew,
there is a table full of stitchers: I'm constantly fascinated by what they make and draw, the
creative energy inspires us all 🙂
2. How did you get into painting and what do you credit with the fact you still paint now as an adult?
My father is a painter Liam Rainsford click here and some of my earliest memories are of him
painting, or attending the local annual art exhibition my parents initiated 35 years ago, and
still thrives. We were a creative, artistic home and that's just what we did, we knew no
differently. I went to art college, and had our first son: which was a huge blessing, as it
allowed me the freedom to be with him and to create too. My mother in law is also a
painter, my husband is an artist and crafter, so I was encouraged from all sides! I cannot
not paint or make, it's part of the fabric of who I am.
3. As you know this series is aimed at people who would like to do something
creative (like painting) but don't know where to start. Lots of people were
good at and enjoyed art at school. How do we get that back? Can you
share some tips and practical pointers to get us started and debunk the
mystery?
Start looking at art, look at what you like, figure out what it is about certain art you don't
like. Get some paints and a decent paper pad and start putting down colour. Experiment,
be free, play around with colour you like. Art journaling can be very freeing in this way. But
start, don't think, just do!
If you want to improve your drawing skills, take five minutes every day: while you are
having a cup of tea or coffee, use a notebook you keep at hand for sketching, and draw
something simple, for example, the tea cup. Drawing is mostly practice, and the more you
do, the better you become: your hand-eye coordination improves and what you see starts
to become what you draw. Do five minutes every day for a month and you will be
astonished with the difference!
The most important thing though, is to quieten the negative voices in your head, you just
have to ignore them, blank them out. Stop procrastinating about how you would love to do
it "some day" and just start!
4. On an unrelated note, you're having a dinner party and can invite anyone living or dead. Who would you ask?
Hmmmm… Maya Angelou, Michael Palin, Oprah Winfrey, Mary Cassatt, Barbara Hepworth,
Tony O' Malley, Seamus Heaney! Mick Lally (a bonkers list I know…)
Tell us about this painting you've done for us?
This painting is similar to Art Journalling: its explorative, more of a journey than a means to the end! I had no idea what I would paint here, just kept painting, making it up as I went along! When starting out, it can be a good idea to have an inventory of shapes or symbols you can use: in this painting I used spirals, dots, stylised tree shapes, leaves, flowers. These give a painting a semblance of structure. I am always chopping up magazines, taking out interesting shapes and flowers etc. I keep them in a scrapbook and use them when I am painting-doodling like here.
So! to start: Materials:
I had my pan of watercolour paints, some brushes, some aquacolour pencils (draw like pencil, but turn like paint when wet) and some acrylic paints (blue, red, yellow- the primary colours- and white) I used watercolour paper.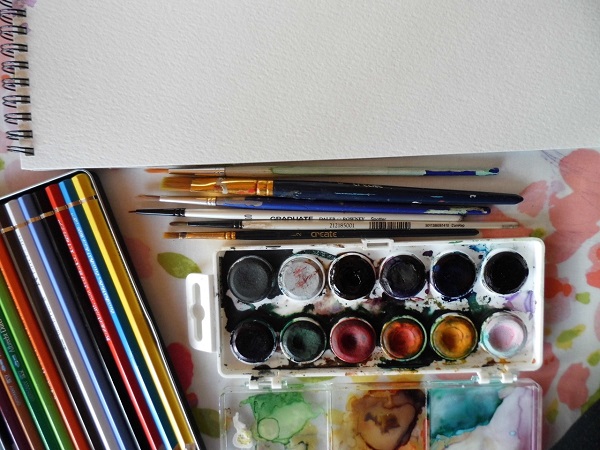 Firstly, I washed over the paper with water, keeping it quite wet.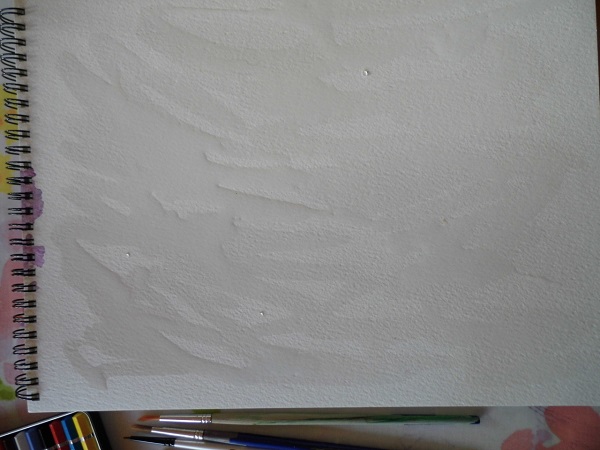 Then load up your wet brush with colour and lightly drop onto the paper: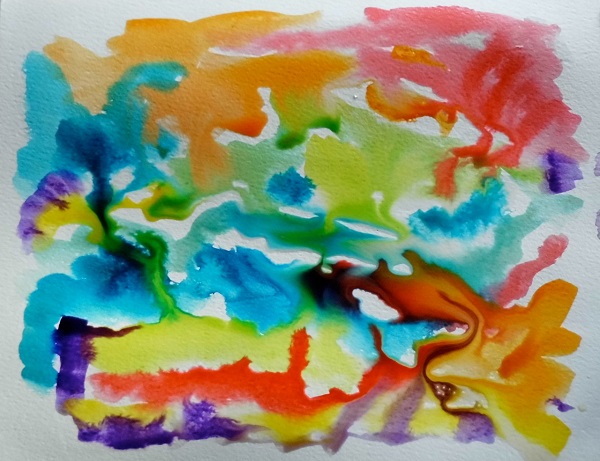 There is no rhyme or reason to the application of colours, just whatever appeals to you!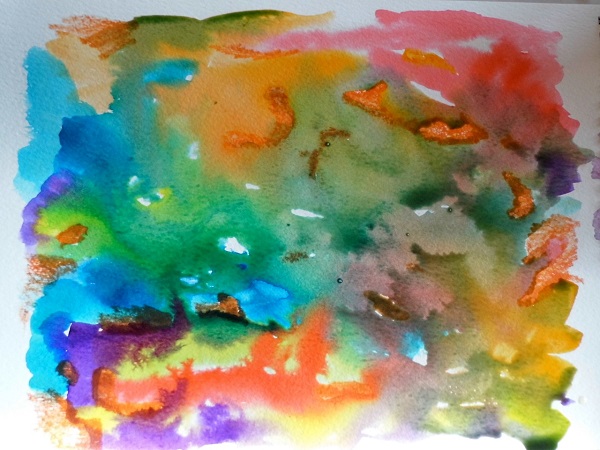 Allow it to roll around the paper a little, blow the colour to LIGHTLY mingle (dont over mix or it will be a brown mix)
Let it dry:
I used an Aqua color pencil here to colour in any white patches: it gives a different texture: (experiment with whatever materials you have!):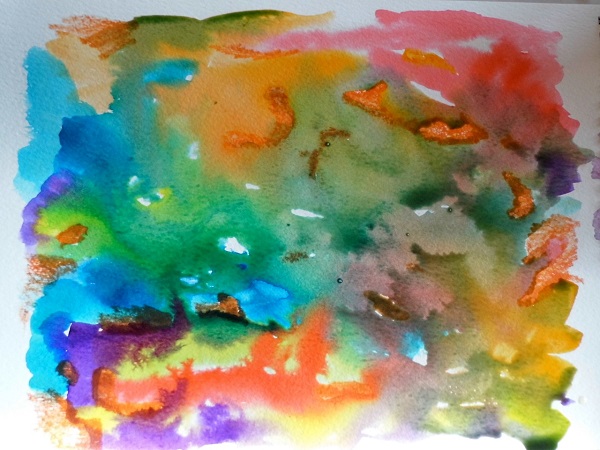 With a white pencil, I started drawing: a stylised tree shape with simple leaf shapes. I started to line the white with red pencil: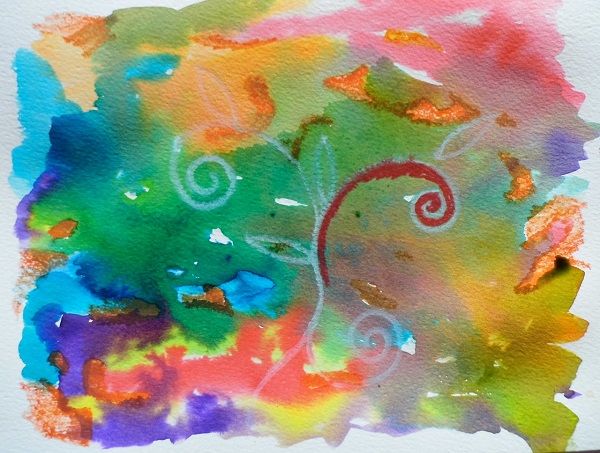 I lined more with red: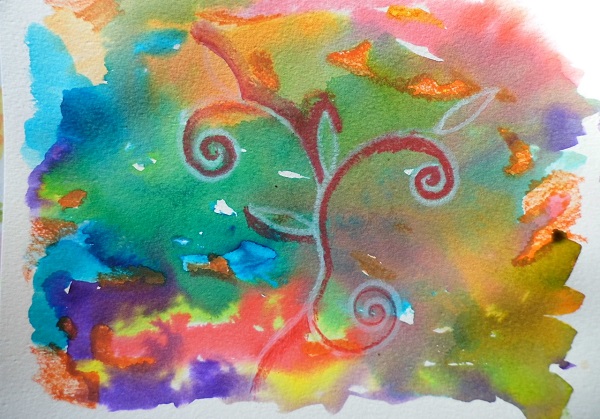 I painted in the leaves with acrylic paint- mix equal yellow and blue: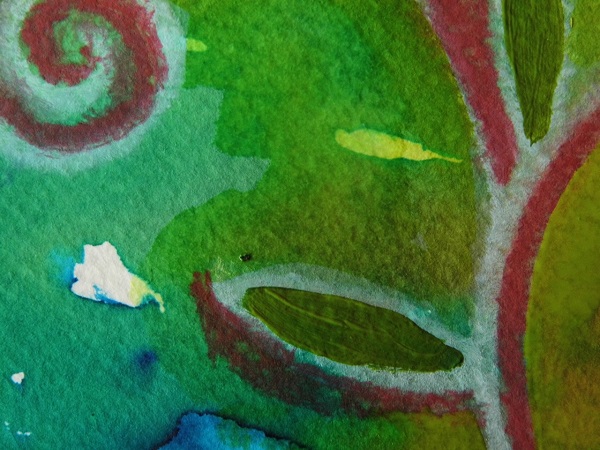 With a red pencil, I began to draw swirly, rounded lines, with fushia flowers and more leaves; then diluted (with water) the green I had used to paint the leaves, and painted watery yellow-green acrylic around the lines as below:
I painted this watery wash in different parts around the page to bring it all together: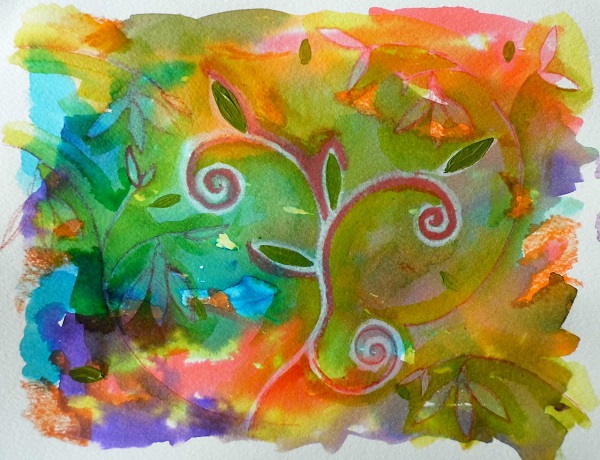 I felt the red I had used beside the white "tree" was too stark, so I painted over the red with some of the wash too, to tone it down.: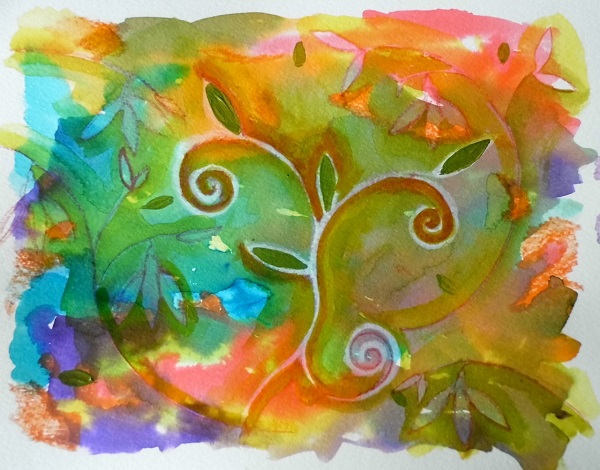 With red acrylic, I painted the fushia shapes, and then with the green, started decorating the "tree" with green tiny dots: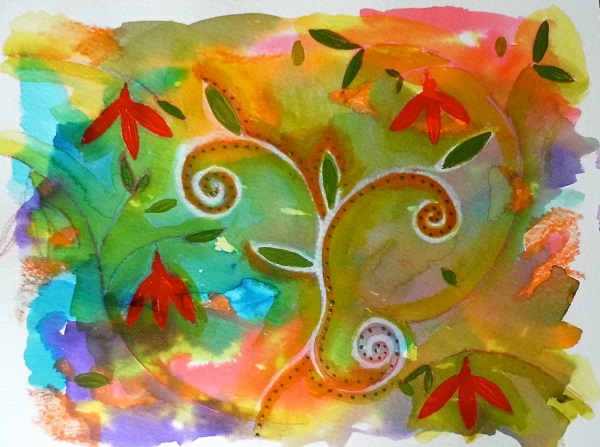 I continued painting little dots along the different swirly lines leading to the flowers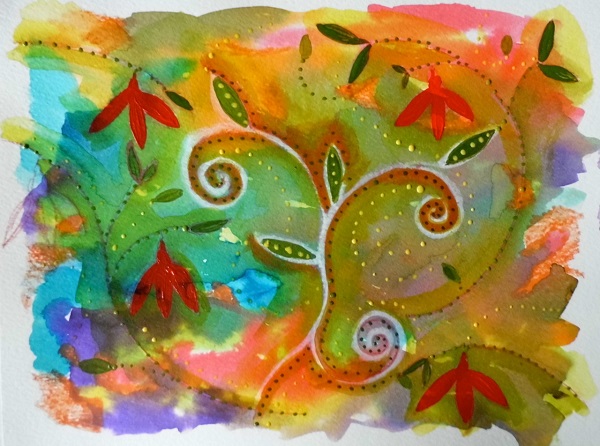 Using pure yellow, I painted random swirls and lines in dots around the page: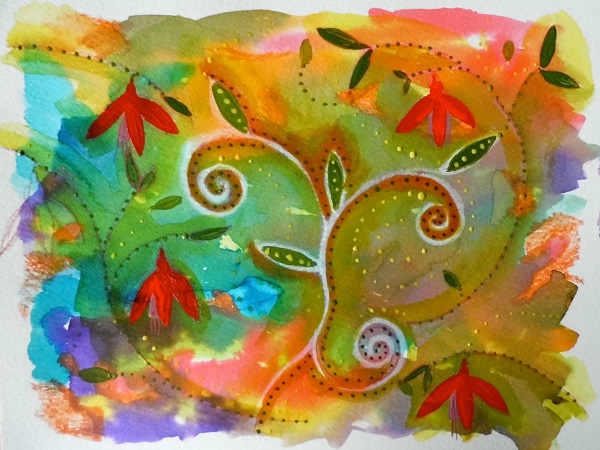 I painted the purple inner flower of the fushia: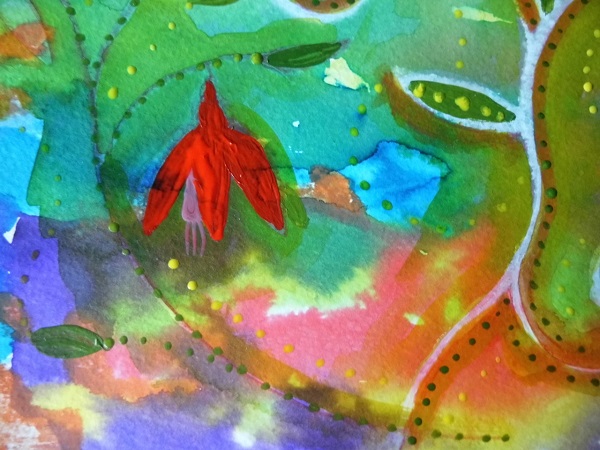 Using white acrylic, I painted dots in rounded lines around the page and dotting the flowers: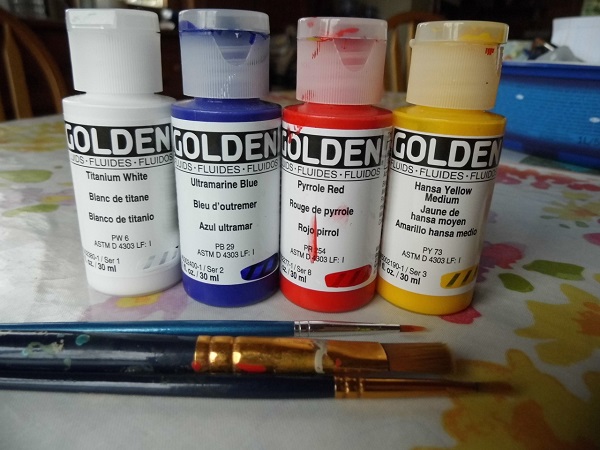 The finished painting…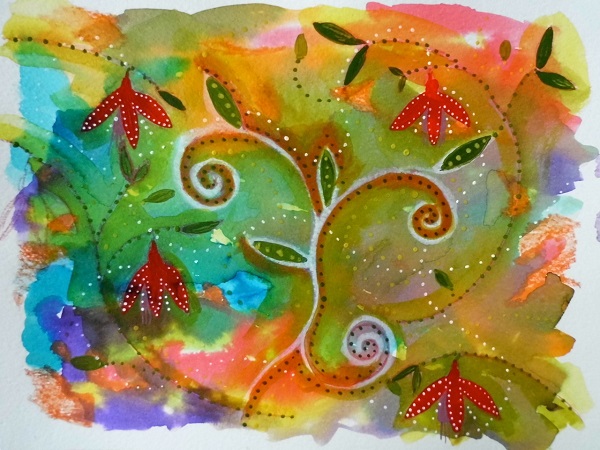 When dry, a light spray with Windsor & Newton varnish will keep the painting bright and protect it. The more you paint, the more enjoyable it becomes; the more you paint, you will be more confident in yourself, looser, freer. Enjoy 🙂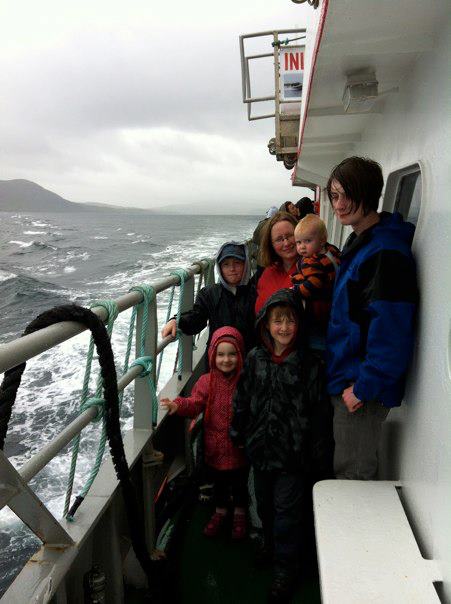 So, I have persuaded Emily to part with this painting. She protested as she felt it was too light but I convinced her and the upside of that is she will post to anywhere in the universe so if you would like to be in with a chance we have come up with many ways to win!
1. You can comment here and that will count as an entry. Keep an eye here on comments for the winners details!
2. If you are on Facebook please like our pages and comment on the links to this post (on both pages) to enter. Page shares too are most welcome but not essential to entry. Good luck everyone! I'm only disappointed I can't enter myself.
Find my Facebook page
here
Find Emily's Facebook page
here
I hope you enjoyed reading this as much as I have? I find Emily's advice very 'freeing' I think is the best word for it. Please share your thoughts in comments below : )
---
---